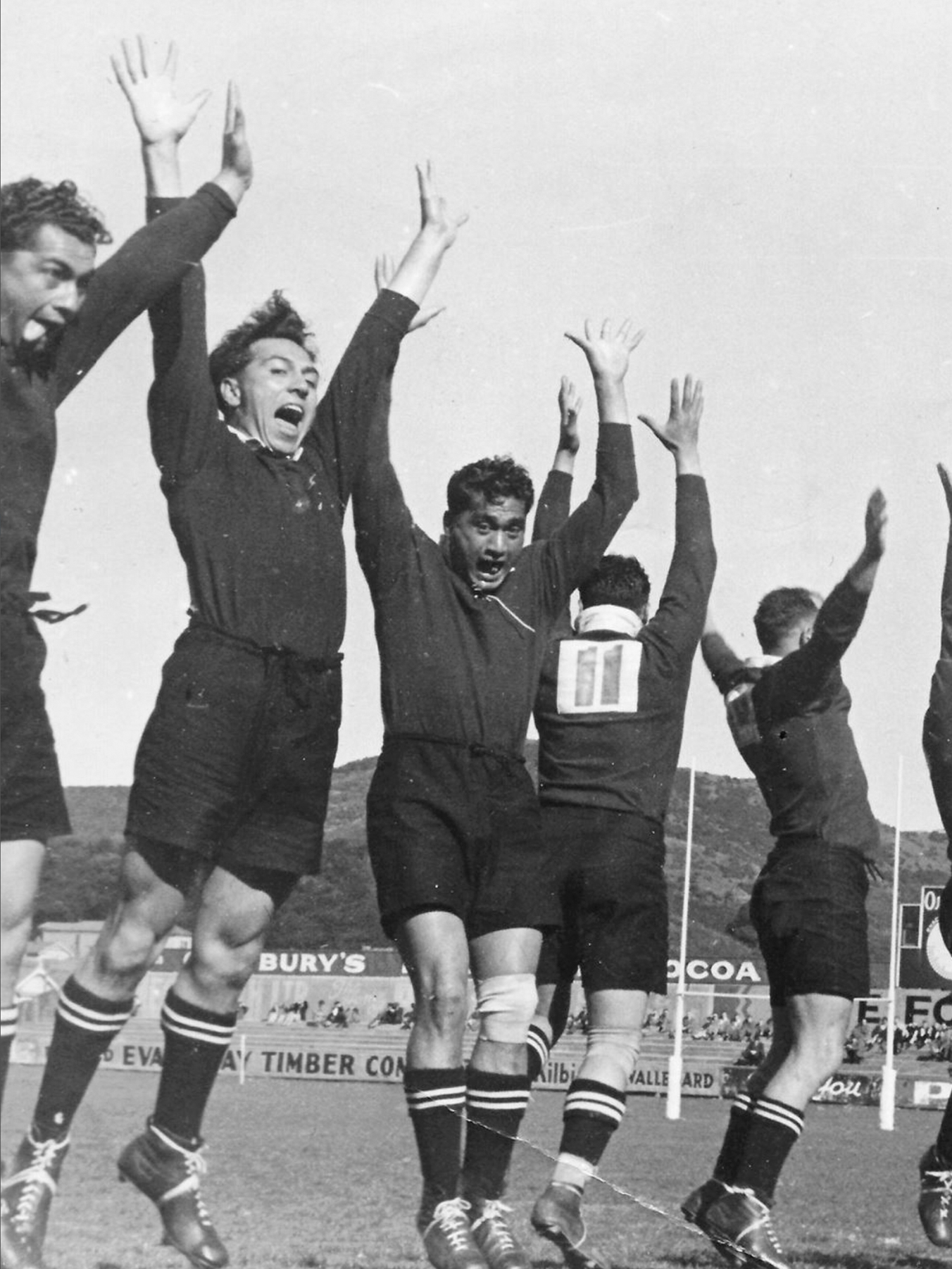 Without you I was nothing
What Māori have given the game of rugby.
By Talia Marshall
A New Zealand Māori game at Athletic Park. Mugwi Macdonald and his uncle, Enoka Macdonald are in the centre. Photo: Peter Macdonald
My son played rugby for a little rural club called Eastern, based in Waikouaiti, a village north of Dunedin the locals called Whack-a-white, which was quite the invitation given the way they butchered the reo. In his first game at the age of seven, my son scored two tries and I jumped up and down with happiness as he chugged up the field with a vicious fend. Woo-hoooo, I hollered, more than once. I'd never woo-hooed in my life, bodily joy was new to me. Before this, I was ambivalent about rugby and saw it as a bastion of toxic masculinity, but now that the boy was shining I didn't care. I'd had a hunch he'd be good because my dad kept badgering me in his happy way to enrol him, reminding me he was a Mac.
In my son's next game he got four tries. His father and I, who weren't really speaking then, beamed at each other from opposite sides of the field. When he won player of the year I whooped some more into the void of the clubroom's family atmosphere. Really, it was a nice club, with its half-time oranges, jewel-coloured bottles of fizz, and hot chips the women dealt with in the inadequate kitchen. It had that grassroots feel which feeds the top schools our best players, when the schools aren't raiding the Pacific or South Auckland using the ruse of education. The elitist rot doesn't set in until high school and the scouts start sniffing.
So I felt it was a victory for solo brown mothers everywhere when my son received his trophy and Lone Star voucher. But it wasn't just my willingness to get up in the dark on Saturday mornings and walk through the crunch of the frost down to the paddock by the sea to watch him and my own breath. Or his father's plain devotion and strange, pointed instructions from the side lines. It was in his genes.
For nine years I was a rugby fanatic, aided and abetted later by a partner who loved the game too. But when my son tagged along to my partner's son's practice and was out in front with the ball, cackling past tacklers, my partner, who was coaching, tackled my son out of nowhere to kill the try. Sometimes club rugby involves dads making right dicks of themselves.
Back then, I watched a lot of rugby. The pinnacle for me was the 2015 Super 15 final between the Highlanders and the Hurricanes in Wellington. Elliot Dixon's take-no-prisoners try as he crushed through four Hurricane defenders in the last 40 seconds of the first half was only possible because their team spirit was more cohesive than concrete. It was Nasi Manu's last game as co-captain and number 8. The big, fierce teddy bear glued the forwards together while Aaron Smith, ball in hand, screamed into the scrum and the multiple breakdowns and rucks of the final electric minutes.
Highlanders head coach Jamie Joseph and his chief assistant Tony Brown left their glass box to stand on the sidelines of the Cake Tin. Joseph in his suit was a dark tower of contained intensity. The Highlanders won their first Super title when Smith kicked the ball out to touch on the final siren. Joseph, Brown and the rest of the team swarmed the field. After the euphoric man hugs and backslapping, after singing "Macho Macho Man" as champagne jizzed into the air for the team photo, Aaron Smith walked around the stadium in a daze. A boy who spent hours perfecting his laser-like pass, flicking the ball at a wheelie bin over and over.
The game is why my dad rang me. He'd been celebrating all night in Wellington with the whānau, drinking champagne and eating kina, groper and Bluff oysters Jamie Joseph had sourced, the cousins rarking it up in high style into the early hours. He boomed down the line at me with this happy instruction: that's your cousin Talia, you tell everyone. Announcing that someone successful and famous is your cousin is the Māori way. Asking how you're related is the Pākehā way and should be avoided, mostly because we'll tell you and it will take half a day plus a diagram.
Poets tend to be jealous of sports because it can fill stadiums with joy and we're lucky if six people turn up at a vegan cafe to hear about our pain. But I'm only a semi-poet: my dad didn't need to tell me about the game. I'd drunk cans of bourbon in front of a giant flatscreen watching that final in a state of panic and ecstasy. Then I kept rewinding the last three minutes so I could watch them win again. The rapture just kept on giving.
Even my ex finally admitted that Jamie Joseph was my cousin, after coming home from the wankery of the corporate box as happy as me. Watching rugby together, snug on the ugly couch, was generally a safe activity for us, but he'd get prickly if I mentioned my family. He used to needle me about that connection, suggesting it wasn't really true. He knew how sensitive I am about not growing up in my father's world and would tell me I wasn't Māori enough to be going on about it all the time. We'd bicker about the nature of mana, which like a lot of things, he claimed to understand better than I did.
When he played club rugby, he thought it was a great joke to call his Fijian teammates spearchuckers to their face, and I'd wonder at their restraint. His version was that they loved being called spearchuckers and found him hilarious. And despite being an immigrant from England, he fell into the Dunedin trap of being less racist to brown people on the condition that we dazzle them with our skills and win them titles.
But after the win, Dunedin did feel different. Like we were a town of winners. As the coach of a beleaguered team, Joseph had pulled off a miracle. Twenty years of suffering was over. I know not everyone loves rugby, some people rightly hate it, some people couldn't care less, but they were missing out on a good feeling.
It had not always been this harmonious in the Highlanders camp. That was part of the joy. Joseph's promising beginning in 2011 had descended into rumours of autocratic methods and spats with imported stars like Ma'a Nonu. Things changed when Joseph realised he'd become too stiff and in 2014 Tony Brown was brought in as a coach for the backs.
The team's last whiff of Super Rugby champion status was in the 1999 final, when Brown was playing first five-eight. Brown descends from the famously hospitable muttonbird islanders of Ruapuke, so if we'd won the final he would have had to fit the entire city in for a feed. After his return in 2014, manaakitanga, or kind and generous hosting, became part of the team culture. It was in Joseph already and the New Zealand Māori players he'd handpicked, like regional rejects Elliot Dixon and Dan Pryor. Joseph used his seafood contacts to put on big whānau-style dinners for players and their immediate family far from home.
In Otago rugby's 90s glory days, when Joseph was studying and playing, it was known for its flair. Now that flair was back, in players like Ben and Aaron Smith, Richard Buckman and another reject, Waisake Naholo. Joseph has acknowledged his knack for picking buried or ignored talent. "That's supposedly what I'm supposed to be good at, is to be able to identify good rugby players." Note the two supposeds from the Māori who can't bear to talk himself up. Except then he reveals what he's really about, explaining that the two qualities he looks for in a player is mettle and relentlessness. I was staying with a cousin of ours and she'd told me no one in our whānau is allowed to describe themselves as useless after I muttered something about it being my default position.
My father was a Mac — a Macdonald. His father, Mugwi, played for New Zealand Māori before switching codes to rugby league after his famous Uncle Jack, a national rowing and New Zealand Māori rugby star, secured a rugby league contract for Mugwi and his own younger brother, Enoka, in Halifax. Jamie Joseph — now Japan coach — is a Macdonald too. Former Highlanders player Hoani Macdonald and former All Black and current Blues coach Leon Macdonald are close cousins. Joseph's mother Maude was my grandfather's sister, in a big Mormon whānau of 21. I named my son after the patriarch, Manny, who also played for New Zealand Māori. Recently, Maude died and Jamie dedicated Japan's last win before the World Cup to her. His father Jim Joseph was a concreter who played prop for Marlborough and was part of the team that lifted the Ranfurly Shield from Canterbury in the 60s, and Joseph has described him as his idol. 
Macs love sport and are probably given a ball to hold before they are given a spoon. They have large family reunions that are dominated by sports tournaments. A bit like the amazing carnage Witi Ihimaera describes in Bulibasha and Pounamu Pounamu. These tournaments are determined and vicious, with women waving hockey sticks like taiaha as they go in for the kill. A cousin chuckles on Facebook that some netball games have got close to brawls because Macdonalds love winning and they love beating their cousins. It's that relentless quality Joseph looks for. An outsider told me that at the last reunion, during a rugby-water polo match the cousins kept holding his head under the water even though he didn't have the ball. 
I asked Enoka's daughter, Lynne Macdonald, who represented New Zealand and England in netball and basketball, where she thought it came from, this lust and enthusiasm for sport. She admitted they were a very competitive whānau, and finished happily with what could be the family sporting motto: kill or be killed. I haven't inherited this killer instinct, but I got really upset that my friend was beating me at SingStar on the Playstation once, and bumped her wine out of her hand to put her off her game.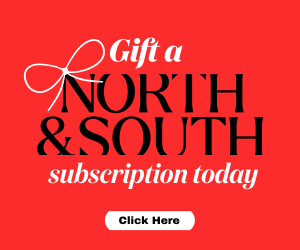 Kiwis love the underdog, perhaps this is the only thing that can be said safely about the national character, with its fickle affections. The All Blacks are captive to this cultural myth, this pride we take in being underestimated. Their ability to be the exception to the rule is only retained as long as they are dominant world champions. It probably represents some kind of schism in our collective psyche, how good we need them to be. 
But Macdonalds just love winning. They will relish beating you. And they won't give in. My son has this quality too, and the tendency to get concussed because of it. By the time he was playing high-school rugby, I could never relax on the weekend until his games were over, with him launching himself into tackles that seemed a mistake to me. But gee, I loved it when they came off with a visceral smack.
Without its Māori and Pacific players, rugby would be dull as a farm ditch.
He did miss out on growing up playing in the backyard against a brother, or running around up home with the cousins at the pā, something he got to do at 13, after we buried Mugwi. Maybe this environment is the real hothouse for Māori talent, that kill-or-be-killed attitude that is flipped like a coin when they play against a common foe, like the Going brothers and the Brookes. It confirms that rugby is a psychological game when brothers can read each other's minds like that. Zinzan Brooke was full of Māori flair, but what does that even mean? 
Maybe Māori flair is an intuition for anticipating the next play and making split decisions that border on lucky, for clinical thinking in a crisis and a gift for surprises. George Nepia was a surprising player. He also kept meticulous records of his match statistics, which he used to correct reporters and analyse his own game.
People think Māori were all war and they forget we had a leisure class, that we had time to play with our children. Is it racist, in this current climate, to suggest we are naturals? That the flair is something magical and innate? That our love of games is older than those introduced by the colonisers? It does seem clear to me that without its Māori and Pacific players, rugby would be dull as a farm ditch. It would be croquet, it would be cricket, it would be a deadly Saturday afternoon somewhere like Ward or Seddon. 
My father's nickname in the lineout was Blackie, because the backblocks of Marlborough produce racists like corn. He said the other reason Macdonalds are so good at rugby, rowing, basketball, golf, softball, cards and hockey is otherwise your choices were work on Grandpa Manny's mixed dairy and crop farm, or going to church. Manny used to stab his big sausage of an index finger in the direction of the lemon tree and tell my father to get him a lemon when he was a boy, but my father would refuse. 
Stubbornness is another Macdonald trait. Because Manny would keep on pointing at that lemon tree and telling that boy to get him a lemon and my father would keep shaking his head. A pretty, slim Māori boy who grew into the spitting image of Manny, a fact he did not like being reminded of. 
Manny converted fully to Mormonism after his young daughter died of meningitis, so it was work or church, work or church. Sports trips away would have seemed like a holiday for the children that didn't know what a real one looked like until Mugwi, my grandfather, was summoned home to the pā and farm from England. Mugwi exchanged his well-paying job and Jag for a ute he piled his much-younger brothers and sisters into, driving them towards a real summer with his young British wife and daughter. Manny, the Māori Mormon Godfather of Blenheim. Who was still paying off old Musket War tariffs to Ngāti Toa conquerors with tonnes of sacked potatoes sent up to Porirua until his death in 1980.
Jack — Manny and Enoka's brother — was so good at sport he got to leave all that familial responsibility behind. Jack Hoani Macdonald should be better known to New Zealanders for all his sporting feats. In 2008 he was inducted into the Māori Sports Hall of Fame. He and Laurie Jackson, who rowed together at the 1932 Olympics in Los Angeles, were the first Māori Olympians. Jack carried the New Zealand flag around the stadium. In 1926, Jack was part of the New Zealand Māori tour which took the running, open style of game to France, England and Wales — that flair which became part of the Māori brand. 
Ironically, the tour was meant as a consolation prize and distraction for the Māori players who had been excluded from a long-planned national tour to South Africa, after their team refused to play against us. The French were so taken with the Māori team that they adopted our style of play. (Decades later, our methods for beating them were perfected against us in two disastrous World Cups.) Prince Edward became a huge fan of the New Zealand Māori team and gave them medals. The team won the grudging respect of the spectators too, followed by their open admiration. In photos they look dapper and elegant, on a ferry deck wearing black sports blazers with a white trim — the same collegial atmosphere that allowed George Nepia to sing "Beneath a Māori Moon" to impressed Pākehā and play tennis with Jack on later tours. 
It is strange to me, poring over those images, that the narratives of the noble savage are still embedded in the way modern rugby is discussed, when almost 100 years ago we were teaching Poms to play their own game, and turned it into a thrilling spectacle.
I haven't watched rugby since my son stopped playing, not really. It reminded me too much of my ex, and all the All Blacks did was win. It was so boring, and I knew it would be making my ex happy. I was happy when Ireland beat the All Blacks, because he used to call the Irish stupid. I'd watch him shrink when he was like that, like I was looking at him down the wrong end of a telescope. I was happy last year when the All Blacks lost the World Cup. By then I'd stopped caring so much about my ex, but Jamie Joseph was in the running to replace Steve Hansen as coach. I didn't expect him to take the job if there was no challenge, if it was just maintaining another's coach's perfect record. And then he pulled out of the race and my dad was dead so I couldn't ring him and ask him why.
Our iwi, descendants of the first migrations, grew up on the water as much as the whenua, moving between the bays of the Sounds in waka and then back to the marvellous open mouth of the Wairau Bar. Mugwi and Cappy used to row their grandfather Hoani around Endeavour Inlet to visit a brother. That feeling of not being able to carve up the water without the tug of your other has made it into the way Māori play the game, as much as individual acts of genius.
A lot of the good Macdonald rugby players also rowed. It built up their necks and shoulders over the summer, and those big cartoonish hams some rugby players seem to have for legs. Which takes me back to that dry rural version of the game. It's a weirdly communist enterprise for farmers to love, rugby. But we only dominate world rugby because Māori and the Pasifika players — who suffer the worst of the racism — have made our game unique. There would be no black jersey with a silver fern without Māori invention, there would be no haka to build tension and no ball off the knee and grace in the backs without us. The same risks Māui took when he dared to steal the fire off Mahuika's fingers.
At the 50th reunion of The Originals team, Jimmy Hunter, a Pākehā from Taranaki who scored 44 tries on the tour, told his Māori teammate, Billy Stead, "Without you I was nothing." I was struck by how romantic and wistful that sounds, like some kind of template for success.
Talia Marshall (Ngāti Kuia, Rangitāne o Wairau, Ngāti Rārua, Ngāti Takihiku) is a Dunedin-based essayist and poet.
This story appeared in the December 2020 issue of North & South.
A Macdonald family reunion, around 1980, in Blenheim. Photo: Peter Macdonald