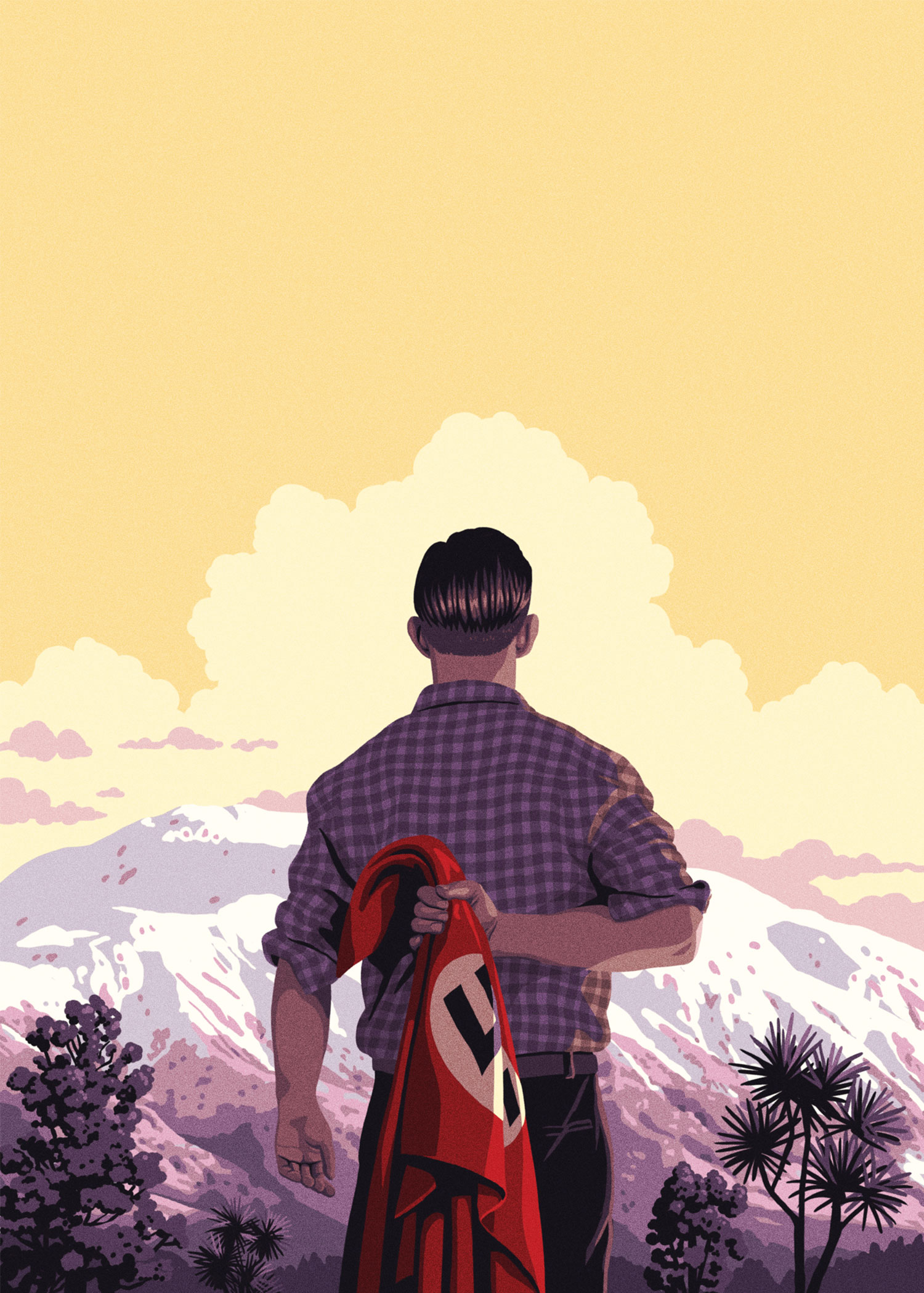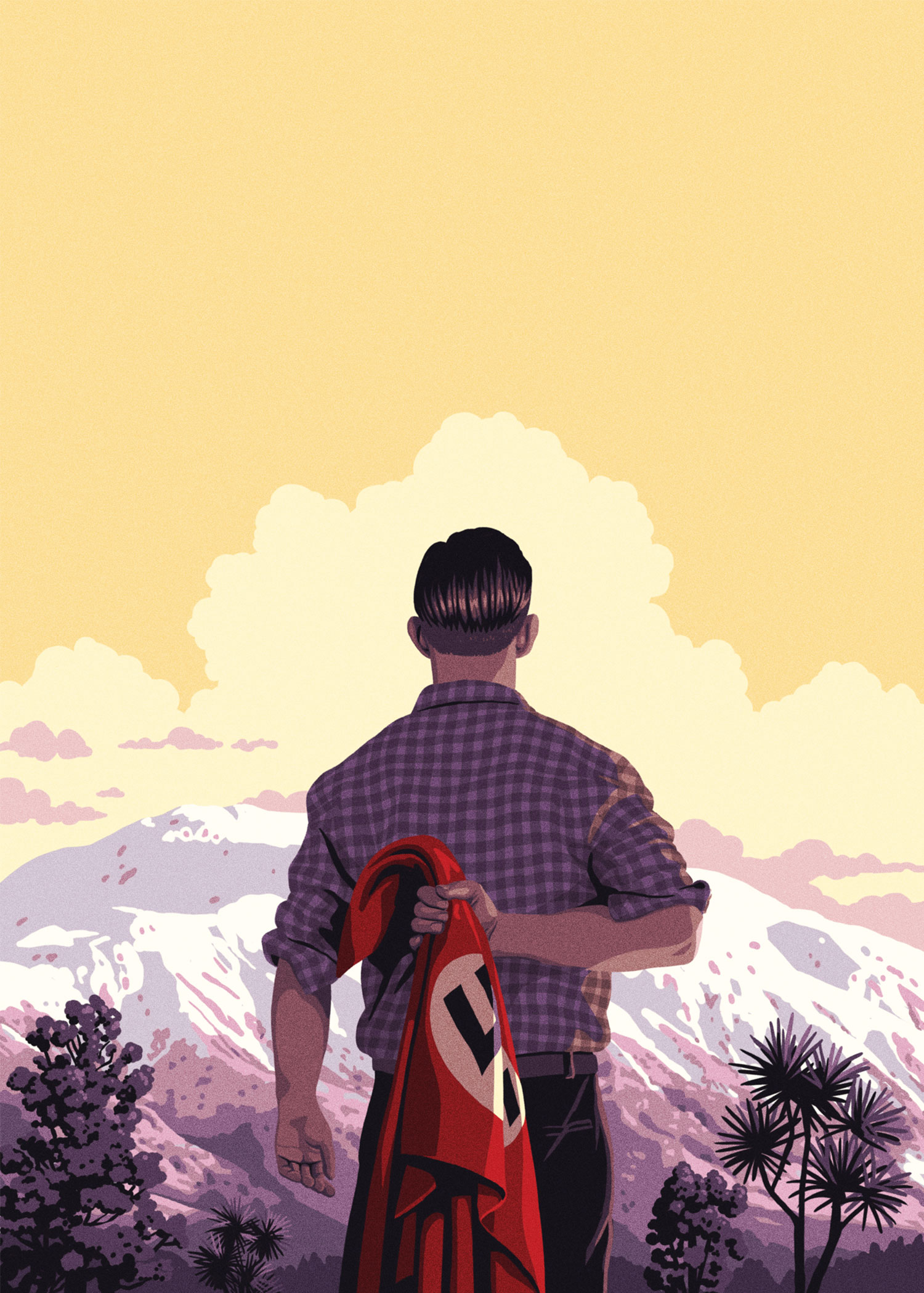 The Nazi Who Built Mount Hutt
The untold story of a former Waffen-SS soldier who lied his way into New Zealand — and got away with it.
By Andrew Macdonald and Naomi Arnold
Cover illustration by Ross Murray
In a lonely lodge high in New Zealand's Southern Alps, three soldiers sipped schnapps and swapped war stories long into the winter night. It was a Saturday evening in the mid-1960s, freezing cold outside, and the middle-aged veterans were relaxing after a day spent wheeling down the ski slopes of North Canterbury. They knocked back nips at one end of the common room while other guests at the private lodge chatted around the roaring pot-bellied stove at the other. The bottle drew empty as the evening drew long.
Charlie Upham, in his mid-50s and reserved, was an infantry legend, the holder of the exceptionally rare Victoria Cross and Bar for battlefield valour in Greece, Crete and North Africa. Brian Rawson, a more sociable man of a similar age, had commanded Sherman tanks in North Africa and Italy. The third man was Willi Huber, a charismatic Austrian in his 40s with blond-brown hair and grey eyes, and he had a very different kind of war story.
Rawson, by then a banker in Christchurch, and Upham, who'd taken up farming in Hundalee, had hired Huber as a ski instructor for a few weeks at Amuri Ski Lodge near Hanmer Springs. Huber had emigrated to New Zealand in the 1950s, and told people he had been roped into the German army as a teenager — meaning he had fought for Adolf Hitler's Nazi regime in World War II. Upham and Rawson accepted this. "We might have been shooting at one another," Rawson joked to Huber.
"Soldiers understand that soldiers get called up, and that it's all political," recalls Debbie Rawson, Brian's daughter, who Huber taught to ski. To the two Kiwi veterans, Huber was just a regular "good guy", popular with the ski-lodge crowd and one of thousands of Europeans starting a new life in postwar New Zealand. Debbie remembers the three men drinking and chatting together in the lodge's common room, "telling jokes and roaring their heads off with laughter".
The Austrian went on to build a name for himself in the clannish Canterbury outdoors scene as an expert skier and alpine hiker. He took an interest in people and pitched in to get things done, in the Kiwi way. His crowning achievement was helping establish the internationally known Mount Hutt ski field, which memorialised him with an advanced 821-metre ski run named Huber's Run as well as a plaque in his honour. Huber's Hut restaurant served Huber's Breakfast Burger, Huber's Smoked Salmon Salad, Willie's Angus Burger, and Willie's Midweek Breakfast Special. His achievements were celebrated in a string of articles over the years in local and national media that only briefly touched on his past as a "war hero" in the "German army".
Then, in 2017, came a shocking admission: Huber told TVNZ's Sunday programme he had served in Hitler's feared elite guard, the Waffen-SS. This was at stark odds with the narrative he had carefully maintained for 65 years. Far from being a naive conscript, Huber had volunteered for one of the most notorious criminal organisations the world has ever known. Following the interview, and particularly after his death in August 2020, pressure mounted to strip Huber's name from Mt Hutt.
Nearly a year after Huber's death, his past has never been fully unravelled. Many of his stories remain accepted without scrutiny. Now, for the first time, drawing on interviews with people who knew him and official documents from archives, libraries and private collections in five countries, North & South has pieced together the life of this Nazi warrior turned Kiwi alpine legend. We discovered that the true nature of his role in the war was very different from what he claimed, and that he lied on his immigration application in order to enter New Zealand. On multiple occasions over the years, he spoke of his service for Nazi Germany with pride.
In the 1960s, Huber and Upham's paths crossed at Craigieburn Valley Ski Area, in inland Canterbury. Huber overheard some skiers talking excitedly about the presence of a double Victoria Cross winner. He later told his friend Len Vidgen that he became quite "peeved" at all the attention Upham was getting. "He thought, 'Fuck that, I've got an Iron Cross'," Vidgen says. Huber told Vidgen that he got into his car and drove the four-hour return journey to retrieve the medal from his home in Christchurch. When he got back, he showed it to Upham: a black cross pattée of iron with a silver frame — and in the middle, a swastika.