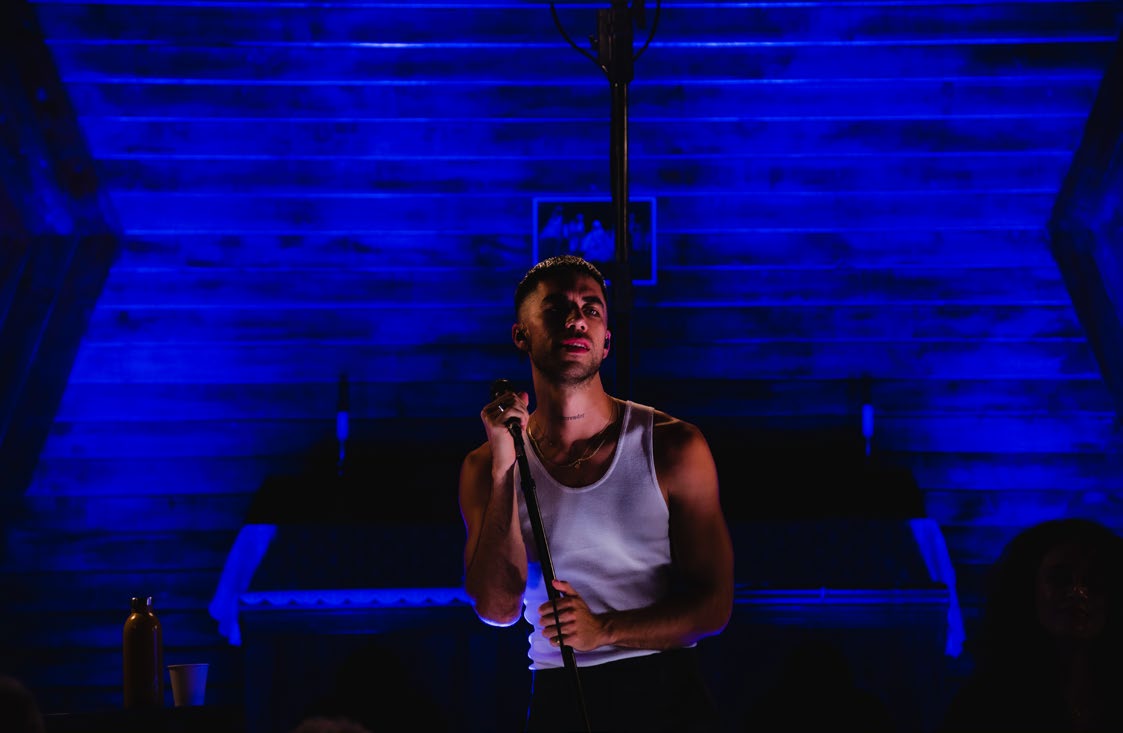 Above: Teeks. Photo: Supplied by Sony
27 year old Teeks sounds like a cross between Adele and Elvis Presley. And he's poised to become New Zealand's next international superstar.
The crowd at St Mary's in Holy Trinity in Auckland was quiet, more so than a typical gathering of 600. Perhaps it was from a general sense of holiness in the venue. Te Karehana Gardiner-Toi was wearing a white singlet and unbuttoned shirt, clean shaven, his black hair gelled back, green eyes glowing in the low light. He stood in front of the altar and sipped from a hot cup of tea. He seemed nervous, muttering an apology for holding up the show to take a drink.
And then he began to sing. Accompanied by a piano and string quartet, his baritone was transcendent. "Through the fire I'd walk a million miles to find you," he sang, the vibrating depth making the wooden walls of the small Parnell church feel even closer than they already were. Some of the notes he held, way down low, sounded almost instrumental, like a small organ. By the time he brought out soul singer Hollie Smith for a duet of "Whakaaria Mai (How Great Thou Art)", it was clear to the audience that this was New Zealand's next musical sensation.
The intimate show last December — one of a few in small venues around the country ahead of his upcoming album, Something To Feel — was an unexpected choice for a star on the rise. Gardiner-Toi, who performs as Teeks, has been dubbed "the male Adele" by Vogue. Music journalist Chris Schultz has written that Gardiner-Toi "might one day give Lorde a run for her money".
His sound marries the musicality of Norah Jones with the vocal control of Elvis Presley singing ballads. Celebrities as varied as Russell Crowe and RZA from the Wu Tang Clan have tweeted his praises.
None of it may have ever happened if Gardiner-Toi hadn't been game to make a risky social move 10 years ago, when he was 17. On a long drive home to the Far North from Auckland with his high school reggae band, he pulled out a brand new album he'd just bought from the mall, inserted it into the van's CD player and pressed play. It was Adele's 21.
To his surprise, the soulful album of pop ballads was a favourite with the band. They played it on repeat in the van until their arrival back home in Taipa, east of Kaitaia. The drive proved to be a turning point in Gardiner-Toi's life. "That was the first time that I can remember just really listening to an album and being inspired in terms of the songwriting," he says. "I feel like I owe a lot to that moment."
Journalists have dubbed Teeks 'the male Adele' and warned he "might one day give Lorde a run for her money".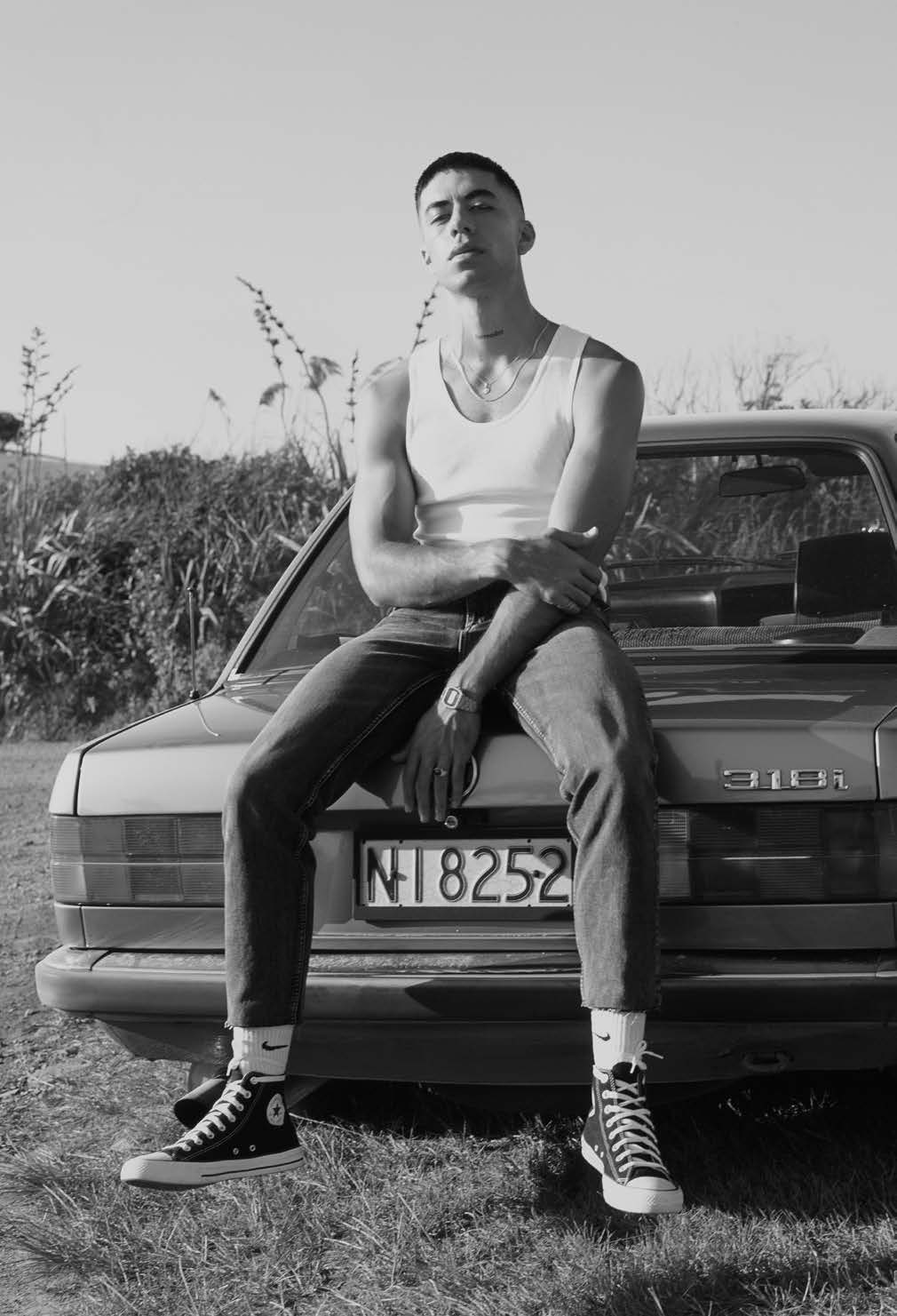 Teeks. Photo: Danni Bishara.
We are speaking over the phone thanks to the first, shorter, Auckland lockdown this year. Gardiner-Toi's speaking voice is the little brother to his singing voice. It's full, deep, and punctuated with a lot of laughter. Until the Adele revelation, Gardiner-Toi's musical diet had consisted largely of Bob Marley, Elvis Presley, Stevie Wonder, and kapa haka recordings — thanks to his parents' tastes. Born in 1993 to two teachers, Gardiner-Toi was first raised in Tauranga before moving to Rotorua (then Opononi then Taipa) with three older sisters and two younger brothers. Being the "sometimes neglected" middle child perhaps meant his path to emotional songwriting was laid out from birth. "I'm very observant as a person and I can be quiet for a long time," he tells me. Music was always in the house, with his father writing verses in te reo for school kapa haka – an activity Gardiner-Toi had to give up in his late teens. "They thrash your voice. You're screaming pretty much the whole time."
Even then, he knew his "distinctive" voice was worth preserving, but it took a stint in the Taipa Area School reggae band Ahomairangi before Gardiner- Toi found his lane. At university he was introduced to soul music, specifically the American singer and songwriter D'Angelo, and began working on his debut EP, The Grapefruit Skies. Released in 2017, The Grapefruit Skies was a crooning record. The kind of music you could imagine playing while a loved-up elderly couple slow-dances in their living room.
Beautiful crooning isn't always commercially viable, particularly in New Zealand. "The New Zealand music landscape has a very particular sound — definitely reggae — and all the summer festivals are premised on that type of music, which I've thought about a lot because obviously it means I can't just do any festival," Gardiner-Toi says. The decision to make music which felt authentic to him has steered him well. In 2017, he won Best Māori Artist at the New Zealand Music Awards. His acceptance speech was in te reo, of which he is a fluent speaker.
He also thought hard about how exactly to release his latest album. Rather than a traditional release date for the full album, Gardiner-Toi has staggered Something To Feel in three parts: the first four songs were out in August 2020, another four in November, and the final four this March.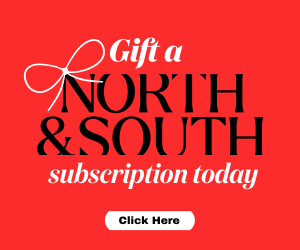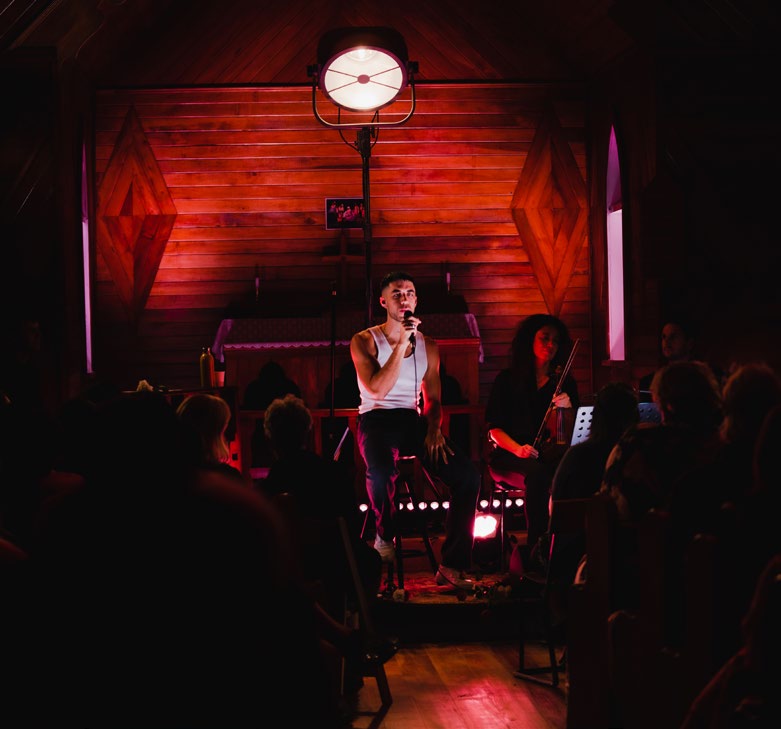 Teeks performing during his intimate churches tour last December. Photos: Courtesy Sony.
It's a decidedly 2020 way to release an album; hedging his bets at a time when seemingly anything could happen. "I still wonder if it was the right thing to do, but I stick by my decision," he says. "I wanted to give each song the opportunity to be heard. It's basically forcing people to listen to four songs over and over."
The album mostly centres on Gardiner-Toi's voice accompanied by a lone piano or guitar. The bare aesthetic is symbolic of his emotional journey from EP to album. "I feel like I'm a different person than I was then," he says. "Doing that inner work was important." What was that work? "Being comfortable with being me and feeling all these things and, importantly, acknowledging all these feelings," he says. "I've always been a really shy person, I never really showed much emotion or expression, I don't know why. But now I feel like I'm way better."
As part of this growth, Gardiner- Toi made the impulsive decision to get a tattoo on his throat. The word "surrender" in all caps sits squarely over his Adam's apple. "If I have a shit day or things aren't going too well it's like, 'Oh well, surrender to what's happening'," he says. It's a daily reminder that some things just are.
There's a lot of surrendering to emotion on Something To Feel, as if Gardiner-Toi is sharing his journal of yearning and heartbreak with the world. One can't help but wonder who inspired such lyrics as I'll be right here waiting if you change your mind / I don't care how long it takes, I don't care about my pride. "I get asked that all the time," he says, already laughing. "Like 'Damn bro, what did they do to you?' I know who I'm writing about, there's definitely a couple of people. But I think more so than the people themselves, it was the impact of feeling all those things and how I processed it emotionally."
Having put every part of himself into his debut album, Gardiner- Toi is prepping for another tour, this time at larger venues. He's simultaneously considering taking a short break after creating such an emotionally exhausting album.
At the very least, he doesn't think he can write anything new until he's lived his life for a while. "I need to experience some things," he says. He pauses for a second then cracks up laughing. "I need to go and get into a relationship," he decides. "I mean, these are songs I'm writing about people I'm not even with, imagine if I was actually in a relationship."
When Vogue labelled him the 'male Adele', they were describing his voice, but Gardiner-Toi wouldn't mind emulating the multi-Grammyaward winner in other ways, too. "I know that she crossed over from singer-songwriter to major popstar so there's definitely an audience for that type of music," he says. "I'll just keep doing me and hopefully people will keep listening." By the end of March, his debut album will be available in full — perhaps creating the perfect opportunity for a teenager to make an impulsive purchase, and take a risk on their van ride back home.
Madeleine Chapman is a senior editor for North & South.
This story appeared in the April 2021 issue of North & South.