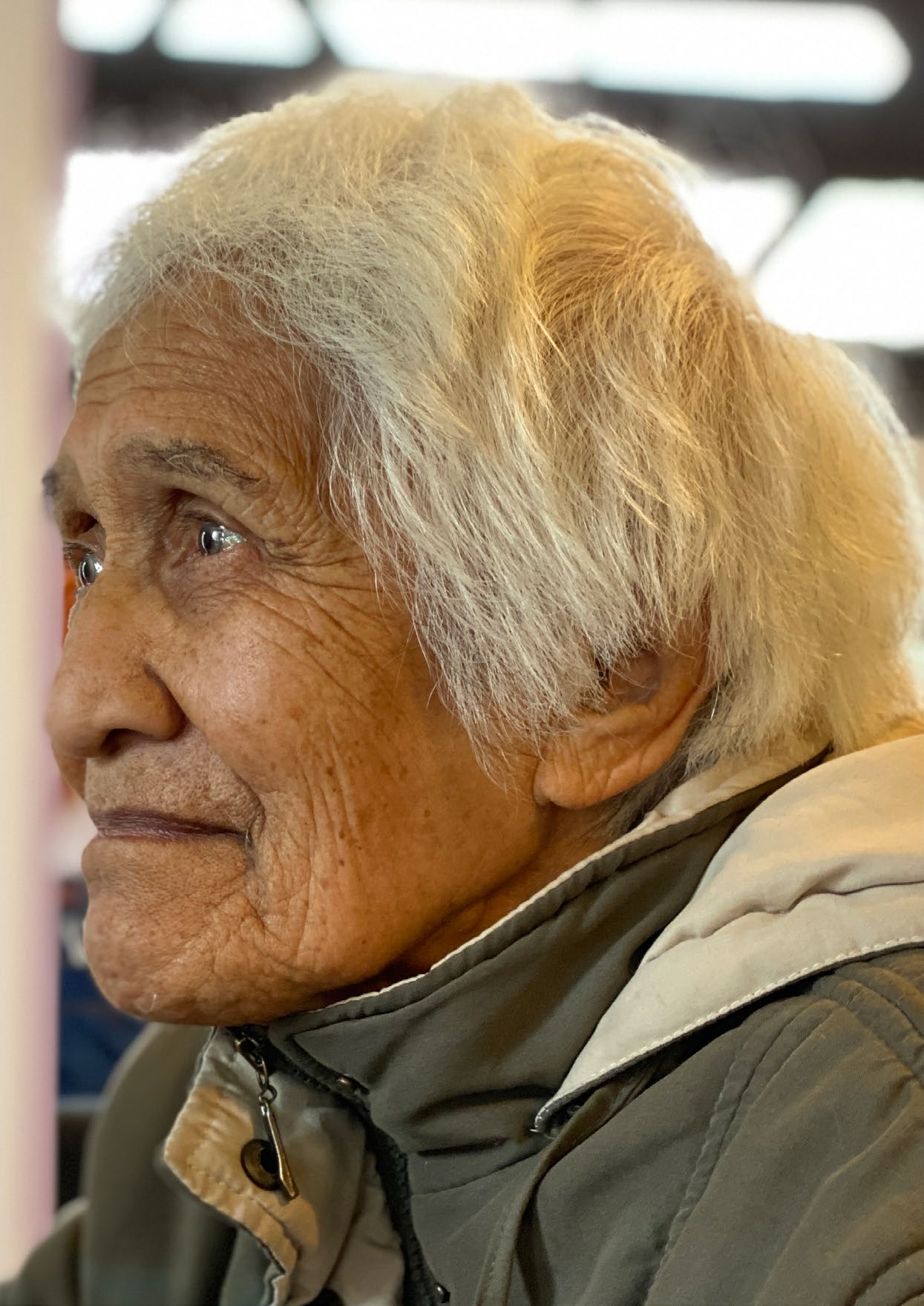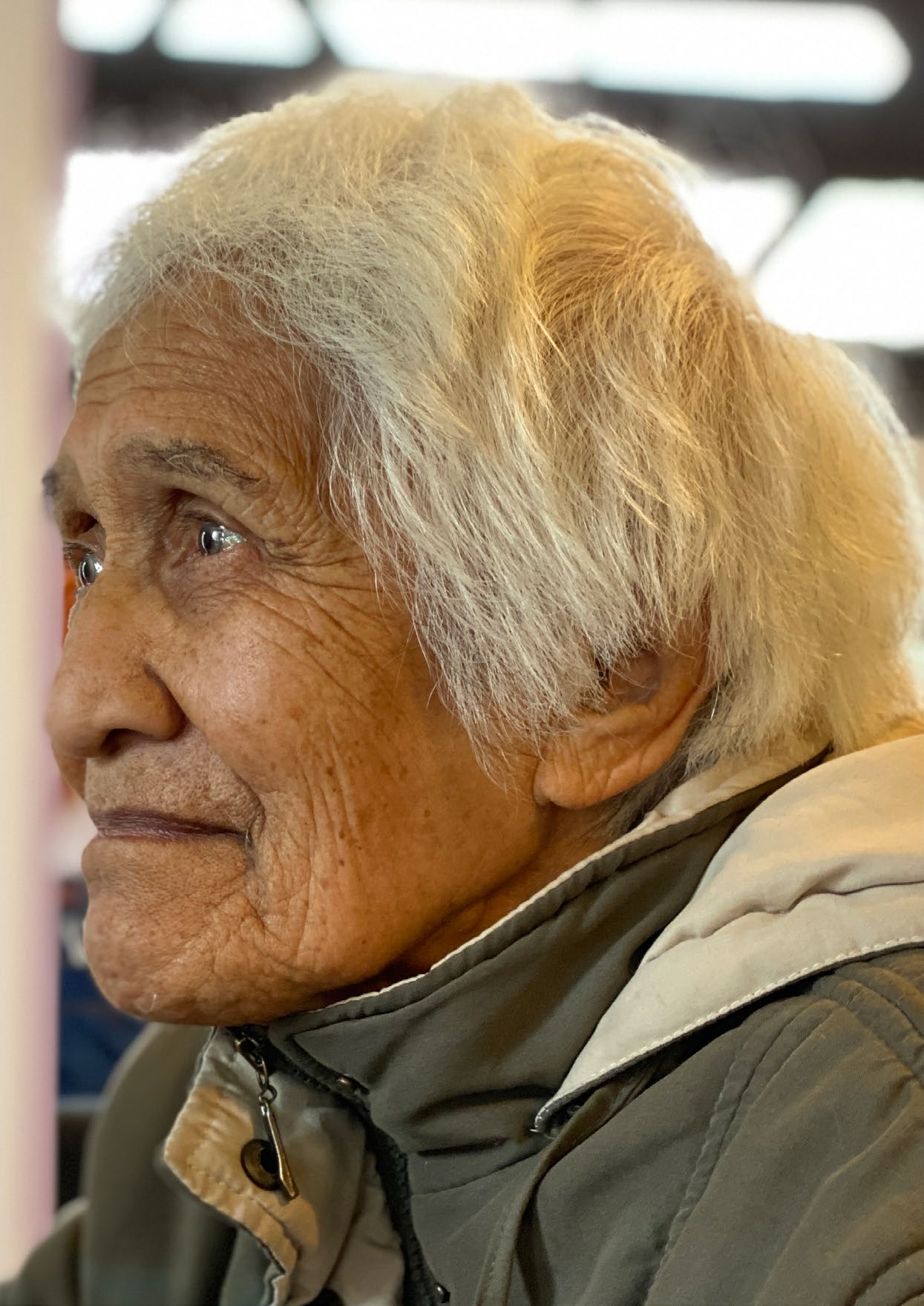 Māori and Pasifika communities are among the most vulnerable to the highly transmissable Covid variant Delta, which has now hit our shores. Even as the vaccination rollout gathers pace nationwide, why are their numbers lagging so far behind?
By Helen Glenny
The wharekai at Rehua in Christchurch, a spacious, wooden building nestled behind the wharenui and surrounded by lush greenery, hums with chatter. But Suzanne Pitama, the associate dean of Māori Health at the University of Otago in Christchurch, tells me that the scene is actually pretty quiet: "Last time we were here, the kaumātua were singing karaoke." She's looking relieved. Pitama helped set up the MIHI (Māori/ Indigenous Health Institute) Mobile Vaccination Clinic, a team of all-Māori health professionals, including GPs, psychologists and nurses, who travel to different marae across Canterbury to administer Covid-19 vaccinations to local whānau. A shy, elderly woman with bright white hair and a moko kauae is here with a good friend, Susan, who drives her to appointments like this one, where she'll receive her second Covid-19 vaccine. Susan isn't eligible for the vaccine under the government's priority groups, but she was offered her first when she brought her elderly friend in, and today, she'll get her second too. The clinic is operating under a "Protect the Pa" philosophy, reflecting that Māori are more likely to live in intergenerational households rather than aged-care homes. If those who care for their kaumātua aren't protected, then those kaumātua are still at risk.
Cassandra Staps, an acting nurse consultant in her 50s with long braids and a comforting smile asks Susan about her first vaccination — "I felt fine", she reports — and gingerly tells her the symptoms can be a little worse with the second. She prepares the needle and draws 0.3 mL of the Pfizer vaccine. It has been flown to Auckland from Pfizer's labs in Belgium, then stored in ultra-cold freezers at a distribution pharmacy in Christchurch, before being delivered today to Rehua Marae. Staps listens to Susan's brave, nervous chatter ("I've planned a quiet day for tomorrow, just in case") as she expertly pushes the needle into Susan's deltoid. She draws it out, and asks Susan if she wants a plaster. Susan is surprised: "Is it done?"
Staps normally works at Hillmorton Hospital in Christchurch, but jumped at the chance to work in a for-Māori, by-Māori healthcare project. The clinic is run by Māori health professionals; today it's two GPs, a psychiatrist, and many nurses, as well as a rotating roster of admin staff, who book appointments, welcome people in, get their details into the National Immunisation Register and watch over them for 20 minutes after their vaccination.
Until last year, Staps says, she and her whānau were hesitant about vaccines. She'd ensured her children had all the usual vaccinations growing up, but always with a degree of scepticism. That changed last year, when Covid-19 swept across the United Kingdom, where Staps's brother, Barclay Paea Mason, worked as a charge nurse at Princess Alexandra Hospital in Harlow, Essex, just north of London.
In October 2020, Mason's best friend wasn't able to get hold of him. She contacted some of his friends in London, and asked them to check on him. "He was quite unwell, and he wasn't making sense," Staps says. "They took him to hospital straight away, and he was mortified, because it was the hospital where he worked." His colleagues later told Staps that as the nurse in charge of rostering, Mason kept a particular eye on the nurses with young families. If he saw they were rostered onto the triage desk, where the risks of contracting Covid-19 from incoming patients were high, he'd quietly move them to a different part of the emergency department and take the desk himself.
"It was touch and go for a while," Staps says, but he was eventually discharged. "Knowing Barclay, he would've been uncomfortable taking up a bed that could've been used for someone else." About a week later, Staps rang him. "He sounded really awful. I didn't get my mum, because I didn't want her to worry." But it didn't occur to her that they could lose him. "I said that we loved him, and he said he loved us too." Three days later, he passed away in his London flat.
Māori are being vaccinated at almost half the rate of Pākehā.
At the time of writing, New Zealand has no community transmission, and while our border workers are exposed to people with Covid-19, 2021 has only seen one Covid outbreak, in Auckland in February. However, we currently have the lowest percentage in the OECD of people who have received at least one vaccination, at just 26 per cent of the total population.
A team at Te Pūnaha Matatini Centre of Research Excellence modelled New Zealand's path to herd immunity in June, concluding that we'd need 83 per cent of over-15 year olds vaccinated, or 97 per cent if the Delta variant becomes dominant worldwide. But "even if population immunity is achieved at a national level", they noted, "communities with relatively low vaccine coverage or high contact rates will remain vulnerable to major outbreaks". Despite initiatives like the MIHI mobile vaccination clinic, Māori are being vaccinated at almost half the rate of Pākehā. The rollout is proceeding at different paces in different DHBs too, with Taranaki only having vaccinated 14 per cent of residents with their first dose) at the time of publication, while Nelson Marlborough DHB has vaccinated 27 per cent.
To some extent, the speed of rollout is determined by our contracted delivery schedule with Pfizer. But given the importance of achieving equal vaccination coverage across the country, it's alarming that certain regions and ethnicities are falling behind, while others surge on. If we can't ensure equal coverage, we're leaving unvaccinated communities in a place of extreme vulnerability, a place that many know all too well.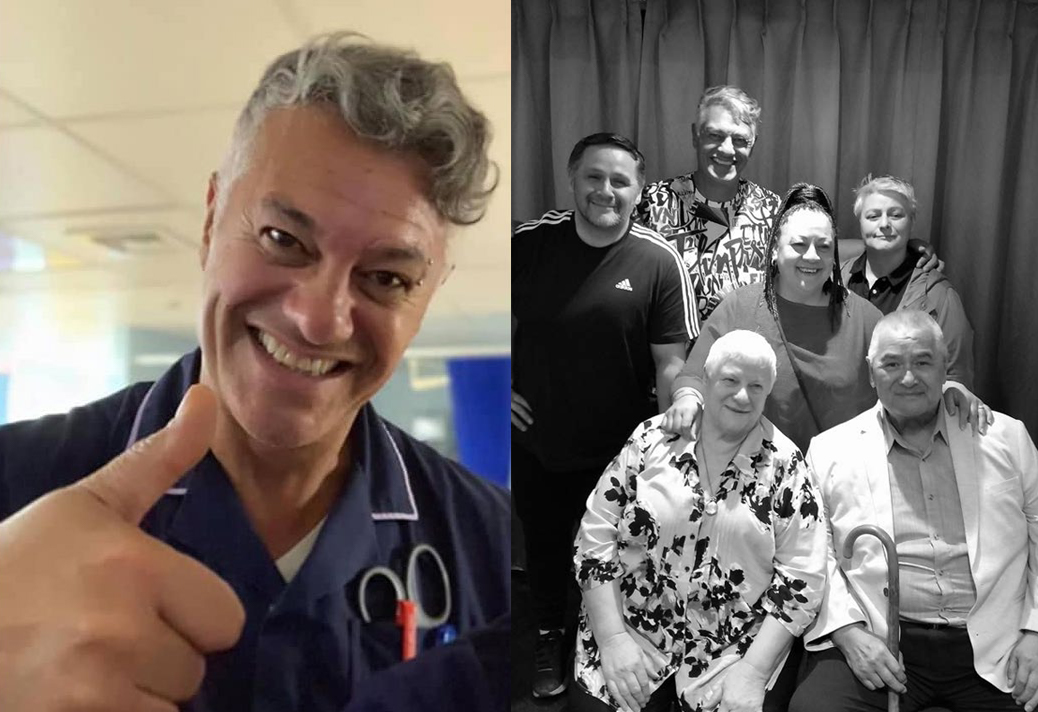 Above left – Barclay Paea Mason worked as a charge nurse in Princess Alexandra Hospital, Harlow. Above right – Cassandra's whānau: Susan and Turei Paea (front), Riki, Barclay, Cassandra and Lisa (back). Photos: Supplied.
Every Tuesday, the Ministry of Health (MoH) releases a mammoth Excel spreadsheet. It tracks the number of vaccinations given out by each DHB and how actual vaccinations compare to the targets that DHBs have set for themselves. These targets are, at least in part, dependent on size. Auckland Metro, which represents the combined efforts of Auckland, Waitemata and Counties Manukau DHBs, is aiming for around 50,000 vaccinations per week. Canterbury is looking at 10,000. Nelson Marlborough is aiming for just under 4000 per week, and Taranaki's goal is set at 800. After months of being below target, Auckland is catching up, now tracking at 99 per cent of their total plan. Nelson Marlborough is well above target, having given out 133 per cent of their planned number. These are the numbers typically trotted out at press conferences. You've heard the line — as of right now, we're ahead of target, at 103 per cent. But these numbers provide little value in assessing what kind of vaccination coverage has actually been achieved. The targets were set by each DHB in consultation with MoH, and some areas have come under fire for setting their targets too low. Taking the number of vaccines administered per capita paints a very different picture.
At the time of writing, Taranaki, for instance, is exceeding its target by 7 per cent, but it is actually lagging well behind the rest of the country, having given out 23 vaccinations for every 100 residents . West Coast DHB, meanwhile, is performing worst of all DHBs compared to their targets —13 per cent below its goal — but has administered 50 vaccines per 100 people, many more than Taranaki. Auckland Metro has administered 42 vaccines per 100 people but is currently 1 per cent behind target. Nelson Marlborough is leading the per capita charge, at 52 vaccines per 100.Group 1 mainly consists of border workers and those they live with. Group 2 includes front-line health workers and those living in high-risk situations, such as aged care homes, and according to MoH data, that group is almost completely vaccinated. Group 3 is anyone over 65 or those who have long-term health conditions, are pregnant, disabled, or in prison. Right now, only 26.9 per cent of Group 3 have had their first vaccine, and 14.4 per cent have had their second. But even these percentages are based on shaky estimates of total group size. In a statement provided to Stuff in June, Taranaki DHB confirmed that when targets were set, "there was no visibility on the number of people actually in Group 2, either by region or nationally". Group 3 faces the same problem. It includes people with long-term health conditions, which University of Otago Māori health researcher Sue Crengle believes is "kind of deeply problematic".
"For a start, there's no fully accurate collection of information about who those people with those longterm conditions are," says Crengle. "For example, if you use high blood pressure, there's no fully accurate information about who's got high blood pressure. In GPs' records some people will be noted to have that diagnosis, but there are inaccuracies, where GPs don't mark them as long-term conditions. And there are people who are living their lives with undiagnosed high blood pressure, they won't be picked up." To measure the vaccinations in a particular group, you need a numerator, the number of those people vaccinated, and a denominator, the number of people in that group. "There's no denominator for measuring performance," Crengle says.
But geographical gaps in the vaccination rollout are not the only way that certain communities in New Zealand remain vulnerable to Covid-19: ethnicity makes a difference too.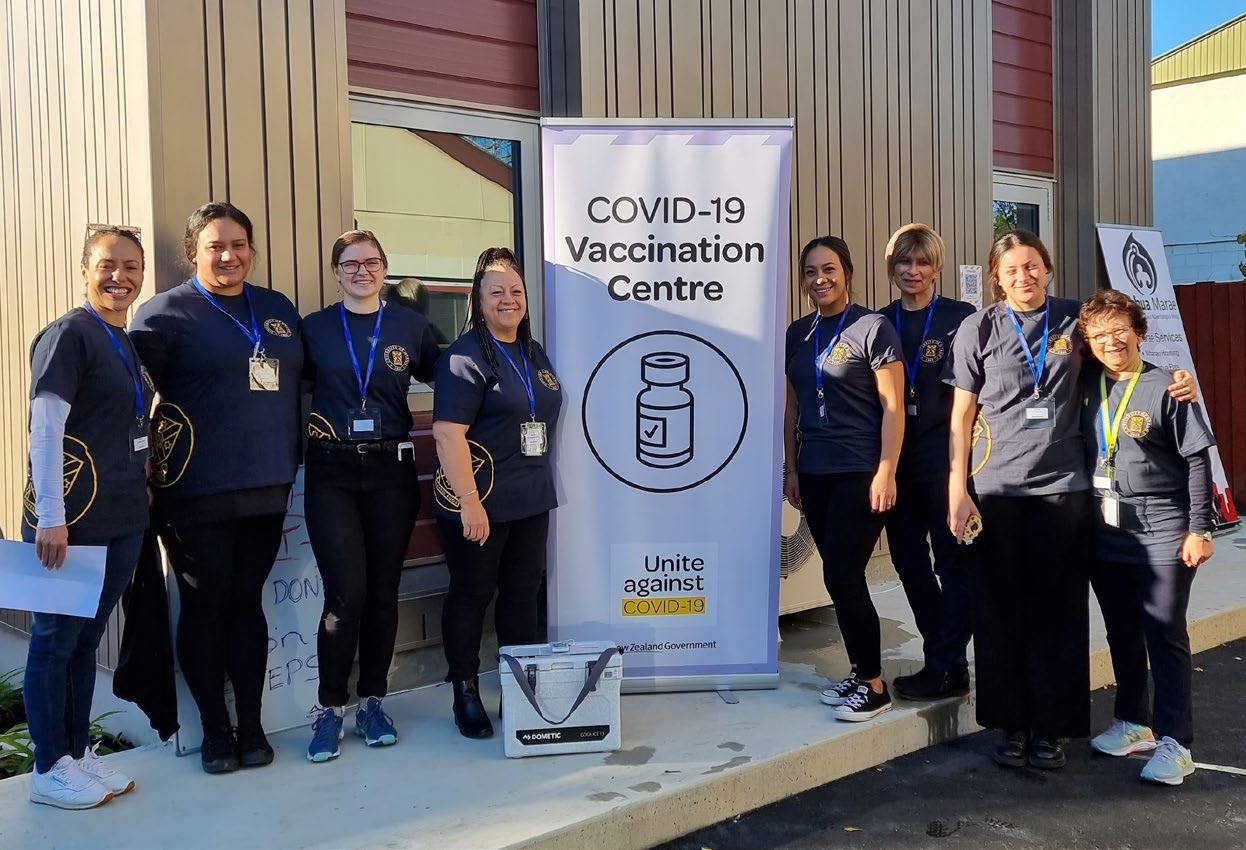 MIHI team members at Rehua Marae with a new supply of vaccines. First from left: Dr Maira Patu. Fourth from left: Cassandra Staps. Photo: Supplied.
On 25 January 2021, Northland residents and holidaymakers were lining up for Covid tests. A 56-year-old returnee had tested positive for Covid-19 after returning two negative tests in MIQ, and Aotearoa was abuzz with fears of the beta variant, then called the South Africa variant.
That day, Staps drove to Christchurch Airport with her husband Marc. It was important for her to meet Barclay as he came off an Emirates flight from the United Kingdom, in a wooden casket, back to his whenua. Mason was the first New Zealander to return home after passing away from Covid-19 overseas, and there were barriers to him being released, so his loved ones had prepared to stay the night with him in an airport hangar. He'd passed away over a month ago, and they were determined he wouldn't be alone any longer. After much discussion, he was released, and they took him to the home of Mason's best friend, who's also the mother of his two adult children. "He liked the beach, and he liked being outdoors," Staps says. "Those four days that we had with him, the weather was just divine. We had him outside, and it was like camping." She brings up a video that a family member made of that time. They've strung up a blue tarpaulin marquee, friends with guitars sing waiata, and Mason's loved ones sit around talking, laughing, and crying. Staps's mokopuna stretch out in bean bags, resting their backs on Mason's casket. They're visibly enjoying Mason's company, something they've sorely missed in the 20 years he's lived overseas. "Having Barclay back home was such a gift. It's been a real drive for our whānau to talk about the importance of protecting everybody. Because of what we've seen and what we've felt, we don't want others to have to go through that."
A few weeks after saying goodbye to her brother, Staps's boss at Hillmorton Hospital asked if Staps was trained as a vaccinator. She suggested that there might be some Māori people who would like to have a Māori nurse vaccinate them. Staps started her vaccinator training, and in that same week, Pitama approached her about working at the Mihi Mobile Vaccination Clinic.
The latest data from the MoH shows that 14.6 per cent of Māori have received their first vaccination, compared to 20.3 per cent of Pasifika, and 25.9 per cent of Pakeha. "It's a product of how we've designed the vaccination system," says Dr Rawiri Jansen (Ngāti Raukawa, Ngāti Hinerangi), clinical director at the National Hauora Coalition practice network, and former member of the Immunisation Implementation Advisory Group (IIAG), which is responsible for providing "independent, practical advice to the Ministry of Health on how to plan, prepare and implement a COVID-19 immunisation campaign", according to the Ministry of Health.
A 59-year-old māori person with Covid-19 has the same chances of hospitalisation as an 80-year-old pākehā person.
Jansen speaks of a fundamental flaw in the sequencing framework: it doesn't adequately prioritise the Indigenous population. "The most vulnerable population in Aotearoa will be Māori and Pasifika, because the social determinants of health create a very unequal New Zealand." Māori have a shorter life expectancy than Pākehā by about seven years, and are more than twice as likely to experience heart failure. Although cancer rates are similar between Māori and non-Māori, Māori are more likely to die from cancer than non-Māori. "That's true for renal failure, for respiratory conditions, and if you do have respiratory conditions, you will be less treated, and are more likely to be misdiagnosed. All of that was true before we had Covid, and Covid exposes unequal societies in very profound ways."
A July study, also from Te Pūnaha Matatini, examined the August/September Auckland outbreak, a cluster that included 179 cases. The study found that if a 59-year-old Māori person and a 54-year-old Pasifika person caught Covid-19, even if they had no underlying health conditions, their chances of hospitalisation were the same as an 80-year-old Pākehā person. This increased risk isn't unique to Covid. During the 2009 H1N1 influenza pandemic, Māori had twice the rate of infection as Pākehā and were more likely to become severely ill.
For Jansen, Te Pūnaha Matatini's study is more than just numbers on paper. "I'm from Ngāti Raukawa. In that Auckland August cluster, someone travelled from Auckland to Tokoroa, and we lost two of our tribal members. It was two brothers, aged 55 and 60. Beautiful, loved, respected members of our community."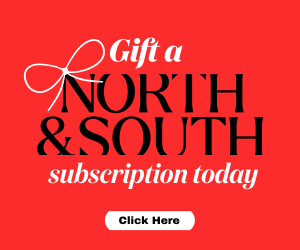 On the basis of this established knowledge, Jansen says the IIAG provided advice to the Ministry of Health and cabinet that Māori should be offered the Covid-19 vaccination at age cut-offs 21 years younger than Pākehā. According to that advice, if Group 3 includes Pakeha from 65 upwards, it should include Māori and Pasifika from 44 upwards. MoH documents show that at one point, offering vaccinations to Māori at 15-year younger cut-offs was being considered. Cabinet chose not to follow that advice. Why? "Buggered if I know," says Jansen. Frustrated by cabinet's decision not to lower the age thresholds for vaccination for the Māori and Pacific population, among other issues, Jansen resigned from the IIAG in April.
Jansen believes that taking up that advice would have had public support. "We do this for cardiovascular-disease risk assessment. Men are done at a different age to women, Māori men are done at a different age to non-Māori men. New Zealand understands. They ask, what's the science behind the need? And they say do it, because the science says Māori are most at risk." Nor would it have been unprecedented: Canada has been offering vaccines to any First Nations adults as it rolled out vaccinations to its elderly populations, and Australia has been vaccinating Aboriginal people from age 55, at the same time it vaccinated everyone else from aged 70 upwards.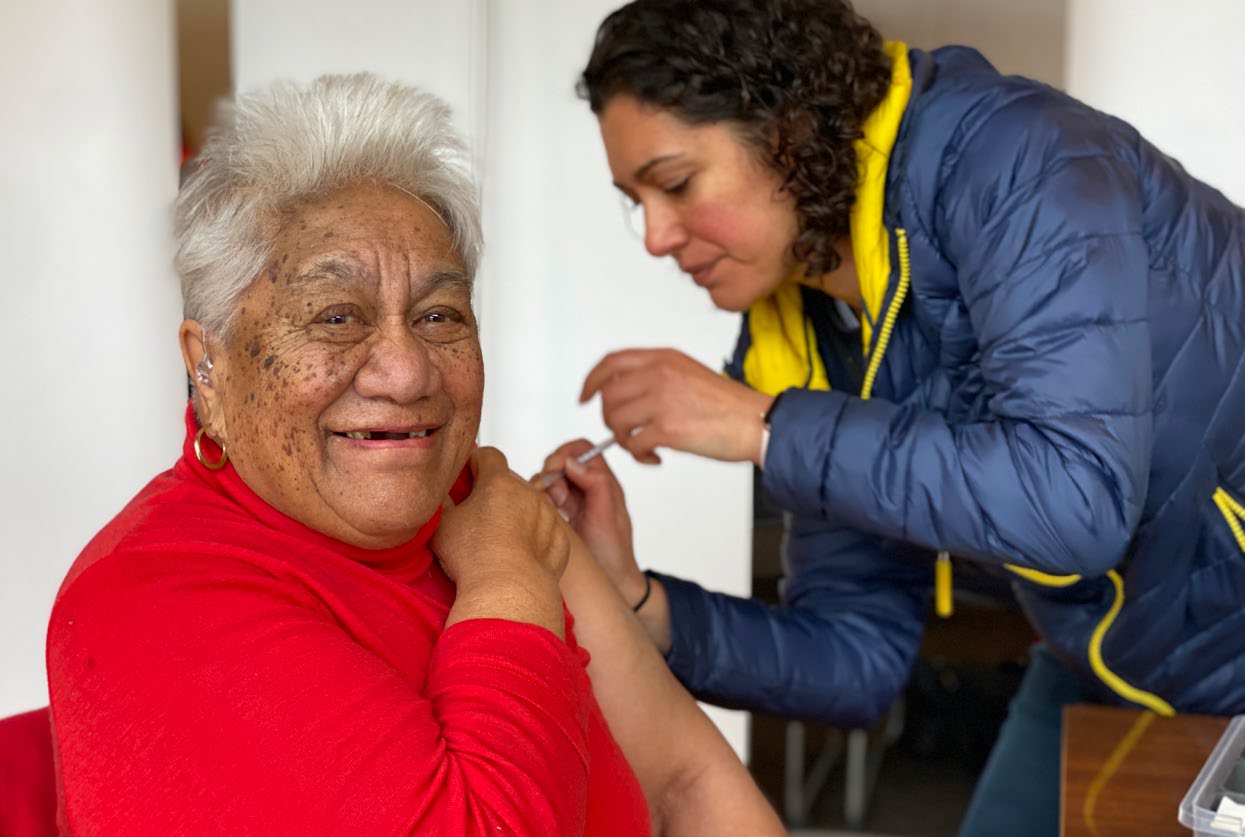 Dr Maia Melbourne-Wilcox administering a vaccine at Rehua Marae in Ōtautahi/Christchurch. Photo: Supplied.
In March, the government announced that Group 4 vaccinations would start from July. When supplies from Pfizer were dwindling, they clarified that date to mean "late July". On 28 July, the first Group 4 members were invited to book their vaccinations, even though only 21 per cent of Group 3 had had their first vaccine. The decision to forge ahead with Group 4 appears to be in part an unwavering commitment to the goals set in March, and in part a reflection of supply. After vaccine stock dwindled in mid-July, Pfizer began a promised increase in shipments, with 350,000 doses coming in per week in late July.
"It would have been nice to have seen a bigger push for marginalised groups first," says Dr Maira Patu, GP and clinical lecturer at the Māori/Indigenous Health Unit at Otago University. "Now that the general population has access, the system will be swamped with people who can navigate the booking system easily, because it's quite complicated, that can get themselves easily to clinics, and have good health literacy. And of course Māori are over-represented in the opposite of these things." The July mass vaccination event in Manukau illustrates this. Of 12,500 invites initially sent to Manukau Institute of Technology students, staff and families, only 3000 booked a place. The invitation was widened to 82,000 Maori, but the spots still didn't fill.
Jansen worries about an emerging counter-narrative about low Māori vaccination rates. "That's going to be: we opened the doors for everybody, and they didn't come." He believes that achieving equal vaccine coverage requires removing barriers of time, cost, travel and information access. "We've got Māori health professionals from Kaitaia to Bluff. How do we mobilise that to support Māori communities so that they are well informed, they're engaged, they've had all of their questions asked? We need to build a Māori channel and build a Māori presence in the mainstream channel."
Jason Moses, group equity manager at the MoH, says "the way the sequencing framework has been designed means Māori are strongly represented in Group 3. That means they'll be vaccinated ahead of the wider population who are in Group 4." That said, vaccination bookings are now open for anyone in Groups 1 to 3, and anyone in Group 4 who's over 60. It's not clear whether any of Groups 1 to 3 will be prioritised over Group 4 members who are over 60.
"The number of Māori being vaccinated will increase over the next few months as we work further through Group 3," Moses says. "It'll increase again as we hit the younger age bands in Group 4 — that's because of the younger age demographic among Māori. We're committed to ensuring Māori have access to the vaccine and that they're being prioritised to receive it."
The rollout of vaccinations to Group 4 may also cause complacency in New Zealand. Many people are relaxing on scanning, isolating when they're sick, and getting Covid tests. This leaves us vulnerable to an outbreak — as happened in Sydney, where "gold standard" contact tracing and strict border measures were no match for the Delta variant, which has now infected over 2000 people. And those communities with desperately low vaccination rates would be more vulnerable still.
"The next outbreak in New Zealand will be the Delta or Lambda variant," Jansen predicts. "It's going to arrive and it's going to be really, really transmissible, at a time when Māori and Pasifika are less vaccinated than everybody else. Fuck me. Quote me there, because that's a fucking perfect storm."
Dr Nikki Turner is the medical director of the Immunisation Advisory Centre, which had been advising the government on immunisation strategy since well before Covid-19 arose. She imagines New Zealand's re-entry into the wider world through a series of soft border openings, informed by trails blazed overseas. The prime minister has hinted at this, stating that she's watching "experiments" in Canada, where vaccinated travellers with negative Covid tests can enter without having to quarantine. Success will rely on high vaccination rates to stop community spread, relentless scanning, and well-honed, snappy contact tracing.
While hesitating to set a numerical target, the government's goal has always been for everybody who wants a vaccine to get one. If Aotearoa can avoid outbreaks, there are promising signs that coverage can be achieved across the country, so that everyone is protected in the inevitable event of the border reopening. Medsafe recently approved the Janssen vaccine, and there were murmurings that we could start receiving supplies of Janssen, which is a single-dose vaccine, in August. It is unclear if, and how, it will be used, but Rawiri Jansen believes a second vaccine could help us vaccinate people faster: "A more complex programme with multiple vaccines could allow us to get to a more vaccinated state faster."
Now that Pfizer supplies are arriving in bigger batches, pharmacies and GP clinics are being onboarded into the vaccine programme. It's been a slow process, with the chair of the GP council at the NZ Medical Association, Vanessa Weenik, reporting in June that many GP clinics were still yet to hear what their place would be in the rollout. In an article for the New Zealand Medical Journal, she pointed out that successful vaccine rollouts in the UK and Israel administered 75 and 50 per cent respectively in primary health settings (which include GP clinics), rather than in dedicated vaccination centres. Dr Allan Moffitt, clinical director of ProCare, which represents more than 170 GP practices in Greater Auckland, recently told RNZ that from the end of July "we should be starting to really get increased numbers of practices around Auckland vaccinating". Pfizer has updated its guidance on storage of the vaccine, now stating it can be stored in fridges for up to a month, rather than the original 7-day guidance, which means it can be used more easily by facilities without ultra-cold freezers.
The Ministry of Health considered vaccinating Māori at younger age bands.
Cabinet chose not to follow that advice.
Plans are also underway to increase the number of rural clinics. Up until now, Group 2 and 3 members in Te Anau, for instance, have been forced to drive 140 kilometres to their nearest clinic in Gore, or Queenstown, two hours away.
From the beginning of the rollout, the MoH has advised the DHBs to use their own discretion to administer vaccines. DHBs can decide to vaccinate people who accompany loved ones to their appointments. They are asked to consider factors such as whether whānau members are carers of the person presenting for the vaccine, whether the site has sufficient doses, and whether the family member is part of a group that may face barriers in accessing the health system, including Maori, Pasifika, disabled people, Rainbow communities and people in remote regions. Sue Crengle believes this is a step in the right direction. "It goes some way to address barriers that whānau could face if they needed to make multiple trips to vaccination centres."
As well as suggesting that Māori be vaccinated in younger age bands than Pākekā, the IIAG also advised the cabinet to fund Māori channels — for example, clinics like the MIHI Mobile Vaccination Clinic, as well as support for Māori health providers to be information conduits about the vaccine. Cabinet has allocated $39 million for this purpose, with another $16.25 million ring-fenced for Pacific service providers. "I'm really in favour of Maori channels," says Jansen. He's speaking from the Raungaiti marae just outside of Matamata, where he spends one day a week working in a Māori health clinic, which has recently started offering Covid-19 vaccinations.
The National Māori Pandemic Group Te Rōpū Whakakaupapa Urutā has said that to ensure adequate protection of Māori, we have to aim for 90 per cent of eligible Māori to be vaccinated. That includes young people, as far as vaccine safety guidelines allow. "We've got to get our kids vaccinated, so they're not a vector bringing it into the community," says Jansen.
The Mihi clinic travels between different marae every week, some in remote areas, to serve the Māori population who don't live close to an urban centre. Instigated by Ngāi Tahu in cooperation with the University of Otago's Māori Health Department, it has now vaccinated over 2000 people. Still, Jansen notes that only 12.5 to 14 per cent of the Māori population actually gets services through Māori providers. "It's important work, but the truth is that most Māori don't have the option."
Recently the clinic has been vaccinating rural Maori at Tūtehuarewa Marae, in Port Levy on Banks Peninsula. The mahi will continue, Staps says, "because everybody loves what they're doing. I've been nursing for about 22 years, and it's the first time I've ever worked in a completely tikanga Māori way, with all staff being Māori, and everyone coming from the same kaupapa. Some Māori who have come to the clinic in their 70s and 80s, they've never experienced anything like this before." For Staps, it's a chance to create something positive from the passing of her brother. To her whānau, Covid isn't something theoretical that lives offshore. It's a living threat, capable of taking those they love.
A few weeks before she started training as a vaccinator, Staps was looking through mail that her whānau had received from Princess Alexandra Hospital, where Mason worked. It was an outpouring of letters from staff and patients who'd heard he passed and wanted to offer their condolences. "There was this one letter that really moved me," Staps says. "It said 'I was a young woman, and I'd come in and I was in the emergency department, and I was very frightened. But Barclay sat down with me, and he was very calm, and he changed the whole experience for me.'" In the letter the woman said that she had some information for him that she'd never been able to share with him while he was alive. "She said 'I have a son, and he's 18 now, and I named him Barclay.'" Staps takes a breath. "He never knew that. I just thought, we never know how we impact people."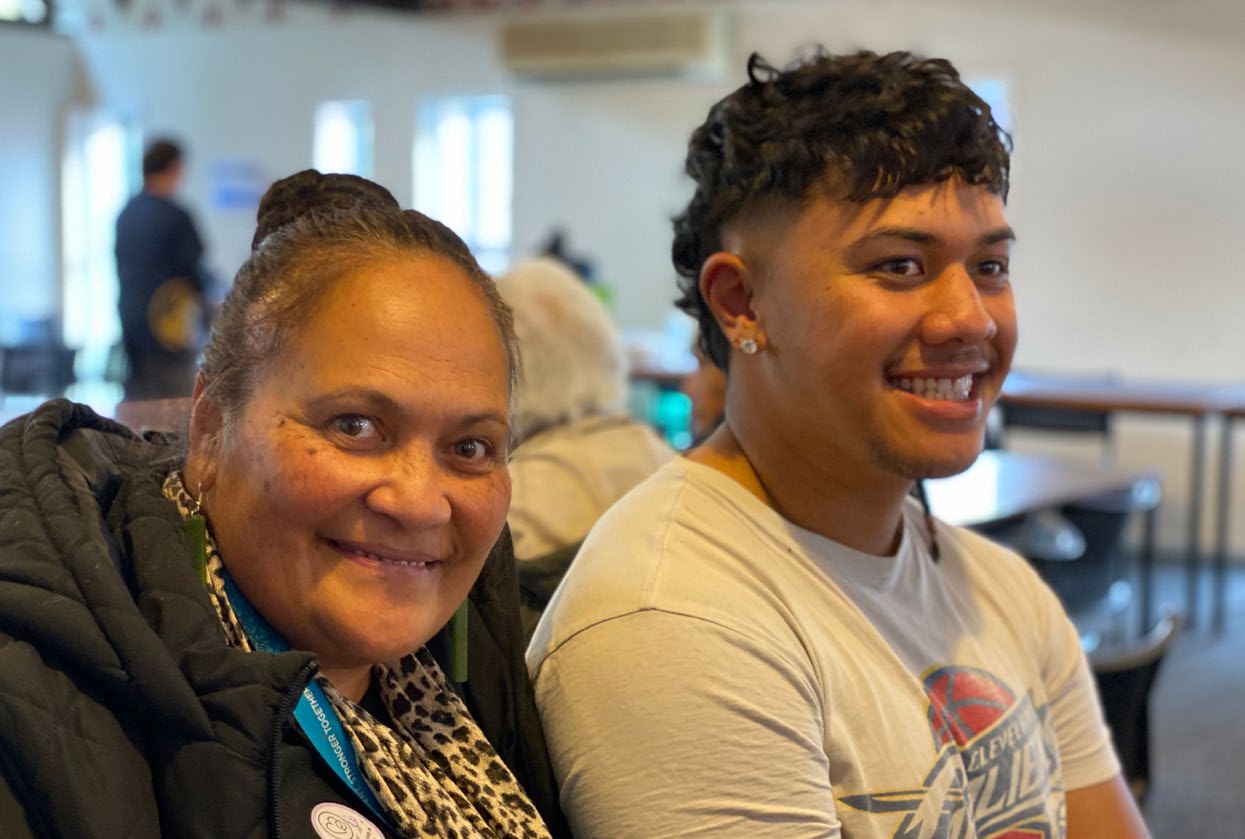 As part of a 'Protect the Pā' philosophy, the MIHI Mobile Vaccination Clinic offers vaccines to older Māori, their whānau and caregivers. Photo: Supplied.
Helen Glenny is a contributing writer to North & South.
This story appeared in the September 2021 issue of North & South.