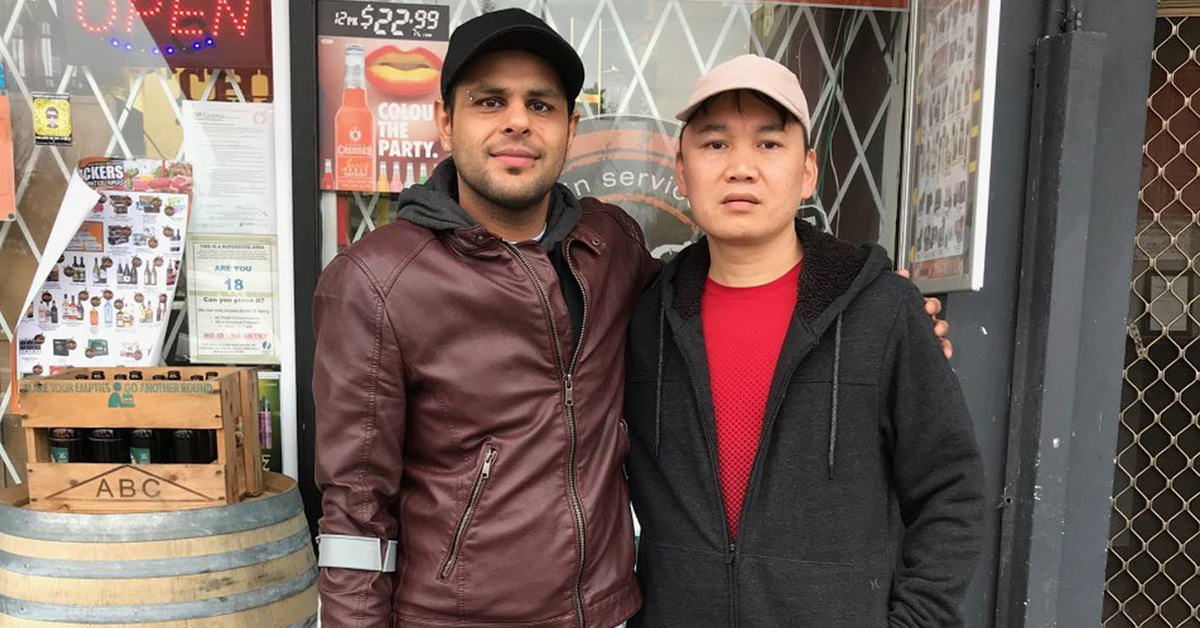 How a brutal attack turned two shopkeepers into (sort of) friends.
In the middle of a wholesome block of shops in a middle-class Hamilton neighbourhood, the inevitable Thirsty Liquor franchise shouts out "Welcome" with bright orange signage. When a new playground was built next door in July 2019, the block suddenly became overrun with families. Maybe it would be surprising to hear that this sudden influx brought about no change in sales at Thirsty Liquor, but the coffee wait increased down at Jacks Coffee Lounge. The Cambridge Road dairy had to widen its aisles and lolly sales went through the roof. It was a midsummer afternoon when I arrived to talk to Karun Mittal, manager at Thirsty Liquor, and the only two things that could have appeased the heat were ice-cream and beer. People were busy buying both.
Karun Mittal stood behind the counter, smiling. Two things struck me immediately. He had facial piercings that looked preposterous and a smile so winning it transformed him. He smiled a lot. He insisted I take his stool. He placed it so I was blocking the entire spirits aisle, and in that irritating heat where I couldn't get rid of a fly that kept landing on my knee, he served sweaty customers and treated them like friends.
I had come here to talk to him about one of the worst days of his life. "Things go against me all the time," he was telling me when a middle-aged woman plonked her box of sugar-free beers onto the counter. "I wished I could stop them, there was so much going on in my head — what to do, what not to do. There were so many of them, it all happened so fast."
It happened at night, a year after the playground was built. The neighbourhood was still bursting with wholesome crowds. Karun Mittal came out of the chiller at the back of the shop and a young man wearing a mask ran at him swinging a machete, hitting him and breaking his teeth. Mittal turned to run the other way and there were two more, suddenly on top of him. He managed to run outside, where he tried to shut the door and lock it, but there were more coming at him like wasps. He says people stood watching and did nothing. Then the owner of the fish and chip shop next door appeared. To this day Mittal can't find the words of gratitude for his neighbour's heroic act.
David Ye didn't understand what he was seeing when he looked out from his fish and chip shop, but he quickly realised Mittal was in danger. He immediately grabbed a stool and ran out onto the street. One of the offenders pushed him to the ground and stabbed at his face with a screwdriver, while another hit him with a bat. He says he was thinking of his wife and three children the whole time, that he didn't want them to find him dead. When she saw her husband being beaten on the footpath, Carol Ye grabbed a kitchen utensil and ran out, and as quickly as it had started, the six young offenders were gone. The whole thing was captured by CCTV footage that soon went viral. "When I see the video, yes, it's very scary," says Ye in broken English. He is sitting behind the counter in his shop. "I think I was very close to die."
"If something happens, he would be the first to come out."
Some people act in a crisis and others stand there, and it's impossible to know which one we would be unless the moment presented itself. Of course, we all think we would be David Ye. It has been seven months since the attack and he keeps saying "it's okay". He shows a scar on his elbow from where he was stabbed with a screwdriver. "It's okay, it's okay." Ye, who came to New Zealand with his family in 2010 from the south of China, says this is the worst thing that has ever happened to him. Next door, Mittal still works nights, and between customers, when it is dead quiet inside and out, he gets nervous. "My eyes are always on the cameras, or I stand outside." He says it's easy to see when something is wrong, because people always park sideways, who mean trouble. Knowing David Ye is next door gives him confidence. "Most people don't want to get into anybody's mess, you know. I know if something happens he would be the first to come out."
I want to tell you they became best friends. That after the attack, Mittal had his first child and named him after David Ye. But Mittal is a 34-year-old single man who likes to work hard, drink with his friends, stay up late and set several alarms to get up in the morning. David Ye, 49, runs a fish and chip shop, spends his time out the back when he's at work or with family who don't require him to speak a language he may never entirely master. Ye doesn't drink and Mittal doesn't eat fish and chips.
They wave to each other more now. Sometimes they find themselves out the back together. They try and talk. Mittal has asked Ye several times to sit down after work, but that hasn't happened yet. In any case, maybe they share something stronger than friendship. "If he needs help ever in his life, I will be there," says Mittal. "I owe my life to him, to be honest. I have no words, you know."
A jumpy man appears at the door. "Howzit?"
"Good boss, how are you?" says Mittal.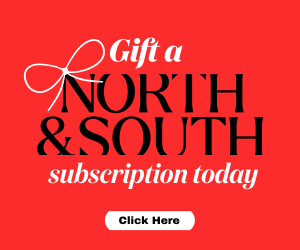 "Would you be able to let me off 20 cents until tomorrow?"
He bounds over to the counter, dumping a handful of shrapnel in Mittal's hand.
"What do you want," asks Mittal.
"Just a big one, a Waikato."
"Oh yeah, that's okay." "Sweet bro, I'll be back in tomorrow to get some more anyway. Cheers bro."
Uni students keep coming in to buy these strange cans with curvy women on them. Mittal asks for ID and gives them a free hat. "What a local," one young guy yells as he charges out the door. Mittal was a uni student himself once, before coming to New Zealand from Chandigarh, India, in 2013. His girlfriend moved here first and he followed, but three years later they broke up. "That's the sad part," he says, smiling. In 2019, his father died back in Chandigarh and last month, his mum got Covid. He's thinking of moving back. "My mother is alone, and everything is a mess." He didn't tell his mum about the attack and wasn't going to, but family friends saw it on the internet and one day he got a call from her, scared to death.
A few times a week, he says, people scare him in the shop. "They say things like, 'Oh bro, nice chain, what if I grab it?' Or, 'Oh bro, what if I smash a bottle on your head?' He says, "Most of the liquor store guys experience the same stuff. I pretend it's a joke, but it scares the shit out of me." He doesn't think New Zealand is a safe country. Beautiful, yes. Clean, yes. But not safe like he thought it was going to be.
The six young offenders, who are aged 13 to 17, are currently before the Youth Court, charged with offences including aggravated robbery and wounding with intent to cause grievous bodily harm. Mittal is angry about the lack of communication from police, having heard very little in the seven months since the attack. But perhaps his biggest grievance is with the media release on the NZ Police website. He has tried calling and emailing to say they got the details wrong. Worst of all, it states that a member of the public came to his rescue when he wants the world to know it was the man next door from the fish and chip shop, and his name is David Ye.
By Aimie Cronin
This story appeared in the April 2021 issue of North & South.