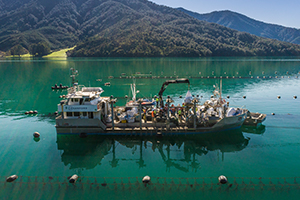 A futuristic vision for shellfish farming
A dark-haired young man in black jeans and a softshell jacket strolls down a jetty, hugging a microwave-sized metal box to his chest. It's a dull morning, the sea a glassy grey-green and bush and pine on the hills indistinguishable in the flat light. He climbs onto a sleek launch, gently placing the box on a ledge behind the cabin. A tall man with tousled grey hair and a gold earring welcomes him aboard Hawkeye, a worn blue apron covering a high-vis polar-fleece.
The younger man, 22-year-old Logan Nutsford, is a Massey University graduate in mechatronics. Last summer, he joined seafood company Sanford as an intern. He designed and built the device — called Mussel Vision — he's brought aboard. It uses robotics, electronics, artificial intelligence and computer programming to measure whether mussels are in peak condition. Thanks to his ingenuity, Logan is now employed by the company as an advanced technologies engineer.
The older man, 58-year-old Phil Hawke, has been in the business much longer than Logan. For 30 years he's worked for Sanford, his office the drowned valleys of the Marlborough Sounds. As a harvest coordinator, Phil visits six or seven marine farms a day to check whether mussels growing on long lines slung below rows of black plastic buoys are ready to harvest.
During Mussel Vision's development, Phil and Logan met weekly, transferring knowledge inside the soft computer of Phil's brain to the hard machine Logan was creating. The next iteration might include an etching of his head, they joke. Today, Mussel Vision will be field-tested for the first time at a farm in Kenepuru Sound.
Phil releases the mooring line from the jetty at Havelock, a town of 600 inhabitants that markets itself as the "greenshell mussel capital of the world". Hawkeye cruises down Pelorus, then Kenepuru Sound. The air is cold but the sea calm when Phil cuts the motor and starts a winch which hauls a dripping seaweed- and mussel-encrusted rope out of the water. He hacks off a dozen shellfish and slits them open, most creamy and plump but a few emaciated. Pied shags stand to attention, one to a buoy, watching the two men as they lean together.
After measuring, observing and tasting 400 to 1500 per day, Phil claims to have developed an "eyeometer" that accurately gauges mussel quality and quantity. A bitter taste shows that a mussel is about to spawn and lose condition. Colour can also be important — the Japanese market looks for a 50–50 mix of red and cream. "I can see a lot more than the normal person," Phil says, prodding mussel flesh with his knife. "I use my eyes to see how they will present, how they will cook."
Next, it's Logan's turn. He selects an opened mussel, pops the half-shell inside Mussel Vision, shuts the door and clicks a switch. Instantly four readings appear — length 102.27 millimetres, width 46.22, height 25.81, weight 38 grams. A high yield is predicted. The next mussel's measurements are marginally smaller and one gram lighter, with a low yield predicted.
"It's a good tool," says Phil peering attentively at the digital screen. "But thousands of mussels will have to go through until it accommodates enough knowledge to replace years of human experience."
"What's a quality mussel?" he challenges Logan.
Logan gives the matter some thought.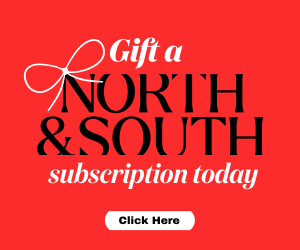 "That question's based on subjective perception," he responds. "The basis of Mussel Vision is different. This is a data acquisition system which learns compositional details by analysing images. It takes what it sees then applies logic to say, 'this is what I expect'."
Here's how Mussel Vision works: with its inbuilt scale, cameras and computer, it weighs and photographs each mussel, then uses artificial intelligence to calculate what will eventually be dozens of attributes. This could include the proportion of lipids, or fats with anti-inflammatory properties, or solids and moisture, as well as mussel's sex and whether it has spawned.
Phil suggests — and Logan agrees — that barnacles on the outside of shells could be added to the device's inputs. These are hard to remove and devalue mussels sold on the half-shell.
Logan's work could have huge implications for Sanford. Yield variations measured by Mussel Vision in grams may seem insignificant. But in the high-value marine-extracts industry, even a 1 per cent increase could generate millions of dollars. Mussels that contain lots of lipids could produce twice as much bio-active powder as low-yielding shellfish, reducing processing costs.
From late 2021, Logan will be based at the Marine Extract Centre which Sanford is building in Blenheim. There, a subsidiary will make products harnessing mussels' anti-inflammatory effects, for use in dietary supplements and novel foods.
When Logan thinks about what mussel faming might look like in the future, he grows animated. "I can see an amphibious robotic surfboard with Mussel Vision capability tearing about the Marlborough Sounds, sending data direct to the Sanford office."
Phil sounds a little more ambivalent. He knows that artificial intelligence will eventually replace his "eyeometer". But, he says wryly, "We'll still need people to feed the machine in order to get quality data. So I will probably be a kind of glorified bus driver."
By Penny Wardle
This story appeared in the January 2021 issue of North & South.