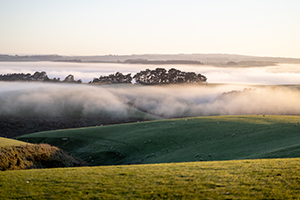 The Fight for the Future of Farming
Meet the farmers who are risking their reputations to save our environment.
By Nicola Harvey
Photo: Hamish Bielski's Southern Otago farm captured at dawn by Camilla Rutherford.
A rough northerly wind is howling down the Mataroa valley as Bill Coogan flicks the gate latch and gestures towards the hills. "Does this look steep to you?" he asks. The answer is yes. His farm is steep, hard hill country. An hour earlier we'd been eating homemade mini-pies and butter-laden muffins in the warm, weatherboard cottage where Coogan lives with Jennifer, his wife of 51 years, and he told me his farm used to be considered one of the worst in the region. "Probably still is," he admitted. "You'd call it shit country, actually," Jennifer replied.
It was spring when I arrived at the Coogans' immaculate cottage in Mataroa, just west of Taihape in the central North Island. Bill met me at the garage door and waved towards the Covid QR code pinned to the wall. "My son said we had to do it," he says. "But no one's really come here other than the fuel man." Inside, I'm presented with a map of the 1000-acre farm: 600 acres purchased in 1986; another 400 in 1990 for $186,000. "That's in bush," Coogan says, pointing to the paddock named 40 Acres on the small satellite map. "That's in native."
Coogan was born and raised in this valley, affectionately known as Coogan-ville. (His grandfather arrived here in 1886.) Now 74, Bill has been farming this block for close to 45 years, and each one can be seen in the weather lines on his red-vein-flecked cheeks. Cousins farm either side of the road leading up to his property. Coogan used to think he'd hang on until he reached the 50-year mark, but not anymore. "Yeah, no. I'm basically disillusioned with it," he says. Disillusioned with what? "Oh, a lot of these regulations and rules that are coming in . . ." Coogan trails off. "I'll show you the rain charts I have down in the shed," he says.
Coogan has been telling me about the 300 millimetres of rain they had over a few days in 2004 that started 120 slips on the property. No amount of planting trees and shrubs will stop landslides on steep Taihape sandstone if the rain sets in. Coogan knows this. He's been farming since he was 18 and he tells me he's yet to meet a farmer who's against changing their methods if the results mean improvements for the land and the bottom line. His family, he reminds me, has been innovating for decades in order to keep food on the table. They've just been doing it without all the rules.
It is clear to farmers like Coogan that global warming has crawled under the farm gate. Driving the country's backroads — west to the green-drought of Central Hawke's Bay, up through the Hauraki Plains past small, tired milking sheds and enormous, hangar-like dairy cow stand-off pads, and into Southland's fields churned to mud by cattle and sheep — I can see the land is changing. Some of it by design, some via the chaos of nature.
"Unless New Zealand farmers accept that current land use practices are unsustainable, the way ahead will be tortuous."
In August, the Coogans spent an evening at their local veterinary clinic listening to Otago farmer Jane Smith and Groundswell spokesperson Jamie McFadden, who called on farmers to question the government's environmental regulations. "I don't usually enjoy those things," says Jennifer, but they found Jane Smith entertaining. "Shoots from the hip," confirms Coogan. Considered a farming leader, Smith has penned searing op-eds criticising the government and accusing Environment Minister David Parker of running a personal crusade against farmers. Yet she also describes herself as an "environmentalist through and through", advocating for localised collective action to improve freshwater rather than one-size-fits all national regulations. As I was to discover, many farmers don't consider this a remotely contradictory position.
New Zealand's farming sector is typically portrayed as a monolith. While the rural workforce — labourers, contract milkers, fencers, pickers, shepherds — vary in age and ethnicity, the farmers, those who own the land or make the decisions, share a deep-rooted common identity. The vast majority are Pākehā men over 45 years of age. Historically, they've succeeded as family-run businesses by banding together with their mates to export their products collectively.
Many New Zealanders see this group as the primary obstacle to the government's attempts to introduce lasting environmental reforms that will ensure the country lives up to its clean green reputation. But in my travels I found a much more complex situation. All over rural New Zealand, questions about how farming impacts the environment are creating fractures in families and communities. The traditional decision-makers who have long guided the family farm are having their beliefs and practices challenged by regulators and politicians, city-dwelling vegan friends and — perhaps most profoundly — their own children, who are returning to land they will one day inherit with new ideas moulded by urban environmentalism. And many aren't happy about it. As one young female farmer told me, "There is a lot of ego in farming." The frustration of the traditionalists is heard in the loud voices from the Groundswell protests calling to halt freshwater regulations and pump the brakes on climate change mitigation.
At the other end of the spectrum, there's a vanguard of progressive farmers who have been taking huge personal and financial risks to change their systems, hoping to secure an ecologically robust future and find new business opportunities with consumers looking for sustainable products. In between is a mass oscillating between action and inertia. They aren't on social media or in the headlines. They're the ones on the land, following the seasons, the soil, the stock, and they absorb every public condemnation as a bruise. Quietly they are changing the way they do things through trial and gut instinct. And the choices they make in the very near future could determine whether or not we'll be truly able to solve our environmental problems.