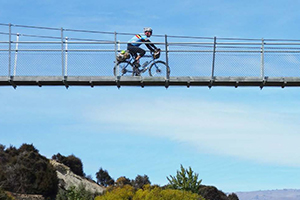 Above: A Tour Aotearoa biker crosses the Hawea River, north of Wanaka. All Photos: Jonathan Kennett
How much money could a horde of cyclists riding the length of the country pump into the regions along the way? More than you might guess, it turns out.
Day after day in mid-February, scores of cyclists swarm down Ninety Mile Beach, from Cape Reinga towards Ahipara, along the west coast of the northern Far North. It's hours of beautiful tedium, sand stretching into haze. They arrive hungry and bone-weary and make a beeline for food. "It's like New Year's," the owner of the Ahipara fish and chip shop says. "Except none of you are drunk!" Within a month, most will have battled through headwinds, minor injuries and saddle soreness to arrive at the other end of the country, in Bluff, having travelled 3000 kilometres by bike.
This is the Tour Aotearoa, a two-yearly off-road cycle event — created as an antidote to the 2008 global financial crisis and ensuing recession — that might help carry us through the economic fallout of Covid-19.
Tour organiser Jonathan Kennett describes "bikepackers" as the perfect tourists. "A cafe will be excited to see you, because they know you're going to order twice the normal amount [of food] and be quiet, and then move on quickly." The Ikamatua Hotel, between Reefton and Greymouth, is the most convenient spot for riders after one of the hardest days of the tour. Dusty, lycra-clad bikers arrive to join tables of other riders, sympathising over the worst bits of the day. Many order two dinners. Salt shakers are emptied in minutes. One rider scoffed down a burger and two pieces of cheesecake here before getting back on the road to push through to Greymouth in the dark — he was trying to make it to Bluff before his wife went into labour.
The original architect of the trail the tour now follows wasn't a lycra-clad speedster or rugged outdoorsman, but ex-Prime Minister John Key. Two things sparked the idea of a length-ofthe- country bike trail in Key's mind shortly before attending the 2009 Job Summit. Firstly, a friend of Key's had spoken about a chance conversation with some British bikepackers who insisted New Zealand needed a long-distance cycle trail. Secondly, he'd seen the economic analysis of the Central Otago Rail Trail, which was then pumping $7.2 million a year into the local economy. Speaking at the summit, Key said he believed a national cycle trail could generate "lasting economic, social, and environmental benefits for our communities through a network of world-class cycling experiences".
"It's like New Year's," the owner of the Ahipara fish and chip shop says. "Except none of you are drunk!"
Key's enthusiasm was not immediately shared. The view at the time was that a country-length ride would be too difficult to build, and not enough people would be interested in cycling it. The New Zealand Cycle Trail project was instead broken down into 22 "Great Rides" which now include the Timber Trail, the Remutaka Rail Trail and the Alps 2 Ocean. The idea of a country-length off-road route was temporarily forgotten.
This changed in 2014 when Kennett, a cycling guide-book writer and project manager on the Cycle Trail project, realised the number of new Great Rides tracks meant he finally had a decent answer to give people who asked him for the best way to get from Cape Reinga to Bluff by bike. "When the question was first asked, the answer wasn't very appealing," he says. Now, it was so appealing he decided to test it out for himself.
He announced his intention to ride the length of the country on Facebook in August 2014, and within a day, 100 people had volunteered to join him. Two weeks later, that number had doubled.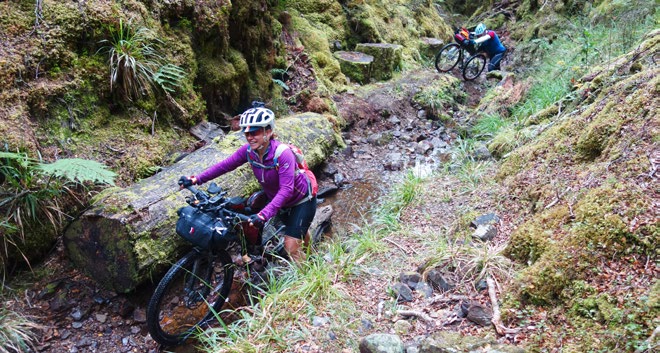 Cylcists push their bikes up a creek on the West Coast's Waiuta Track
Some organisation was warranted, so Kennett decided to run a brevet, modelling the event on the Kiwi Brevet, a long-distance cycling event run in the South Island. Despite what you might think, a brevet has absolutely nothing to do with the English word "brief ". Brevets are multi-day cycle events, traditionally running up to 1200 kilometres. Modern brevets have started expanding that distance; the Tour Aotearoa is roughly 3000 kilometres, and takes in some of New Zealand's best cycle trails and many of its worst, like Big River just outside Reefton. The route involves at one point carrying your bike up a dry, boulder-filled stream bed. "I'm not doing it," remarked one 2020 cyclist. "I dislike tramping, and I dislike it even more carrying a bike." Brevet rules encourage enjoyment and discourage racing. Participants have between nine and 30 days to complete the ride, and the only objective is to finish; there are no prizes for arriving first. In fact, Kennett would probably roll his eyes at you if you did.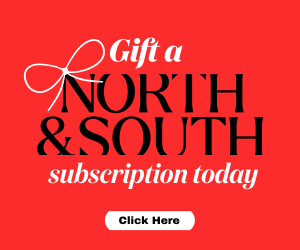 Each rider is entirely self-supported — meaning they carry everything they need on their bike. This was a purposeful choice by Kennett, who knew that self-supported cyclists create "much greater economic benefits to the rural communities [they're] passing through". Last year, the 900 or so tour riders spent on average just over $4000 each along the route, mainly on food and accommodation but also on things like bike repairs. In towns of a similar size to places like Matamata and Masterton, a total of $1.3 million was spent during the 2020 tour, according to figures provided by a tour rider and data analyst, who took time during lockdown to survey both riders and local businesses in order to provide data about various aspects of the tour for organisers.
To enter, participants make a $100 donation to a charity of their choice and pay to offset the carbon emissions they generate travelling to the start line in Cape Reinga and home from the finish in Bluff. Aside from that, it's all on the riders. After that initial flurry of interest in 2014, Kennett worried that he may have oversold how fun the experience would be. To discourage any inexperienced riders, he tried some anti-marketing. He posted a Shackleton-esque warning on Facebook: "You can expect to ride through horrible storms, suffer festering boils, crash and hurt yourself . . . HONESTLY, I wouldn't enter if I were you." It didn't work. "That was like fodder to these guys," Kennett says. Two hundred and fifty people rode the first Tour Aotearoa in 2016.
One rider scoffed down a burger and two pieces of cheesecake before pushing on in the dark — he was trying to make it to Bluff before his wife went into labour.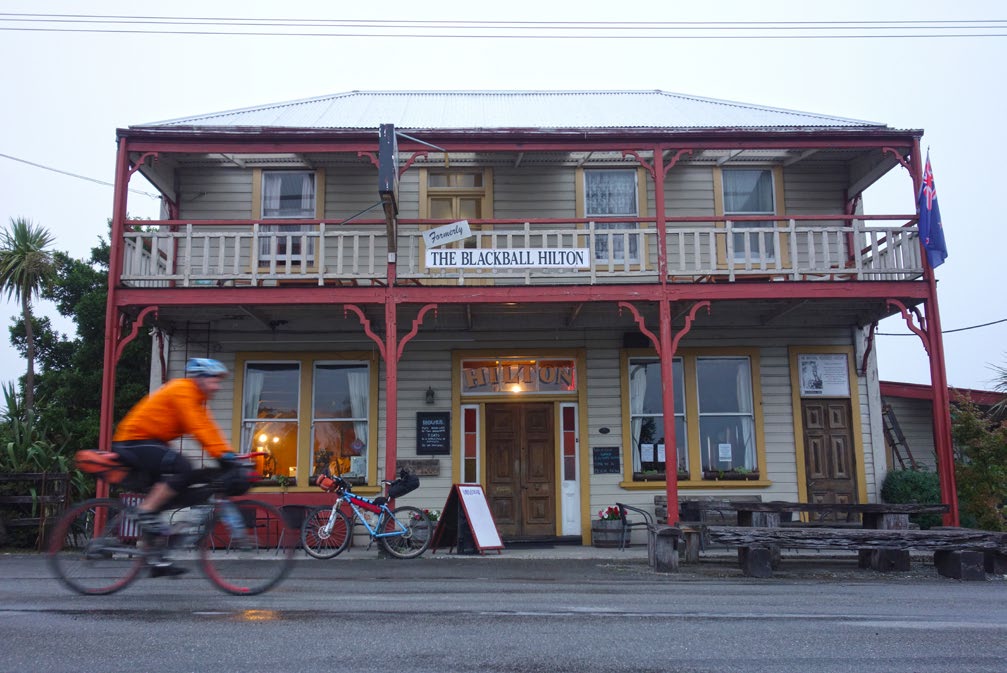 A rider whizzes past the Blackball Hilton, near Greymouth
"[We] may have underestimated the appetite of people to do long journeys," Kennett admits. So far, nearly 2000 people have successfully finished.
Kennett refers to that first brevet in 2016 as the only "normal" tour. In 2018, a series of tropical cyclones cut off routes, marooning cyclists. In 2020, riders fared well until early March when the organisers had to make sure no one was tootling along unaware while the rest of the country hurried into lockdown. The tour will normally run every two years, but a 2021 event is being held to rally behind the decimated tourist industry, which has done so much to support riders in previous years. Without any prompting, small-town shopkeepers, pub owners and hotel operators have watched the tour's tracking website, keeping their doors open to ensure hungry riders have somewhere to get a meal, no matter when they roll into town. Motel owners pass messages between riders ("Ross's hamstring is holding up! He's pushing on to Makarora today.") Buckets of sweets pop up along the route with encouraging signs: "100km to Masterton — sorry about the dust!"
Though the event is economically productive for businesses along the way, Kennett's never made money from it himself. That first 2016 ride was an extension of his favourite hobby, and he's now handing it on to Shane Davidson of GPS-tracking system company MAProgress, who will run the tour in the same spirit: entry by charity donation, self-supported, carbon-neutral. February and March will bring cyclists coasting sweaty and bowlegged into Mangakino, Ross and Lumsden, fresh from the best off-road rides in the country; a light will be on in the local pub, where someone's keeping the kitchen open.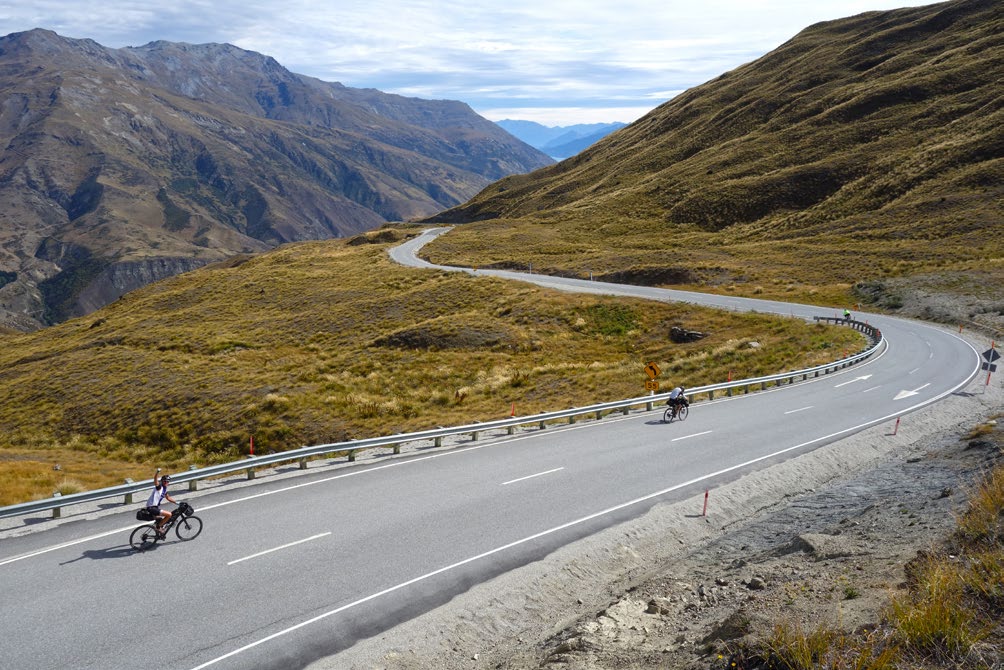 All downhill from here: bikers descend the Crown Range, near Queenstown
Helen Glenny is a freelance journalist living in Christchurch with a background in neuroscience and physiology.
This story appeared in the February 2021 issue of North & South.