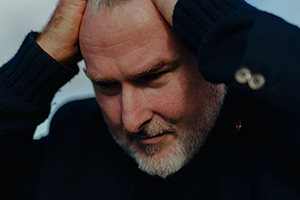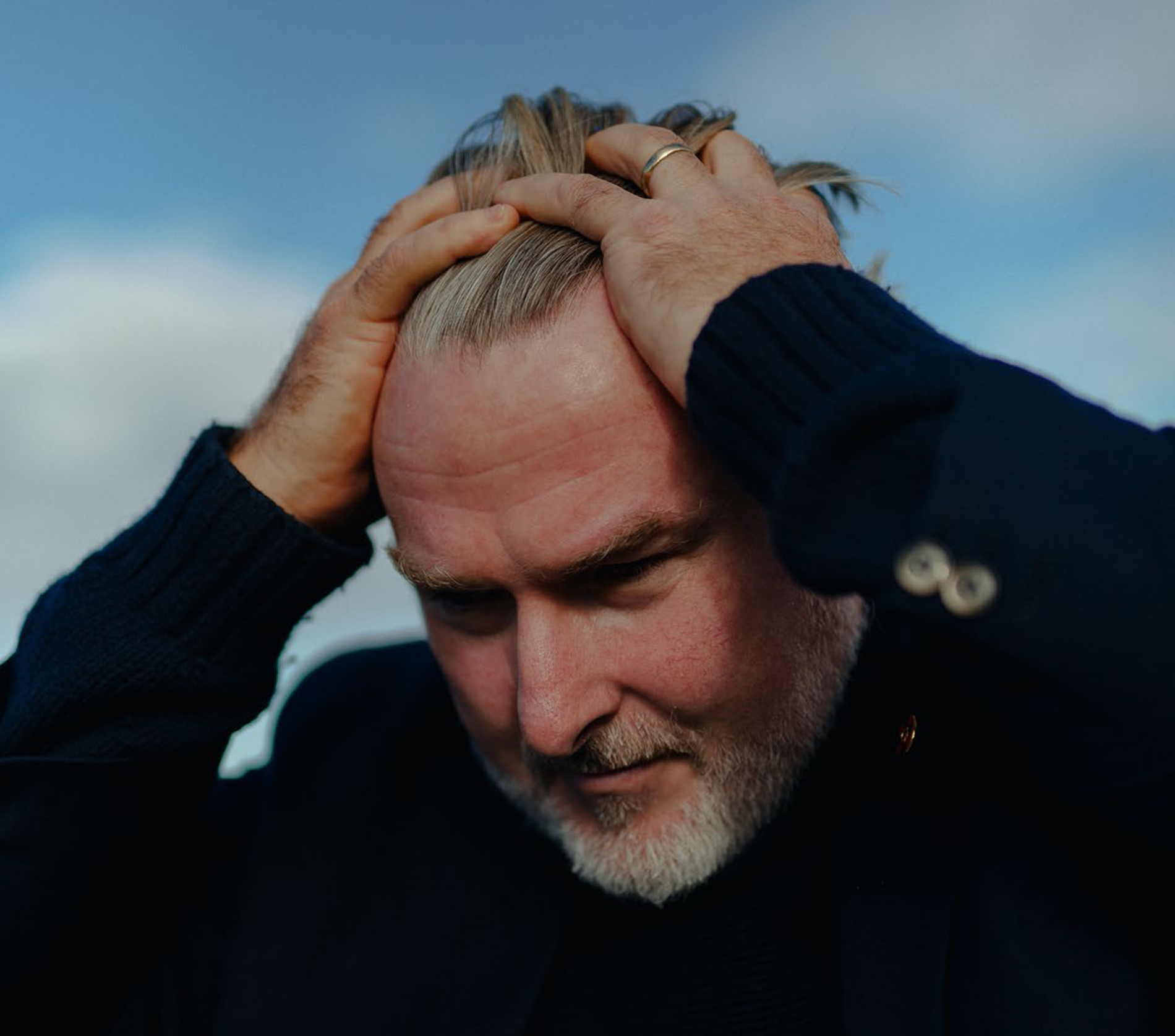 Simon O'Neill, a world-renowned Wagnerian tenor, prepares to sing one of opera's most challenging characters.
ACT I: PREPARATION
Birkenhead, Auckland, May–June
There are two almost identical posters in opera star Simon O'Neill's Auckland home. They are for performances, half a century apart, of Wagner's Die Walküre at La Scala in Milan. One, from 1958, shows Herbert von Karajan conducting a cast including Wagnerian megastars Hans Hotter, Birgit Nilsson and Gottlob Frick. The other, from 2010, shows Daniel Barenboim conducting a cast including the modern-day equivalents Nina Stemme, Waltraud Meier — and Ashburton-born Simon O'Neill.
For more than 20 years, O'Neill has been singing Wagner leads, not just at La Scala but also at the Royal Opera House in Covent Garden, the Metropolitan Opera in New York and Bayreuth in Germany, the spiritual home of all things Wagner. He is one of the world's most in-demand heldentenors — a type of big tenor voice that can meet the demands of Wagner's music.
Right now the 49-year-old is preparing to make his debuts in the roles of Tristan in Tristan und Isolde and Siegfried in The Ring of the Nibelung. Tristan comes first, at the Glyndebourne Festival in August, one of the opera world's most prestigious events at a purpose-built theatre on a country estate. All very black-tie, strawberries and champagne on the lawn.
O'Neill doesn't just limit preparation to his own parts. "I sit here and play the whole thing all the time," he says, "and the poor kids know it: 'Dad's mad. He's playing Wagner, doing all the parts and so many wrong notes.' But I just love it."
At this stage, O'Neill expects that when he leaves New Zealand in June it will be the start of six months away from his family, returning via MIQ around Christmas. His wife, lawyer Carmel Walsh, as well as the children, daughter Violet and twins Tom and Grace, are used to the absences — and the extreme practising. This has been O'Neill's habit ever since he was studying in New York in the late 1990s. While other students used down time for movies and galleries, he stayed in his room playing and singing whole operas to himself.
In the studio where he rehearses, there are, among other items, two grand pianos, amplifiers, a Korg keyboard bought for the kids and a strange-looking wind instrument: "I play brass. That machine I bought in Bayreuth, when I was singing Parsifal. It is an old German military instrument called a kaiserhorn."
In fact, a career as a brass musician was the extent of O'Neill's early ambition. "My dream was to be in the army band in Burnham." It didn't work out that way. Early recognition of his talent saw him studying opera at the Juilliard School in New York at the age of 29. Then came the big break as understudy for Placido Domingo in Die Walküre at the Metropolitan Opera in 2004.
O'Neill practises while walking his dog, Fritz, around Birkenhead. People stare.
"Two years out of school it was into the Wagner. I was singing things I could only have dreamed of," says O'Neill. "I followed Domingo all round the world, everywhere from Japan to London, and did all his rehearsals, then he would come in and do the performance. I asked for advice and he taught me various things. I owe him so much."
Tutoring from fellow New Zealand Wagnerian superstar Sir Donald McIntyre provided the finishing touches, and O'Neill has been in work ever since.
Covid-enforced residence in New Zealand since March 2020 — "the longest I have spent here since I was a teenager" — saw a lot of overseas performances cancelled or deferred. But it didn't interfere with O'Neill's preparations. He is well aware of what needs to be done, and of his strengths and weaknesses.
"From the technical point of view, I really am proud of the way I sing. I have always had a very focused instrument. That is good in big opera houses, like La Scala or the Met." But: "I just don't like my voice — I don't like my tone. I'm not saying I dislike it to the point of harming myself. I just wish it was different somewhat."
There are two levels of heldentenor roles. Starter parts, such as those in Lohengrin and Parsifal, are shorter and less vocally demanding than Tristan and Siegfried, which require tremendous preparation and performance stamina. "I have been studying Siegfried for four years and Tristan for three."
O'Neill's main weakness is the words. "I am a pianist. I learn the music first. Then I spend a lot longer than most people trying to remember the words."
And there are a lot of words in Wagner. He writes them on cards and places them around the house. He practises while walking his dog, Fritz, around the streets of Birkenhead. People stare. They didn't when he did the same in New York on the way to an audition, but then, he notes, everyone in New York was on their way to an audition.
"I am embarrassed I don't speak fluent German, French or Italian. I use these heavy books by Nico Castel, who I studied with at Julliard, where he translates everything into IPA — international phonetic alphabet." Castel's tomes provide the librettos in German, English translation and a phonetic version, so the monolingual O'Neill can see what he is hearing, how to pronounce it and what it means, all at once. Tristan's full part is often cut by up to 20 minutes but O'Neill is learning every single word, just in case.
When he gets to Glyndebourne, he may find the conductor or director has a very different idea about what he should be doing, but he's not worried. "I am going there as a sponge, a complete open book. And we will have five weeks' rehearsal — a decent amount."
Covid has put limits on what can be done in a theatre. All O'Neill knows about this production is that it is billed as "semi-staged", which can mean anything from lights and costumes and lots of movement, to a stand-and-sing performance using scores.
First performed in 1865, Wagner's uber-romantic opera Tristan und Isolde is based on the ancient tale of forbidden love between an Irish princess and the nobleman who is sent to escort her to her future husband. They spend the first act falling in love, the second act being in love and the third act dying for love. Not much else happens.
Wagner summed up its strange appeal in a letter: "This Tristan is turning into something terrible," he wrote. "I'm afraid the opera will be banned — only mediocre performances can save me! Perfectly good ones are bound to drive people insane."
The issue, as he saw it, is the way in which Tristan and Isolde's unfulfilled desire turns into a yearning for oblivion: "There are no bounds to the longing, the desire, the bliss and the anguish of love . . . Only one thing is left alive . . . the sole release — death, dying, extinction, never more to awaken!"
So, probably not a great first-date opera.
It helps a performer that not much happens in Tristan und Isolde. "It is like Parsifal where you get somewhat drugged by it," O'Neill explains. It's often remarked that something in Wagner's music can put the brain into a state that makes four hours of opera fly by. But what's it like for the singers? Are they at risk of falling into a trance?
"It does take me over. Even when playing it here now, I get seduced into it. I do concerts for myself, which is dangerous. I am in it, rather than thinking: Am I doing it right?"
Fortunately, there is David Kelly to bring him down to earth. O'Neill met the pianist, accompanist and coach at a music function and discovered that they lived just a few metres from each other. O'Neill is full of praise for this "world-class Wagnerian". "It helps that he is quite dry, while I am bubbly, so he is able to calm me down a bit."
Kelly describes their practice: "If I had a morning free I could go over for an hour and work on a passage that needed attention. We do practical things like singing the whole of an act, because Simon has to physically plot the ups and downs and get a sense of his stamina over that long timespan."
They don't always agree — which is a good thing. "The really important thing is to be malleable," says Kelly. "If you are working with a big-name conductor, they set the agenda."
"Here in this room I am trying to work out many, many different options so I can change really quickly," says O'Neill, "and conductors love that."
His scores are covered in scribbled instructions: "I have written to myself here, 'Sing higher. Don't be flat. Trust the space. Brighter "r" in "Von deinem Zauber sanft umsponnen" (By your spell gently enfolded).' This phrase is one of the most sensual in the score. I have written above it 'Sinatra'."
Imagine this attention to detail multiplied over four hours of music and you have a sense of what is involved in assembling a performance. "When I sing I see the actual page in front of me."
Then there's the always tricky question of how to die: "At the very end, when Isolde is going 'Triiiistan!' and he goes 'Isoooolde!' and that is his last sight of her, how does one sing that? He has to die right there. That is something I have not worked out in this room."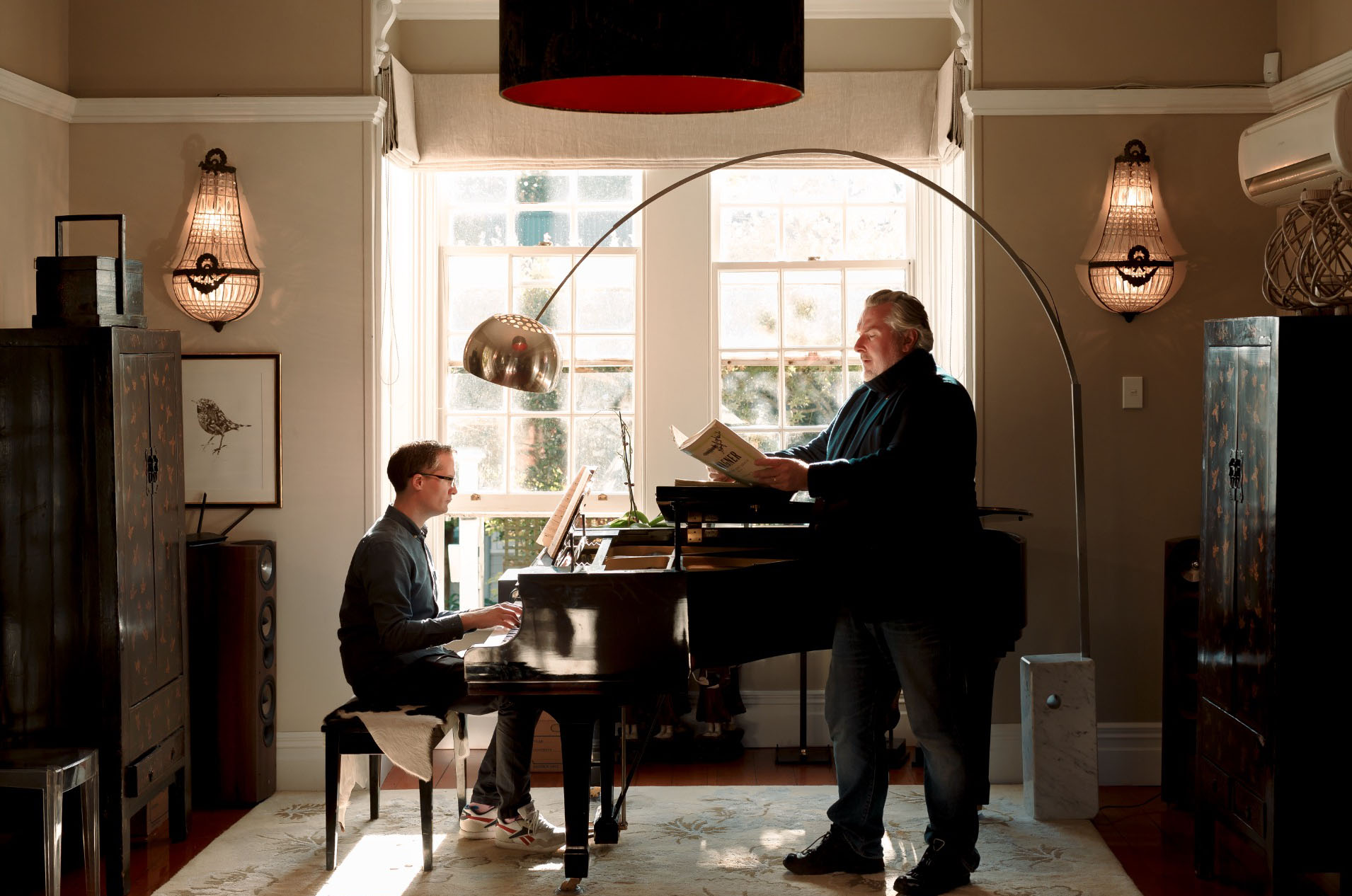 O'Neill and David Kelly rehearsing at home.
ACT II: REHEARSAL
Week 4, Glyndebourne, East Sussex, 3 August, 10.30pm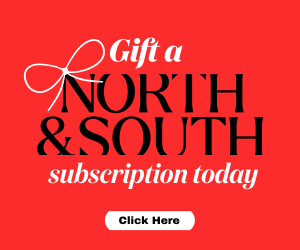 It's late at night and O'Neill is not long back from rehearsals. He is wearing a spectacular Dolly Parton-as-the-Madonna t-shirt and drinking a beer.
Home for these weeks is a converted granary on a property near Glyndebourne that he has been renting for several years. It's cosy. "I often pick up a bottle of New Zealand sauvignon blanc from Waitrose on the way home, and I do cook a lot of roast chicken."
Glyndebourne is nothing if not well resourced, with two rehearsal rooms the same dimensions as the main theatre. He is thrilled with his Isolde, a Finnish soprano named Miina-Liisa Värelä, who is also making her role debut.
Rehearsals are attended by the conductor, director, assistant director, stage crew and "one of the most important people, Johanna Mayr, our German coach", says O'Neill. "If you say the wrong word or get a vowel wrong, she nails it. She gives me notes every day which I take home and go through."
He is relieved to be back in Europe. "When you are in New Zealand for a year and a half, away from everything, you think it might be all over. But it's not. I am so happy."
O'Neill's natural ebullience is undimmed, despite finding himself in the middle of a Covid crisis and being unable to secure a spot in MIQ for his planned return — a daily dose of frustration. Still, the Tokyo Olympics are providing him with inspiration. "I have spent two years getting my voice trained to the same level as our Olympians, the same as Dame Valerie getting her bronze."
And things couldn't be going better with what he calls "this Everest of a role". "I am well above Base Camp now and I know I can climb it."
At rehearsals, O'Neill has been building on all the work he did in Auckland. Nothing has gone to waste. "Being up here for a month has let me get into the psychology of the breakdown of this person — he is half dead, half alive — and it is all new to me. It has been bloody great."
Just as great has been discovering that semi-staged means quite a lot of staging. "I was expecting to stand in one place, but I am all over the place. I am on the floor, ripping bandages off . . ."
Covid has meant some adjustments. "They decided they could not put the orchestra in the pit where they would be squashed together, so it is now on stage behind us. The conductor, Robin Ticciati, is six metres away. We are watching him on monitors around the hall, but they are no bigger than a laptop because they need to have very fast data speed." Because the relay is slightly delayed, he explains, "as the conductor brings down the baton, I essentially sing a few milliseconds faster".
He had sung the entire opera on a sandwich at midday and "a couple of little pork pies".
The singers are out in front of the proscenium arch. "We are essentially playing the opera on what is normally the orchestra pit. Being out in the auditorium is a different resonating space than being on stage. The audience are going to get it rammed down their throats. It will be exciting for them."
Covid has had another significant impact on this opera about two people who have trouble keeping their hands off each other: "Isolde and I are not embracing. It is such a sensual opera, but with the Covid we are separated, so there is this magnetic pull which never gets close enough, which works pretty good because the whole point is the longing for something to happen and it won't happen."
But the music does the work — no acting required. "I am trying to sing the notes Wagner wrote on the page, with the text he wrote, with the impetus he wrote it with. I am not putting it on. It is completely real to me."
The opera still has as many words as it did when O'Neill left Auckland. "The problem is that many other opera texts go in a storyline fashion, but Tristan is a cycle of the same angst, the same schmerz (pain). These same words occur over and over, and he goes on and on and on about it. Every day I write out lines and lines and pages and pages of German. I feel like Bart at the start of The Simpsons. The text is terrifying." Still, he was quietly pleased to discover that this performance will not be cutting any of those words he spent so much time learning.
Contrary to his normal practice, he hasn't been complementing his listening with Oscar Peterson or Ray Charles. Background music has been one of 10 or so recordings of Tristan. "I am living in the zone like an Olympian. That's all I am doin'. But I share my Spotify with my kids. Sometimes Violet gets up in New Zealand and turns on Katy Perry, because we only have the one account. I don't change it back to Wagner."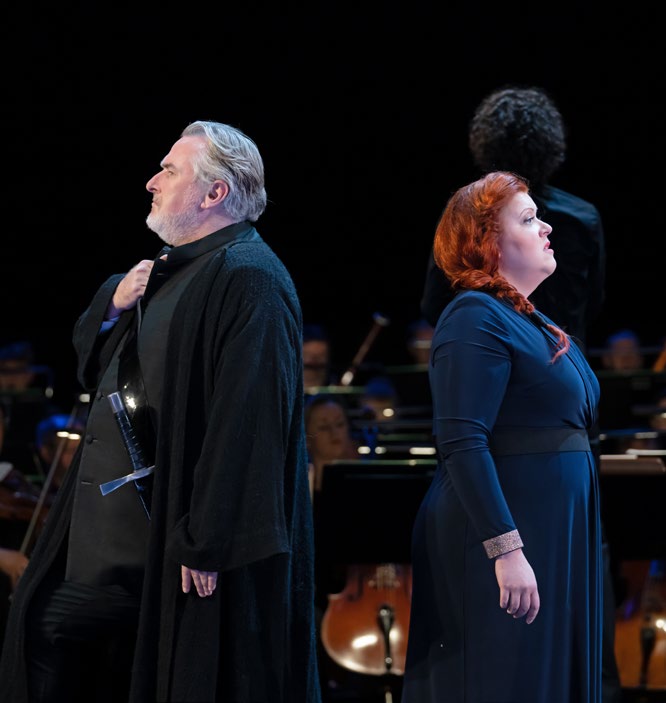 Tristan (O'Neill) and Isolde (Miina-Liisa Värelä), Glyndebourne Festival 2021. Glyndebourne Productions ltd. Photo: Bill Cooper
ACT III: PERFORMANCE
Glyndebourne and London, 12–14 August
With just a couple of days until the first performance, O'Neill has a major Covid scare. A singer from another production had been watching the dress rehearsal. Afterwards, she was so overcome that she rushed up to O'Neill in tears and embraced him.
Not long after that, she tested positive for Covid. O'Neill and the others had been getting tests every two days and he was also testing himself using free kits from the National Health Service. But this contact increased his risk. "If I got positive I would be out. The whole contract would be gone. It would be a disaster." Luckily, he was (and is) Covid-free.
So, the famous "Tristan chord", which opens the opera, sounds out on schedule and the years of preparation are put to the test. Wagner's use of this dissonant chord is seen by some as the first step on the path to the modernist music that dominated the 20th century.
We are speaking on WhatsApp from his dressing room, with its beautiful view of the Sussex countryside. Between the second and third acts. O'Neill is clearly on a mid-performance high.
"I'm feeling ready to go for the third act," says O'Neill. "I hope I didn't give too much in the second act. I was just out there singin' the song, and I loved it. The voices are so present in the theatre and the orchestra is behind us like a tidal wave of sound. So, a real joy."
There is just one thing he is not looking forward to: "The applause is my least favourite moment of a performance. I just want to get off stage as quick as possible, see my colleagues, have a cold beer. I find it cringey when people get out there and milk it."
Despite "throwing it against the wall" in Act II, O'Neill's voice doesn't let him down in Act III. And, by his account, he dies beautifully. "The last scene is a huge delirium. Tristan rips off his bandages and starts to bleed out because he has been stabbed in the second act. Then Isolde finally appears and sings 'Triiiistan'. I slowly walk to her and, just as the Tristan chord recurs, my leg goes into a spasm and I slowly fall and sing 'Isoooolde' and then die."
Later, he sees his colleagues and has that beer. The team is important to him; it includes his manager, Joel Thomas, and his head coach in England, Lionel Friend. "He is a genius. He is a man of very few words, but he will give me a full report tomorrow. It will probably be quite cutting." (Reviews on social and mainstream media will tend to the rapturous: "The vocal heft that makes him one of the go-to Wagner singers of the era was never in doubt" — The Guardian. "One of the most electric performances I have ever heard." — Dr Andrew Higgins on Twitter, between acts.)
When he got back to the cottage that night, O'Neill says, "I was still completely electric." He had sung the entire opera on a sandwich at midday and "a couple of little pork pies". He cooked some food, went to bed at midnight and slept until 11.30 the next morning.
Then he took a train to his London apartment and watched a delayed broadcast of another great New Zealand performance: the All Blacks beating Australia by 57 to 22 at Eden Park.
A final performance of the production — a BBC Proms concert at the Royal Albert Hall in London — took place as scheduled on 31 August. But after five performances in a row, pouring himself completely into every note, O'Neill's voice began to show some strain in the second act. He got through it, comparing his vocal strategy to having to decide which apps to keep using when your phone battery is running low. But he was not able to sing the third act. He was replaced by his cover, Neal Cooper, who sang the part from offstage while O'Neill performed the role silently on stage.
Here it might be good to mention that the first man to sing the part of Tristan died of a heart attack at the age of 29, a month after the first performance.
O'Neill's voice recovered after a couple of days, and he went straight into rehearsals in Berlin for Siegfried and Gotterdammerung, in which he was to sing the lead. But although O'Neill might have been finished with Tristan, Tristan was not finished with O'Neill.
He found he could not get the character out of his head to make room for Siegfried and all those new words so soon. Although his voice was in peak condition, the other demands of the role proved too much and it was agreed that he would withdraw. The part of Siegfried remains an Everest to be climbed for Simon O'Neill.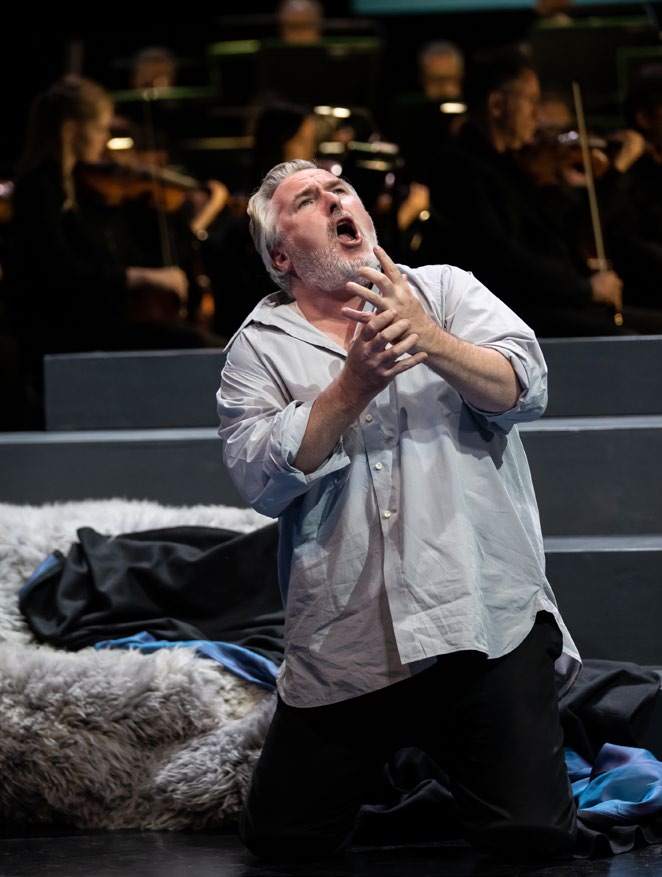 Tristan (O'Neill), Glyndebourne Festival 2021. Glyndebourne Productions ltd. Photo: Bill Cooper
Paul Little lives in the Hokianga and is North & South's books editor.
This story appeared in the November 2021 issue of North & South.