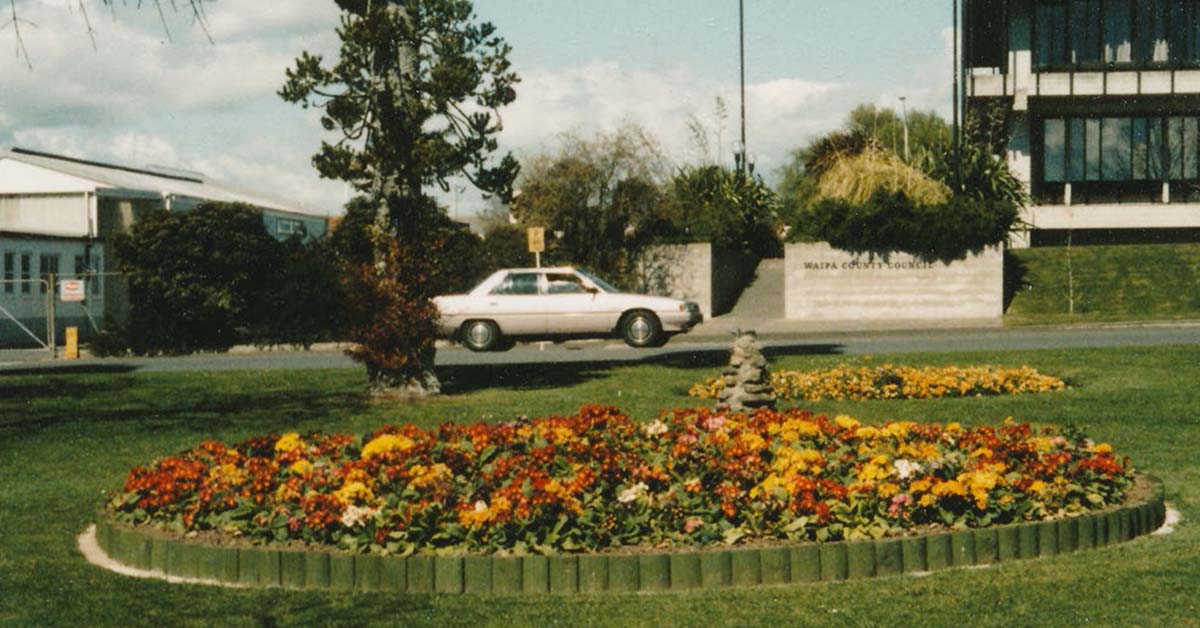 Above: Te Awamutu in the early 1980s. Photo: Te Awamutu Museum Collection.
This Waikato town was once known for dairy farming, producing the Finn brothers, and not much else. One former local returns to find it, happily, even better than he remembers.
It was pure Monty Python. A young Tim Finn of nascent Split Enz fame was striding down Te Awamutu's main street when a lady of senior years spotted him and, eyes rivetted, mouth agape, walked straight into a rubbish bin. What steered her into the unfortunate receptacle was Finn's natty little multi-coloured vest and his borderline punk hair. Finn marched on, no doubt thinking, "Job done." This was the mid-1970s, and bin lady had seen nothing like it in her little Waikato dairy town. It's a different story now. The place I grew up in has become a centre of diverse agricultural and horticultural operations, somewhere with fine civic amenities — and very good coffee.
In 1959 when I was still a boy my family moved inland to "Rose Town" — Te Awamutu — from the Bay of Plenty outpost of Murupara, now marginally famous as the town where Jacinda Ardern spent her early childhood. Our new house was next door to the office of an accountant named Dick Finn, whose young sons Tim and Neil were much later to paint their vibrant colours on to the world's musical canvas — and fluster an old lady or two on the quiet streets of their home town.
Finn's office was in the top floor of a two-storey building owned by Smyth Brothers & Boryer, timber merchants who traded in the fine native timbers of the Pureora Forest, slicing up mataī, rimu and others at their Ngaroma mill 55 kilometres away. When the mill was shut down in 1975, one of the few remnants of the logging operations was a tough little American bush locomotive, "Climax 1317", that had been put to work hauling logs to the mill. It was shifted to Te Awamutu's memorial park for children to clamber over.
Long after I left home, the building next door morphed into a big Bunnings barn, and our house disappeared, to be replaced by a carpark. Rattled by Covid, Bunnings left town in June 2020, and the barn, funds permitting, is now set to become a museum for the Waipā district, documenting not just the singing Finns and their bands Split Enz and Crowded House, but the deadly early Māori conflict in the battle of Hingakākā near Lake Ngaroto, and the later bitter land battles that were fought at nearby Rangiaowhia and Ōrākau.
My 1960s childhood was spent mucking around on friends' dairy farms while trying unsuccessfully to learn how to milk cows; working on hay gangs chucking bales on to rickety trucks on vertiginous farm paddocks; riding the old Raleigh bike on rural gravel roads; visiting the dusty town library presided over by the lady we nicknamed Miss Allardice (why we chose this name has been lost to the mists of time) who drove fear into the minds of children (well, mine at least); and sitting in the audience at the local annual competitions festival as a very young and then barely known Kiri Te Kanawa mesmerised the judges with her glorious voice. I would watch too the small group of stately kuia with their intricate moko kauae, who would regularly sit at the bus stop in town waiting for their bus to Kāwhia.
My 1960s childhood was spent mucking around on friends' dairy farms, working on hay gangs, and riding the old Raleigh bike on rural gravel roads.
In the 1970s I moved back to Te Awamutu, now with Sonia, who found the beautiful gentle rolling countryside, abundant trees and clipped hedges reminiscent of her native Buckinghamshire. We bought an old cottage that had been shifted at some stage from where it originally stood on the site of the early Anglican mission station, as chance would have it, just over the road from my childhood home.
I taught English at my old high school, Te Awamutu College, under the trailblazing head of department Ron Martin. The kids were delighted with the eye-popping new technology Ron introduced. Who knew that video cameras could be such fun?
Through a school colleague we met the charismatic Dr John Saxby, an Oxford-educated English psychiatrist who, along with New Zealand's first Māori psychiatrist, the aristocratic Dr Henry Bennett (son of the first bishop of Aotearoa, Frederick Bennett), transformed the way patients were treated at the Tokanui psychiatric hospital 10 minutes south of Te Awamutu. The hospital closed in 1998, but not before John had pioneered (in New Zealand, at least) the concepts of group therapy and psychodrama.
John's wife Felicity also played a part in bringing psychodrama to Tokanui. Amongst other things, Felicity was a gifted musician who played regularly at folk concerts, and according to the Te Awamutu Courier's obituary of her in June 2007, "she was an early influence on Crowded House founder Neil Finn, and the two [had] remained friends".
John was an ex-paratrooper, an occasional poet, an intrepid climber and mountaineer, and together with a friend we walked one day to the summit of the nearby Mt Pirongia. His story is told well by James McNeish in the book Breaking Ranks.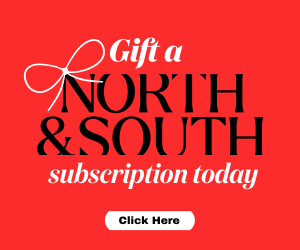 Our three years back in Te Awamutu are now a distant memory, but living in the Waikato, we visit our old stamping ground regularly. It's tempting to let the warm glow of yesterday's memories colour the experience of today, to think that the place you once knew so well is still the same. Happily, it's even better.
Dairy still dominates, with Fonterra's monster factory in town, but there's also sheep, maize, kiwifruit, a lavender farm, the odd vineyard.
The town's population has grown to more than 13,000, who can now read to their heart's content in a dazzling new library that Miss Allardice would be lost in. There is an impressive aquatic centre, the Woolshed Theatre which hosts musical and dramatic performances, and the Regent picture theatre, run for over 45 years by the indefatigable Allan Webb, who has crammed the foyer and corridors with all manner of movie memorabilia. The Regent, minus Mr Webb, was there in my childhood, and down the road there was also the Empire cinema, now long closed. War flicks on Saturday afternoons, Jaffas and always the boy who stood at the front during the interval trying not to drop his heavy tray of pre-rolled ice creams.
These days, you can drink good coffee and eat good food from the Red Kitchen café, find refreshment at any number of other cafés and restaurants, or go five minutes down the road to Kihikihi and indulge in a pie or pastry from Viands Bakery.
Kihikihi is also the home of a huge domain, a 22-hectare expanse which has been a playground for locals since the 1860s. International polo is played here (or was, until Covid slammed the stable doors shut), major equestrian events are held, and you can catch rugby, cricket and tennis. In a corner is the speedway, initially set up in the 1950s for midget car races, now used by the Kihikihi Speedway Club. And it's a free-for-all dog-walking mecca. Our Jack Russell, Paddy, thinks it's paradise, in spite of the bitter southerly that sometimes blasts its way across country from Mt Ruapehu.
The little Climax 1317 locomotive that once graced the memorial park was entrusted to a Lions Club team for restoration to its former glory. After 18 years of work and a quarter of a million dollars, the question now is, where to put it? Waipa District Council and the restoration team have looked at possible sites, the most likely being in or near the planned museum in the former Bunnings barn. That barn, as it happens, is just a few metres away from what was my childhood bedroom. Sometimes, it seems, history does repeat. Now there's a catchy song title.
Graeme Wilson is North & South's resident crossword and quiz master.
This story appeared in the November 2021 issue of North & South.