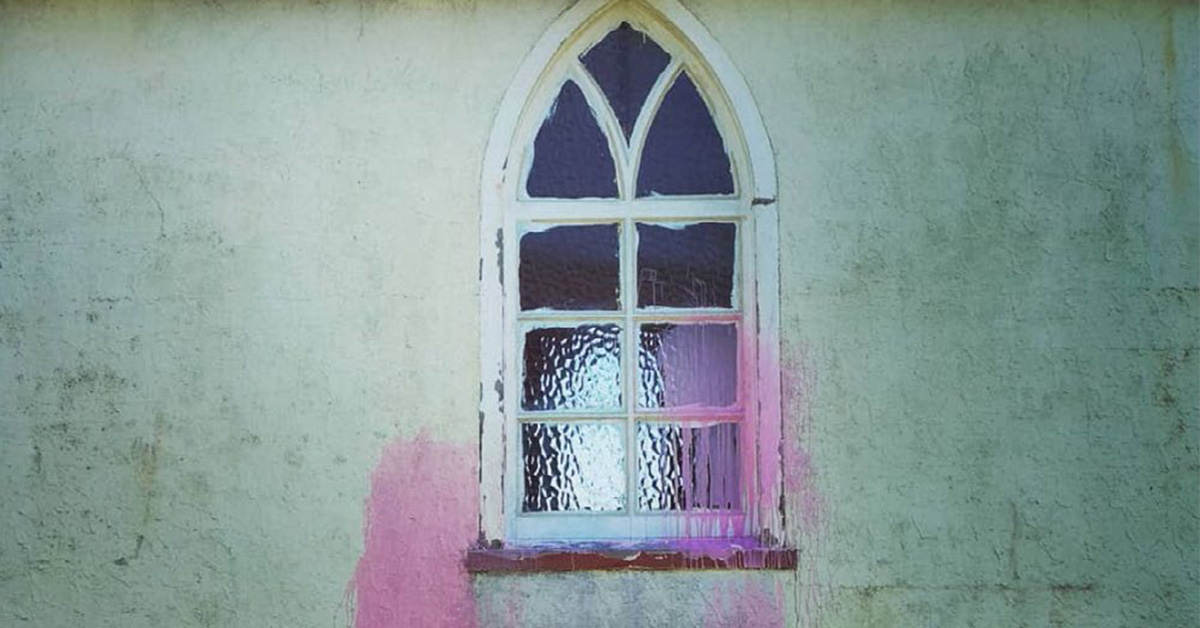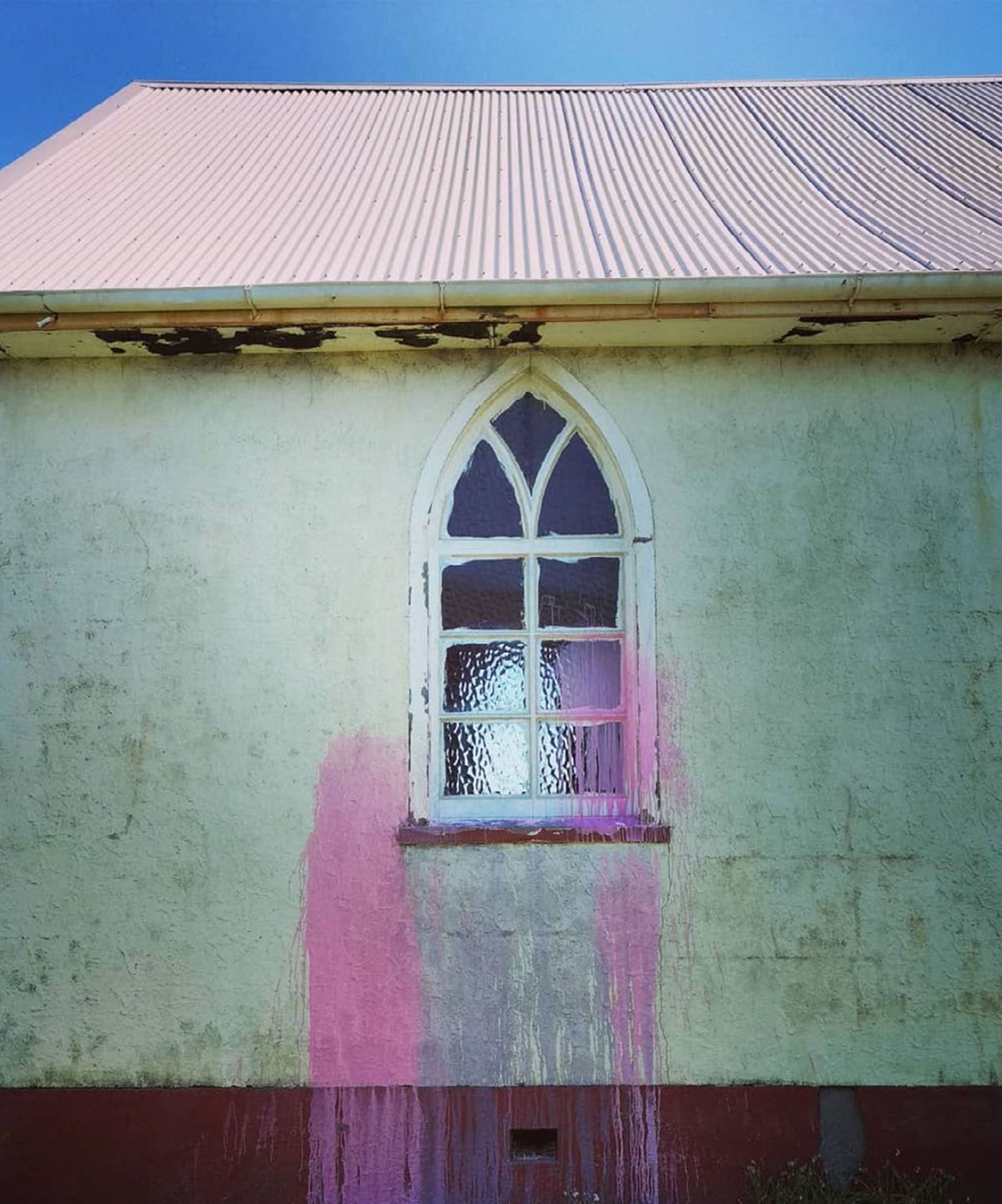 All photos — Sam Duckor-Jones.
Half art project, half home, an old West Coast church is undergoing a radical transformation.
Like most modern love stories, Sam met Gloria online. As he tells it, it was love at first sight. He didn't mind that Gloria was a little worse for wear, that she was from a town he'd never heard of, or that Gloria wasn't Gloria yet, she was actually Andrew. Or, more accurately, St Andrew's. Or rather, she used to be St Andrew's, until she lost her name in 2018 when she was deconsecrated.
Nameless and faithless, the West Coast church had sat on the market for over a year without anyone swiping right. The building even looked broken-hearted, with two lines of lichen running down the façade beneath her cross, giving the impression the old church was crying.
Then, a miracle. Along came Wellington-based artist Sam Duckor-Jones with a van full of tinsel and 16 litres of pink paint in a shade called "Smitten".
As an artist, Sam is perhaps best known for his large ceramic sculptures of naked men. Unlike the sculptures of the Renaissance, all chisel and sinew, Sam's men are indoorsy types — thin armed, long fingered, standing around awkwardly as if not quite sure what to do with their hands or limbs. They tend to be brightly painted: pink, purple, yellow, gold. Some are covered head to toe in multicoloured spots. Their heads always a little small for their bodies, their expressions slightly bewildered. They are amorphous figures that embody both joy and sadness, an axis of feeling that can hold a mirror to the mood or outlook of the viewer. As Sam describes it, his work often stands "with one foot glittering proudly in the camp of immense joy and the other, damp and blistered, in some place of ill repute".
While Sam is used to working on a large scale (his men tend to be between six and seven feet tall), Gloria will be Sam's biggest sculpture yet. The former Anglican church is his latest art project — and has also been his home since October last year, sleeping on a single bed installed under the front window, living simply: a table, a kettle, a toaster, an electric frying pan, a mini-fridge, a lamp, a rug, a chair.
Sam had taken a good look at the property ladder and, instead of trying to climb it, decided to paint the ladder pink.
Sam made the move south from his hometown of Wellington for the same reason many others are packing up and leaving the city: house prices. In September 2020, the 38-year-old sculptor had been living at his mum's for 18 months, working out of her garage (converted into a makeshift studio) while he looked for a house to buy in the Wellington region. He made a few offers here and there, "but realistically I never stood a chance". "Wellington has become a mean place for wealthy people only," he says. When he realised that Whanganui (also increasingly popular with artists) was out of reach too — he thought, "Screw it", and turned to Trade Me, running a search for the cheapest houses in Aotearoa.
Among the results: a rundown old church, built in 1939 in Blaketown, a tiny community of just over 800 people a stone's throw from Greymouth. Located on a thin finger of land, Blaketown is bordered by water on three sides: the Tasman Sea to the west, the Grey River Māwheranui to the north, and Sawyers Creek to the east.
Sam booked a flight.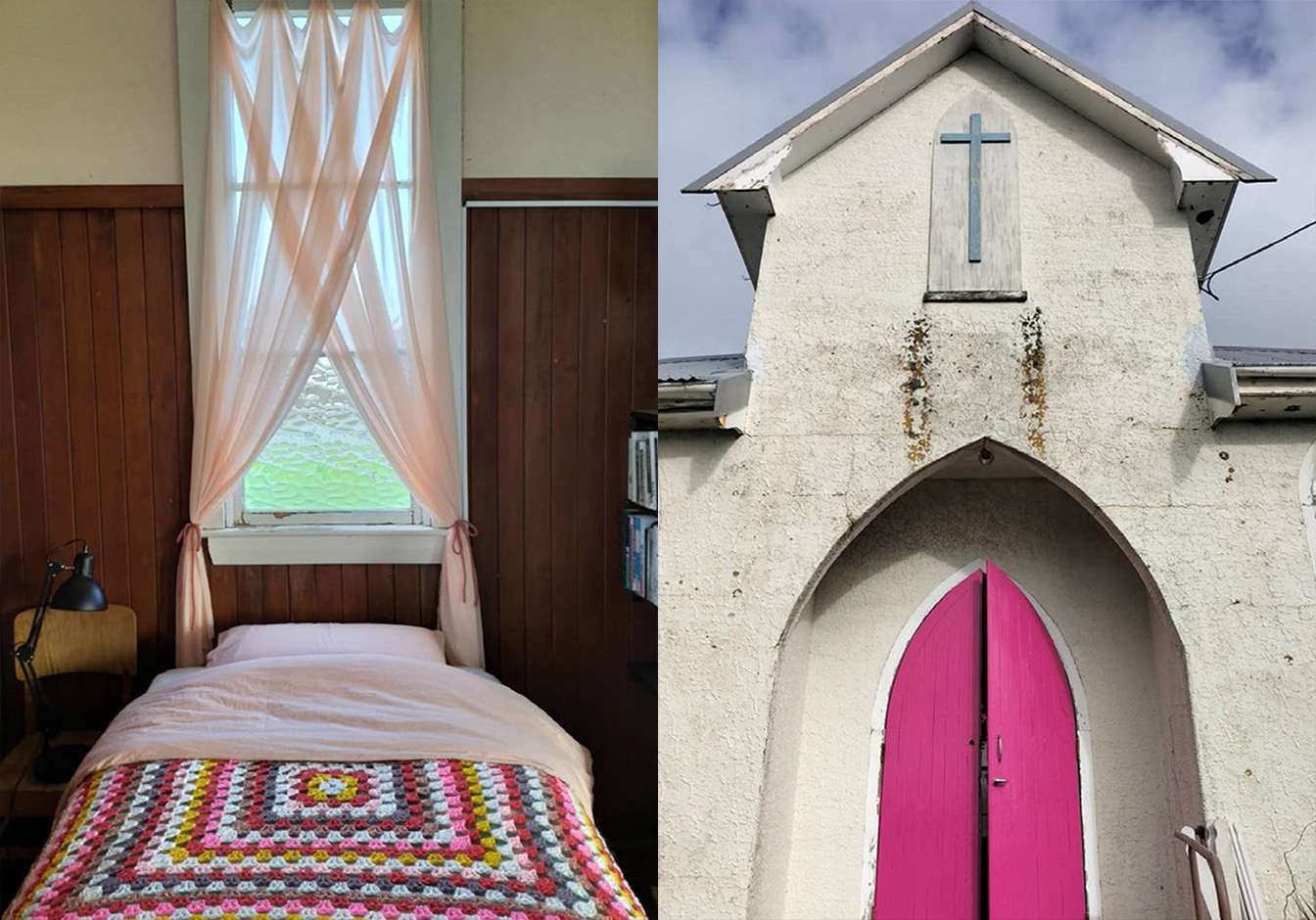 The building was definitely in worse shape than the pictures led him to believe. Leaks, mould, rot, no plumbing, no kitchen, with a terrible mystery smell coming from the carpet. But being on the West Coast felt good — Sam loved the beach and the hills. Besides, he had a vision. And standing there looking at this sad, dilapidated, unloved old church, he also had another kind of feeling. "I just felt, deep in my bones, an overwhelming amount of FUCK IT. Fuck Wellington, fuck sensible, fuck being sad about a town that doesn't want me anyway. The years are flying by. We're all going to die. I want to do something big and stupid. So I bought it."
By January 2021, it was official. The church was his. "Meet Gloria," Sam wrote in an Instagram post last April on the newly created account @gloria_of_gremouth. "She is my new art project." Sam had taken a good look at the property ladder and, instead of trying to climb it, decided to paint the ladder pink.
His plan: to paint the old church a vivacious fuchsia, filling it with a 50-strong congregation of two-metre- tall clay and papier-mâché  giants raising their rainbow-coloured hands in worship, including a choir and service leader. "Queer excellence on the coast," he wrote. "Hallelujah!"
Three months after that first Instagram post, in late July, the account posted a photo of a fluorescent neon sign reading "Gloria" in sloping pink script. Gloria's new name had been sanctified.
In September Gloria had a bathroom installed, and by October Sam was finally ready to move in. The photos that followed were a satisfying montage of renovation and transformation. Nineteen-seventies carpets pulled to expose the wooden floors beneath, pulpit brushed and scrubbed, new hinges on the old door. The improvements were interspersed with shots of Blaketown and the West Coast: a wild pebbled beach strewn with driftwood against a tableau of snow-capped mountains, a shot of the Greymouth lagoon with colourful old fishing vessels lined up along a wooden pier.
In mid-October, Gloria's makeover moved into its next phase, starting with the doors. The once faded, peeling red doors became a glossy, gleaming hot pink. The transformation was dramatic in a head-turning, 90s-lipstick-commercial way.
The "pinking" of the doors felt symbolic. Red is the traditional colour for church doors, a colour that represents sanctuary (or the blood of Christ, or both, depending on the interpretation). In the Middle Ages the concept of sanctuary was taken quite literally: if you were being pursued by an attacker and made it to the church, you would be safe — no one would dare harm you on holy ground.
By all accounts, Blaketown locals have been loving the church's transformation. A gruff man in his 60s poked his head in one day to suggest Sam add some glitter. A helpful neighbour has registered just one complaint: "Where are all the bloody pews?"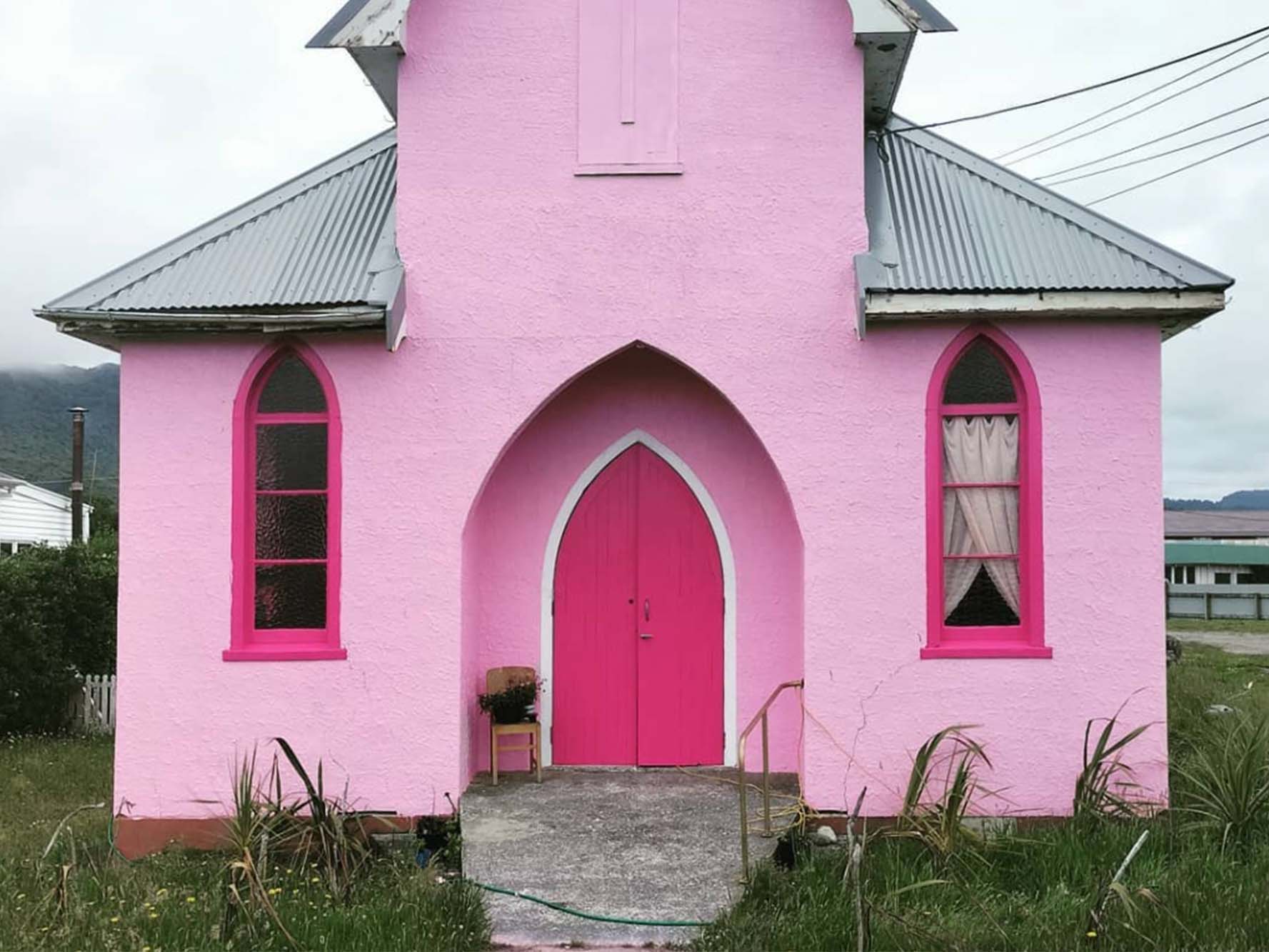 Of course, the offer of sanctuary has been selective. For many queer people, the institutions of the Christian church have historically been just the opposite. But now Gloria's doors were hot pink. A bold, kitsch colour that is pure camp (an aesthetic and attitude which is explicitly tied to queer culture), promising a more fun, inclusive and playful kind of sanctuary.
The power of the camp aesthetic to transform was famously explored by Susan Sontag in her seminal walking around in a dress made of three million feathers. Camp is the paintings of Carlo Crivelli . . . Camp taste is a kind of love, love for human nature. It relishes, rather than judges."
As he worked on Gloria, Sam became a kind of camp King Midas — instead of gold, everything he touched turned to pink. Gloria's walls and ceilings and floors, her pulpit (further embellished with gold tinsel), her altar, the window writes. "Gloria is not interested in being practical"
Toward the end of the year, Sam posted a photo of Gloria's front façade. Her entire exterior was now completely pinked. The window frames and large double doors were a deep hot pink, while the walls had been washed in a lighter cherry blossom or ballet slipper hue, including the large crucifix adorning her central tower. Gloria was officially a born-again queer.
It was around this time that Gloria received her first press — the front page of the Greymouth Star. In the photo Sam stands smiling in front of the pink and gold altar, dressed all in black, apart from a light-pink beanie. The photo appeared right beside the lead story: "Rotting Calves Cause a Stink in Barrytown." Greymouth Star reporter Meg Fulford later became Gloria's first official church elder after drawing a sketch of a giraffe on the back of a door. (According to the provisions of the programme, anyone who adds to Gloria will become an elder and have their portrait hung on the wall.)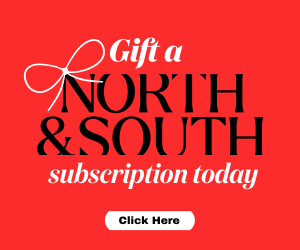 Sam says Blaketown is the most welcoming place he's ever lived. "Everyone's been an absolute sweetie-pie-darling. People are so lovely . . . they bring me furniture, plants, hardware — just, all this stuff. It's been beautiful."
Before Sam arrived on the Coast he was a little nervous the locals wouldn't love "an enormous queer sculpture in the middle of their little town". But so far Sam's received only curiosity, hospitality and a whole lot of generosity. Eighty-seven- year-old Brian passed by recently on his mobility scooter and told Sam his father had built the church back in 1939, adding that he was "loving the colour". There was the gruff man in his 60s who poked his head in and suggested Sam add some glitter. Another time, a former St Andrew's parishioner came to visit Gloria with his old dog. Sam gave him a brief tour and the man, with a summary nod, told Sam the new look was fabulous.
Then there's Ray from around the corner, who has so far offered timber, spouting, crayfish, snapper and blue cod. He's offered to take Sam out fishing and hunting. "Do you like venison?" he asked. "I never miss. Shoot only what I'm gonna eat." He registered just one complaint: "Where are all the bloody pews?"
In November, Sam and Gloria celebrated their one-month anniversary of living together. Sam honoured the occasion by posting a series of photos of him and Gloria doing things together: gardening, painting, cooking, watching videos, reading and writing, napping and playing the piano. In the photos Sam is dressed in a light-pink silk robe, his pink beanie, a pink plastic Casablanca lily behind one ear and matching lipstick. Like many couples, the more time they spend together, the more they seem to resemble each other.
He also posts a photograph of the property line between Gloria and the house next door along with the caption: "Gloria & her neighbour & their differing lawn philosophies." On the left is a tidy villa with a gleaming picket fence and a closely cropped lawn. On the right is Gloria's lawn — a riot of unruly green and clover and flaxen-coloured grass-flowers.
Sam has opinions about lawns. In his poetry collection People from the Pit Stand Up, a poem called "Lawns" includes the line "lawn care is to die by gradual fade". The poem's narrator laments the "slippery slope" into "sad dad", "picket fence", "chocolate box misery". With her roisterous lawn and proud pinkness, Gloria seems to be taking a cheerful stand against the homogeneity of the suburbs. "Who wants another white house? Boring," Sam said to me, mischievously — I was calling him that day from a white room inside a white house in suburban Auckland.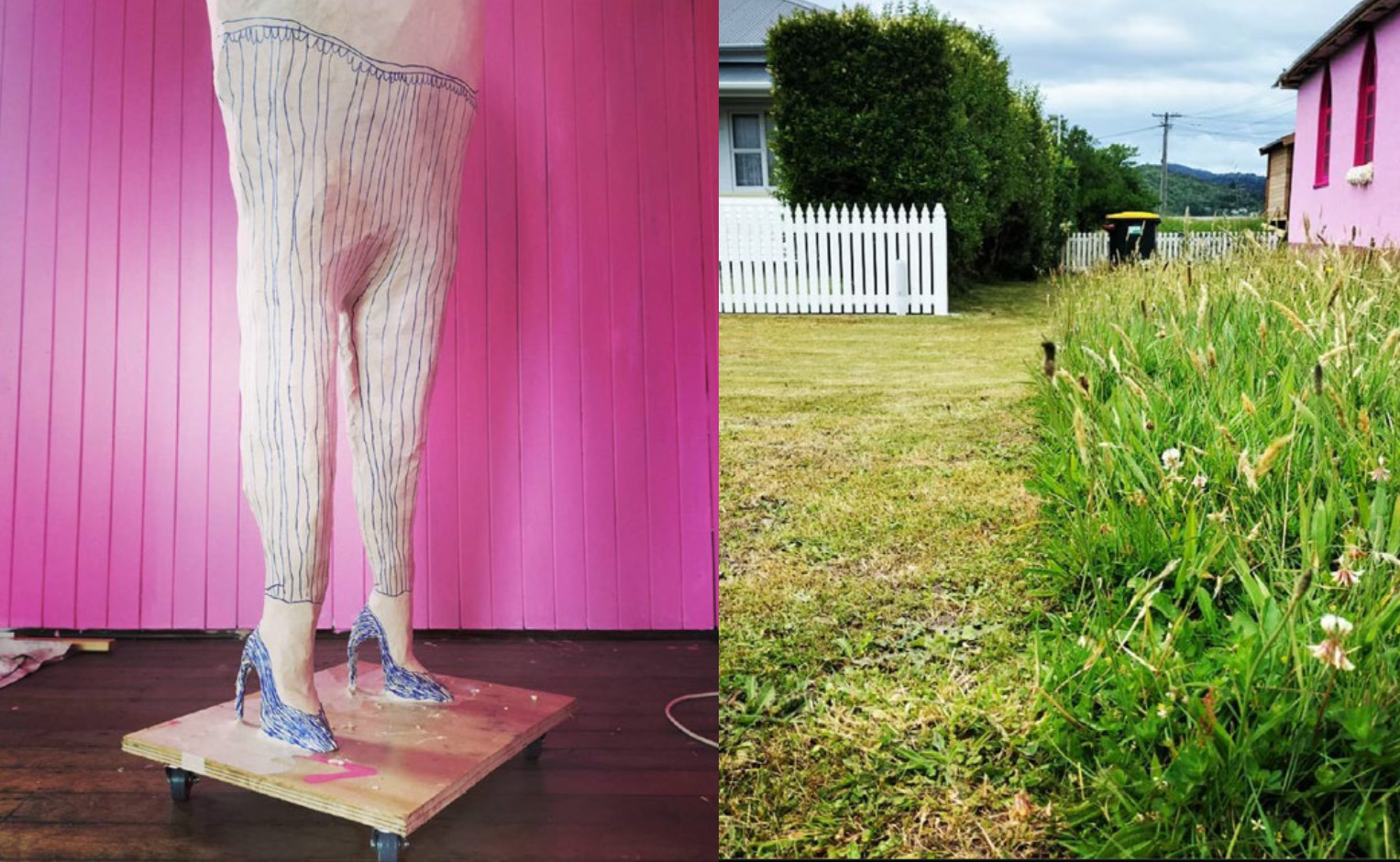 Since I first came across Gloria I've been thinking about her relatives. Her ancestors and forebears. There's Frida Kahlo and Diego Rivera's La Casa Azul in Mexico City. Then there's the Australian bus Priscilla, from the 1994 film The Adventures of Priscilla, Queen of the Desert. There is something in the dissonance of three glittering, feathered drag queens in Australia's monochromatic outback that unlocks a bright and joyful sense of the possible and the previously unimagined.
Like drag queens in the outback, the marriage of camp aesthetics with Christian symbols creates a hybrid space. Gloria, in appropriating the setting and language of Christian worship, hints at the possibilities of another world, another kind of deity. It is a project that's both wonderfully serious in its silliness and silly in its seriousness.
Gloria also brings to mind Prospect Cottage, on the rocky, wind-swept coast near Dungeness in Kent. Purchased by filmmaker and artist Derek Jarman in 1986, he lived there until his death from AIDS-related complications in 1994. It was at Prospect Cottage that Jarman was ceremoniously canonised as a living saint by the Sisters of Perpetual Indulgence.
While Jarman's sainthood was a theatrical statement of protest and pride, his now famous garden was another, perhaps more quiet, form of resistance. He lovingly curated and tended it during his eight years at the cottage, recording his progress in a journal that would later be published as the book Modern Nature. In the foreword Olivia Laing writes, "we looked at him and knew there was another kind of life: wild, riotous, jolly. He opened a door and showed us paradise. He'd planted it himself, ingenious and thrifty."
Laing could have been describing Sam.
"When you step in there it's a whole experience. It's all pink and the whole thing glows from within. It's just beautiful. You can't go in there and be miserable," Abi Gully says, about visiting Gloria. The co-ordinator of the local Rainbow Youth Group in Greymouth, Abi was the first person to sign Gloria's visitor's book. She recalls how Sam came to meet her group of young queer kids and how much the kids loved meeting him, as both an out and proud gay man, and as an artist. "The idea that he could do this, that this was his life, was just so amazing for kids here," she says.
Abi and Sam have been dreaming up ideas for how the queer local youth can get involved with Gloria in 2022. Group visits are being planned, but Sam is also busy with a new phase of Gloria's transformation.
Next up: creating her gigantic congregation, including a choir and service leader. It's a classic God move, creating men from clay. But while Sam is a prolific creator he is a somewhat reluctant figurehead. His own portrait appears on the wall of the church elders intermittently. "Sometimes I take it down, sometimes I put it back up," he says.
While Sam may be ambivalent about his role as maker (or perhaps Maker?), the wider community isn't. They are believers, and Gloria's (human) congregation continues to grow. It's a brethren full of faith in a better, pinker, sillier, more inclusive and more joyful world.
Amen.
Sarah Natalie Webster is an essayist and poet based in Tāmaki Makaurau.
This story appeared in the February 2022 issue of North & South.