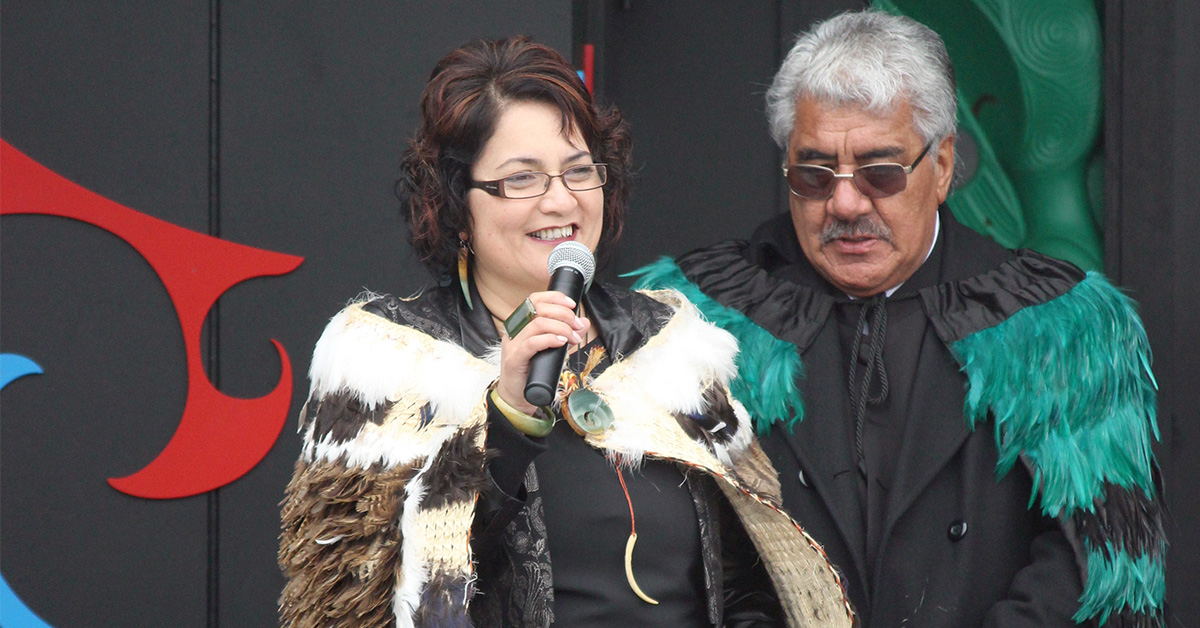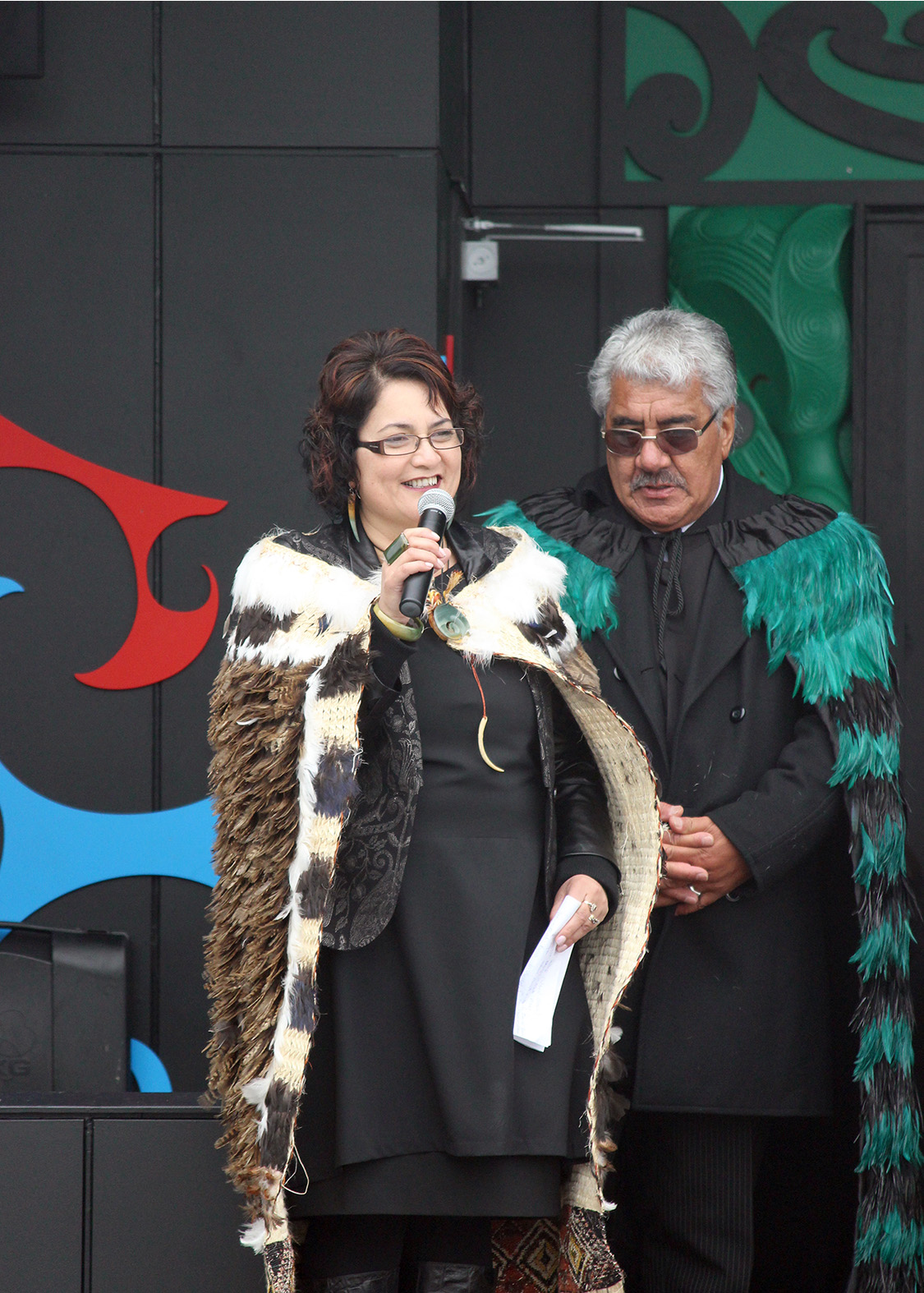 Ngāi Tahu's first female chair is on a mission to transform the iwi's operations from the ground up.
By Sally Blundell
Lisa Tumahai at the opening of Arahura Whare Tipuna near Hokitika. Photo: Stuff Ltd.
For Lisa Tumahai, the enforced silence was unbearable. As a 25-year-old in the early 1990s, she would drive over the main divide to the West Coast Te Tai Poutini to accompany her father, Tahana Tauwhare, to the monthly council meeting of Ngāti Waewae, one of the smallest hapū of Ngāi Tahu. First in the RSA hall in Hokitika, then in a small building at the Arahura pā, on the ocean side of the main highway, she sat quietly but attentively as senior whānau representatives discussed the hapū's affairs. Her father, as the elder in their family, was the only one who could speak on their behalf.
But it was hard for Tumahai, the fifth of six children, a former bartender taking part-time business classes, to hold her tongue. "There were things I could see were not right," she recalls. "People were wanting change but just didn't know how to go about it." She saw decisions being made to fund major assets without a clear mandate. "My dad didn't have the skills to understand the financials so I would try and support him," she says. But after each meeting she'd badger him. "'Why didn't you say this? Why can't I speak?'"
Two years later, her father passed his speaking rights on to his determined daughter. "I was young, an upstart," she says.
Now 55, Tumahai looks back on her early political experience from the vantage point of a spare meeting room in Te Whare o Te Waipounamu, a large, arced concrete and glass building on the corporate edge of inner-city Christchurch. It has been Ngāi Tahu's headquarters since 2015 (its former base was redstickered after the 2011 earthquake). In 2017, Tumahai became the first woman to be elected kaiwhakahaere, or chair, of the country's wealthiest iwi, representing just over 70,000 members, a land area covering 80 per cent of Te Waipounamu, 18 regional runanga and $1.8 billion of assets.
The trip from the Hokitika RSA hall to the boardroom of Te Rūnanga o Ngāi Tahu — or TRONT as the tribal council is known — has been far from easy. In 2003, as a mother of three in her 30s, Tumahai was appointed Ngāti Waewae's representative on the TRONT board. It refused to accept her nomination — "because the guy representing us didn't want to leave," she says. She had to go through a dispute process in order to take her seat. "But each battle makes you more resilient."
Fast forward to 2017, and Tumahai was one of three nominees seeking to be elected as kaiwhakahaere of Ngāi Tahu. The process was bruising. The election, she says, was rife with "ridicule, lies, misinformation". She describes personal attacks, a bogus Facebook page. "It is not unusual — it is just the political nature of iwi — but it was awful."
The landscape had shifted dramatically by the next tribal election in 2020. This time, Tumahai was reelected unopposed. Her victory was seen as a mandate to pursue a formal claim against the Crown, lodged in the High Court in November 2020, for the recognition of Ngāi Tahu rangatiratanga over fresh waterways in its takiwā, or territory. For Tumahai — who is also deputy chair of the Climate Change Commission — it is a bold assertion of historic rights and a commitment to environmental protection that will have to be reconciled with the iwi's economic aspirations. As an iwi, she says, Ngāi Tahu have made trade-offs to grow the balance sheet commercially instead of making further social investment. "Now that balance sheet is at an acceptable level those sorts of trade-offs aren't acceptable anymore."
Tumahai's appointment also gave the green light for a proposal to transfer more responsibility from Ngāi Tahu's head office in Christchurch to individual papatipu rūnanga — a major change for an iwi that has typically had a strong central power base. Enacting these two goals will require all the political skill she can muster. Are other iwi watching? "Iwi are always watching," observes Tumahai.
It took seven  generations for Ngāi Tahu to secure compensation for the failure of the Crown to uphold promises made in early land sales. It took seven years for the negotiating team, led by kaumātua Tā Tipene O'Regan, to reach a final settlement. Passed into law in 1998, the settlement included a formal apology; the return of the sacred maunga Aoraki (which Ngāi Tahu gifted back to the nation); the right of first refusal on numerous Crown properties; and economic redress of $170 million.
It was a fraction of the calculated loss to Ngāi Tahu — reckoned by the Crown to be around $12 to $15 billion and closer to $20 billion by Ngāi Tahu's advisers. "But I took a pragmatist view," says Ta Mark Solomon, who took on the role of kaiwhakahaere just days before the Ngāi Tahu Claims Settlement Act became law. "If we couldn't build a capital future based on a $170 million cash injection, then it wouldn't matter what we got." (According to its 2020 investment report, Ngāi Tahu has received an additional $300 million since 2012 under a mechanism that ensures the tribe's settlement maintains its relative size compared with the total value of all Treaty settlements.)
The new tribal authority, Te Rūnunga o Ngāi Tahu, was established in 1996. As with other post-settlement iwi authorities, it has two main arms: a charitable trust that channels funds into educational, cultural and environmental programmes; and an investment company, Ngāi Tahu Holdings, responsible for managing and growing the asset base. Which it has done, spectacularly.
Under Solomon's watch, the tribe became an economic powerhouse, with interests in property, tourism, fishing, forestry, agribusiness and farming around the country. If O'Regan developed a reputation for statesman-like leadership and intellectual rigour, Solomon, a former foundryman, freezing worker and pāua diver, was widely recognised as commercially astute, a straight talker, a leader with a vision for his iwi and for Māoridom. During his 18-year time as kaiwhakahaere, Ngāi Tahu pursued a business strategy of economic growth and increased unity. By June 2016, the iwi had net assets of $1.27 billion. As political commentator Ward Kamo wrote at the time, "I don't think we can truly appreciate the stunning economic success story this represents." (The impact of Covid-19 on the iwi's tourist ventures and losses in Ngāi Tahu Holdings' honey ventures resulted in a $25.7 million loss in the 2019–20 financial year).
"Our wai comes first — if our rivers are healthy, everything else comes second."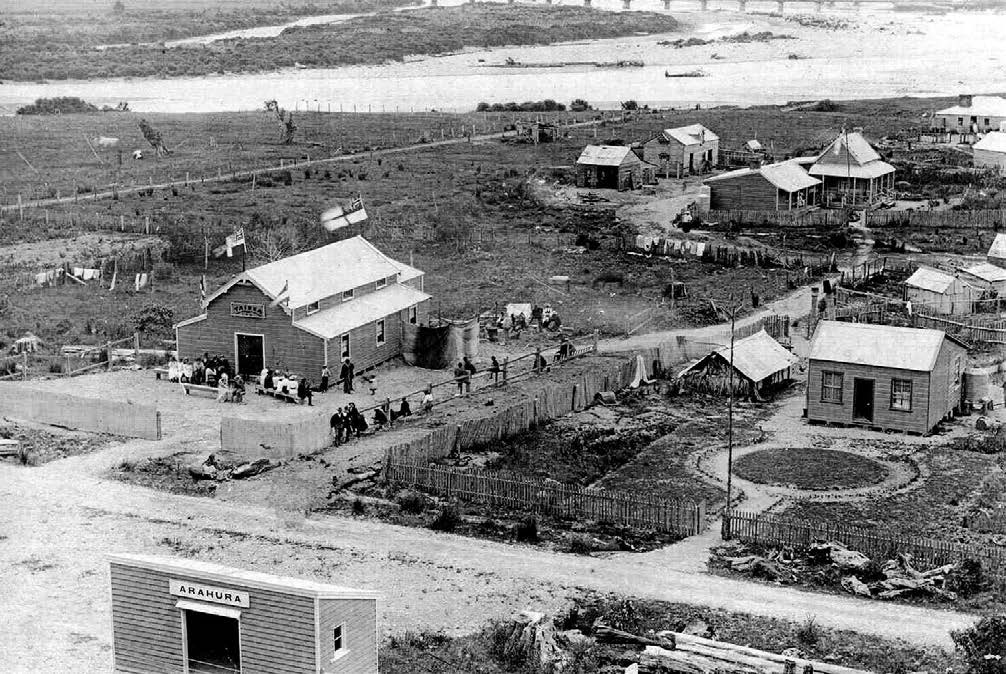 The Arahura pā of Te Runanga o Ngāti Waewae on the banks of the Arahura River. Photo: Te Rūnanga o Ngāi Tahu.
Ngāi Tahu's rapid growth made it a considerable economic, social and political force not just in Te Waipounamu but across the country. The iwi played a pivotal role in the aftermath of the earthquakes, allocating over $1 million for community recovery, distributing food parcels and assisting families in the worst-affected areas. It was named a partner alongside the Christchurch City Council and the Crown in the city rebuild. It spearheaded the establishment of a successful Māori trades training initiative and helped form a national network of iwi leaders from across the country.
But its economic success was not without criticism. Some within Māoridom believed Ngāi Tahu was selling its soul. Writing in 2018, academic and activist Karaitiana Taiuru said its head office "is a western corporate structure that has ignored tikanga Māori". Following a "best person for the job" policy, Ngāi Tahu Holdings was initially led by a succession of Pākehā managers. "You didn't give [the job] to Uncle Joe because he is Uncle Joe," says Solomon, defending this approach. "Uncle Joe had to have the skills."
There were also environmental concerns. Ngāi Tahu's $400 million investment in a North Canterbury dairy conversion in 2014 came at a time of growing concern over the impact of intensive dairying on the region's waterways.
Inside the boardroom there was even more tension. The tribal council was riven by leadership coups, a stoush over a planned $52 million cultural centre, the controversial sacking of Ngāi Tahu Holdings chair Wally Stone, leaked documents — including a confidential email from Solomon passing on allegations of nepotism — and a subsequent investigation.
Solomon's recent memoir barely touches on these years of conflict. "I have never agreed with washing Ngāi Tahu's dirty linen in public," he explains in an interview. "I loved the role, I loved the people side, but I hated the politics." The only reference to this period in his book comes when he observes that half of the people around the board table "were 'We' people. It was about us; a family business or tribal business, and we were there for the greater good of the tribe. The other half were 'I' people, the kind who thought, 'I want my tribe to do this for me or for my rūnanga only'." In 2016, he removed himself from the running for another term as kaiwhakahaere.
The lead-up to the 2017 election was brutal. Her appointment, says O'Regan, now 82, was bitterly opposed within the tribe. He and his rūnanga, Awarua, backed a ticket of Tumahai as kaiwhakahaere and Matapura Ellison as deputy, on the logic that it would work well regionally and in whakapapa terms. "But I took quite a bit of personal hammering from various elements within the tribe, which I am not unused to. In the Ngāi Tahu world, most of your scar tissue is between your shoulders."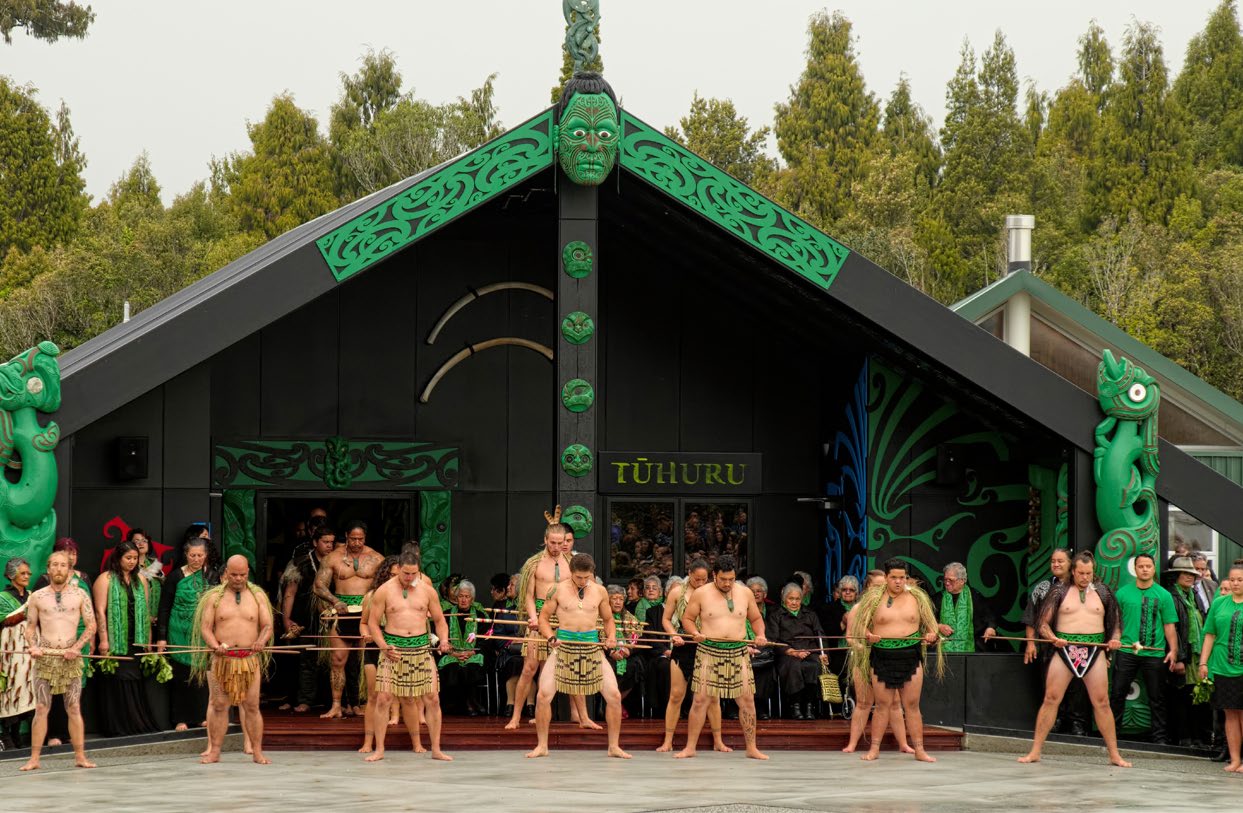 The wharenui at the Arahura marae opened in 2014. Photo: Te Rūnanga o Ngāi Tahu.
At her small home in Kaniere, on the old tramway upriver from Hokitika, Tumahai is casual in Moochi T-shirt and black pants. She marshals her three dogs, pushes aside the piles of papers on the dining table and pours coffee.
Tumahai keeps a lower and more local profile than both O'Regan and Solomon. She spent Waitangi Day this year at her own Arahura Marae. She is an executive member of Te Rūnanga o Ngāti Waewae (her husband, Francois, is chair). She is a member of the education committee, director of the local commercial company, Arahura Holding, and acting chief executive of Poutini Waiora, a local kaupapa Māori health and social service provider currently leading a four-wheel-drive mobile vaccination operation to remote parts of the region.
Te Tai Poutini, the West Coast, is clearly where her heart lies. "When you come down the Kumara straight and you see that ocean view of the Tasman, all the tension just falls away. In Hokitika we have only got two roundabouts, we have no traffic lights — the Coast is another world."
Her parents left that world in the 1960s to find work in Ōtautahi Christchurch, first in the foundry, then in the freezing works in Belfast. By the time Tumahai was born in 1966 they had settled in Bishopdale — white, middle class, conservative. "I remember playing on the jungle gym at school and a Pākehā kid started yelling at me, 'You're Māori, you're black'," she says. "I know it sounds strange, and perhaps it was because my mother was Pākehā and my father Māori, but I really didn't realise I was a different colour from everybody else."
At high school, that difference was made even more apparent. "I remember being pulled into the dean's office and being told I was not to behave like my brothers and sister. I had to go to her every month so she could check my uniform. My sisters and brothers were very musically talented and all of them were good at sport — but I was the shy one. Being treated like that was such a humiliating experience."
She left school at 16 with no qualifications but a strong work ethic. "My parents didn't instil in us the need for education, but you had to have a job, no matter what that job was." She worked in sewing factories, then hospitality. At 23 she was pulling pints at the Russley Hotel in Christchurch. She was newly married, a young mother. "I decided, I'm not doing this for the rest of my life."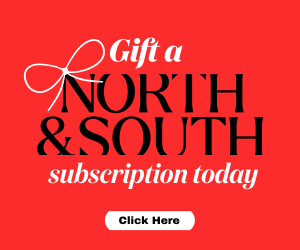 After completing a tourism course, she took on an administrative job with a kaupapa Māori private training establishment. This was not associated with Ngāi Tahu. "At that time Ngāi Tahu was quite controversial," she says, explaining there were two factions vying to be recognised as the legal entity to represent Ngāti Waewae in the Treaty settlement process. When she came home to Te Tai Poutini (her parents moved back in 1985), "people would be fighting. My dad was in one group, my uncle in another, that was how fractured it got. As a young person I didn't want to have anything to do with it — you just saw people hurting one another."
Tumahai began part-time study towards a Bachelor of Commerce and eventually went on to work for the Canterbury District Health Board. A year into her role as deputy kaiwhakahaere, she left the CDHB to work full time for the tribal council.
Tumahai's ascension to the iwi's top job represented a major shift for Ngāi Tahu in more ways than one. She based her campaign on a drive to engage more Ngāi Tahu youth in iwi affairs and to balance economic imperatives with more action on the environmental front. Take the iwi's claim for recognition of rangatiratanga over fresh water. Te Waipounamu is home to 40 of the country's 70 major river systems, most of which are suffering from species loss, pollution, erosion, worsening trends for nitrate-nitrogen levels or sedimentation. As fresh-water ecologist Mike Joy co-wrote in the New York Times, "The contamination of Canterbury's freshwater easily ranks among the worst environmental disasters in New Zealand history."
So what difference will rangatiratanga make? "This is not about ownership," says Tumahai. "What we are seeking is to be in the design and drafting room of the legislation. It is our obligation and responsibilities to our people that they have access to clean drinking water — our wai comes first, if our rivers are healthy everything else comes second."
"Do we move to the preservation of our glacier rather than economically benefitting from our glacier?"
For years, she explains, the iwi has invested time and energy in different regional and national water programmes. "We have had words like kaitiakitanga diluted to something waffly, spiritual, non-scientific, whereas what it stands for is sound oversight of the land and the environment that can meet the economic as well as environmental, social and cultural imperatives of the iwi.
"And still we are no further ahead for solutions for water."
The claim comes at a time of inflamed commentary around co-governance proposals in which the Crown and Māori would work together in the management of natural resources — one high-profile example is the government's controversial Three Waters reforms. These kinds of models are not new. Legislation recognising the legal status of Te Urewera and the Whanganui River mandates boards selected on a similar basis; a new bill due to go before Parliament enables Ngāi Tahu to appoint two members to Canterbury's regional council to ensure mana whenua representation.
Less inflammatory but more far-reaching are the questions it could raise in relation to New Zealand's long-standing lines of separation between the management of conservation lands and of land used for commercial benefit. The definition of rangatiratanga in Ngāi Tahu's claim includes "the right to make, regulate, alter and enforce decisions pertaining to how wai māori is allocated, used, managed and traded, and by whom". This, says Jan Finlayson, president of Federated Mountain Clubs (FMC), is "the language of commercial development". The devastation enacted on New Zealand's natural environment, she says, has occurred under the whole history of human colonisation — no one has done a good job. "We should be turning 180 degrees, thinking of places we have been and seeking to improve them, not taking more from nature."
University of Otago professor of law Jacinta Ruru says the shared control of fresh waterways is something iwi have always sought. (The issue was abandoned to the too-hard basket during Ngāi Tahu settlement negotiations.) "There will be and there ought to be underlying Māori values that we bring into our practices, and kaitiaki is a really important one — not to damage the land and the water — but Māori shouldn't be excluded from being able to economically develop their base."
Minister of Conservation Kiritapu Allan says she is not proposing any erosion of conservation land status but, under the Conservation Act and the Resource Management Act, Māori have a significant role in the way resource management is developed. These obligations are also addressed in the draft Natural and Built Environments Bill, the primary piece of legislation due to replace the Resource Management Act. The bill aims to protect the natural environment "in a way that supports the well-being of present generations without compromising the well-being of future generations". In a submission, FMC argues that by bundling together the wellbeing of the natural environment and that of people, the natural environment will lose out in the inevitable trade-offs between the two.
The West Coast has long been a hotspot for these debates. It is home to 1.9 million hectares of DOCmanaged land and extensive mineral wealth. Over the last few years Ngāti Waewae has supported a hydroelectric power scheme on the wild Waitaha River and a new open-cast mine near Westport, both rejected by the government. It also supported an application for a new haul road across the Denniston Plateau, part of which is conservation land. Debate boiled over this year when three members of the West Coast Conservation Board resigned, saying they had been called racist after raising concerns about a conflict between conservation and iwi economic interests.
Tumahai says she is proud of Ngāi Tahu's commitment to its environmental responsibilities. The iwi's climate change strategy, completed in 2019, requires its commercial companies to have climate action plans to meet targets set by the iwi, and for each marae to have a climate change policy. "Now we are in the position of cracking the whip to hold the CEO of Ngāi Tahu Holdings to account for its delivery, which I am not too happy with. I want things to move faster." But she believes the new climate plan "will result in some tangible outcomes".
Already Ngāi Tahu Tourism, one of the country's largest tourism operators, is looking to replace petrol-powered jet engines with electric ones. There will come a time, she says, when the guided glacier walks will have to be re-evaluated. "Do we move to the preservation of our glacier rather than economically benefitting from our glacier?"
Meanwhile, on its North Canterbury farms in Eyrewell, the iwi is working with Lincoln University to minimise the impact of farming on the waterways and track nutrient movement in the soil. "We want to work alongside all parts of the community to help find the best way forward, using the latest science and hydrology, and our ancient knowledge of our rivers, lakes and streams."
Mike Joy says that even if Ngāi Tahu farms do have a lower impact than other farms around them, "that is still a really low benchmark because nearly all the dairy farms in Canterbury are shocking environmentally". But bringing in indigenous values, he says, is a "really good starting point" in healing degrading water. After all, if the standard for fresh water is based on the ability to gather food according to Māori custom, it would require an increase in water quality that would benefit all New Zealanders.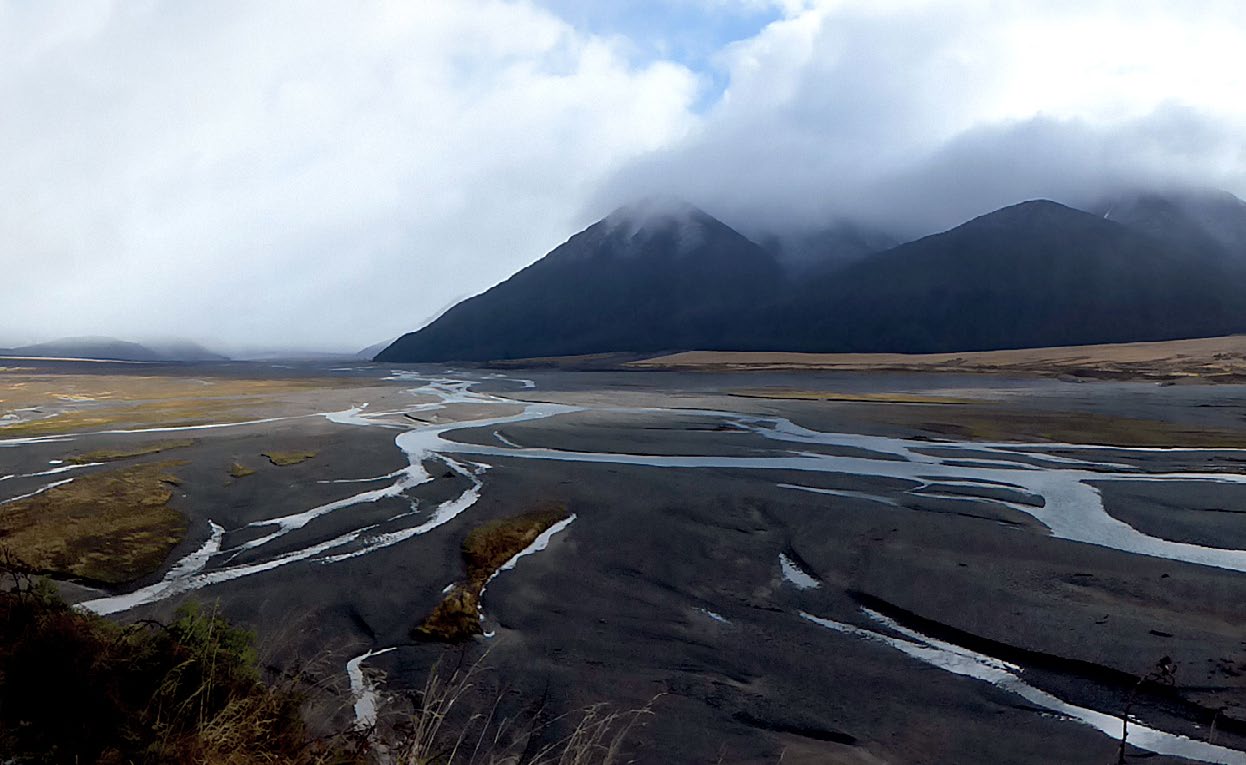 Braided river, Canterbury. Photo: Bernard Spragg, Creative Commons.
There are other battles to fight. As the water claim begins its slow progress through the judicial system, Tumahai is impatient to pursue a process of decentralisation that will give the 18 regional papatipu rūnanga more power and resources to meet the specific goals of their communities. "They are the beating heart," says Tumahai. "They are the essence of keeping us alive as a people." Describing Tumahai's leadership style, O'Regan characterises her as "a transactional politician" — someone able to effectively marshal support across these local power bases.
Under the existing tribal-council-led strategy, says Tumahai, "the commercial guys would create a statement of corporate intent, it would come to us and we would sign off". The devolution programme, called Haea Te Awa (meaning 'slash the sea from the sky'), "is about mana motuhake [self-determination]. Their rangatiratanga, their mana, their mana whenua, their desire to be the authority in their region. They always have been that, but how do you enhance it so they can achieve it?"
O'Regan supports the initiative. It is easy, he says, to bundle all the assets into a great big passive fund and distribute cash from the centre. "Basically rūnaka become privatised welfare beneficiaries. But to what extent should local rūnaka have any level of economic independence of its own?"
Others say Haea Te Awa is setting up certain families in certain areas to be their own powerbrokers, and that papatipu rūnanga will not all have the required business skills to manage regional investment and local economic development.
"I have never been opposed to it but I want them to look at the issue properly," says Solomon. "When I came to the table in 1995 there was only one person at the table involved in business and he ran a shop. The rest of us, I would argue, were put there because we were trusted by people back at home — not because of our business skills."
Tumahai agrees there needs to be more capacity-building in the region, something she is keen to see before her term is up. Already she has decided not to stand again for election in 2023.
"I am getting older, other opportunities are coming my way. But what it does tell me is that I have a hell of a lot of work to achieve in the next three years if I want to complete the transformation I have been involved in starting."
By the time she comes to the end of her term, says O'Regan, Tumahai would have done a pretty good turn at the helm. "It would be wrong to say the raptors are circling but people are now thinking, where do we go? And how do we get there?"
Sally Blundell is an award-winning writer based in Ōtautahi Christchurch.
This story appeared in the December 2021 issue of North & South.