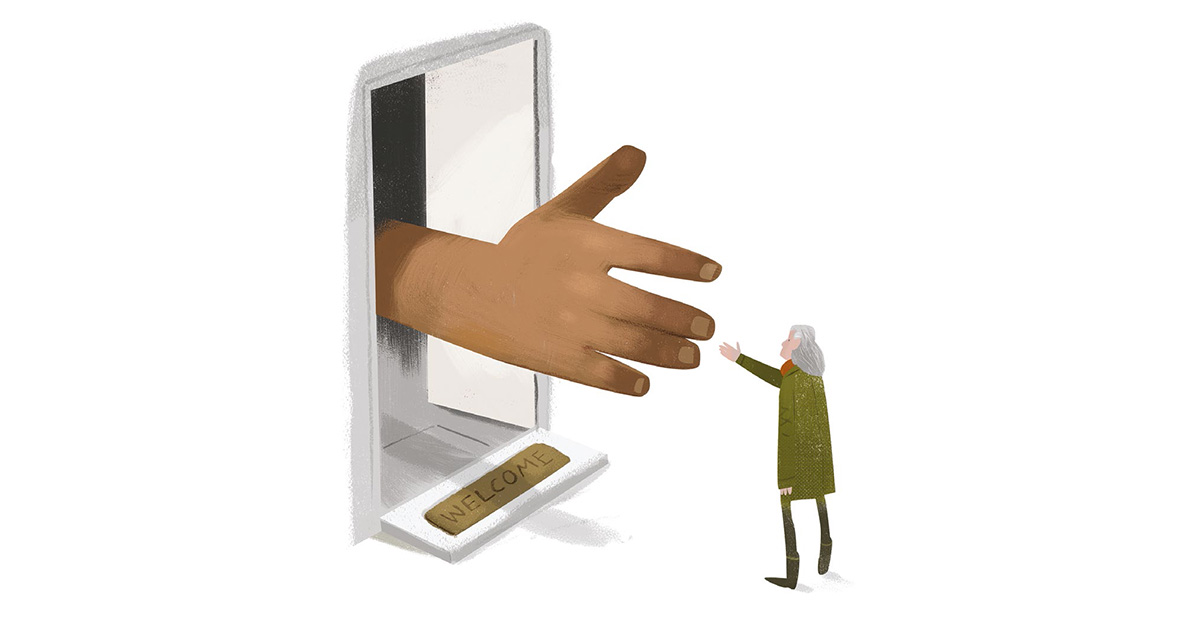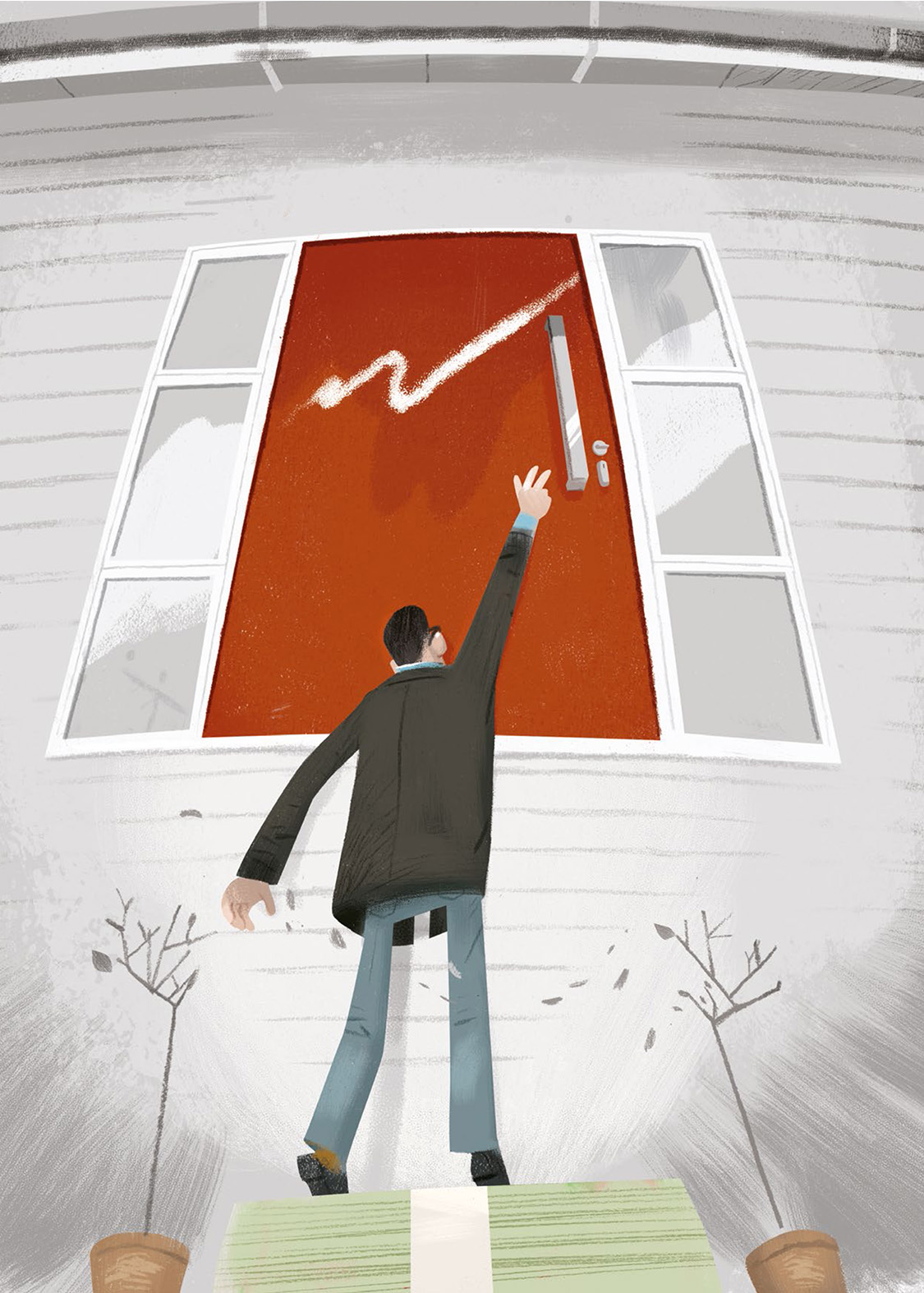 Where Will You Live When You're Old?
You are 30, 50, or 60 years old. Life is going to plan. Or is it? The first country in the English-speaking world to offer the old age pension, New Zealand is now facing a crisis: more of us are living out our twilight years without somewhere comfortable to live, even as the retirement industry booms.
By Ollie Neas
Illustrations by Daron Parton
Lyn was approaching 80 when her marriage ended. A long-time masseuse — she jokes she massaged her way around the world, and counts among her former clients Nina Simone and a Nigerian king — Lyn eventually settled down in Picton, where she and her husband ran a bed and breakfast for 16 years. When they separated, the money Lyn got from the sale of their house wasn't enough to buy a place on her own. Five years later, Lyn was still stuck renting. Though she was in her mid-80s by then, living independently wasn't an issue, but the insecurity of life as a renter was taking its toll. "There's always that anxiety," she says. "How long will I be able to stay here? If the rent goes up, will I be able to afford it?"
Unlike Lyn, Peter never had his foot on the property ladder to begin with. For more than 40 years he worked as a book-binder in Lower Hutt until he was made redundant at 57. He lived in his sister's house for a few years, but then she sold the place when her marriage ended. With no job, and reliant on the benefit, the only flat Peter could find was so damp he ended up in hospital with pneumonia. The stairs were treacherous too — he fell down them four times, breaking his collarbone. Each week after paying his rent, Peter, now 65, was left with just $40. "I was stressed to the max," he says. He ended up having a heart attack.
Meanwhile, the business of retirement is booming. In the last financial year, five of the biggest names in the retirement industry — Ryman, Oceania, Arvida, Summerset and Metlifecare — made over $1.8 billion between them, and together hold assets worth over $25 billion. Every week, about 100 more people move into the sprawling retirement village complexes appearing in increasing numbers in our cities. Around 40 new units are currently being completed each week, with 21,400 more in development. In 2018, Ryman alone was the country's biggest residential builder by value. These private complexes offer a cushy life and peace of mind. Equipped with bowling greens, dance floors and cinemas, they also offer medical care for residents as they age. Of course, all this comes at a cost — and other options, like social or council housing for pensioners, are in short supply. For a growing number of us, the price of entry for a comfortable retirement will simply be too high. So what will happen to those left out in the cold?
In this country,  stories like Lyn and Peter's aren't supposed to happen. Since the introduction of the old age pension nearly 125 years ago, New Zealand has held itself up as a world leader when it comes to the care of our elderly; a place where everyone can live secure in the knowledge that when they get old they will have food on the table and a place to live, regardless of what life throws their way.
But far from being the exception, these stories reflect a growing crisis of housing insecurity among seniors. Homelessness, which includes rough sleeping as well as living in temporary accommodation like boarding houses or motor camps, is rising among seniors according to research into housing deprivation released last year, funded by the Ministry of Housing and Urban Development. In 2020, a Christchurch great-grandmother left homeless after her rental was sold spent two nights in her car before being admitted to hospital, struggling to breathe. Every year, about 2000 more seniors apply to receive the accommodation supplement; the vast majority are renting in the private market. The number of hardship grants given to seniors doubled between 2013 and 2018. There are now four times as many seniors on the social housing register as there were in 2017 — nearly 3000 people. In 2020 and 2021, two visiting UN experts raised concerns about the country's housing crisis and its effects on older people. The special rapporteur on adequate housing called New Zealand's housing failures a breach of human rights, and the independent expert on older persons' human rights, Rosa Kornfeld- Matte, recommended urgent action to improve the quality of life for our senior citizens. Kornfeld-Matte said her tour of the country's homes, marae and retirement villages overturned her perception of New Zealand as a socially progressive bastion.
This has happened in large part because New Zealand's entire retirement system — from how superannuation is calibrated, to the price of retirement village units, to the provision of pensioner housing and how aged care is funded — is built on an assumption that is becoming less true by the day: that we are a nation of home-owners. It's supposed to go something like this. You buy a home, pay off the mortgage, and arrive at retirement age with a healthy pool of savings and a house of your own. With little in the way of housing costs, you can rely on your super for day-today expenses, dipping into your savings if you need to. When it comes time to downsize, you sell the house and use the equity to buy a smaller place — or perhaps move into a retirement village. And when it becomes too tough to live independently, your remaining equity helps to pay for residential care.
But as one struggling retiree puts it, this tidy equation is now "a load of bollocks". Sky-high house prices have seen home-ownership rates tumble to their lowest in 70 years, and between 1986 and 2013 the proportion of seniors renting jumped by 44 per cent. Today about one in four New Zealanders are entering retirement age without owning the home they live in. Among owner occupiers, the proportion of those retiring with a mortgage still to pay is rising. The picture is worse for Māori and Pasifika: less than half of Māori and less than 40 per cent of Pasifika are entering retirement age as owner occupiers. And it's only going to get worse. By 2053, when the millennial generation reaches retirement, around half will still be renting.
It's supposed to go something like this. You buy a home, pay off the mortgage, and arrive at retirement age with a house of your own, using the equity to fund your retirement. But as one struggling retiree puts it, this tidy equation is now "a load of bollocks".
New Zealand's retirement commissioner Jane Wrightson says many of us imagine the stereotype of the "rich, white, older superannuitants going on European river cruises". But the reality is that this is a very small minority of retirees, she says, and this group will shrink further as more life-long renters retire — though it's not only this group who are at risk of ending up without a secure place to live in their old age. Housing researcher Dr Bev James says there are indications that the majority of people who rent in later life owned property at some point in their lives. She points to a 2020 study she co-authored for the Housing Studies journal, which found that 61 per cent of renters aged over 55 interviewed for the study were former home-owners.
"Why are they renting when they were home-owners at some stage?" James asks. "I can tell you, it's not about choice. It's because there are big shifts — often crises — in their lives, which mean that they can no longer sustain home-ownership. That has huge ramifications for their security in so many ways."
Sixty per cent of single superannuitants have little or no income other than their pension, which is currently $462.94 a week for someone living alone. To be considered "affordable", at 30 per cent of net income, rent for someone living alone on super should be no higher than $139 per week. As at December last year, the average rent nationally was $518, and has been increasing (steadily and then sharply) for years.
Stephanie Clare, the chief executive of Age Concern, says seniors on a fixed income will often forego many of life's pleasures — and necessities — to make ends meet. "They stop eating, don't have internet because it costs money, don't have a device for connecting," she says. "They lose the joy of life." They also tend to have worse health outcomes, worse mental health, visit the GP and hospital more often, and have reduced life satisfaction compared to owner-occupiers, research shows. One reason for this may be the relatively poor state of the rental stock compared to owner-occupied properties, which can lead to health problems.
Claire Booth of Wesley Community Action says the situation seniors face now is the worst it's been in the seven years she's worked in the sector. "If you hit retirement age, and you don't own your own home, you're heading for trouble," she says. "The ultimate consequence is that people move in with their adult children, or move into unsuitable flats or unaffordable private rentals, and then haven't got enough money left over to eat. It's a really big and growing problem."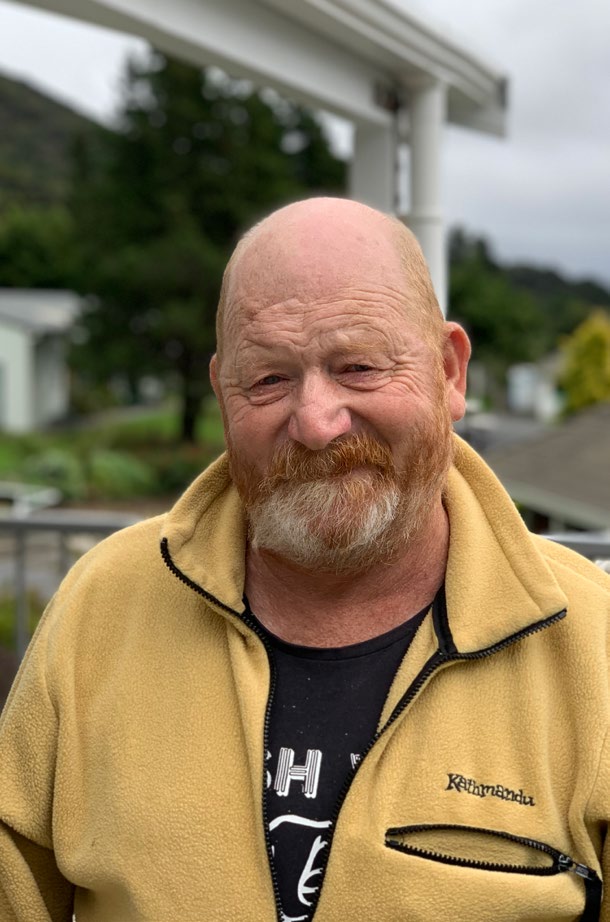 Peter began working as a book-binder at 15, making it his profession for more than 40 years. Then the business he worked for closed, leaving him reliant on the benefit right as he neared retirement. Photo: Ollie Neas.