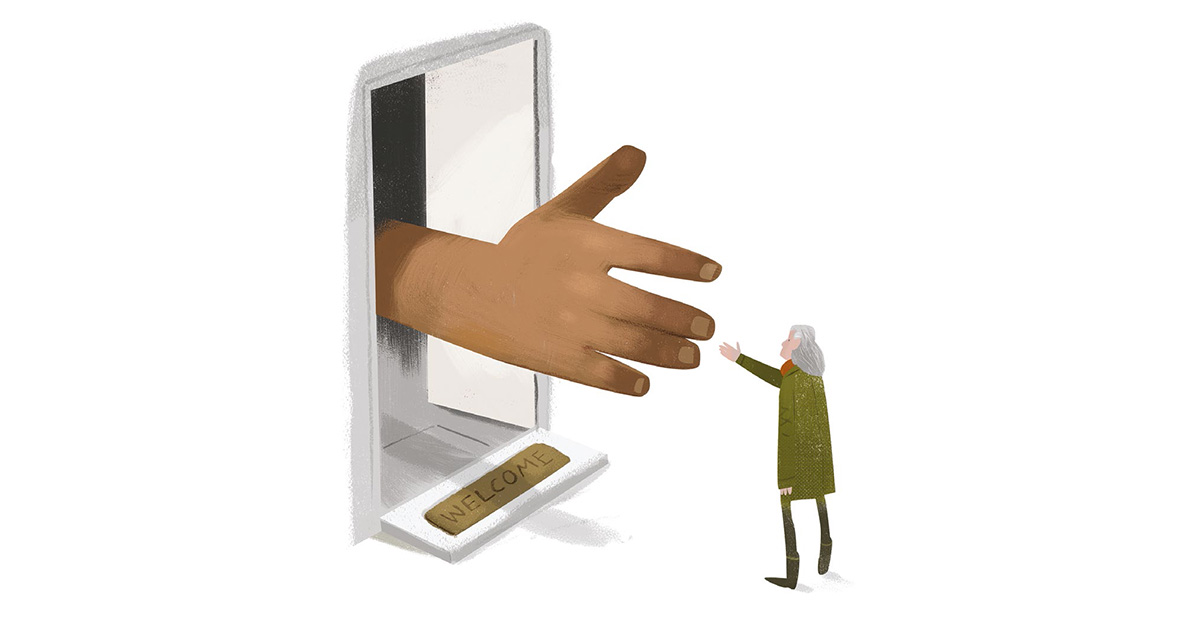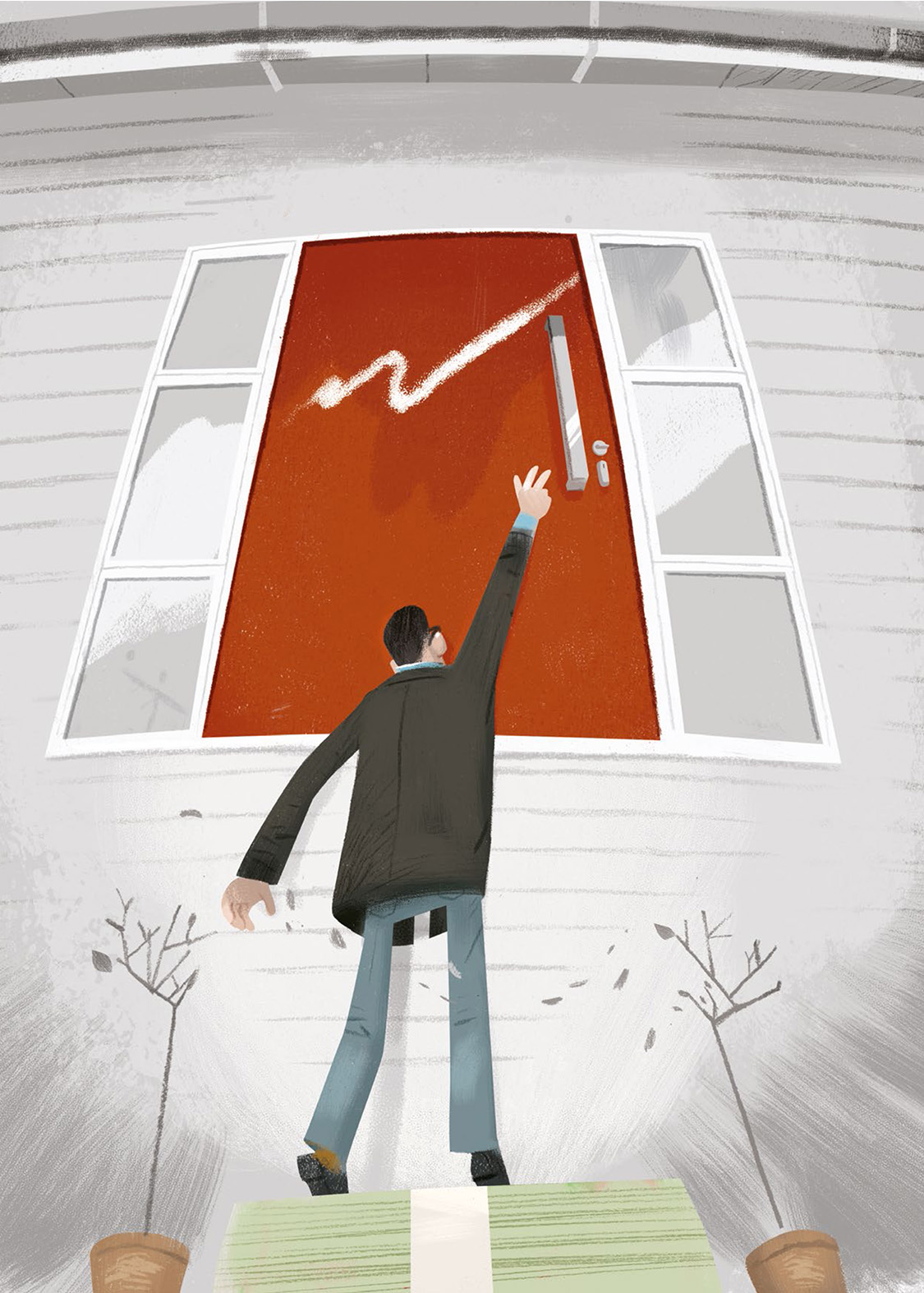 Where Will You Live When You're Old?
You are 30, 50, or 60 years old. Life is going to plan. Or is it? The first country in the English-speaking world to offer the old age pension, New Zealand is now facing a crisis: more of us are living out our twilight years without somewhere comfortable to live, even as the retirement industry booms.
By Ollie Neas
Illustrations by Daron Parton
Lyn was approaching 80 when her marriage ended. A long-time masseuse — she jokes she massaged her way around the world, and counts among her former clients Nina Simone and a Nigerian king — Lyn eventually settled down in Picton, where she and her husband ran a bed and breakfast for 16 years. When they separated, the money Lyn got from the sale of their house wasn't enough to buy a place on her own. Five years later, Lyn was still stuck renting. Though she was in her mid-80s by then, living independently wasn't an issue, but the insecurity of life as a renter was taking its toll. "There's always that anxiety," she says. "How long will I be able to stay here? If the rent goes up, will I be able to afford it?"
Unlike Lyn, Peter never had his foot on the property ladder to begin with. For more than 40 years he worked as a book-binder in Lower Hutt until he was made redundant at 57. He lived in his sister's house for a few years, but then she sold the place when her marriage ended. With no job, and reliant on the benefit, the only flat Peter could find was so damp he ended up in hospital with pneumonia. The stairs were treacherous too — he fell down them four times, breaking his collarbone. Each week after paying his rent, Peter, now 65, was left with just $40. "I was stressed to the max," he says. He ended up having a heart attack.
Meanwhile, the business of retirement is booming. In the last financial year, five of the biggest names in the retirement industry — Ryman, Oceania, Arvida, Summerset and Metlifecare — made over $1.8 billion between them, and together hold assets worth over $25 billion. Every week, about 100 more people move into the sprawling retirement village complexes appearing in increasing numbers in our cities. Around 40 new units are currently being completed each week, with 21,400 more in development. In 2018, Ryman alone was the country's biggest residential builder by value. These private complexes offer a cushy life and peace of mind. Equipped with bowling greens, dance floors and cinemas, they also offer medical care for residents as they age. Of course, all this comes at a cost — and other options, like social or council housing for pensioners, are in short supply. For a growing number of us, the price of entry for a comfortable retirement will simply be too high. So what will happen to those left out in the cold?
In this country,  stories like Lyn and Peter's aren't supposed to happen. Since the introduction of the old age pension nearly 125 years ago, New Zealand has held itself up as a world leader when it comes to the care of our elderly; a place where everyone can live secure in the knowledge that when they get old they will have food on the table and a place to live, regardless of what life throws their way.
But far from being the exception, these stories reflect a growing crisis of housing insecurity among seniors. Homelessness, which includes rough sleeping as well as living in temporary accommodation like boarding houses or motor camps, is rising among seniors according to research into housing deprivation released last year, funded by the Ministry of Housing and Urban Development. In 2020, a Christchurch great-grandmother left homeless after her rental was sold spent two nights in her car before being admitted to hospital, struggling to breathe. Every year, about 2000 more seniors apply to receive the accommodation supplement; the vast majority are renting in the private market. The number of hardship grants given to seniors doubled between 2013 and 2018. There are now four times as many seniors on the social housing register as there were in 2017 — nearly 3000 people. In 2020 and 2021, two visiting UN experts raised concerns about the country's housing crisis and its effects on older people. The special rapporteur on adequate housing called New Zealand's housing failures a breach of human rights, and the independent expert on older persons' human rights, Rosa Kornfeld- Matte, recommended urgent action to improve the quality of life for our senior citizens. Kornfeld-Matte said her tour of the country's homes, marae and retirement villages overturned her perception of New Zealand as a socially progressive bastion.
This has happened in large part because New Zealand's entire retirement system — from how superannuation is calibrated, to the price of retirement village units, to the provision of pensioner housing and how aged care is funded — is built on an assumption that is becoming less true by the day: that we are a nation of home-owners. It's supposed to go something like this. You buy a home, pay off the mortgage, and arrive at retirement age with a healthy pool of savings and a house of your own. With little in the way of housing costs, you can rely on your super for day-today expenses, dipping into your savings if you need to. When it comes time to downsize, you sell the house and use the equity to buy a smaller place — or perhaps move into a retirement village. And when it becomes too tough to live independently, your remaining equity helps to pay for residential care.
But as one struggling retiree puts it, this tidy equation is now "a load of bollocks". Sky-high house prices have seen home-ownership rates tumble to their lowest in 70 years, and between 1986 and 2013 the proportion of seniors renting jumped by 44 per cent. Today about one in four New Zealanders are entering retirement age without owning the home they live in. Among owner occupiers, the proportion of those retiring with a mortgage still to pay is rising. The picture is worse for Māori and Pasifika: less than half of Māori and less than 40 per cent of Pasifika are entering retirement age as owner occupiers. And it's only going to get worse. By 2053, when the millennial generation reaches retirement, around half will still be renting.
It's supposed to go something like this. You buy a home, pay off the mortgage, and arrive at retirement age with a house of your own, using the equity to fund your retirement. But as one struggling retiree puts it, this tidy equation is now "a load of bollocks".
New Zealand's retirement commissioner Jane Wrightson says many of us imagine the stereotype of the "rich, white, older superannuitants going on European river cruises". But the reality is that this is a very small minority of retirees, she says, and this group will shrink further as more life-long renters retire — though it's not only this group who are at risk of ending up without a secure place to live in their old age. Housing researcher Dr Bev James says there are indications that the majority of people who rent in later life owned property at some point in their lives. She points to a 2020 study she co-authored for the Housing Studies journal, which found that 61 per cent of renters aged over 55 interviewed for the study were former home-owners.
"Why are they renting when they were home-owners at some stage?" James asks. "I can tell you, it's not about choice. It's because there are big shifts — often crises — in their lives, which mean that they can no longer sustain home-ownership. That has huge ramifications for their security in so many ways."
Sixty per cent of single superannuitants have little or no income other than their pension, which is currently $462.94 a week for someone living alone. To be considered "affordable", at 30 per cent of net income, rent for someone living alone on super should be no higher than $139 per week. As at December last year, the average rent nationally was $518, and has been increasing (steadily and then sharply) for years.
Stephanie Clare, the chief executive of Age Concern, says seniors on a fixed income will often forego many of life's pleasures — and necessities — to make ends meet. "They stop eating, don't have internet because it costs money, don't have a device for connecting," she says. "They lose the joy of life." They also tend to have worse health outcomes, worse mental health, visit the GP and hospital more often, and have reduced life satisfaction compared to owner-occupiers, research shows. One reason for this may be the relatively poor state of the rental stock compared to owner-occupied properties, which can lead to health problems.
Claire Booth of Wesley Community Action says the situation seniors face now is the worst it's been in the seven years she's worked in the sector. "If you hit retirement age, and you don't own your own home, you're heading for trouble," she says. "The ultimate consequence is that people move in with their adult children, or move into unsuitable flats or unaffordable private rentals, and then haven't got enough money left over to eat. It's a really big and growing problem."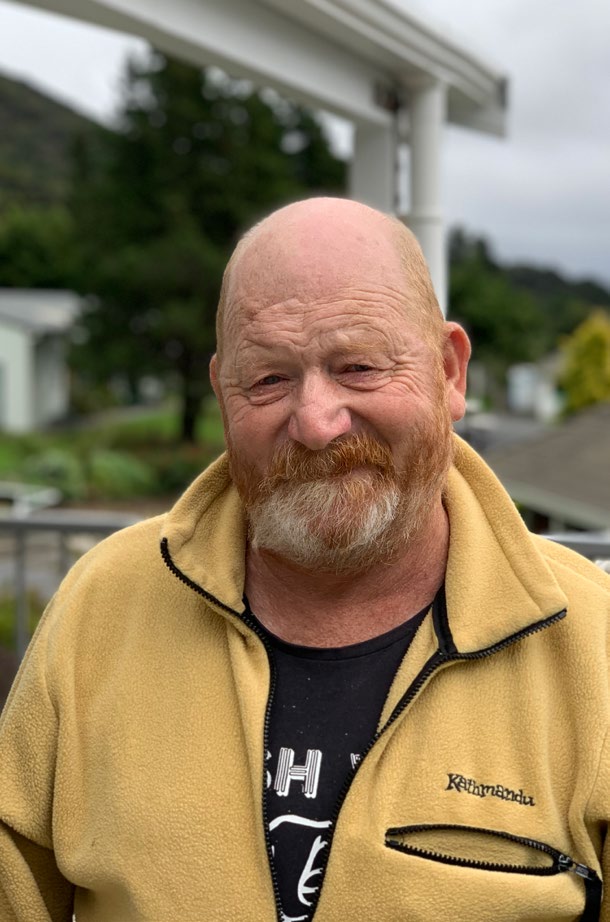 Peter began working as a book-binder at 15, making it his profession for more than 40 years. Then the business he worked for closed, leaving him reliant on the benefit right as he neared retirement. Photo: Ollie Neas.
Gary*, 75, knows how hard it is to make things work on a fixed income. After a long career in land administration, he retired at 65 and finally had time for the footy club and tinkering about in the shed. For a decade, he was living the dream. Then, just before Christmas last year, he and his partner split. The house was his partner's, and Gary had nowhere to go.
He put notices on the board at the local supermarket: "74 year old male seeking board or room in one level". But finding the right place was "nigh on impossible". Gary's only income was his pension, but $400-odd a week isn't much to start with when it comes to Auckland rents, and Gary couldn't just live anywhere. He needed a place at ground level, and finding the right kind of flatmate was a challenge. "I don't want to go into a flat with a bunch of 30-year-olds who want to party," he says. "I'm a bit past all of that."
Gary had owned properties as a younger man, but he was stung by the recession in 1991 and never fully recovered financially. He had some savings but nothing like what he'd need to buy a place in today's market, and without the equity from the sale of a property, a place in a retirement village wasn't an option. He wasn't eligible for help from Kāinga Ora either — ironically, his situation wasn't desperate enough. At one point, he thought seriously about living on a boat or in a campervan.
For five months, Gary lived out of a motel, draining his savings and selling his tools to pay for it. To ease the pressure, he tried to re-enter the workforce but found that no one would hire him. "At 75, nobody wants to know you," he says. Eventually, he found a place — at least for the moment. It's only a house-sit and in three months he will need to move on. "You can't go through all this without it affecting you," Gary says. At least he hasn't ended up in a boarding- or halfway-house like other guys he knows. "I don't doubt that there are people in worse situations than me."
Things weren't always so grim for people in situations like Gary's. In 1938 New Zealand's first pensioner flats were built in Christchurch and over the decades that followed local councils around the country followed suit, building tens of thousands of dwellings for seniors around New Zealand. Unlike state housing, which was targeted at young families who could be expected to earn more and move on over time, these council houses were aimed largely at the elderly, helping them to live with dignity in their communities in housing that would be secure until the end of their life.
Then, in 1991, as part of the "mother of all budgets", Jim Bolger's National government abruptly pulled the plug on the low-interest loans that central government had previously offered councils for their housing programmes. With little help from the state and a clear signal that housing was no longer a council responsibility, many councils stopped building new dwellings and started selling off stock. Since then, the number of council dwellings has continued to fall, despite an increase in the number of seniors living in New Zealand.
And this number may deplete further still, as councils consider ditching their assets in the face of funding settings that make council housing financially untenable. Since a law change in 2013, council housing tenants have been explicitly excluded from the rent subsidy provided by the government to Kāinga Ora and approved non-government community housing providers, which caps a tenant's rent at 25 per cent of their income. This has created a two-tiered system with council housing at the bottom — council tenants generally pay rents at 70 per cent of the market rate, regardless of what they earn. Last year, Wellington City Council, the largest owner of council housing in the country, acknowledged that many of its tenants would be better off elsewhere.
Despite criticising the policy while in opposition, the current Labour government has preserved these policy settings. The Ministry of Housing and Urban Development confirmed to North & South that it does not have a specific work programme for senior housing issues, saying the government "is focused on increasing new build public housing . . . to deliver an additional 6000 public and 2000 transitional housing places by June 2024". But while the government is now building state houses in decent numbers after years of decline, it is doubtful whether many seniors will benefit, according to housing researcher Dr Kay Saville-Smith. "It is very unlikely that an individual who has no other problems in their life other than being old would get priority on the public housing list," she says. "It's already oversubscribed."
Down a quiet cul-de-sac in the suburb of Newtown in Wellington, a weathered block of flats sits as a monument to the fading legacy of council housing. Opened in 1955, the Rintoul St flats were the first in the capital built by the council expressly for pensioners. Now, tenants there find themselves paying rents comparable to those in the private market to live in units which are often dilapidated or riddled with mould, while the council's own records show some fail to meet the government's Healthy Homes standards.
Community housing providers are unable to fill the shortfall either. While the number of people in community housing has tripled since 2013, few providers target seniors specifically, and the sector faces ongoing funding challenges to build in sufficient numbers. "In real terms, council housing, state housing and community housing numbers per capita have gone down," Saville-Smith says. "As a proportion of the total rental stock, it's private sector stock that has proportionately increased."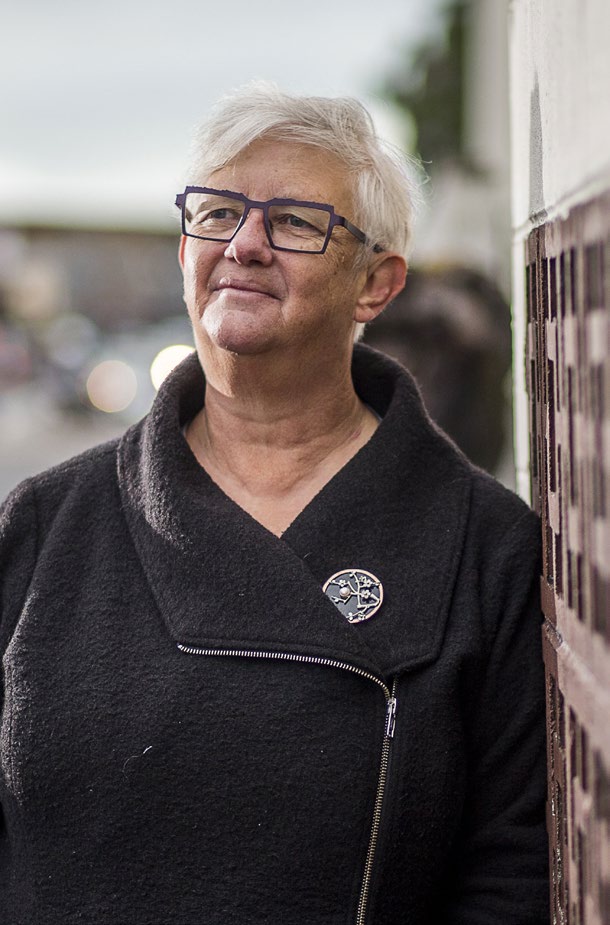 Researcher Dr Kay Saville-Smith was made a Member of the New Zealand Order of Merit in 2018 for her contribution to seniors and housing. Photo: Ricky Wilson/Stuff.
Just a minute's drive down the road from Rintoul St on the site of the former Athletic Park rugby ground is Village in the Park, a privately owned retirement village and rest home boasting a café, cinema, library, gym, hair and beauty salon, chapel, pool, spa and pétanque court. The number of retirement villages has increased dramatically in the last 30 years — with nearly 28,000 units like the ones found in Village at the Park consented between 1991 and 2020, and half of those since 2012. There are now more than 400 villages in New Zealand, housing some 47,000 people (about the same number as live in all of Gisborne).
John Collyns, the executive director of industry group the Retirement Villages Association, says the dramatic growth in the industry is a sign that retirement villages provide older New Zealanders with what they most want: an age-appropriate place to live, money to add to their retirement savings, companionship and a pathway to rest-home care as they age. The industry helps to free up about five and a half thousand family homes every year as seniors sell up and move into retirement villages, Collyns says.
But retirement villages are a solution only for those who already have a home to sell. There are the management fees, averaging about $148 a week, but more importantly, residents don't own the dwellings they live in — rather, they purchase a licence to occupy, which costs two-thirds to three-quarters of the price of properties in the area.
"People often think that retirement villages are the solution to older people's housing," Saville-Smith says. "But it's very, very, very unlikely that a senior in rent is going to be able to find the capital they need to purchase a ORA [occupation right agreement]." As both home-ownership and mortgage-free homeownership rates fall, the ability for people to cash up and buy an ORA also reduces.
The CEO of Age Concern says seniors on a fixed budget will stop eating, and forgo costs for basics like the internet or a cell phone. "They lose the joy of life."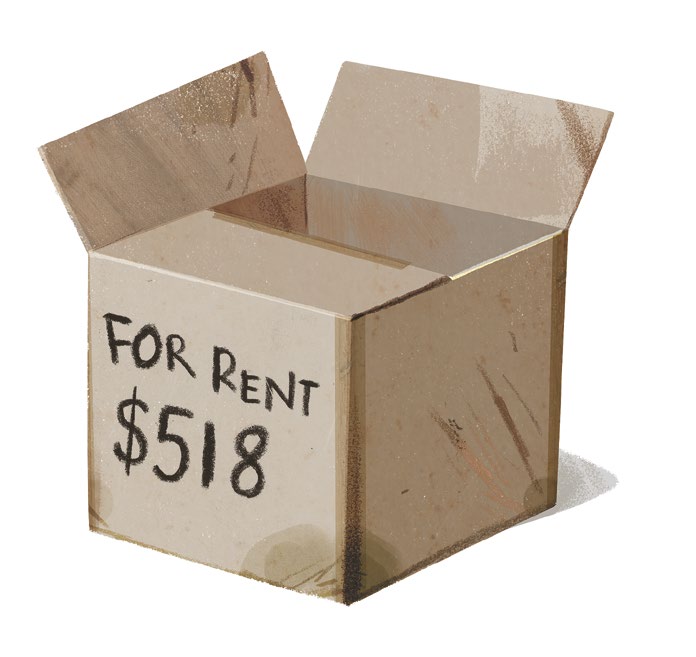 Collyns acknowledges declining home-ownership raises questions for the industry, saying the business model needs to be flexible to provide options for those without capital. Right now, about 15 per cent of villages offer rentals, while a survey of villages last year found 20 per cent were investigating rental options.
The growing divide between seniors who live in a retirement village or have a home of their own and those left to rent doesn't end here; it extends to our most vulnerable years when we can no longer manage on our own. New Zealand was once a rest-home nation, with one of the highest rates of rest-home residency in the Western world. While this rate has fallen in recent decades, there are still around 35,000 people in aged residential care facilities who are in need of full-time support and care. In theory, every person who needs it should get the care they need regardless of their level of wealth. But in reality, there is a marked difference in the experiences of those with money and those without.
After returning home from the United Kingdom three years ago, Canterbury business school lecturer Matthew Scobie made a habit of visiting both his grandmothers on Sundays. Both were in living in aged-care facilities in Christchurch — but that's about where the similarities ended.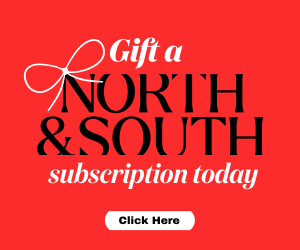 For one woman, in her late 80s, life could hardly be better. She was in a nice room, surrounded by beautiful gardens. The facilities were good, and staff were always on hand when needed. When Scobie asked what she'd had to eat that day, his grandma would usually describe something delicious-sounding, like a pistachio-crusted lemon-glazed salmon. It sounded like she was eating better than he was.
But for his nana, in her late 90s, it was problem after problem. There were too few staff and they kept changing. Food was regularly dumped at his nana's door and then left uncollected until the next day. The vibe of the place just felt off, Scobie says. "You go and visit your grandparents and it's sunny and cheery or it's not." After a while, the family decided to move her to another facility entirely.
The differences in their care seemed to Scobie a reflection of how well off each grandparent had been earlier in life: the grandparent with more money had it a lot better than the grandparent with less. "If you can't pay, you don't get the same quality of care." Scobie couldn't help wondering why it needed to be this way. "If the wealthy are able to live in fancy care homes with around-the-clock care, beautiful gardens, then why can't all of our elders?"
Throughout the 20th century, most rest homes were run by churches or charities, and others directly by local hospital boards. But from the late 1970s, as the state stepped back from providing services directly, a booming industry emerged around the care of our elders. The vast majority — some 80 per cent — of aged-care beds are now in facilities run for profit, many by companies which also run retirement villages. Charities are increasingly exiting the market, while publicly owned facilities are nearly extinct.
There is now big money in the care of the elderly, fuelled by about $1.2 billion a year of government subsidies and more than $1 billion in payments from residents. On top of this is revenue from providers' retirement villages — which ultimately comes from the liquidation of residents' housing assets. Ryman Healthcare, the largest provider, which has now expanded into Australia, has paid out $1 billion to shareholders since 1999.
Successive governments have not seen the "bricks and mortar" of residential care as something they want to invest in, says Saville-Smith. "If there's private money coming in, they've been happy to take that opportunity for the provision of the residential care through the private sector." The problem with this, she says, is that you end up with multi-tier levels of service for seniors according to how much they're able to pay.
While the government pays providers a subsidy for those in care with less than $240,000 in assets, "premium" room services over and above what is covered by the subsidy, such as larger rooms with better views, are increasingly being offered for those that can afford them. In 2006, 20 per cent of "aged-care" facilities offered premium rooms; now 92 per cent of facilities do. Standard rooms now make up just a third of rooms, down from 70 per cent in 2009. Some providers no longer offer standard rooms at all.
A growing numbers of aged-care residents now pay for their care, and the fee charged for these services is rising. The weekly fee for a larger room with an ensuite, the most common type of premium room, has jumped from the equivalent of $21 to $59 a day since 2019, on top of a weekly cost of between $1,000 and $1,200 for those who don't qualify for the government subsidy.
This multi-tier system stems from the division between those who own property and those who do not. Home-owners can sell their property to access better services, nicer rooms and greater continuity of care. Meanwhile the growing number of older people who do not own their own home have to rely on the residential care subsidy to access a dwindling number of standard rooms, despite being more likely to need aged care earlier.
"That immediately means you open up these opportunities for inequality to emerge in terms of access. In some areas, it's quite clear that some people have not got access to standard rooms, particularly close to their communities and homes," says Saville-Smith.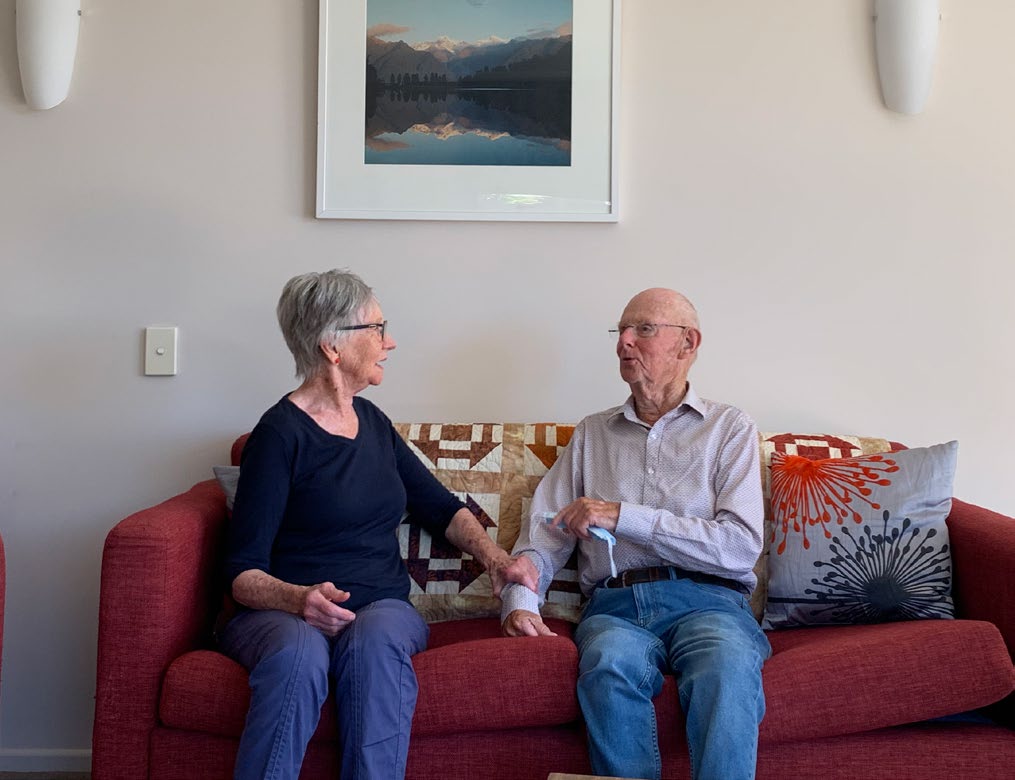 Lyn (left) and her friend Alan, who also lives at Abbeyfield in Nelson. Like many older New Zealanders, Alan had his retirement all planned out — but then those plans fell to pieces "virtually overnight", leaving him in need of assistance. Photo: Ollie Neas.
Simon Wallace, the chief executive of industry group the New Zealand Aged Care Association, says that charging for better accommodation does not mean that seniors who pay more get a better standard of care. The growing use of premium room charges reflects a lack of funding from government, he says, which is forcing providers to find new ways to raise revenue to pay staff.
As of December last year, 59 per cent of aged-care facilities were short-staffed, with an annual turnover rate of 48 per cent among nurses. This is a reflection of the comparatively low pay in the sector, Wallace says — aged-care nurses earn $10,000 less a year on average than nurses in public hospitals — which comes on top of a general shortage of nurses nationally. The sector has become heavily reliant on migrant workers; 43 per cent of nurses in the sector are in New Zealand on visas.
The more shocking consequences of these shortages are well-known, such as the case of Evan Bartle, the 86-year-old found in his Pukekohe rest home in 2018 with 15 maggots hatching in a wound. Stories like this led to the establishment last year of an aged care commissioner, tasked by the government with "leading much needed systematic change". The newly appointed commissioner, Carolyn Cooper, is a former managing director of major aged-care company Bupa New Zealand.
Wallace says those companies that can pay their nurses more are doing so — primarily the large corporates who can cross-subsidise from their more profitable retirement villages — but that they still can't compete with public sector hospitals. "We're seeing a lot of beds now close, and the not-for-profit, charity-run rest homes are the ones that are closing." Charging for premium services is the only way for many operators to be financially sustainable, he says, and without more government funding operators may need to find more ways to charge for services or reduce the services they are legally required to provide. "The government's continual failure to ignore this will just deepen the crisis," he says.
But Saville-Smith says the issue may go deeper than government funding levels. She questions whether the residential care sector is being used as a way of creating large dividends and profits, as opposed to providing good sustainable care over the long term. Between 2010 and 2018, for-profit providers increased their profitability per resident by 16 per cent. "It's like so many things in New Zealand, we often think that having private–public partnerships will relieve us of the overall cost of something," she says. "But that's very rarely true." Successive governments have been able to keep subsidies for aged care relatively low by palming off the up front cost of building facilities onto private companies, she says, but in order for businesses to recoup their costs someone will have to pay — at the moment, this is residents, via increased fees. "What you see at the moment is a particular squeeze on the residential care sector because these costs have been hidden away."
Matthew Scobie agrees that we need to have a proper debate about how we pay for and manage aged care. Motivated by his grandmothers' divergent experiences, Scobie is now part of a group of academics exploring how aged care might be reimagined in the wake of Covid-19. "The more I think about it, the more I question why we let profit dictate the conditions of our elders," he says. "I just can't imagine why it's all right that if you can pay more you get better care at the end of your life."
You buy a house; the market crashes. You get married; the marriage ends. You have a good job; you're made redundant. Or perhaps you were never given any chances to begin with. As one New Zealand legislator put it 125 years ago, "fortune is so capricious, circumstances so various, family history is so extraordinary [that] it is necessary that something should be done".
That something was the old age pension, the first in the English-speaking world. Although strictly limited at first, it marked a departure from one of colonial New Zealand's founding myths: that in this land of plenty anyone could make their lot alone.
The pension has since become the most visible pillar of a system that has been remarkably successful. Poverty among older people in New Zealanders remains low by international standards. Over 65s are wealthier and experience lower rates of hardship than younger age groups. We are more used to stories of property-rich baby boomers than we are of seniors sleeping rough. But the pension was only one part of a broader system of supports to provide security, regardless of what fortune threw your way. As the state has stepped back from providing many of these, a searing-hot property market has left older non-homeowners more in need of support than ever.
All is not "hunky dory" for seniors, Saville-Smith says — only for a small cohort of current retirees, and that cohort will shrink further as Gen X and millennials enter retirement, she notes. "The point about getting old is that everyone does it. People get old. You are one day going to be a senior. So younger people's housing trajectories have a huge impact on the future of seniors."
Those impacts won't be felt by seniors alone, as a whole host of costs fall on the taxpayer. More seniors renting may mean more demand for the accommodation supplement and other benefits. Worse living conditions for those in the rental market may mean increased health costs and may push more seniors into aged residential care earlier. And with fewer people able to contribute to the cost of their residential care through the sale of a home, government may need to pick up more of the bill.
That all adds up to what Retirement Commissioner Jane Wrightson calls a "gnarly problem", 25 years in the making. That problem is now a regular focus in the Retirement Commission's three-yearly reports to government on retirement income policy. Housing will be a "core focus" of the review due later this year, Wrightson says. "It's a responsibility of successive governments. It will take many, many years to solve."
As a starting point, Saville-Smith says we need to move beyond the narrow debates about the retirement age and instead focus on finding secure housing solutions which allow people to live decent lives in decent housing for longer, so they can be supported within communities and within their homes rather than going early into residential care. That means investing more in in-home care, building homes which are adaptable for people as they age, and providing greater security of tenure to those not in home-ownership — including by exploring new forms of tenure, such as cooperatives and co-housing.
As the old retirement dream fades, communities across the country are experimenting with what other options might look like, reimagining the possibilities for later life in the process. On Rakiura Stewart Island, locals are fundraising to build cottages to help seniors stay on the island, and across Foveaux Strait in Bluff, a suite of units for kaumātua opened this April on Ngāi Tahu's southernmost marae in a joint project between iwi and government, the first step in plans to build an intergenerational community on the marae. A similar vision has been in place in Hamilton since 2013: the Moa Crescent Kaumātua Village aims to be an urban papakāinga, providing residents with a place of belonging as well as safety and security as they age. The government is trialling a pilot programme as part of its Better Later Life Action Plan where eligible seniors would home share with older homeowners, exchanging help with household chores for a place to live. Growing numbers of seniors are also exploring co-housing, combining independent living with common facilities and community participation.
For 69-year-old Tom, a social worker in Wellington, the draw of co-housing is the opportunity to be part of something bigger as he ages. "It's about contributing less physically but more spiritually, emotionally, morally, politically."
After years choosing between food and rent, 85-year-old Lyn now lives in Nelson in one of 14 houses run by Abbeyfield New Zealand, a non-profit organisation which provides affordable co-housing for older people. It's early afternoon when I visit Lyn, and the sun is pouring into the living room. "It's the most wonderful place," Lyn says. "All I do is pay my rent and I'm totally looked after." Abbeyfield provides support, shared meals and communal spaces. "I know I'm not going to be moved on. That is absolutely vital as an older person."
Further north, in a forested valley in the Lower Hutt suburb of Naenae, an experiment in intergenerational living is emerging on the site of Wesleyhaven rest home and hospital, which closed down five years ago amid growing financial pressure. Wesleyhaven is now Wesley Rata Village, a mix of social housing for families and affordable rentals for seniors. One of those seniors is Peter, who had been struggling in the private rental market, catching pneumonia and suffering a broken collar-bone. Now with a warm house of his own, from his deck he can hear the birds. Formerly so stressed he had a heart attack, he says he's no longer stressed at all. "I'm just so happy here. I'm over the moon, to be honest."
* Some names have been changed.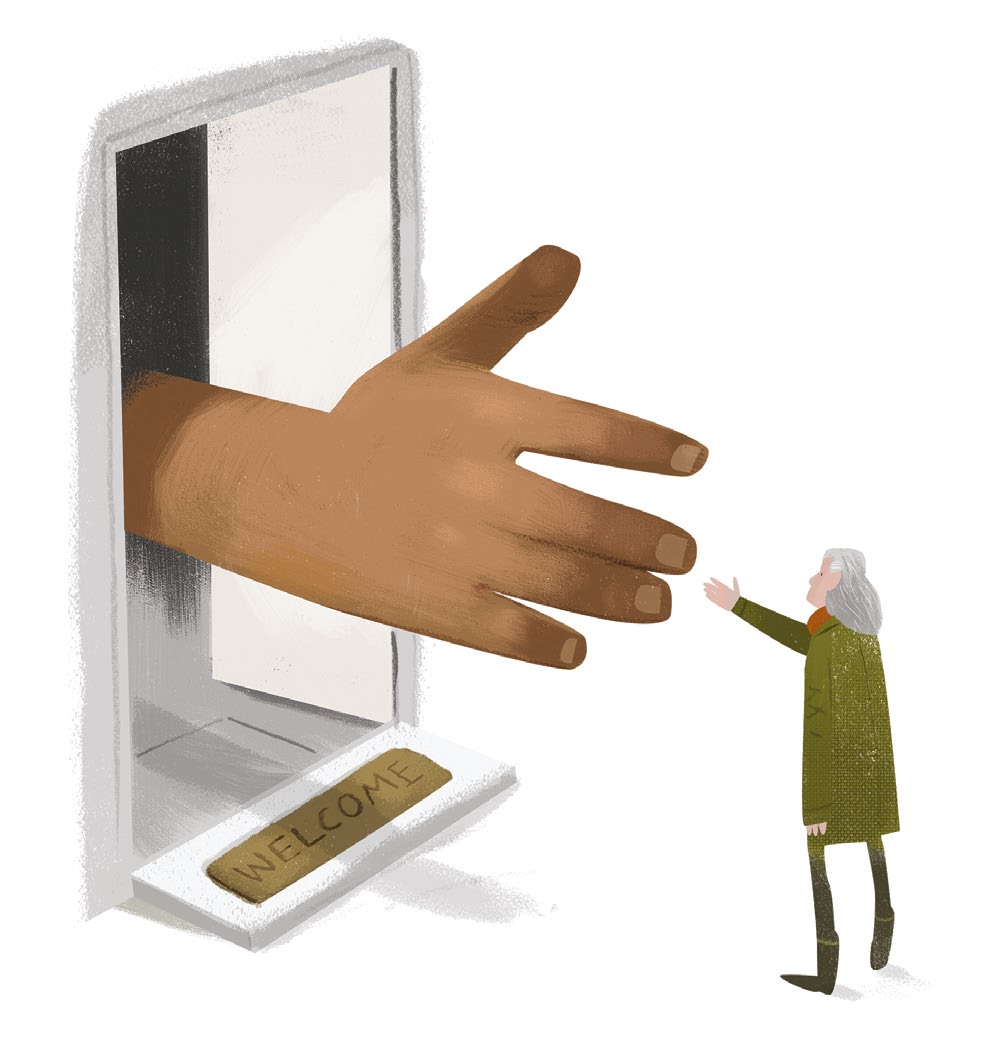 Ollie Neas is a lawyer and a contributing writer for North & South.
This story appeared in the August 2022 issue of North & South.