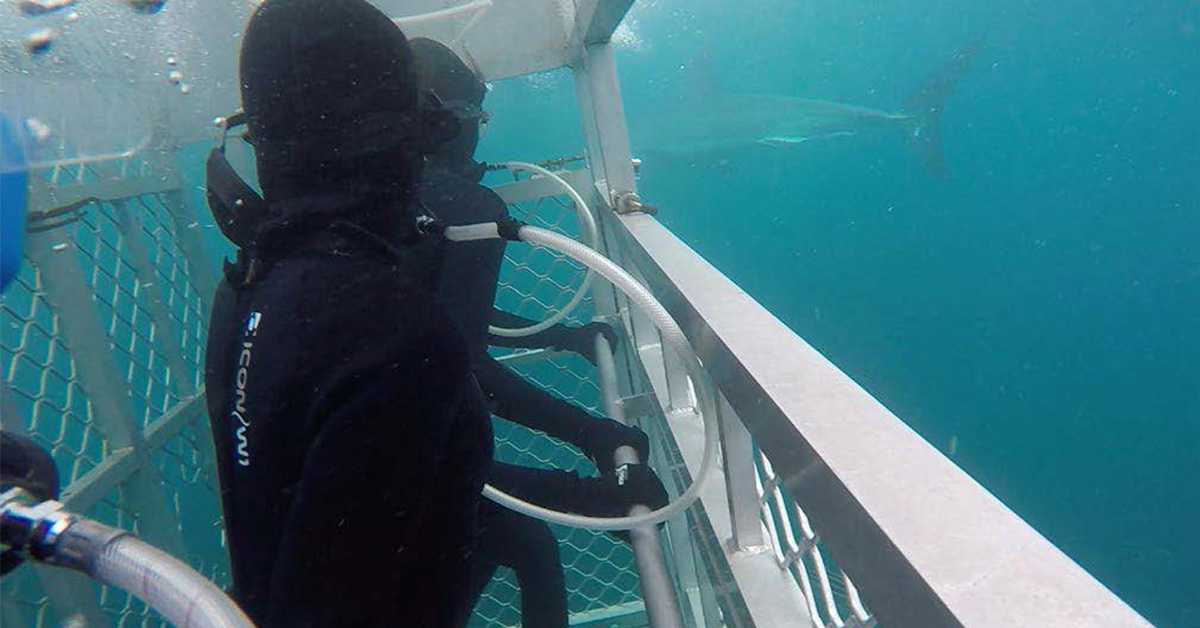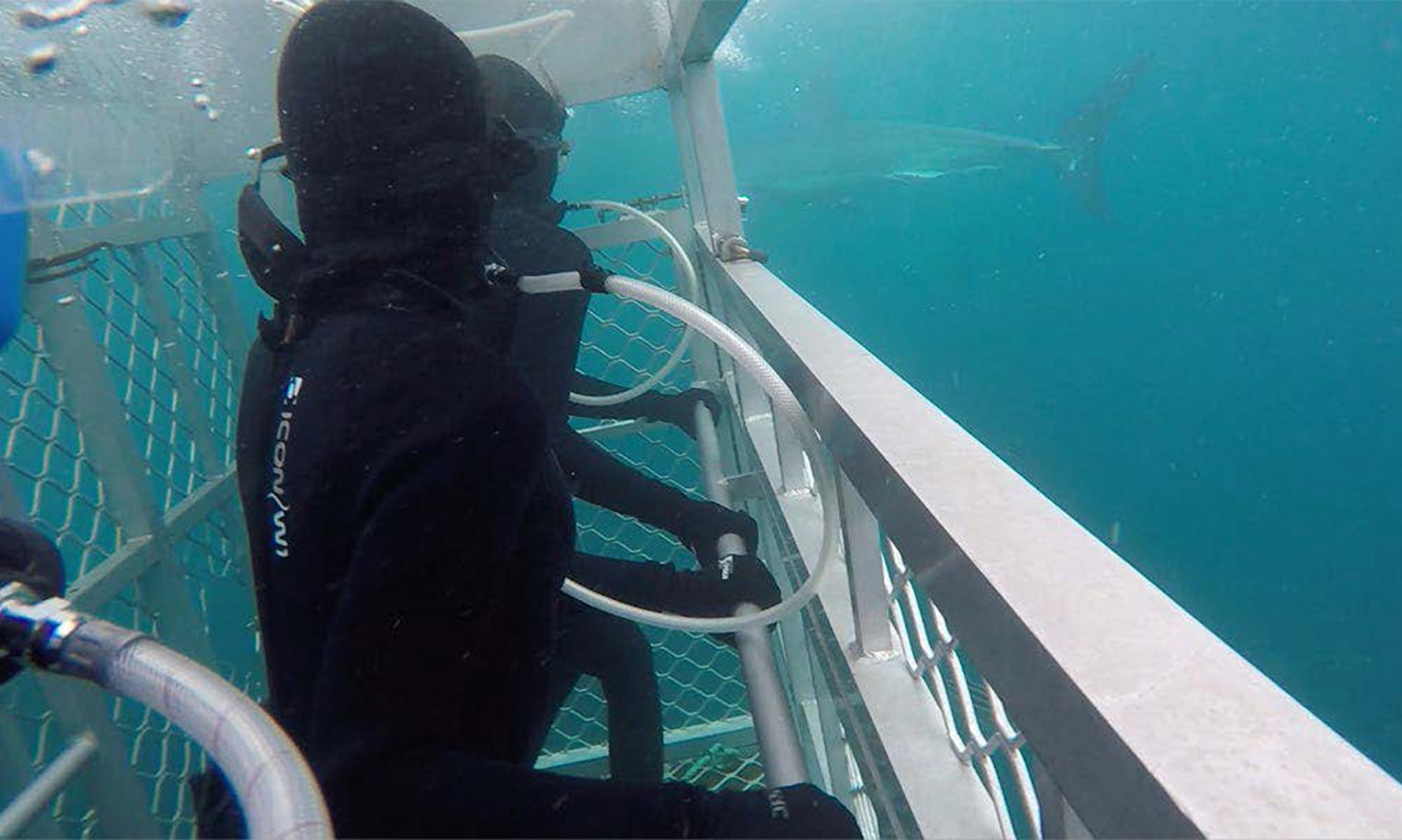 Photo: The author spots a great white while cage diving off the coast of Bluff.
Cage diving with sharks at the country's southernmost tip yields unexpected results.
In Bluff the daily commute begins before dawn. Each morning a colourful procession of boats departs the quiet waters of the harbour and chugs gamely into the tempestuous Te Ara a Kiwa (the pathway of Kiwa), otherwise known as Foveaux Strait.
I watch the early-morning boats from a marine-themed house on Marine Parade. Its large windows frame the harbour and the colossal aluminium smelter at Tiwai Point, a dissonant presence on this remote and rugged coast.
I'd come to Bluff on a quest. It was a quest I didn't want to be on.
I'd recently been surprised to learn Aotearoa was a global hotspot for great white sharks — a fact I did not enjoy finding out. I love the water and feel most myself when in the ocean, but at a certain depth the Jaws theme begins to play and I envision my legs seen from below, advertised by a bright halo of sunshine. So when my sister invited me to go cage diving with her, my immediate answer was "absolutely not", followed by "WHY?" The trip seemed like an obvious B-movie plot which would inevitably end in death by shark. Moreover, because I volunteered for the experience my death wouldn't be so much a tragedy as a case of natural selection. But sibling rivalry is a powerful form of duress. I couldn't refuse the challenge laid down by my (annoyingly) more adventurous younger sister and my (annoyingly) more adventurous aunt. We booked a flight to Invercargill.
From Invercargill you follow State Highway 1 south through a quilt of paddocks in various shades of green. At the coast, five gigantic letters in rusted steel announce you have left the pastoral and entered the nautical: BLUFF. Arriving the day before the dive, it seemed logical that the first thing to do was to visit the town's eponymous bluff at Stirling Point. The bluff is a steep round hill covered in oldgrowth forest at the entrance to the harbour. Bluff is also known as Motupōhue, which means "island of pōhue", an endemic vine with white flowers that twinkle through the green.
At Stirling Point you can watch visitors pose in self-consciously wacky ways beneath a yellow sign that points you in the direction of Wellington, New York, Sydney, London and Invercargill's sister city of Suqian in China. I envy these other tourists and their repertoires of quirky poses. After this they'll probably climb to the top of Motupōhue and then head out for a meal of blue cod and oysters. Perhaps tomorrow they'll take the ferry to Rakiura / Stewart Island and go for a hike. I consider asking my sister to take a photo of me, but then I remember I'm terrible at photos and that this could be the last photograph of me ever taken. Would they put it on my funeral pamphlet? In the newspaper, above a caption describing my "tragic final day"?
Bluff feels as though it's been conjured from the pages of a 19thcentury novel. A former whaling outpost, the town still has an unmistakable Moby-Dick vibe. This comes complete with its own brand of salty stoicism. A message in a shop window reads, "God created Bluff because the hardout need a place to live". But unlike Captain Ahab, the fishermen of Bluff aren't hell-bent on an obsessive revenge quest against an albino sperm whale. Theirs is a more useful pursuit: a quest for the iconic Bluff oyster, blue cod, crayfish, paua. It's a daily odyssey that isn't without peril. The local cemetery at Greenpoint has a memorial plaque beside a large anchor that reads "In loving memory of all LOST AT SEA".
I wonder if that would extend to being eaten by a shark.
On the day of the dive the infamous Foveaux is graciously calm. We put down anchor on the western side of the Tītī islands where Rakiura Māori organise the annual muttonbirding season in April and May. We watch seals lounge on the rocks under steep cliffs while golden whips of kelp float past like giant strands of ocean pasta. Handsome mollymawks circle us like planes, landing just astern, to fold up their great wings and float alongside the boat for a while. A tuna head hangs on a rope at the back of the boat, hoping to attract the attention of sharks, which can smell tuna oil from more than a kilometre away. The cage is rigged up at the stern. On it, there's a sign that reads "CAUTION, keep all body parts inside the cage at all times".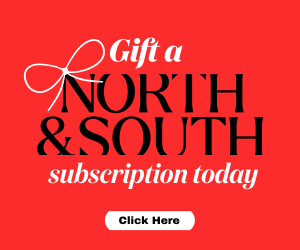 Our small group reads magazines and makes small talk, and anxiously watches the fish on the underwater camera. They've picked the first tuna head clean. Another gets strung up and tossed in. Hours pass. The energy on the boat shifts to boredom. We drink tea and then — "SHARK," yells Jordan, who had been diligently watching the fish cam after the rest of us lost interest. "Who's up?" Mike, the skipper shouts. "We need heartbeats in the cage right now!" We'd been told during the morning briefing that the sharks are drawn to our heartbeats as well as our electrical fields and that our job as divers is to get into the cage before the shark loses interest and swims away. I lean over the railing and watch a dark form pass by, abstracted by the multi-faceted surface of the water.
The local cemetery has a memorial plaque beside a large anchor that reads, "In loving memory of all LOST AT SEA". I wonder if that would extend to being eaten by a shark.
Then it's my turn in the cage. It isn't what I was expecting. The four-metre great white swims in a languid orbit around the boat. It's hypnotic and peaceful to watch. We gaze into the blue, transfixed, waiting for him to appear again. Sharks have an unnerving ability to vanish into the gloaming only to appear behind or beside you when you were busy looking in the other direction.
The shark eyes us as it passes. It reminds me of a shy person who holds eye contact just briefly before returning their gaze to their shoes. I'm struck by the shark's beauty, but also by how undemonstrative it is. It seems like a private creature, both insular and self-contained.
For an inexplicable moment I want to be free of the cage. That is, until the shark suddenly jack-knifes towards the tuna head, the whip of its massive curved tail missing the corner of the cage by just a few calculated millimetres. It is then I get a glimpse of the creature we have cast in the role of ruthless killer: the black eyes, the jagged teeth, the wide jaw. But a moment later and the shark is closemouthed again, back to its quiet circling. Watching this creature, already missing it, I wonder whether it's possible to widen our idea of this species to include its grace and quietude as well as its ferocity.
The next day, on the way out of town, we stop to pose awkwardly for our own photo in front of the big rusted BLUFF sign. The indignity feels worth it. Our idea of Aotearoa now a little wider, a little deeper, and a little more mysterious than it was before.
Sarah Natalie Webster is an essayist and poet based in Tāmaki Makaurau.
This story appeared in the July 2022 issue of North & South.