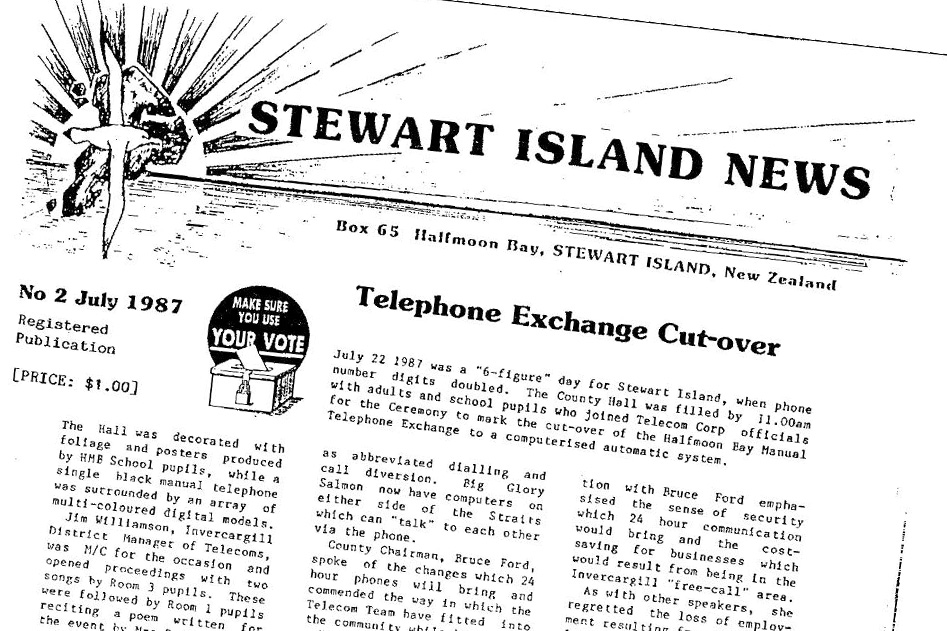 Chooks called Blue Bum, ratting tales and Prince Harry are all part of the mix at the Stewart Island News, as Ben Mack discovered.
When Prince Harry visited Rakiura Stewart Island in 2015, Jess Kany got a media pass. Unfortunately for the Stewart Island News editor, it didn't mean what she thought. "I didn't realise it actually meant you couldn't be super-near to him," she laughs.
The prince's visit is one of the biggest stories Kany's covered since stepping up to edit the Stewart Island News — or SIN, as it's popularly known — in 2005.
"I've always been a fan of small community papers, so when I moved to the island in 2002, I looked forward to each new edition of SIN." Back then, Stew Dovey was editing the paper. When he wrote he was moving off the island and asked if anyone wanted to take over, Kany raised her hand — and has been doing it ever since.
Kany has worn numerous hats in her career, from writing and typesetting for the Jackson Hole News in Wyoming to being a librarian in Hawaii. She first came to Stewart Island during a solo bicycle tour, and never left.
It's usually a core team of two that puts each monthly edition together, most often from Kany's home about four kilometres outside of Oban near the entrance to Rakiura National Park and where kiwi calling to each other wake her up many nights. Kany does just about everything, from writing, laying out stories and placing ads to stuffing envelopes, updating the subscription list and invoicing. She also tops up the "SIN boat" at Stewart Island Flights (which serves as the local post office), from which issues are sold at a cost of $4 each. Another local, Margaret Hopkins, helps by handling the banking side of things.
Kany has a new assistant in 13-year-old Kate Asher, a student at the island's only school, who is volunteering to fulfil her community service for the William Pike Challenge, a nationwide programme for students in Year 6 and above that helps develop resilience, wellbeing and life skills through outdoor activities, passion projects or community service initiatives. Kany's hopeful she'll be able to train up Asher in the layout and production of SIN, which is transmitted to a printer in Invercargill each month, returning to the island as printed pages on the regular ferry service.
Most editions of the paper run to 16 pages, and the content of the front page varies from serious to light-hearted topics. February's issue featured smiling local lad Blake Dawson with his pet chook, Blue Bum. This turned out to be fortuitous. Soon after the issue came out, Blue Bum went missing. The SIN photo was shared to online message boards, and the AWOL avian was found on a grassy patch near the old whaler's base.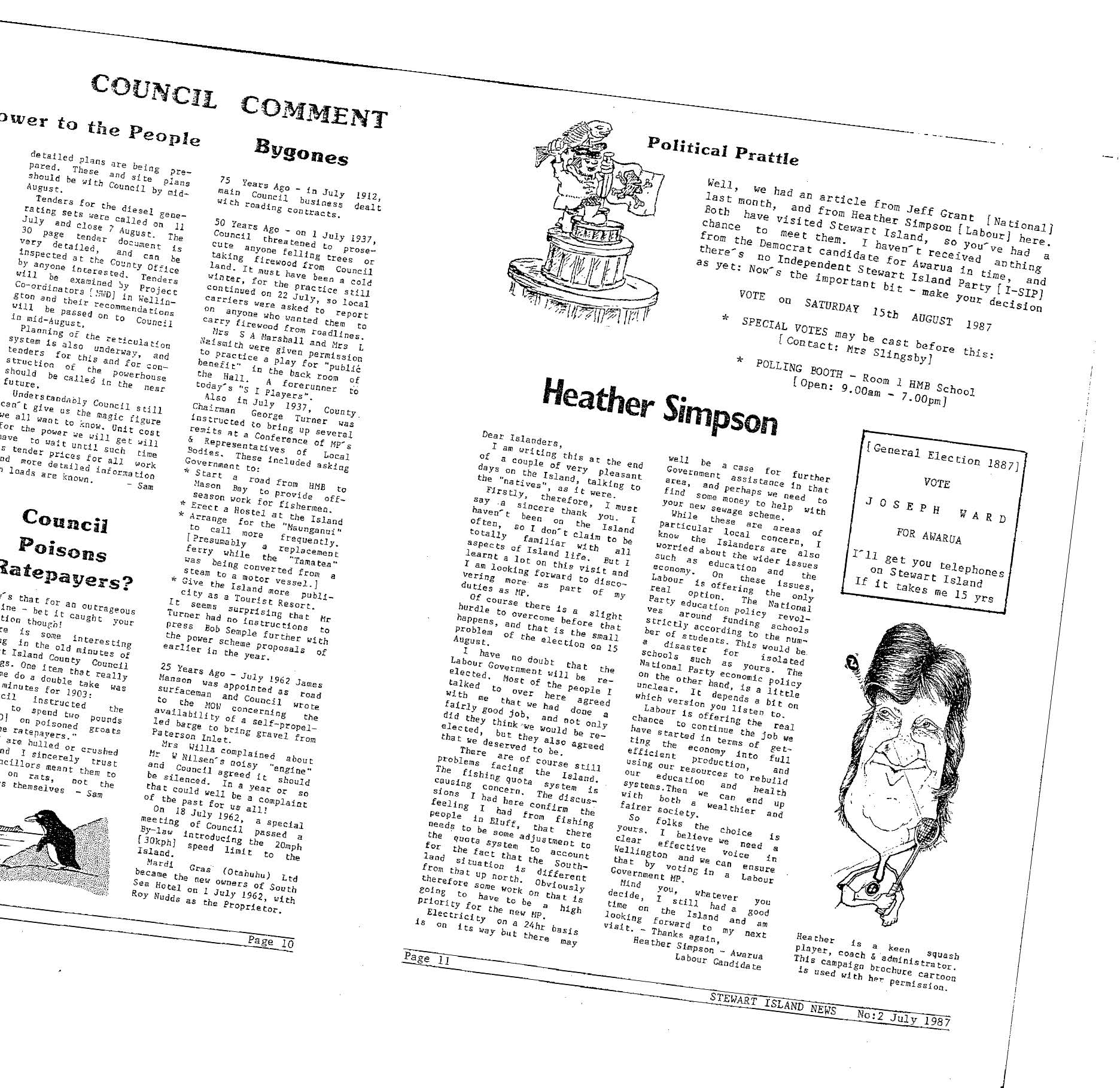 The first edition of the SIN debuted in June 1987, helped by a $10,000 grant from the Community Assistance Scheme. (The scheme even covered wages of $7 an hour.) The first editor was Sam Sampson, known locally as the Fluid Druid.
But it was not the first island bulletin. There was the Rakiura Rambles, which had a few issues in the 1980s and 90s. There was also a school newsletter, the Rakiura Herald, back in the 1960s.
And even the Herald had a predecessor. In January 1920 the Stewart Island Chronicle published its first — and possibly only — edition. Among its articles was a request for visitors to help the island get bathing sheds, a bowling green and a tennis court.
Keeping the community connected is one of the key missions of SIN, Kany says. A pandemic edition from 2020 is a good example — like everywhere else in Aotearoa, Stewart Island was locked down for seven weeks from 25 March. For the April edition, SIN was distributed free both in print and online, and included pages of photographs by local artist Laire Purik of residents and pets in their bubbles — a project covered by the likes of the BBC, and later transformed into a coffee-table book called Copeisolation.
"The SIN was a way to keep everyone connected, informed and entertained while lending a vibe of normalcy during a time when some of us were a bit freaked out," says Kany. Sometimes, keeping the community connected means stories that aren't necessarily the most serious. "I think a story about trying to swim with dolphins and getting the crap scared out of me amused some people."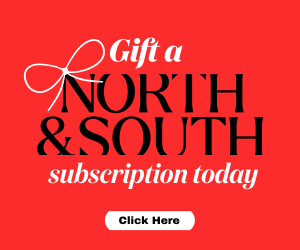 There's also SIN's apparent fascination with rats. "I've got a column dedicated to rat trapping and rats. It used to be called "Rat Tales", and now we call it "Snapchat". Some of those stories are funny as in gross-funny — like detailing the day I found dead rats in my boiler. Or the history of Victor rat traps, which led me down a weird path discussing karezza — a kind of tantric sex — because the company has its roots in a 19th-century religious commune."
Rats were the cover story for the March issue this year. Not only were the dangerous rodents discovered on predator-free Ulva Island — a popular bird sanctuary a short ferry trip from Oban — but RATs (rapid antigen tests) became available to island residents after the first Covid cases were recorded in two years.
The community contributes, too. "And I have to say, some of the obituaries SIN has printed are honestly some of the most wonderful and moving pieces of writing," says Kany.
"Because we live so close to nature and the sea, we've had tributes to a boat, a whitetail deer, and most recently a Staffy named Lola who was the four-legged front of house at the local theatre."
One of Kany's favourite sections is the travel column, the "Oban Globetrotter". For the February edition, eight-year-old Ellie Jenkinson wrote about her family's trip to Mason Bay, on the western side of the island, where she stayed at the historic Kilbride Homestead.
"I hope SIN gives people a sense of pride about what a unique place this is," says Kany, who's also the librarian at Halfmoon Bay School and tries to involve kids in SIN as much as possible. "I think despite the fact we're competing with daily news reports and social media, the SIN is genuinely informative."
It all comes down to celebrating the island. "If I'm feeling iffy or the answer is 'No, this doesn't celebrate Rakiura', I'm probably not going to put it in."
And it's not just locals who read SIN. There are about 150 subscribers across the country who get a mailed edition, and even 12 international subscribers, with copies jetting out to addresses in Australia, Canada, England, the United States and Wales.
But it's subscriptions on Stewart Island itself Kany is really focused on. Ideally, she'd like more island households to subscribe. Increasing subscribers isn't the only goal, either. "I have a private challenge that at some point everyone in the community will be pictured on the cover of SIN."
There's a third big goal, too. This is because Kany — whose debut novel, A Runner's Guide to Rakiura, comes out this year, and features a fictionalised version of SIN — has a lot on her plate, pointing out that she's only one person. "I'm on the lookout for someone to wear the editor hat sometimes and help me out."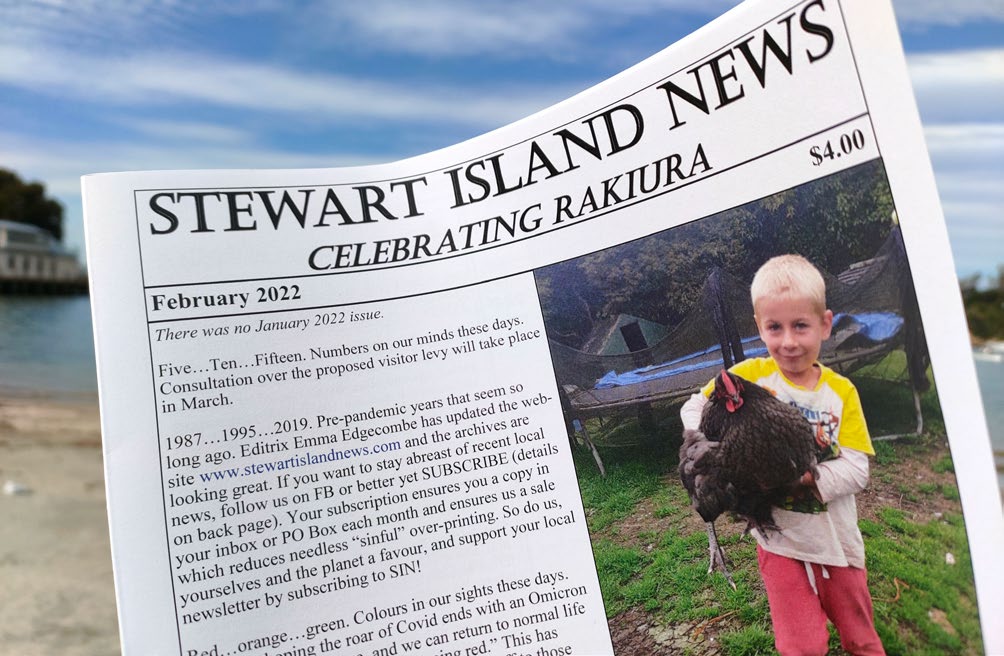 Making the front cover, Blake Dawson with his pet chook, Blue Bum, who later went AWOL and was found thanks to his fame in the paper. Photo: Ben Mack.
This story appeared in the July 2022 issue of North & South.