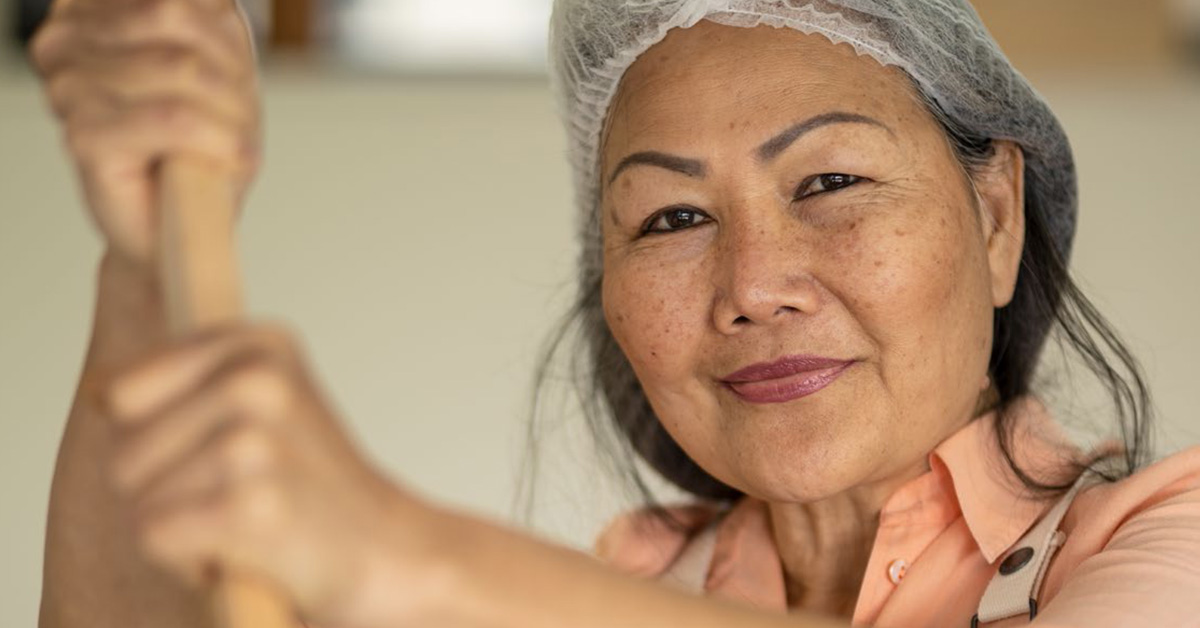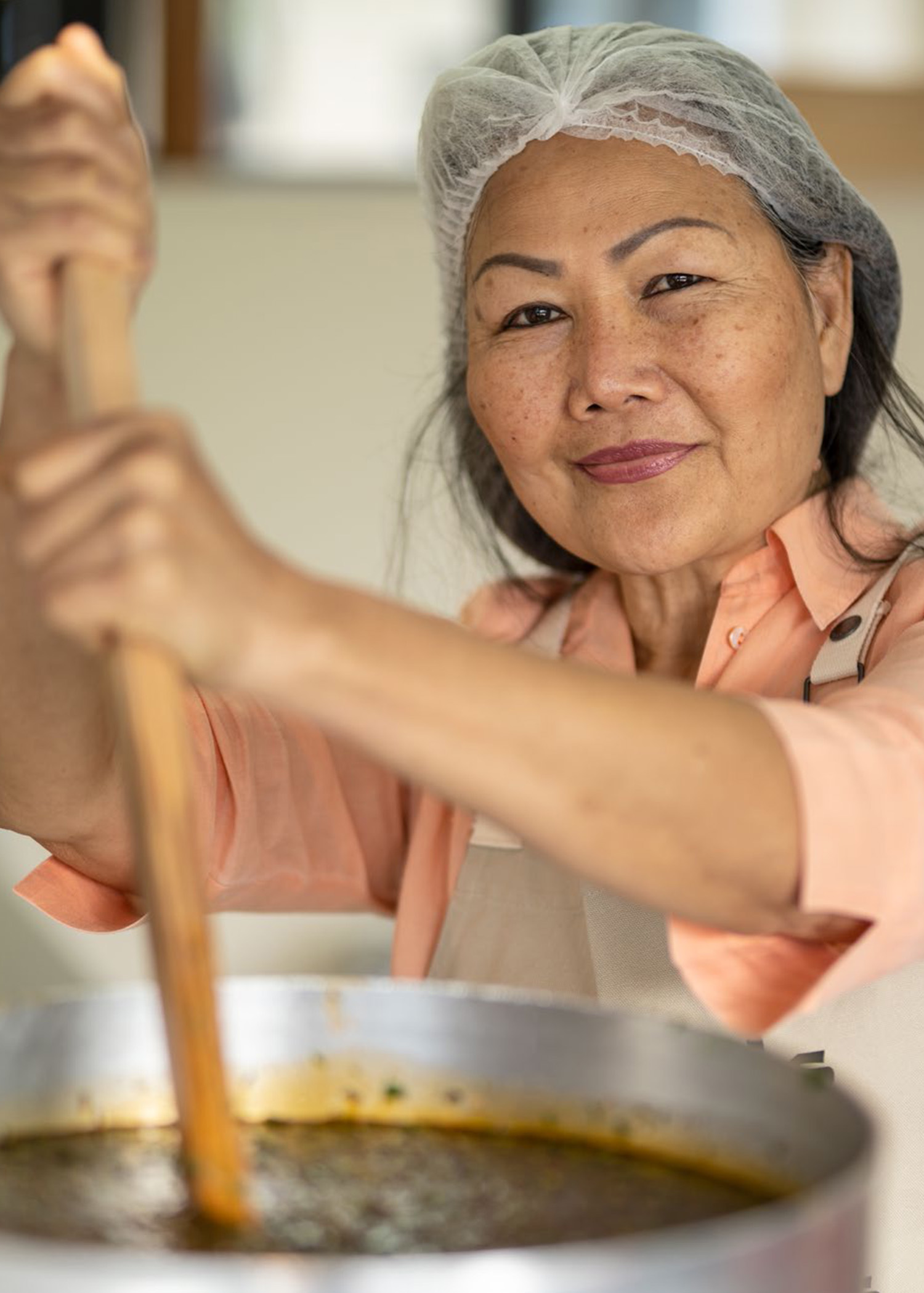 The Writing's on the Wall
Teachers and literacy advocates have been raising the alarm about the number of kids in New Zealand struggling with reading and writing. Being an adult who can't read is enormously challenging — though as people who've been functionally illiterate their entire lives can attest, there's always time to learn.
By Sharon Stephenson
Sone Edwards has run Sone's Sauces with her husband since 2018. Their handmade Thai sauces are sold at stockists all over the North Island, as well as at the Good Food Co in Dunedin. Photo: Andy Spain.
In the commercial kitchen tacked on to the back of her suburban Kāpiti home, Sone Edwards quietly hums as she turns buckets of peanuts into fragrant satay sauce. She is unexpectedly perky for someone who's been up since 5am, but this is a dance Edwards has been doing since 2018, when she and her husband Mark, a chef, set up their condiment business, Sone's Sauces.
Edwards has lived a full life. She's the mother of three adult children and one step-son, has survived cancer twice and worked for a time as a magician's assistant, where her job included having knives thrown at her on stage. Yet at 57 she can't read or write. Either in English — even though she's lived in Aotearoa for 33 years — or in her native Thai.
Edwards' level of literacy would be described as "Level 1 or below", according to the scale set out in the annual International Survey of Adult Skills. The survey records levels of literacy, numeracy and problem-solving skills among citizens in the OECD, though the last time New Zealand was included was in 2014–15, when 11.8 per cent of people aged 16 and above were found to be at Level 1 or below. This means they can read simple sentences and identify single pieces of information but nothing more. At the other end of the scale, people with Level 5 proficiency are able to search for, integrate, interpret, and synthesise information from complex or lengthy pieces of writing. (The survey does not include writing or reproducing text as part of its assessment.)
While the number of Kiwi adults sitting at Level 1 or below is comparatively low — our numbers are better than the OECD average — according to Literacy Aotearoa one in four of us struggle with reading, writing and numeracy to some extent. This amounts to more than 1.25 million people. This year there have been renewed fears we might be heading backward after a report released in March by not-for-profit organisation The Education Hub found that literacy and numeracy levels among students had dropped to "deeply worrying" levels.
It included data from a 2020 UNICEF report, which found that more than a third of New Zealand's 15-year-olds struggle to read and write, and that 64.6 per cent have only basic reading skills. Shortly after, education minister Chris Hipkins acknowledged that turning the declining rates around would require changes to the whole education system. But for children and teenagers already struggling, is it too late?
The impact of  a lack of literacy on everyday life is huge. It's not just the reduced professional opportunities, or missing out on the pleasures of snuggling up with a good book. Imagine going to the supermarket and not being able to read the ingredients on a label, or the contents of an email. Imagine not being able to follow a recipe, send a text, make a shopping list, or find out when the next train is arriving. Imagine not being able to use the internet.
At the pointy end, more than half of New Zealand prisoners in 2019 were functionally illiterate according to statistics provided by the Howard League, an organisation which helps people in prison learn how to read and also to gain their driver's licences. (To judge levels of literacy the league uses the Literacy and Numeracy for Adults Assessment Tool which is also used by NZQA.) Learning to read can reduce the chances of reoffending and help people to better reintegrate into society. Chief executive Mike Williams says any slump in literacy rates is cause for concern, as future prison muster numbers tend to correlate with current levels of illiteracy among students. To the extent that truancy plays a role in problems with learning to read and write, rises in the number of kids skipping school is also worrying, he says.
It's not that being illiterate makes you a criminal — Williams has met totally illiterate people with perfectly happy lives — but it can make you vulnerable in ways that people who can read are not. One thing which might surprise many of us is the extent to which driving offences impact prison sentences. Illiteracy and poverty are common barriers to getting a driver's licence (it's legal to drive if you can't read, but you need a reader to help you with the test's paperwork). Some people are in jail as a direct result of driving without a licence, Williams says, but what is more common is building up a raft of driving fines and then being sent to prison after ending up in court on a different charge, because you have a history of offending. Māori are disproportionately affected — 65 per cent of Māori offenders have a driving offence as part of their initial jail sentence, Williams says. "That is a disaster, because New Zealand jails are absolutely infested with gangs, and if you're a young Māori man the only way to survive in jail is to join a gang."
He tells the story of one man the Howard League helped to avoid a prison sentence, who appeared before the court because he'd been caught driving without a licence. Growing up, the man's family had travelled all around Northland picking harvest crops, and he and his siblings simply never went to school — none of them could read. "That's much more common than you might believe in this day and age." Williams is an upbeat sort of guy — there is almost no one who cannot be taught how to read, he reckons. "We have graduated over 2000 prisoners in the last decade and we have never had a failing."
"One in four Kiwis with literacy issues is quite a lot," says Literacy Aotearoa Te Tumuaki (CEO) Bronwyn Yates. Yates has been with the nonprofit organisation for more than 30 years, helping to develop and deliver literacy services for everyone from homeless teenagers to chefs needing to pass culinary exams. School simply doesn't work for everyone, she says, and many people are well into their adult years before they're in a position to catch up on what they've missed and find services that will help them.
Students dropping out of school or not regularly attending are more likely to experience difficulties with literacy and numeracy, which will follow them into adulthood, Yates says. On top of this, thriving in the modern world requires an more expansive sort of literacy, and this has a major impact on lives. Most of us assume illiteracy is not being able to read or write much more than your name, which is correct. But that definition has since been stretched to include speaking, listening, creative thinking, problem solving and numeracy. "In New Zealand, the government is clear about the need to go beyond reading and writing with adult literacy," Yates says. "Types of literacy can include digital, financial and health, as well as aspects of communication such as speaking, listening, creative thinking, problem solving and numeracy." Communication isn't the same as literacy — being literate means growing your skills so you can access knowledge and information, process it and make sense of it, and are then able to reflect on it, act on it and use it, Yates says.
While school is where most of us develop and enhance our literacy, the journey to being able to read and write starts much earlier. Yates says that many adults who slip through the cracks lack cultural capital — that is, broad contextual knowledge about books, art and language and other marketable skills such as IT. And cultural capital starts in the home — the most obvious example being regular reading of bedtime stories. "The more kids engage with learning in their first five years the better their literacy and numeracy will be," says Yates. "But if parents have low literacy they're less confident about supporting their children's learning, which can impact a child's ability to read and write."
Once they're at school, kids can also be impacted by issues such as dyslexia, hearing or visual difficulties, frequently changing schools and large class sizes. Once the problems start, there's also the dense sea of shame many pupils find themselves swimming though, which impacts them even further. "The longer the issue persists the better people get at hiding their lack of literacy because not being able to read or write can be a considerable source of shame," Yates says. "I'm loath to use the D-word, but people do get called dumb, are written off and made to feel ashamed."
They're actually anything but stupid, Yates explains, as most people who struggle with literacy become hugely resourceful. Take Edwards, who describes the way she used to make up bedtime stories when her children asked her to read to them when they were little; how she's memorised road signs and how she gets her husband to send texts for her and read out business documents she needs to sign.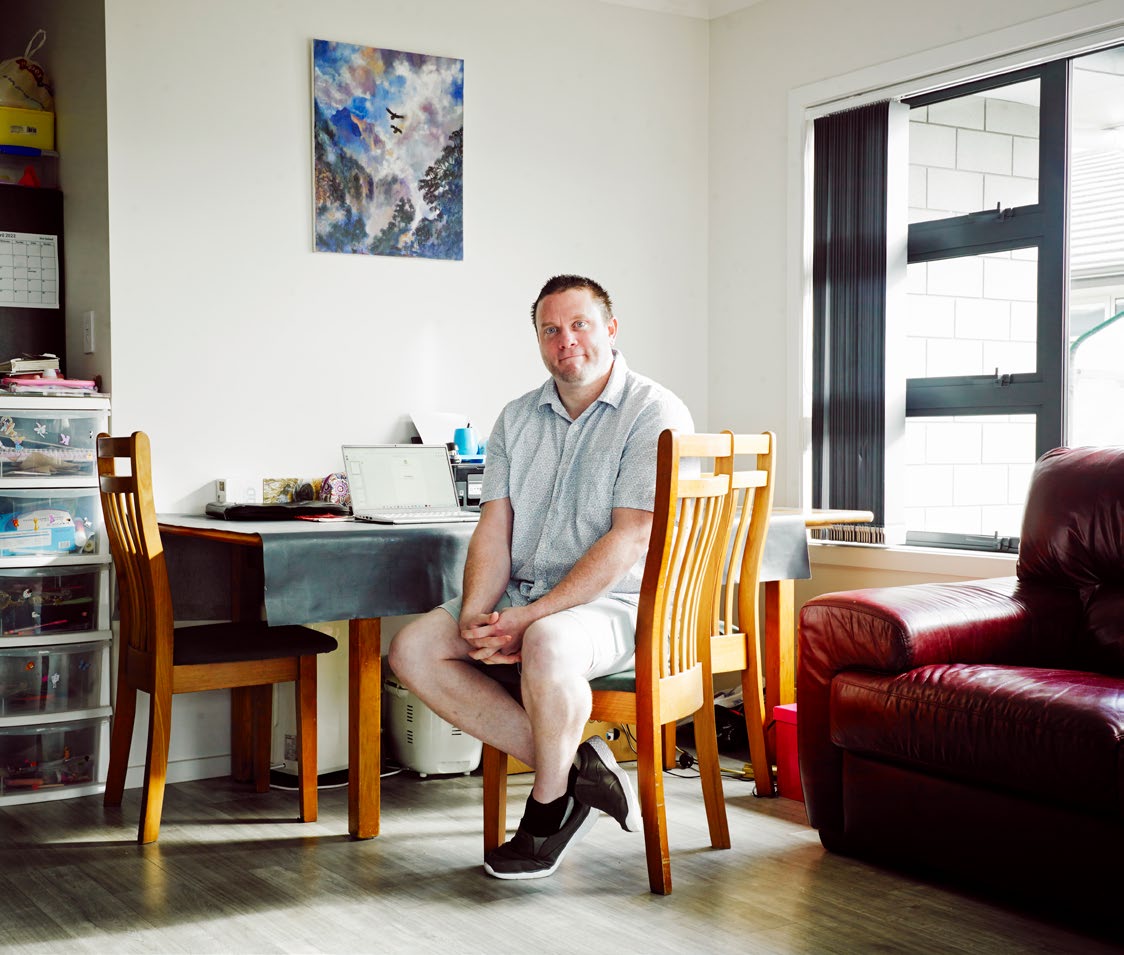 Having a literate partner makes an enormous difference in the life of someone who struggles to read or write — Kris Kirkwood used to ask his wife Deborah to read legal documents for him. Photo: Victoria Birkinshaw.
"A messy bunch of squiggles" is how Kris Kirkwood describes his experience of looking at a page of writing for most of his life. Opening a book was overwhelming; all the words looked like they ran together, with no spaces between them. "I couldn't figure out where one word ended and the next one began." A father of four, Kirkwood is at home in Pōkeno when we chat. He's been at home a lot since being made redundant in 2020. His youngest, a one-year-old daughter, plays quietly in the background as Kirkwood describes his fractured education.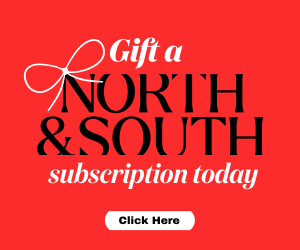 "By the time I was 10, I'd moved around 10 different schools," he says. He hated school and found it hard to concentrate — he just couldn't seem to make sense of anything he was given to read. "I was moved down into what people called the 'cabbage class', with all the kids who were classified as stupid. I felt bad about that." Kirkwood's workaround was to find the essential information he needed and ignore the rest. "If I had to put, say, a bike together, I'd do it without reading the instruction manual. And with cooking, I'd look at the pictures in the recipe book and try to figure out quantities."
When it came to important legal documents, he'd corral his wife, Deborah, into helping him. "I always felt more stupid than other people," he says. "If I applied for a job my CV would be full of mistakes and I'd be written off straight away." Name a minimum-wage job and Kirkwood will have done it, from working in fast food and liquor outlets, to manning the floor in retail and being on staff at a water bottling plant.
He lost that last job in the first year of the pandemic, which triggered a breakdown and subsequent weight loss of 30 kilograms. Deborah was a full-time student and the pressure of providing for the family was immense. "I lost my appetite and my energy for life," he says.
But the redundancy turned out to be a tipping point: Kirkwood realised he'd had enough of jobs he found soul-sapping. Last October, Kirkwood saw an advert for an online NCEA literacy course with Literacy Aotearoa. "I wanted to improve myself, to learn the things I should have learned at school." He began to unpick his issues around where one sentence starts and the next begins, how to filter information and how to read an entire article or book. It was slow, hard work, but he was committed.
"I always felt more stupid than other people," Kirkwood says. "If I applied for a job my CV would be full of mistakes and I'd be written off straight away."
"I feel so much smarter now, like I can do anything," he says. "I read whole articles in magazines and the newspaper and I'm not scared to send emails or texts because I know they aren't full of mistakes." Kirkwood has subsequently moved on to advanced courses through the Open Polytechnic and has his sights set on becoming a primary school teacher. "I love kids and love learning so I want to become a teacher to help others the way I've been helped."
John Greenwood, a crane driver in Invercargill, has also spent the last few years overcoming the literacy issues that have dogged him since childhood. Now 50, he spends a few nights each week working on building his skills. He places the blame on his struggles squarely on his dyslexia. "I wasn't diagnosed until I was 14 or so," says the Yorkshire-born Greenwood, a strong British accent still clinging to his vowels. "I struggled with Bs and Ds as well as Gs and Es — I'd see them around the wrong way." Before being diagnosed, he was called stupid, and say teachers would pick on him. "I'm pretty mild-mannered and just got on with things."
He left school at 17 to enter the building industry, working variously as a plasterer and bricklayer. In 2006, Greenwood and his wife Vicky, who works in administration, moved here after watching a TV programme about New Zealand. He easily found work and was used to finding ways around his lack of literacy — he'd ask Vicky to read documents for him, and taught himself how to decipher building plans.
He was doing so well that it took him a good 30 years to feel like an adult literacy class was worth taking — plus, he hadn't really been aware there was help out there. He did, however, know he wasn't alone. He'd often be on work courses, sitting around a table with five or six other guys, and when the instructor would hand out a sheet of paper he'd notice that no one would volunteer to take notes. "Maybe they were either the same or worse than me. It did surprise me, the low levels of literacy out there."
It was in February 2018 that Vicky spotted an advert for a Literacy Aotearoa night class. Greenwood admits taking the first step wasn't easy — his palms were sweating; he was worried about what to expect. But that first class has since turned into three years of night classes. "If I say I'm going to do something, then I will," Greenwood says. "I committed to working in small groups and one-on-one to improve my spelling and grammar, and learn things about vowels and consonants I'd either forgotten or never learned at school."
Greenwood is currently taking a breather from classes, and he acknowledges he'll always have to work at reading. He's currently making his way through former British motorcycle racer and TV presenter Guy Martin's books, as well as motorbike and aviation magazines. "Sometimes I have to read a paragraph several times but I want to keep going with it," he says.
Had he been diagnosed with dyslexia earlier, Greenwood says his life would have been very different. "I would have become a pilot because I love the aviation industry. But I'm proof that no one is stupid, we all have our skills. And it's never too late to learn."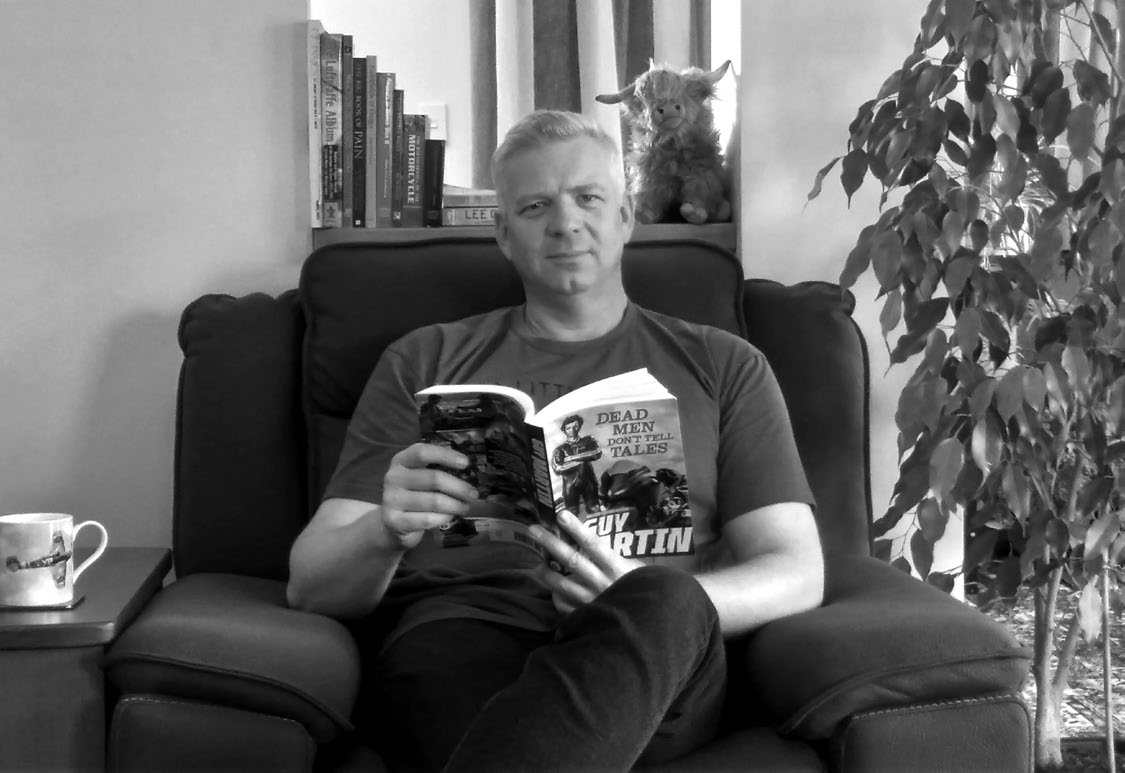 John Greenwood was employed for years in the building industry. He worked around his reading struggles, including teaching himself to decipher building plans. Photo: Supplied.
Back in Kāpiti Edwards says she's made peace with not being able to read and write. She wouldn't exactly use the word happy, but she's accepted "that's just the way it is" — though it's not for want of trying. As the smell of chopped chillies fills the air, Edwards tells me she was attending classes in Porirua for a while, and once even employed a tutor to come to her house weekly for three or four months. Neither had much impact. "I don't know how to explain it except to say that my brain isn't like other people's," she says. "I can't put words together. It just doesn't work for me."
Education didn't feature strongly in her childhood in Thailand, where she was the second oldest of 10 children and her family were too poor to send their kids to school. "I was often called stupid growing up. But I'm not stupid." She hasn't let a lack of literacy get in the way of raising children and running a successful business.
Edwards also isn't shy about asking for help. "If I'm in a supermarket and can't read something, I'll ask. Kiwis are very kind and want to help." During her quieter moments, the energetic Edwards admits she sometimes still wishes things could have been different. "I might have been someone. And maybe a bit happier. I've worked since I was 13, but maybe one day when I'm not so busy I might give learning another try."
Sharon Stephenson is a freelance journalist and award-winning travel writer.
This story appeared in the August 2022 issue of North & South.