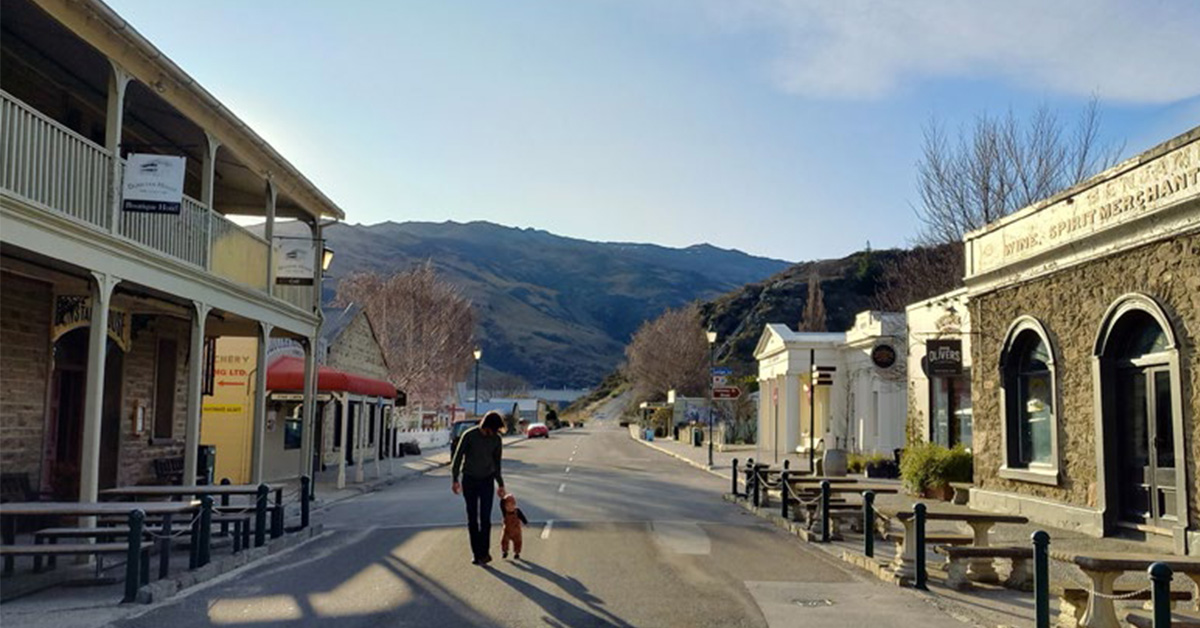 Above: The author on a sunset walk down Clyde's quiet main street with his daughter, Nieke. Photo: Marielle van de Ven
After a youth spent itching to be anywhere but Clyde, no one is more surprised than writer George Driver to find he's now choosing to raise his own family in the Central Otago town.
We arrived in Clyde 15 minutes before the country shut down. It was dark, cold, silent — a little bit exciting. My partner and I had spent the preceding two months travelling around New Zealand in my 1996 Nissan Sentra, living in a tent. We'd just moved back from Europe and were trying to find a new home. Our dream was the eternal oxymoron: somewhere cheap beside the sea. In the end the pandemic made the decision for us. At age 31, I moved back home. It is not something many people from small-town New Zealand aspire to, after all those teenage years spent wanting to escape. But there was nowhere else to go.
Clyde is one of the hottest, driest and coldest places in the country, depending on when you visit, and just about as far away as you can get from the sea on these isles. The surrounding mountains are brown, treeless and carpeted in wild thyme — I'm still instantly transported back home by the earthy smell. The ranges rise up more than a kilometre and a half into a sky that somehow feels bigger and bluer than anywhere else.
The Clutha River, beside the town, also adds a streak of colour — it's emerald-turquoise and teeth-chatteringly cold. This is offset by the 60m-high concrete-grey hulk of the Clyde Dam, about a kilometre upstream. The river used to rise and fall each day with the freeze and thaw of its headwaters in the alps. Now it rises at 5pm when people get home from work and switch on the lights. In spring, when the snow melts, the dam's four spillways roar day and night. Sometimes it sounds like waves crashing on the shore. Sometimes it sounds like the dam is about to burst. Out of towners often stop by the dam, look down at Clyde and wonder how people can live with the constant threat of being condemned to a watery grave (the dam is also built on a fault line). I guess we're just used to it — although my Dutch partner says she thinks about earthquakes every day.
Clyde's also a gold-rush town, the main street looking like something straight out of a western. The old Dunstan House hotel still has "Good Stabling" stencilled on its side. The building housing Olivers Restaurant across the road was built by a storekeeper who arrived in 1869 the year an American and an Irishman struck gold upstream. A tent city was soon founded — some sources claim that, for a very short period, Clyde (population circa 1161 in 2018) was the biggest city in the country.
The canvas tents are long gone, but the place still has a feeling of impermanence. Beyond the main street, you'll find concrete-block holiday houses built in the 60s and 70s by Dunedinites and Southlanders hoping for a few weeks of proper summer away from the ever-present southerly on the coast. Consequently, Clyde may have more Ranchsliders per capita than anywhere on Earth. Landscaping mostly consists of a rotary clothesline and a birch tree. Every second house has an old caravan out back.
My parents moved here from Dunedin in 1975 after my mother got her first teaching job at Clyde School. They wanted to go to Arrowtown, but back then a female teacher's job placement was based on the employment prospects of their partner. My dad's an artist. They got sent to Clyde.
In 1977, they bought the old vicarage for Clyde's Anglican Church — there are still saddles and other equine paraphernalia in the cellar from when the vicar would do the rounds to outlying towns. An old five bedroom concrete-clad bungalow just above the river, it was theirs for $17,500. When I use this fact to point out what an easy ride Boomers have had, they protest that "wages were a lot less then". (Fact check: they paid the equivalent of $144,683 in today's money according to the Reserve Bank's inflation calculator, and it would likely sell for at least five times as much now).
It sounds like it was a dump then, to be fair. The day my parents moved in my father fell through the rotting floorboards. They still live there and he's kept busy repairing the handiwork he first attempted 45 years ago.
I was born at Dunstan Hospital in Clyde on 22 March 1989. I grew up in that house. I remember childhood by the seasons. The air humming with bees when the fruit trees in the backyard bloom in spring. Summers sailing in our old wooden Optimist on Lake Dunstan above the dam, and swimming in the "Dredge Hole" — essentially a pond amidst old gold-dredge tailings near the Clutha, with rusting mining machinery left where the dredges finally stopped. In autumn, when the trees turn gold and crimson, we'd collect pinecones for the fire and I'd sit on my father's knee and steer the Commodore along an unsealed dead-end road. Winters were skiing in Wānaka, ice skating in Alexandra, and playing in the frost at Clyde School across the road.
We'd take weekend trips to Wānaka and Queenstown, both an hour's drive away. The rare treat was a trip to Queenstown's Lone Star where I'd always order "Barney's" pork ribs, served with a pastry star on top.
My teens were a retreat to the confines of my bedroom. The first years of high school consisted of being told to "get a haircut, f*ggot", a rhythmic six-syllable phrase now lodged in my brain. This is another feature of Clyde — it's a bit conservative. My father was once asked how he could live with himself, raising my brother and I while my mother worked.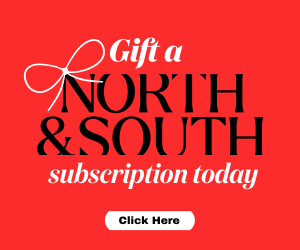 Music probably saved me. I was in Seattle in my mind. My career began at 13, playing on the back of trucks in Alexandra's Pioneer Park. I soon started teaching guitar, which funded a growing collection of compact discs from the Warehouse. Later, my band (Retrovirus — cringe) graduated to playing Central Otago's country pubs. In the seventh form (Year 13) we had a weekly Thursday night slot playing Nirvana covers to half a dozen people in a pub in Alex. After two hours, with a break to consume a jug of raspberry and Coke, we'd pack our gear into the Holden Commodore and be back at school in the morning.
I left just before turning 18 to study in Dunedin. Most people in my year at school either did the same, or left for the mines in Australia. I can't think of anyone who stayed. I only returned for summer holidays to work for beer money, thinning nectarines and picking cherries with European backpackers seven days a week. The only respite came on the rare occasion it rained. The sound of rain drops on a corrugated iron roof is still euphoria to me.
After university, the trips became fewer and Clyde transformed in my absence. The Otago Central Rail Trail became a must-do for middle-class boomers. Four bike shops opened in town. A derelict street in the town centre was developed into a new restaurant, a cinema, a gelatery, a fashion boutique, an art gallery and a shop that sells expensive stuff that rich people buy on holiday. A three-bedroom around the corner recently sold for $1.027 million. Ranchsilders are being replaced by French doors. A retirement village is going in opposite the hospital on the edge of town. The average age of 55.6 looks set to rise.
About 20 years ago, my parents bought a riverside crib out the back of their house. At different times it has housed relatives, been rented by Bookabach holidaymakers and been my band's practice space. Since lockdown, it's been my home.
At first it was a temporary stop to wait out the pandemic. My freelance writing work was the first to go. Then most of the country's magazines closed entirely. There were rumours the country's largest news company, Stuff, was days from closing. In the end, it sold for $1.
So we settled in. I scrimped. When the Sentra failed its warrant, I painstakingly fixed it myself. I started brewing my own beer. I scoured the internet for coupon codes. By spring we had nested. We were awaiting our first child.
Nieke arrived in May. As she grew, we nestled further. She sees a lot of her grandparents. For much of each day now, my childhood home becomes her childhood home. Our memories feel intertwined, a generation apart.
It's home again. The Lone Star in Queenstown hasn't moved. The children's menu still has Barney's Ribs. The old wooden Optimist is in the backyard under a tarpaulin, waiting for summer.
George Driver is North & South's South Island Correspondent, a role made possible by NZ On Air's Public Interest Journalism Fund.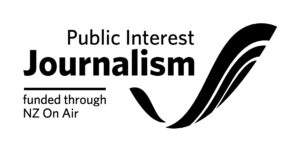 This story appeared in the October 2022 issue of North & South.