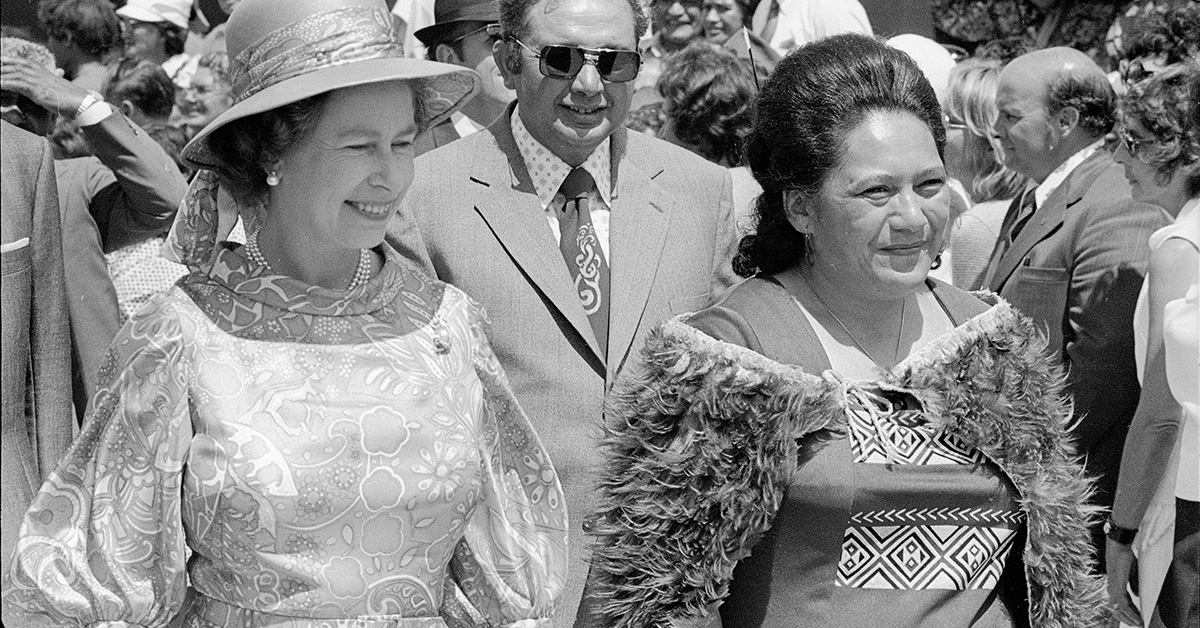 Smiling and Waving: The Queen's New Zealand Visits
Queen Elizabeth II, who died on 8 September at the age of 96, was the first reigning monarch to set foot in New Zealand — visits planned for her father, King George VI, having been prevented by war and illness. Elizabeth visited Aotearoa 10 times during her reign, the first time in 1953, just months after her coronation. Looked at in retrospect, these trips mark shifts in our own national story: from extraordinary performances of devotion, to Waitangi commemorations, an egging, and treaty apologies and settlements.
HASTINGS
In the summer of 1953–4 the young Queen toured her dashing husband Prince Phillip around 46 of our towns and cities. Its estimated 75 per cent of the population came out to see her, with one particularly enthusiastic local subject claiming to have done so 30 times. The royal colours — blue, red, white — were displayed in freshly planted flowers and dyed sheep.
WAITANGI
In February 1963, Queen Elizabeth II and Prince Phillip arrived in New Zealand again, this time at the Bay of Islands on the ship Britannia. They attended the third annual Waitangi Day commemorations, before travelling to Christchurch over a 12-day journey. From Christchurch, the royal couple flew to Canberra to commence their tour of Australia.
MARLBOROUGH SOUNDS
In March 1970, the Queen attended a re-enactment of the landing of James Cook at Ship's Cove in the Marlborough Sounds. The event was a bicentenary celebration, one of many being performed across the Pacific. More recently, a commemoration in 2019 also celebrated the Tahitian chief Tupaia, who interpreted between the two cultures.
NGĀRUAWĀHIA
After attending the 1974 Commonwealth Games in Christchurch, Queen Elizabeth went north to meet the Māori Queen, Te Arikinui Dame Te Atairangikaahu. Queen Elizabeth was welcomed onto Turangawaewae Marae, where she watched displays of Māori tradition and culture. During the festivities, Elizabeth sat on Dame Te Atairangikaahu's right-hand side, conceding precedence.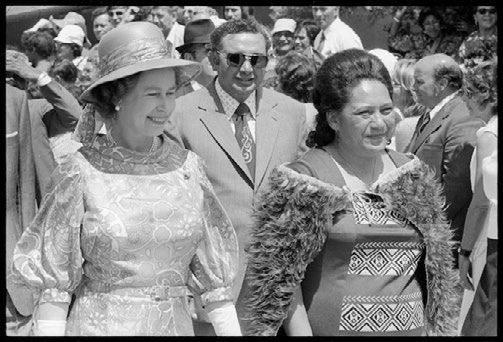 Two Queens. Photo: Alexander Turnbull Library
WELLINGTON
To mark her Silver Jubilee in 1977, the Queen toured around the Commonwealth, celebrating her then 25- year reign with large parties and parades. Elizabeth also officially opened the Beehive — but upon unveiling a plaque, the curtain got caught. Pictured at the moment of the unfortunate hitch, the Queen can be seen to barely contain her laughter.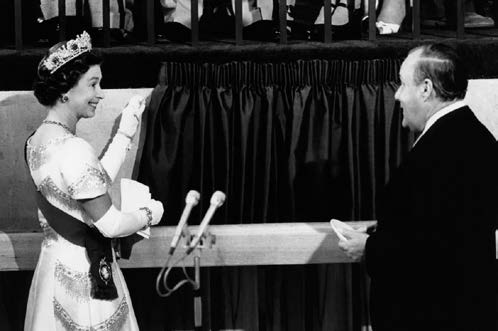 1977 Silver Jubilee. Photo: Te Ara
DUNEDIN
In October 1981, Queen Elizabeth stepped out of a Rolls-Royce to greet a crowd of 3500, to find that some were carrying protest placards. Slogans included phrases like "No Privilege While There is Poverty", and "Royalty: State Bludgers". Suddenly, a crack rang out. A troubled 17-year-old boy had taken aim at Elizabeth from a toilet cubicle with a .22 rifle. Worried that the Queen might never return, the incident was downplayed. Police said at the time that the noise was simply a council sign falling over.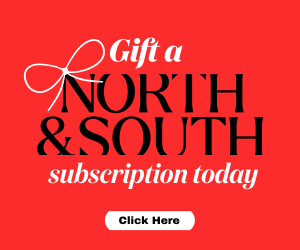 AUCKLAND
In February 1986, the Queen and Prince Phillip were waving at a friendly crowd from their bespoke Land Rover, when an egg smashed on her pink coat. Another promptly hit the windscreen. The eggs were thrown by two women who had evaded security cordons by posing as crowd wardens. Hustled away by police, they shouted that the Treaty should be honoured. Later, the Queen made light of it saying, "I myself prefer my New Zealand eggs for breakfast."
WAITANGI
When the 150th anniversary of the signing of the Treaty of Waitangi was commemorated on 6 February 1990, the Queen arrived on a launch, greeted by 20 waka taua, along with visiting tall sailing ships. Speeches were later drowned out by considerable — but peaceful — protests, with protesters flying the newly designed Tino Rangatiratanga flag. The Queen earlier took part in merrier closing celebrations for the Commonwealth Games in Auckland.
WELLINGTON
In November 1995, Queen Elizabeth II gave the royal assent to the Waikato-Tainui Treaty settlement. The settlement act was the first law the Queen had signed in public. Valued at $170 million, it returned some of the Waikato land confiscated from Māori who followed the Kīngitanga, and included an apology to Tainui. Then Prime Minister Jim Bolger, Te Arikinui Dame Te Atairangikaahu and Tainui elders attended the signing.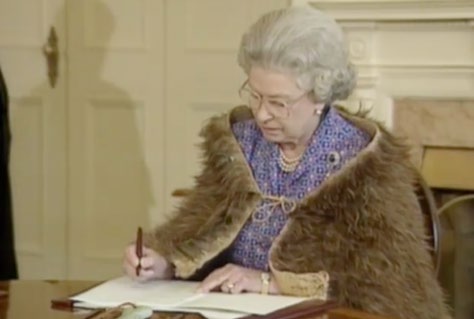 Waikato-Tainui Treaty settlement.Photo: Archives New Zealand/Wikimedia
WELLINGTON
In 2002, the Queen visited New Zealand as part of commemorations of her Golden Jubilee. For the first time, she arrived in Aotearoa by commercial aircraft. In her speech at a state dinner in Wellington, she told of her "vivid memories" of that first visit nearly half a century before, from her arrival on a misty morning in Auckland to her departure from Bluff, more than five weeks later. "This is a very different country from the one I first visited all those years ago," she said. "The changes here over these 50 years have been dramatic."
Gabi Lardies is the junior writer for North & South, a role funded by NZ On Air's Public Interest Journalism.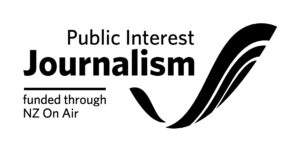 This story appeared in the November 2022 issue of North & South.