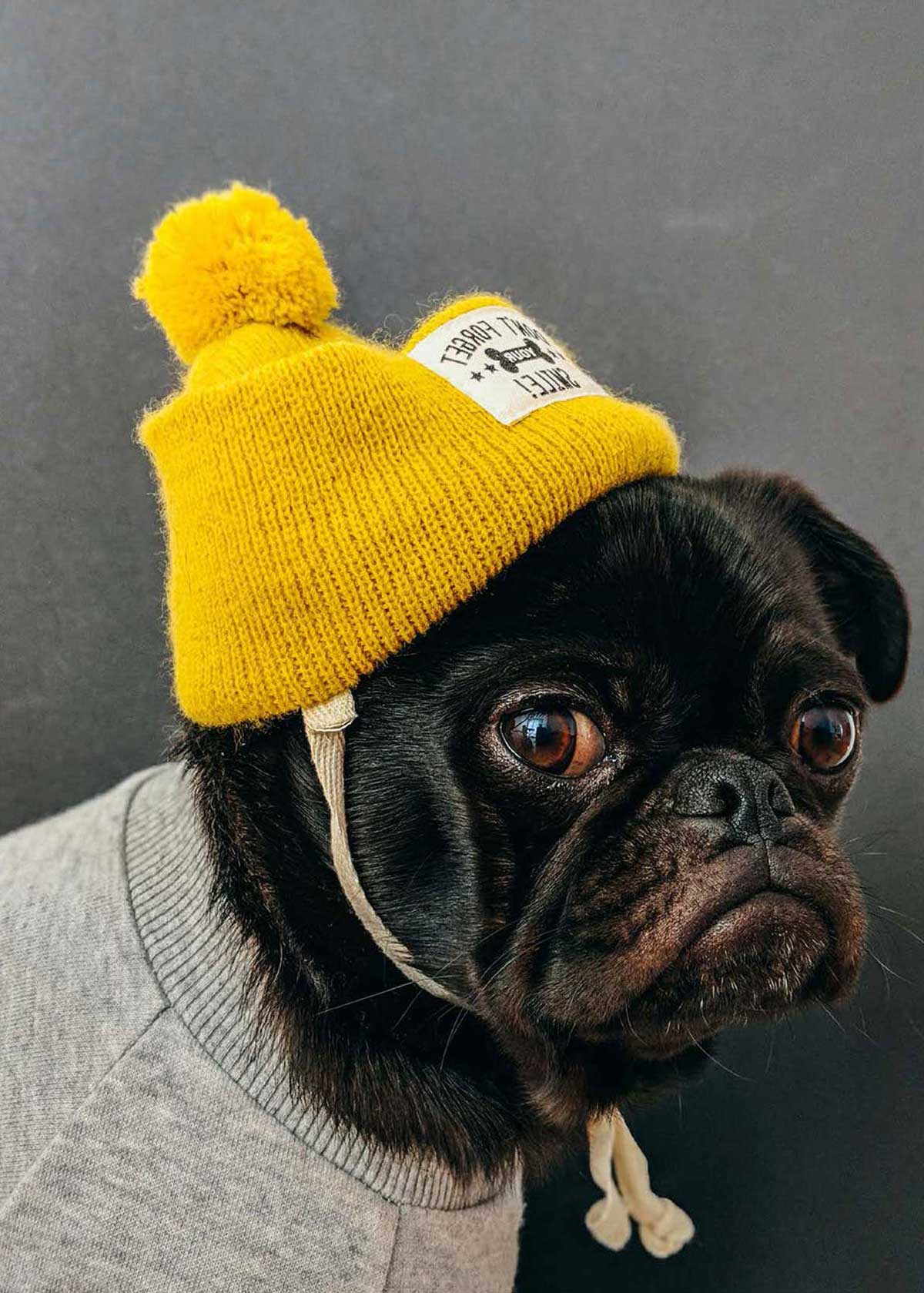 Sleeping in our beds, wearing designer threads, eating gourmet food — dogs are living luxe. But is it good for them, and who is making who happy?
By Gabi Lardies
She's got legs, she knows how to use them . . . ZZ Top blares through speakers in The Colombo mall in central Christchurch. Wearing a rainbow-striped t-shirt with a layered rainbow tutu, Lucy struts under the bright mall lights, weaving through the crowd and up onto a platform at the end of the catwalk. Well, it's not really a catwalk, because Lucy is a greyhound.
She's led on a leash by her "mum" (wearing a knitted rainbow jumper, naturally) over the Astro Turf, past the emcee, and back off stage. Hundreds of people and their dogs are watching.
On Sunday 16 October, 32 dogs walked in The Colombo's inaugural canine fashion show. Among them were Lucy; Gus, a cairn terrier-bichon cross wearing a green kilt; and Starlet, a glamorously-accessorised Chinese crested. One man, wearing black-tie attire and holding a tiny griffon in a tutu, hadn't registered for the show, but was invited to participate anyway. The winner on the day was Bean the chihuahua, resplendent in an elaborate hand-made reptile costume.
For the dogs, there were rewards of ice cream, cake and canned "beer", all made with canine-friendly ingredients such as coconut, peanut butter and bone broth. The audience's reward was a good time, which is what Lilly Cooper had been hoping for.
Cooper, who owns The Colombo, created the show to bring some light-hearted fun back to retail. "I wanted to do something different after Covid, and I thought, what are people really passionate about?" Thinking about "little Ralphy", her own much-loved bichon-cross, she realised: their dogs. She was right. An estimated 600 people turned out to watch the show, many of them with dogs in tow. Ralphy, too, watched from the sidelines — he was barred from competing due to Cooper's position. The event was all over the evening news that night, on the radio and online. "It could have been disastrous," Cooper says. Dogs have only been allowed in the mall at all (on leash or in a handbag) for the last year. "But they were all so well behaved, and they were beautiful."
Well behaved, beautiful — it's how many owners regard their dogs, whether the animal being referred to is indeed a sweet-natured spaniel, or a drooling, crotch-sniffing mastiff lunging on its lead as the human on the other end shouts, "Don't worry, he's just being friendly!"
Whether you're a "dog person" or not, you're surrounded by them — roughly every third house on any given street will have a dog living in it. The general manager of Companion Animals New Zealand (CANZ), David Lloyd, estimates there must be nearly a million dogs in Aotearoa. Lloyd says his guess is an educated one, taking into account council registrations, microchipping numbers, and surveys for CANZ, an umbrella organisation for animal welfare groups. The organisation's research also reveals that almost 80 per cent of those with a dog in the house consider them a family member.
Dogs have lived alongside us since the last ice age, more than 30,000 years ago. The inter-species bond has remained strong through history. For humans, dogs provide companionship and a feeling of security. Their presence can decrease blood pressure, anxiety and suicidal ideation. Patting a dog releases dopamine and endorphins. In fact, dogs are so good for humans that we use them in psychotherapy and mental health care.
But what do the dogs get out of this arrangement? Since the early 1990s, the pet industry grew with such intensity that in 2010 the Financial Times declared "there has never been anything like the growth, in scale or complexity, of the global pet industry in the past 20 years". With a dizzying array of goods and services on offer, owners can have their dog's hair styled rather than just trimmed, feed them gourmet food, deck them in bespoke jewellery or spritz them with a signature scent.
During our long relationship with dogs, doting human owners have frequently assigned them human characteristics and emotions. This might be understandable, but it means we risk getting their needs and desires all wrong. At some point, our animal companions have gone from scrap-scavenging wolves to little quivering creatures dressed up in frilly jackets. Is this just a bit of fun, or does de-dogging our dogs actually do them harm?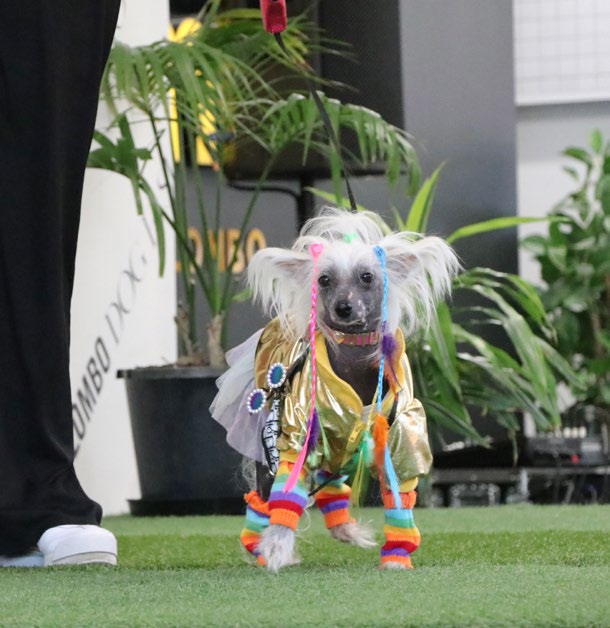 Contestant #8, left, of The Colombo dog show was Roy the 9-year-old chihuahua. His bee costume was hand knitted by his owner's mother, and he aquired flight by insisting on being carried. Above, the runner-up of the competition, Starlet the Chinese crested, is no stranger to accessories. In her wardobe there's numerous sunglasses, necklaces, hats, hair clips, as well as a fringed leather jacket. Photo: Eve Simmance
Portia is the perfect model. She's always available and obliging. The sunlight catches her blonde hair, and the blackness of her eyes only makes them shine brighter. She is most often spotted sporting bows either clipped to the long hair between her floppy ears or under her chin, attached to her collar. Then there are the bandanas, collared shirts, the occassional tutu, a straw hat, and lilac tinted sunglasses. "She loves it," says her owner, Lisa Kircher. "We go outside and as soon as I get my camera out, she'll just sit down and do her posing."
Portia is a seven-year-old shih tzu-lhasa apso, a cross between two breeds known for their long coats and adorable appearance. Walking one down a street usually draws attention, and Portia is no exception. She's well known around her Canterbury neighbourhood, on the edge of Lake Ellesmere, and her style is much appreciated. "She brings a smile to everyone's face when they see her all dressed up," Kircher says. Portia has become a little star, not only locally, but also on Instagram. With nearly 5500 followers, she's a bit of a pupfluencer. As a very contemporary working dog, Portia's main client is Kircher's dog-clothing business.
Kircher always wanted her dog to be the best dressed in the neighbourhood. Unsatisfied with the options that were available, she started making dog clothes herself in 2016. She's been sewing since she was little, making clothes first for her dolls and then herself. When she worked as a kindergarten teacher, she wore nice dresses every day, despite their inevitable contamination by sticky fingers, paint and playdough.
Portia's first item of clothing was a t-shirt, and she hated it, says Kircher. At the time she was six months old, and her reaction was to roll around, confused about what was on her body. Kircher persisted, because she wanted Portia to wear something warm when the cold Canterbury winter came. Eventually, Portia "sort of resigned to the fact" of wearing clothes. In winter, she now wears merino jerseys and little hoodies, upcycled from Kircher's old clothing.
After making Portia a few items, Kircher turned her love of sewing and dog fashion into a small business, Clothes By Portia. She is passionate about what she does — some of the dog-clothes she makes are even better quality than her own. "My happy place is behind the sewing machine. It's really calming."
The item that took off was a fairly simple navy hoodie with a customised name in white on the back: no frills, lace or bows. What Kircher prefers making though, are custom designs which upcycle the owners' own clothes for their dogs.
Her average buyer is a professional couple in their mid-30s without children. "There's quite a few millennials that do spend quite a bit on money on their dogs," she says. In the first Covid lockdown, Kircher had a massive spike of online sales. "Everyone was going, 'Oh I can't get to the shops, and I can't spend money on myself', so they spent money on their dogs."
Kircher insists that if Portia doesn't want to dress up, she won't. "If it's cold, I will go over to her with one of her jumpers or something, and if she doesn't want to wear it, she'll turn her head away. If she does, she'll sit there and she'll literally put her paws up to go through it." If Portia really doesn't want to wear something, Kircher says that's fine. "Unless it's raining. Then yes, she does have to wear a rain jacket. But she's normally pretty good at getting that on when she sees it's raining. I'll never force it. I never force her to wear anything. And she's very stubborn, being a shih tzu."
Kircher might face criticism in some quarters for dressing her dog, but she thinks she's a better dog owner than some of the people she sees out walking, who she says are all but ignoring the dog on the end of the leash. When they walk together, Kircher lets Portia take the lead, stopping and sniffing and deviating from the path. Sometimes, at a corner or fork, she asks Portia which direction she would like to go. "People laugh, because it's like we're having a conversation. We will get to a corner, and she will look at me, as if to say, 'Are we going left or right?' And I'm like, 'Your choice.' Or it will be like 'No, we've got to go this way today, not that way.' A lot of people say dogs don't understand English, but she definitely does."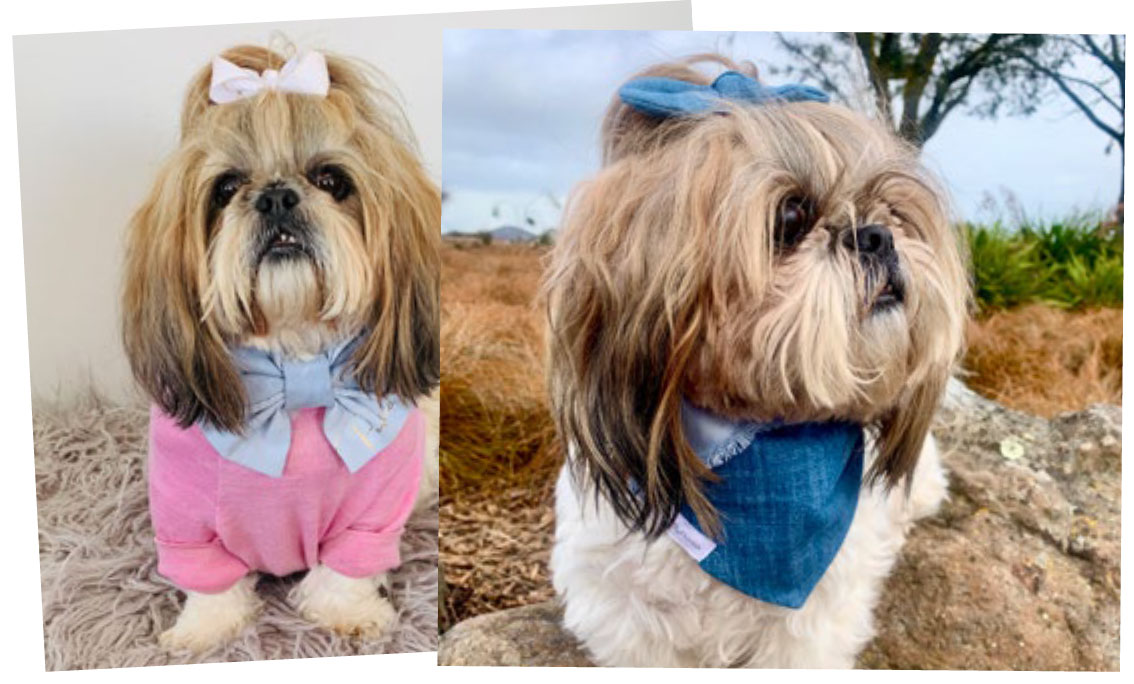 "I've always wanted a real cute, teddy bear looking dog," says Lisa Kircher. Portia was the last left of a litter of puppies and when Kircher met her, "It was meant to be."
In her home  office, anthrozoologist Dr Erin Jones sips from a white mug with a row of illustrated dogs trotting around its lip. It was a gift from her husband, who rightly assumed she would like it. A dog behaviour consultant, trainer, and academic, Jones is working on a book with the working title Canine Consent.
"Oh my goodness, you're making a mess," she lightly scolds as Juno, a three-and-a-half-year-old mixed breed with a white coat, black spots and an insatiable love of tugging at things she shouldn't, chews on something under Jones' desk. You will never catch Juno in a jacket, even on a backcountry hike.
Since 2018, Jones has been a researcher at the New Zealand Centre for Human-Animal Studies at the University of Canterbury. On the centre's website, the researchers are pictured with animals: fluffy dogs, a little black puppy, a tabby cat, and a big, smiling pig. Anthrozoology is a field which has rapidly grown since emerging over the last few decades. It's interdisciplinary, looking at the treatment and attitudes towards animals that live alongside us through sociology, philosophy, behavioural biology, science, technology, popular-culture studies, and medicine. "It's all about coexistence or shared existence with animals," Jones says — that is, about recognising that animals are members of society too.
Jones' focus has been on dogs in particular. She scrutinises our relationships with dogs, and how they affect us and them. The deeply rooted assumptions and expectations we have of dogs are often unfair and one-sided, she says. "A lot of the time, we're thinking about how the relationship benefits us, and how we can train dogs to fit our lifestyles, to suit us."
Jones isn't sold on the idea of dog clothing. "If our dog doesn't like it, and it's not necessary, then I don't think we should be using it," she says. "Personally, I'm never going to dress my dog up in a sweater. It just doesn't make any sense to me." On walks, or to sit at the park and watch the seagulls, Juno only wears a black harness with a plain red leash.
Jones hopes that in 10 years' time we will look back on the era of pooch fashion and think of it as archaic and cruel. "It's just for our own benefit. It's for our own entertainment. I find that really sad, it's humiliating for the dogs."
Treating dogs like fur babies isn't helping them, Jones says. "We're trying to humanise them, and we're taking away their dog-ness, their essence of being a dog." Jones sees people wanting to stop behaviours like barking, digging holes in the garden, or running free, all perfectly normal dog behaviours that get labelled as abnormal and undesirable.
We smother our dogs with love, coddle them, and then we expect them to act un-dog like, which to an anthrozoologist like Jones, "can be definitely problematic". Our tolerance for dogs who behave, well, like dogs, is decreasing. Worse, sometimes people want to teach their dog to do something the dog doesn't want to do. "They're not robots," Jones says. "We want dogs that are thinking, feeling and behaving in ways that show they're happy." She suggests that we should be proud if our dog is a good digger — they've probably been practising. Instead we restrict everything that makes them a dog, always telling them what to do, all the time, she says.
These restrictions show a care/control paradox. While there has always been a power imbalance in keeping pets, more pet owners now engage in what amounts to helicopter parenting for their four-legged charges. Jones remembers in the 1980s and 90s her family's dogs would freely roam the neighbourhood. Now, dogs are always on a leash, attached to a human at all times — literally tied down. There are good reasons of course: protecting dogs from traffic, protecting wildlife from dogs, protecting dogs from humans and vice versa. Yet as a result, dogs are missing out on skills to navigate the world and feel safe in it. Jones would like to see dogs given more choices: when and where to walk, when and how to interact with people and other dogs, what to play with, what to sniff and for how long, where to be in their homes. That, and longer leashes. She believes we are micromanaging our dogs, not because they need it, but because it is a social norm. Dogs are the only species that are completely dependent their whole lives, even as fully functioning adults, says Jones. If they were human babies, they would never get to grow up.
All these restraints are leading to behavioural problems, she says. Dog trainers and behaviour consultants are seeing increases in problems like reactivity towards other dogs and separation anxiety. In general, dogs are becoming more over-reactive and fearful. "We're creating these dogs who are just not resilient to anything. They just can't handle the world in an appropriate way, because we're controlling everything," Jones says. Not having any control in their lives is stressful for dogs; they're constantly put in situations they don't like and are uncomfortable in, without the choice to leave.
Auckland dog trainer Pete Pedersen is also concerned by the way we anthropomorphise our pets. Pedersen has spent 35 years working both with professional working dogs and then training frisky newbies in puppy schools.
"We have to understand that what we've got on the end of our lead is a small wolf," Pedersen says. "It's not a human — and thank goodness for that." Instead of treating a dog like a baby, he encourages owners who bring puppies to his classes to "think dog" and to encourage them to show their natural characteristics. One example is to have them find things by smell, like throwing a tennis ball into long grass and letting a dog find it by scent. "That's great for a dog, it's fantastic. They love it, and they are very, very good at it." Pedersen describes this kind of exercise as "brain work" which will keep these intelligent animals mentally stimulated.
Juno was 10 weeks old when Jones took her home, and nearly four years later Jones can't imagine life without her. "Obviously," she says, "I love my dog very much." She shows this by giving Juno as much autonomy as possible. This means being off leash where allowed, allowing her to stop and sniff, letting her choose walking routes, learning what she likes, and offering choices of treats (even though Juno always picks the same one). Jones leaves doors open so Juno can wander from inside to outside as she pleases, although she has been trained, including to come back when called. Jones says her approach to training Juno is "really about teaching her to be a member of society, as opposed to being a dog on a leash".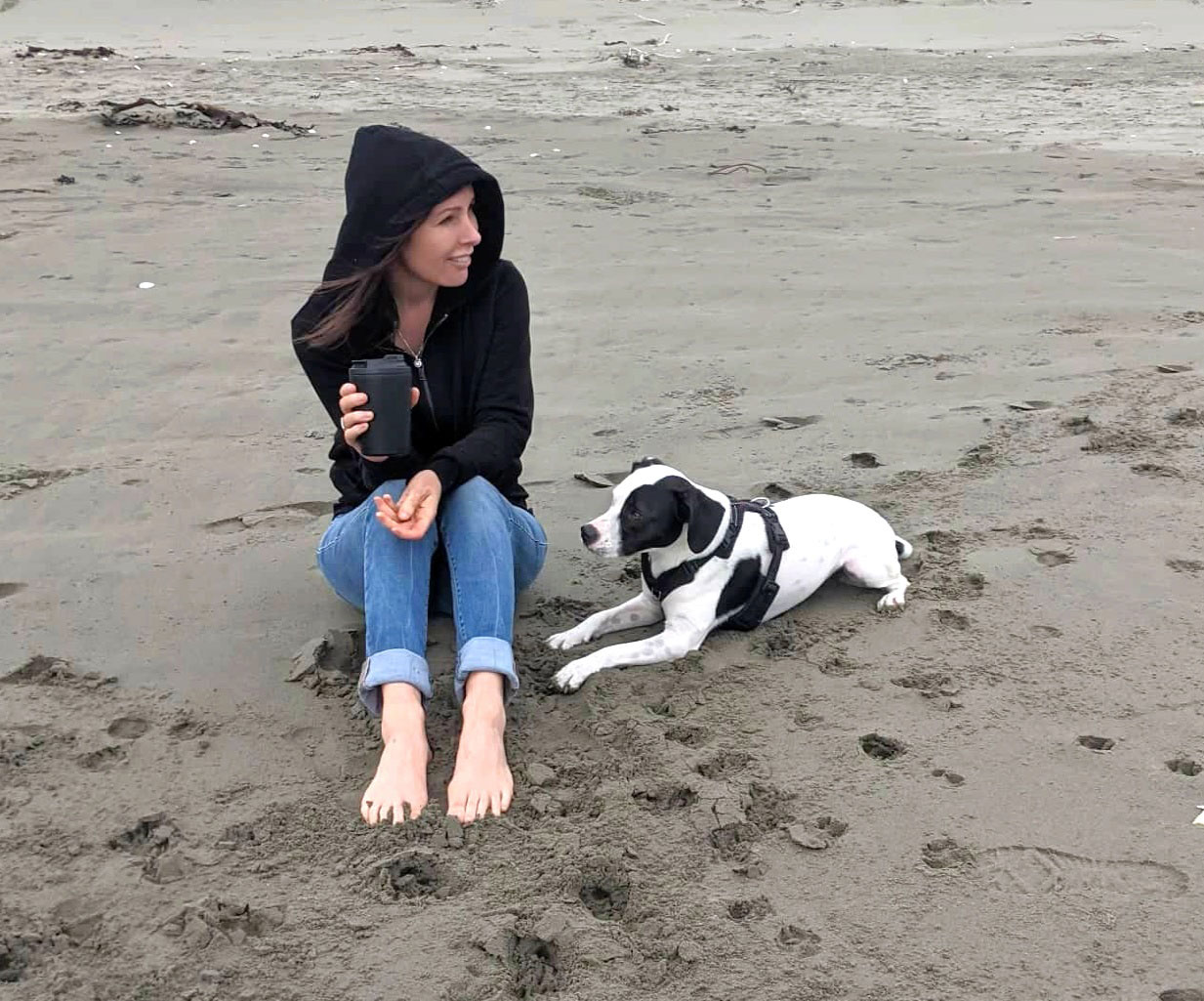 Dr Erin Jones and her pup Juno sometimes enjoy just sitting and watching the world go by. Juno's spotted coat and small build is a result of a her mixed lineage including pointer, bulldog, fox terrier and Jack Russell terrier.
"I know he's not a baby," says Renée Jacobi of her little grey buddy, Bun. "But I've got an animal that's more intelligent, and more empathic than other dogs. My dog is not really a dog. I've got something else, something special. I know it's crazy. Crazy, crazy, crazy."
I look down at Bun, a löwchen-toy poodle cross, who in the first minute of our walk has barked at me, then crouched to wee and poo. Jacobi, an animator who lives in central Auckland, diligently prises his turd from the grass with a bagged hand.
Jacobi and Bun are both petite and layered, Jacobi in asymmetric draped blacks and Bun with his dark grey coat cropped close on his body and kept long on his ears, tail and legs. When a little white dog in a red bandana comes up to smell him Bun is still and quiet, good behaviour which earns him a tiny pinch of freeze-dried chicken from the Snaplock bag in Jacobi's pocket.
"It's not like he's a scraggly little thing that loves to dig up bones," she says. "I see him as a family member. I don't know if child is quite the right word, but I definitely do treat him like he's my baby."
Sometimes, Jacobi lies about Bun's lineage. She's said that he's a rescue dog, knowing that would have been the "right" thing to do when she was looking for a dog three years ago. But Jacobi, who had never had a dog before, wanted some predictability in his temperament and behaviour. Löwchens are known for their friendly and playful natures and for being intelligent. Jacobi had met one who was friendly but quiet, and thought, "I want a dog like that": one who would sit quietly at cafes. "Of course Bun didn't want to do that — he's a dog." Ironically, Bun has developed behavioural issues common in rescue dogs, including severe separation anxiety and reactivity around other dogs.
He wasn't cheap, costing Jacobi $3,500 from Trade Me, even though he was a happy accident (the result of a love story which began with a pure-bred löwchen stud jumping a fence). Löwchens, known as "little lions", have been kept as pets as far back as the 16th century, when they were a popular companion to members of the European aristocracy. It is said they were used as hot water bottles, shaved to provide instant warmth through skin on skin contact.
A DOG'S WORLD, NEW ZEALAND STYLE
There are about a million of them in Aotearoa — often called Bella, Charlie, Molly or Max*— and that many paws on the ground means dogs, and their wallet-wielding humans, are a strong market force.
*The most-popular dog names in 2022 according to Auckland Council's registration information.
The trend for premium petfood accelerated during Covid, says Richard Brake of the New Zealand Petfood Manufacturers Association. New Zealanders are buying more expensive dogfood — the value of the domestic market has almost doubled in the past decade ($124.5 million to $239.5 million), while volume has grown by less than ten per cent. "Food is important," says trainer and consultant Erin Jones. "But I'm sure dogs are going to be just as happy if they're eating a $20 bag of food as a $200 bag."
Dogs are also getting more treats. Ten years ago treats didn't warrant their own market category. As of this July, that segment is almost 22 per cent of the dog-food category.
Between 2015 and 2020, the proportion of urban households with dogs increased from 27 per cent to 37 per cent, according to CANZ reports. While dogs are more common in rural households (44 per cent) this is a stable, rather than growing number. Suburban and regional households have increased their rates of dog ownership modestly (25 to 29 per cent and 25 to 30 per cent). The burgeoning population then, is of city dogs.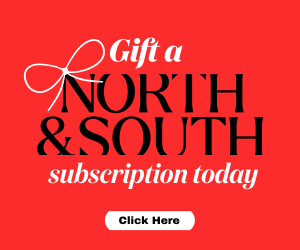 CANZ encourages the terms "companion animal" and "guardian" over "pet" and "owner", seeking to shift the perception of the relationship from possession to care. Over half of survey subjects, though, preferred "pet". The number of people who preferred "companion" was about the same as those who didn't care (20 and 21 per cent). Similarly, just over half preferred "owner" and only 10 per cent preferred "guardian". Whether people had animals or not had little impact on their preferences.
The 2022 National Dog Database, a compilation of council registered dogs across all regions, is made up of 61 per cent pure-bred dogs. The most popular three breeds are labrador retrievers (43,193), huntaways (30,614) and border collies (23,298). According to the 2020 CANZ report, pure-bred, designer or pedigree dogs are most popular among younger males and in cities. The remaining mutts are more likely to be found in family or older households.
Modern ways of training dogs are increasingly humane, says Erin Jones. The process is based on building a relationship of trust and choice, using positive reinforcement. Terms like obedience and command are being replaced by skills and cues. The SPCA is encouraged to see a rise in cooperative care and fear-free approaches. Training practices have evolved considerably in the decades that Pete Pedersen has worked in the field, and continue to do so. "There's not a year that goes by I don't do something different to what I did the previous year, and that's a good thing."
The SPCA says it did not experience an adoption surge due to lockdowns. It had an oversupply of dogs due to limited access to desexing. Luckily people reached out to help, fostering animals who were not yet ready for adoption, in some cases whole litters of puppies, says national operations manager Sue Kinsella. It seems the over-supply continues, with a large increase in animal surrenders through the SPCA inspectorate in the last two years.
Both the SPCA and CANZ use the "Five Domains" as a model of animal welfare. The domains (nutrition, environment, health, behaviour, and mental state) go beyond providing basic needs to giving animals appropriate care, choices, opportunities to have positive experiences, and to express their natural behaviours. In short, the approach is about giving animals a life worth living.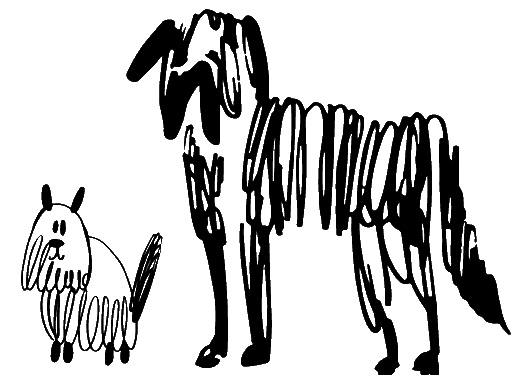 Article continues…
Though he isn't needed for this function, Bun does sleep in Jacobi's bed. It began after a break-up. Jacobi was feeling "a little bit lonely", and Bun was a "lovely furry thing to cuddle". It became a regular habit, and one she didn't want to give up, despite almost all advice on dog ownership saying dogs sleeping in your bed should be strictly off limits. Then Covid lockdowns came, and the two were alone together in a 30 square-metre tiny house in a semi-rural area, out of sight of any neighbours — furry or human. "It escalated really quickly," says Jacobi. "It became this intense co-dependency." Everyday Jacobi would wake up, turn towards Bun, and start talking to him. Bun would look back attentively, stretch his legs, and place his paw on her.
It wasn't just Bun and Jacobi becoming codependent. In 2020, during Covid alert-level four, CANZ surveyed 700 people on how lockdown was affecting their animals. More than 40 per cent of them noticed changes in their animal's behaviour, the most common being increased neediness. Dogs were following their humans around the house and whimpering or complaining when put in rooms by themselves. Bun cried if he was stuck inside while Jacobi was gardening. Even though he was afraid of the weed-eater, he preferred being in a backpack on Jacobi's back rather than being separated from her.
This couldn't last forever. As restrictions eased, Jacobi needed to go back to work, socialise, and do regular human things that didn't always include Bun. It was lucky they lived surrounded by a large paddock, because Bun would simply scream until Jacobi got home. When she installed a camera to keep an eye on him, she saw him waiting by the door, howling for hours.
"It broke my heart. Obviously he was distressed. His little body was shaking, I just couldn't inflict that kind of agony on him — but I also couldn't stay home all the time." What was she to do?
Jacobi tried getting a subscription to DogTV, an online streaming service for dogs, with programmes which follow dog walks, play relaxing scenes and music, or have playful animated sequences. Bun was too anxious to pay attention to it. She left him pig ear treats, which for many dogs provide about two hours of chewing pleasure, but Bun didn't touch them until she got home. She tried separation training, where she would leave the house for increasing increments, 10 minutes, 20 minutes, an hour, two hours, but it didn't seem to improve things. He was always sad, no matter what. Jacobi now takes him to doggy day-care three times a week, and tries to work from home the other two. "He can't be left alone," she says.
Pete Pedersen hasn't met Bun but he knows dogs like him. He thinks some of the behaviour we are seeing post-lockdown is not separation anxiety in its true sense, but rather attention-seeking behaviour. His advice to owners like Jacobi would be not to worry — they can fix it, they just need time and consistency. The concept Pedersen uses is to reward the right behaviour — in this case it would be giving Bun a treat when he quietens by himself. "Foods are a great leverage," he says. He's not so keen on dogs in human beds — he says he can often tell where a dog sleeps based on its behaviour. In Pedersen's experience, sleeping alongside their owners lets pups think they are a high rank in the pack, encouraging more aggressive, defensive and protective behaviour.
It's important for dogs to have rules and boundaries, Pedersen says, and to know the human is in charge, but this doesn't forsake pampering. "Certainly spoil them. Love them, give affection and attention and definitely pamper them. But make sure that's balanced against the rules and boundaries that you've put in place for that little animal and positively reinforced. Dogs are really happy knowing their place." He even thinks dog clothing is okay, as long as the dog behaves well. His personal taste though, would be au-naturel. "They've got a fantastic coat on, they're born with it."
As a puppy, Bun was difficult to train — both needy and naughty. Even after 10 sessions of puppy school, one-on-one training was needed. During this period Jacobi visited friends on a large property in Matakana. She was starting to train Bun to come back to her when off the lead. But when she let him off, he bolted to the neighbouring property. Even though she was hot on his heels, by the time Jacobi reached him, Bun had a chicken — almost the same size as him — in his mouth. She had to pry his jaws open, and the chicken scuttled off unharmed. She had a moment of realisation. Her little ball of black fluff was an animal — one that wanted to hunt. "It was like he turned into a wild creature," she says. As soon as it was over, he went back to seeming like nothing more than a cuddly teddy.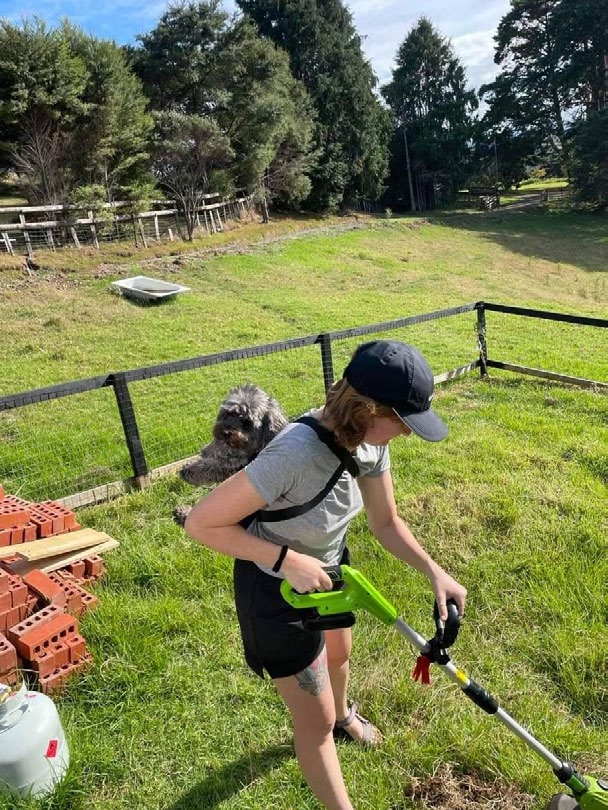 During lockdown, Bun refused to be separated from Renée Jacobi. If left inside while she was gardening, he wouldn't stop barking at the door. But, he would also bark at the weedeater. "So I ended up having to put him in a backpack," says Jacobi.
BREATHING THROUGH A PILLOW
Lula doesn't want to get out of the boot of the car. Her tubby bottom stays firmly on the carpeted floor, though the jump down is small. The car, a low station wagon, suits her owner Scott Satherley's job as a prop-master in film. Satherley says Lula doesn't like the first part of the walk through the bush, but when they get to the estuary she remembers she loves mud. We've gone west from Auckland city to the Waitakere Ranges, one of Lula's favourite places to walk. The carpark at the entry for Kakamatua Inlet is full, and there are cars coming in and out almost constantly. Each carries at least one dog, and their humans.
It's one of only three places in the Waitakere Ranges dogs can be off-leash by the sea, possibly because most humans wouldn't want to swim here. When we get to the edge of the inlet, there's a soft smell of decomposition.
Leashes are unclipped, and Lula joins a staffy and a terrier in the water. Lula is a pure-bred British bulldog. She's white with tan patches, short haired with a rotund body and squashed face. Her ears are soft and floppy, but her shoulders and hips have a muscular stoutness to them, a petite wrestler. These stocky pups, with their face folds, jowls, and noticeable underbite are an increasingly popular companion dog. They're considered loyal and easy going, and they don't require too much exercise. In other words, their nature lends itself easily to being pampered couch potatoes. In Lula's case, a sloppy pink tongue is just about always dangling from her mouth."
To some, these exaggerated features are an abomination of nature. To others, they're the cutest thing in the world. While I generally consider myself in the first camp, something like affection stirs in my belly when Lula rolls around in the sand. This squirming, dense marshmallow is cute.
"It had to be a British bulldog," says Satherley, recalling his decision to get a dog. He's wearing wireframed oval sunglasses, and his jacket is buttoned right up against the coastal breeze, which whips his blond hair. He wanted a "character dog" rather than a "dog-dog" — one with lots of personality, and not much inclination to exercise.
Lula's breed, along with French bulldogs and pugs, was banned from being sold on Trade Me in 2018, following an appeal from the New Zealand Veterinary Association asking people to think twice before adopting one. The association described the chronic breathing problems these flat-faced breeds suffer as "like trying to breathe through a pillow". It also cited other health issues: chronic eye irritation and infection, diaphragmatic hernias, and spinal cord damage.
The problem stems from breeding not for dogs' wellbeing, but for an appearance which humans covet.
"They're kind of a celebrity dog, all over social media, especially Instagram," says Sally Cory about British bulldogs. This year, Cory became the association's head of veterinary services for companion animals. She considers flat-faced dogs a "high risk breed" who tend to visit vets often due to multiple health problems. "It's constant flare ups, constant maintenance, constant observation, constant cleaning, constant vet visits," she says. "There is definitely quite a large financial burden that comes with managing those dogs long term. So, yes, they can be quite difficult."
Some struggle at the slightest exertion, pressure or stress, their airways swelling and impeding breathing — causing yet more stress. Others have joint problems and live in chronic pain their caregivers aren't always aware of. "It's incredibly upsetting," she says. "I do feel really sorry for those dogs, you know, particularly often over the warmer months in the year. Life is pretty uncomfortable for some of them."
Of course, there are exceptions. Cory is careful to constantly remind me it's "not all dogs" of a certain breed who experience serious health problems, and the association does not advocate for bans on certain breeds, unlike in Norway, which this year banned the breeding of bulldogs and cavaliers, a move which is gaining contentious traction in places like Australia and the United Kingdom. Instead, the association here tries to promote responsible breeding practices which promote good health, good welfare, and good temperament.
Still, the rising popularity of flat-faced dogs, along with a jump in demand for all puppies during lockdowns, has led to an increase of what Cory calls "less than desirable breeding practices". In New Zealand, there is no legislation around dog breeding, meaning anyone can breed and sell puppies. Experts describe it as a wild west. The high demand for puppies through Covid led to an explosion of what critics call "backyard breeders" or ruthlessly profit-focused "puppy mills". As a result, vets have seen an increase in health problems, particularly in breeds like bulldogs and pugs, says Cory. Their cute features have gone awry.
She recommends buying puppies only from breeders accredited by Dogs New Zealand, though acknowledges even good breeders can produce dogs with bad health problems.
Instead of buying through the internet, Satherley went to a reputable breeder to find Lula. He arrived to find a whole litter running up to him, a flock of tiny bulldogs. "It's probably the cutest thing ever." He paid top dollar for a premium pure-bred, hoping it would help him to avoid having a dog with health problems.
While Lula hasn't experienced the worst of the health problems of her breed, her eyes constantly leak, her lolling tongue gets dry, and arthritis is already creeping in. Every month she is injected with the antiarthritis drug Zydax, to ward it off. Her facial folds must also be cleaned daily, as must her easily-irritated eyes. It's a whole routine. Lula also has a short life expectancy — eight to 10 years compared to löwchens like Bun who are expected to live up to 15. It isn't a bad life though. When Lula isn't getting grubby in estuarine mud, she enjoys the odd pupperchino, a dog-friendly hot drink sold for the same price as a human-friendly flat white at certain Ponsonby cafes. It takes her about 20 minutes to joyfully lick up all the frothed pet milk, which makes its way all over her face.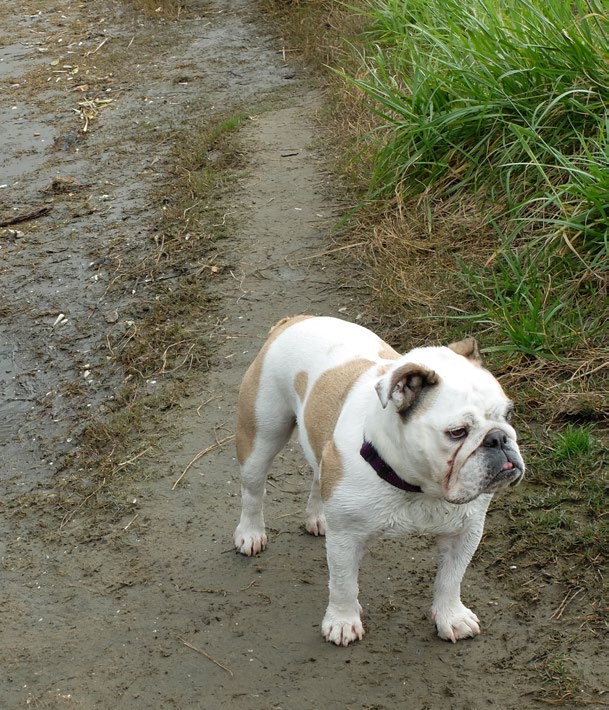 Lula can be resistant to walking. Sometimes, on his lunch break, Scott Satherley will take her to the park, but it isn't until the end of the hour that she begins to enjoy it. Then it's back to the office, where she's known to be a bit idle.
Further North, near the mouth of the Hokianga Harbour, Scrumpy and Rocko are hunting for rabbits. Two rescued mongrels, the pair belong to conservation workers Courtney Fort-Davis and Liam Kiely, who live on a 17-hectare property with a menagerie of pigs, chickens, a small banana plantation, a native seedling nursery, plentiful vege gardens and areas of regenerating native bush. While their owners are at work, Scrumpy and Rocko are enclosed in a pen of about four by five metres, which keeps them off neighbouring farms —where they could get shot. In the evening Fort-Davis and Kiely accompany the dogs around their property, letting them explore and play off-lead. They roam the paddocks and bushes, finding smells and sticks and sometimes puddles. Perhaps the most exciting activity for Scrumpy and Rocko on these walks, though, is rabbit hunting. They chase the pests, then dismember and eat them.
"My dog is a monster," Fort-Davis says, laughing. "They've been domesticated to a degree, where they want to jump on the couch and cuddle with you, but they also still want to tear a rabbit apart." Kiely chimes in to point out that rabbits, while cute, are pests. "Animals are going to do what their nature tells them to do," he says.
Kiely and Fort-Davis set boundaries: the dogs never roam without them, and every six months the dogs do kiwi-aversion training. This involves being zapped by an E-collar if they go near a pile of kiwi feathers collected for the training. It sounds simple and relatively painless. The trainers test the shock strength on themselves before subjecting the dogs to it: Kiely describes it as "just a little zap". When going past a second pile of feathers, the dogs get a second zap if they didn't learn to stay back the first time.
While the pair don't celebrate their dogs' birthdays, and the only item of clothing that has ever been put on either of them was a Santa hat (it didn't stay on for long), Scrumpy and Rocko are considered family members. Sometimes, Kiely will sing them pop songs, replacing lyrics with their names. They're fed standard food from the farm supply store, either Tux or Pedigree, though neither owner can quite remember which brand. The point is it's nothing fancy or expensive.
For treats, Fort-Davis will buy deer antlers, bones, or the most coveted treat of all: a can of tuna. On very special occasions the dogs may receive their own piece of fish from Opononi Beach Takeaways. Their play time is heavily focused on running about outside: in the mud, at the beach, with a stick or a ball. What's the best way to love something? Perhaps to let it be itself.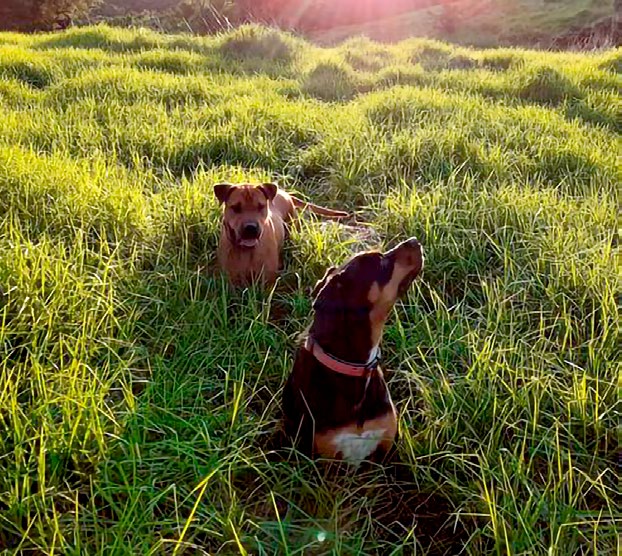 Scrumpy and Rocko, though born of working-dog stock, are companion animals. During the week they enjoy the evening sunlight on their daily walks around the property, and in the weekends they love going to the beach.
"COME TO ME WILD AND WILD"
Back in Christchurch, it's the finale at The Colombo's inaugural dog show. All 32 contestants are lined across the stage, held still by leashes or hands. Tina Turner's deep voice booms out across the mall: "You're simply the best, better than all the rest." For the whole song, all four minutes and ten seconds of it, the dogs receive the appreciation of the audience clapping and cheering. Bean wears his winner's sash like a beauty queen, and the rest of the dogs are pinned with specially made rosettes.
"No dogs were harmed in the making of the show," jokes a spokesperson for the Colombo mall. Tips on dog dressing posted on The Colombo website emphasised that dogs should come first, asking that people not force their dogs into clothes and stating that any dog who looked distressed would be disqualified. One tip read: "Dress the dog just before the show, and undress it straight after — your dog probably doesn't want to wear clothes in the car all the way to The Colombo and back home." If this is the case, it begs the question of whether dogs want to wear clothes at all — and if so, why have the show in the first place?
The dog show was a big operation, with months of planning and days of set up. On the day, 16 staff were on the ground, staying alert. "When you're mixing dogs and public, you've got to be so careful," says Cooper. But everything went smoothly. There have already been requests to register for next year's show, and while they aren't being accepted just yet, the show was such a success that Cooper is all in for round two next year.
To some, treating dogs like fur babies is benevolent, or even positive. It shows an increasing attentiveness towards dogs, and an elevation in empathising with them. It might not be accurate to treat them as humans, but at the end of the day they benefit from the love, even if it's slightly misshapen. They're enjoying the creature comforts of premium food and warm beds. It is also a symptom of our society, in which social bonds are eroding, families are tightening, and communities are being divided into self-reliant households. Dogs then, fill social and emotional holes left by these changes, and are happy to do so.
"Dogs are very unique and important members of our households, and part of the family, but they are not fur babies," says the Veterinary Association's Sally Cory. Dogs may be able to tolerate our pampering, but humanising them isn't without problems. They're obliging creatures, whereas we are demanding ones, with a power imbalance tipped in our favour. Humanisation changes what we expect from dogs and what we think they need, and our affections can begin to go astray.
Erin Jones thinks we need to stop thinking that dogs exist for our enjoyment. "Assuming that dogs should be available for us to interact with in any way we want, whenever we want, is really problematic," she says. Instead, we need to consider things from their perspective. But "dog" is a broad brush. People are not all the same, nor want the same things in life. And neither do dogs. Many dogs like running on the beach and retrieving a stick. But Jones' dog Juno is completely uninterested in playing fetch. "She couldn't care less about that. She's like 'No thank you,'" says Jones.
"If we really purport to love our dogs so much, then we need to be able to understand them, and we need to be able to respect what they are saying," says Jones. They are often giving us signs of how they feel and what they want, but people are very bad at reading them. Yawning is a dead giveaway that a dog is feeling uncomfortable, as is licking their lips and freezing completely. People often misread these as cute: there are thousands of videos on the internet of this behaviour with fawning captions. Much dog communication happens through body language, which is another reason not to clothe them — because it restricts and conceals their movements.
It's hard to image Lula, Bean, Starlet, Gus, Bun or Portia being able to lead the lives of Scrumpy and Rocko. For one, they aren't much bigger than rabbits, and would be totally incapable of catching one and tearing it apart. But perhaps we underestimate them. Puppy Bun did, after all, get that chicken.
Gabi Lardies is North & South's junior staff writer. This role is supported by NZ On Air's Public Interest Journalism.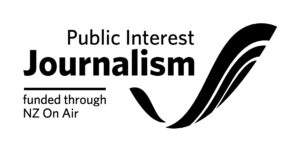 This story appeared in the December 2022 issue of North & South.