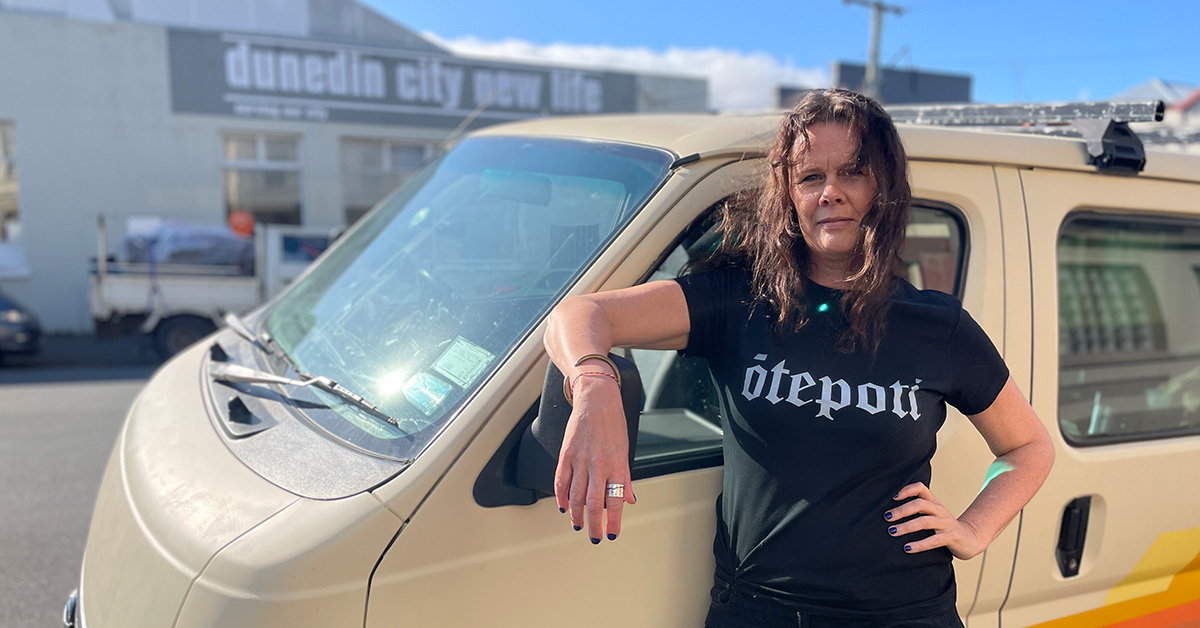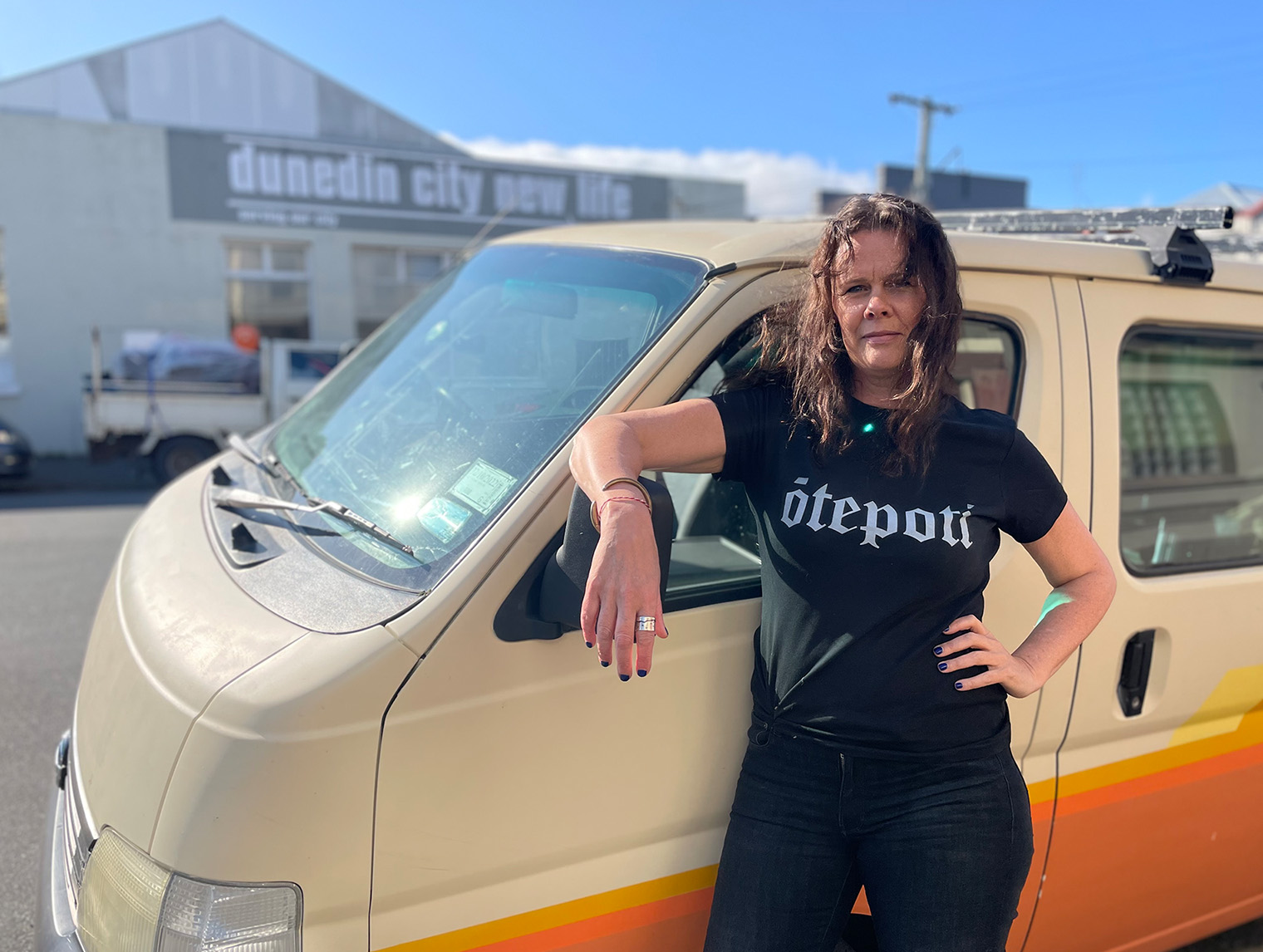 The last two years have marked big changes in writer Pip Hall's life, including the end of her 19-year marriage, a move south to her childhood town, and writing the third season of the crime drama, One Lane Bridge. Hall, a ball of mischievous energy, is ready to face all of it head on.
Story and photography by Eric Trump
I leave Queenstown on an early winter morning, following the slack thunderbolt of Lake Wakatipu west under a brightening sky. Poplar and birch leaves are stained musty yellow, and smooth shingle rests under water so still and clear it might be sealed in glass. Beyond town, the road rises, the Tooth Peaks ahead, seamed and speckled with snow. Alongside me a soft tide of fern, flax, and moss streaks past.
Passing through Glenorchy, the ground temperature has fashioned a thick, motionless fog in the valley, obscuring everything but the road. As I exit the town, ghostly words slip under my high beams: ONE LANE BRIDGE. A man wearing a safety vest waves at me to stop. As the sun rises higher, the fog dissipates, and the bridge comes into view. A film crew is at the other end in a state of controlled frenzy, and I drive gingerly toward it, the bridge's expansion joints pulsing under me.
I'm here to meet Pip Hall on the set of One Lane Bridge, the much-loved TVNZ murder mystery of which she is co-creator, writer and producer. Aired in 20 countries since its debut in 2020, the show shot its third season earlier this year — it's slated to premiere in October. The show stars Dominic Ona-Ariki as newcomer detective Ariki Davis and Joel Tobeck, who plays his veteran Queenstown counterpart, as detective senior sergeant Stephen Tremaine. Each season centres on a death at the bridge, which reawakens Davis's matakite, or second sight, allowing him communion with the dead.
The show is an important part of the local film industry that has helped keep Queenstown humming since the pandemic stifled international tourism virtually overnight. Two-thirds of the crew for season three are from the Queenstown area, and the in-council film office, Film Queenstown Lakes, estimates the show has pumped $4.1 million into the local economy.
Hall has written every episode of One Lane Bridge, which was originally directed by her husband of 19 years, Pete Burger (Ngāi Tahu). That creative collaboration ended about the same time as their marriage, in late 2020, which unleashed a series of profound changes for Hall: she turned 50, her and Berger's adult children left home, the Westmere house they'd grown up in was sold, and Hall moved to Dunedin — away from the heart of the country's film industry, but close to the location of the show which has acted as something of a guy-line during this period of personal rupture and rebirth.
When I arrive on set, Hall is near the bridge in the tented "video village" — a collection of sound and video recording equipment where mixers and script supervisors work. She waves a greeting, rising from her chair with sudden grace to reveal her full, loose-jointed height. A basketball forward since high school and former Otago rep, these days Hall plays with a team of friends who have known each other for decades, called the NZOBT — "OBT" standing for "Old Basketball Tarts".
Bundled against the cold in leather ankle boots paired with rolled purple socks, a pink woollen cap, and a high-vis vest over her coat, Hall is today wearing a musky perfume named Blood Moon that she created herself. "I think of myself as an Amazon, but also a Glamazon," Hall says, her voice ringing with raucous clarity. To her children Billie and Tamai, Hall is known as Mama Hawk, owing to her fierce protectiveness. On set, however, the crew calls her Auntie Funtimes, a name she earned for leading the charge with adventures like night swimming off a nearby jetty; participating in a "witching circle" to celebrate the new moon; and hunting down a wrangler to organise a real eel for a scene in One Lane Bridge because Rodney, the rubber eel on set, just wouldn't do. "Even in a show as dark as One Lane Bridge I try to find joy," Hall says. "I think celebrations and laughter and rituals should be part of life. Especially when things are difficult."
On one level, One Lane Bridge is a dark police procedural. On another, Hall has created a myth for Central Otago and Fiordland, the mercurial landscape and the brooding bridge serving as its protagonists (fans have been known to stage their favourite scenes under the bridge, sharing the footage on social media). Incorporating leitmotifs such as geckos and eels, Hall structures the first two seasons around elemental features of New Zealand: land and water. The bridge is both real — spanning as it does the clear grey waters of the Dart River — and symbolic, a link between the living and the dead.
Today, the crew is about to film the last scene of season three, and emotions are taut. A solitary figure in an ankle-length puffer jacket gathers himself on a grassy knoll: Ona-Ariki. Director Caroline Bell- Booth stands on the bridge, inhales deeply, and shoots her arms out. She looks up, then spins around to face the scene.
Sitting in the director's chair, Hall grows quiet as she puts on headphones and leans forward, a cat before a mouse hole, to peer into the small screen that will show her how the final scene of the series unfolds. Next to her is Phoebe McKellar, the actor who plays local police officer Tilly Gardiner. Hall focuses on the bright square before her, a benevolent Prospero, using her potent art and airy charms to create the world that would soon come into being.
Then, someone calls Action!
The daughter of the much-celebrated playwright Roger Hall, Pip has worked to make her own name in the entertainment industry, writing and acting for New Zealand film and television since 1995, including acting in episodes of Shortland Street and writing for The Brokenwood Mysteries and 800 Words. In 2018, her stage adaptation of Maurice Gee's Under the Mountain premiered in Auckland, and she was head of the New Zealand Writer'a Guild for four years. Lisa Chatfield, a producer on One Lane Bridge, says she's not sure she would have taken on the show with anyone but Hall writing it, calling her the most "match fit" writer in the country. "She's nimble, knows how to take her time, but never miss a deadline," Chatfield says. "She's never not writing. And when problems arise — schedules get pushed back because of an illness, say — she does yoga or goes for a walk and writes her way out. There's no drama without drama, but Pip manages it."
"Pete and I had a lot of good years, but obviously grew apart," Hall says. "I didn't think my marriage was over, but it was. He told me it was. And then my life as I knew it was over."
Born in Wellington, Hall spent her childhood in Dunedin — Roger was was a Burns Fellow twice at the University of Otago, and then taught playwriting in the university's English department. Hall eventually attended Otago herself, signing up for a now-implausible combination of law and economics. "I think I failed most of my papers that first year," she says. "I spent most of my time either in bed with my boyfriend or playing basketball."
A trip to London in 1992 changed everything — "I went to about 60 plays and musicals," she recalls. "I watched everything, and eventually figured I could do what they did." She changed her major, graduating in theatre studies and drama, and has been writing for nearly 30 years.
One of her abiding motivations with writing is to figure out why people do the things they do, and to understand their many and varied motivations. Ever since she was a girl, Hall's been drawn to the narratives of others and the stories we tell ourselves. "I'd walk down the street holding my Mum's hand saying hello to people, just hoping they'd talk to me." She also wants to write in a way that makes the audience to lean into a story. I love being in the story, and letting it lead," she says. "I want them to figure out a puzzle and to make the story something beautiful."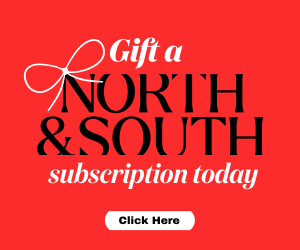 Ona-Ariki's role as Ariki Davis is his first lead, and he says having Hall to talk to is like having a superpower. "Ariki has to find and believe in himself, and that was true for me as an actor, too. Talking to Pip was a privilege and gave me confidence," he says. "And Pip's writing . . . I'd often think, 'Damn, Pip. Look at you go!' I think she is one of those people who has no choice but to write."
One Lane Bridge is the first show for which Hall has written every episode. She thinks of it as her baby to nurture. "I explore the cast as they evolve, flesh out metaphors, visit the set constantly," she says. "I broke off pieces of myself and put them into each of the show's characters."
If you know what to look for, you can see echoes of Hall's life in the character of Ariki Davis in particular: a story of finding your feet, then experiencing grief and rupture and — in season three — growing up and figuring out where you belong.
It's one of those breathless winter days in Dunedin, when I meet Hall a few weeks after the season's filming has wrapped, at the home she bought here after her split from Burger. Sun and shadow mottle the top floor, where crystals — malachite, amethyst, citrine — sparkle on sills and shelves. A glass door opens onto a tiled terrace offering a view over peaked roofs and chimney pots to the glittering Otago Harbour.
Hall and Burger are well-known in the New Zealand entertainment industry — Jermaine Clement and Bret McKenzie performed a song for their wedding ("People like Pip love people like Pete, they meet at parties they meet on the street," the Conchords sang. "People like Pete love people like Pip, they get together, form relationships.")
Looking back now though, Hall says she was a "film widow" for years, and that the industry in general takes a toll on relationships. In hindsight, she was surprised her and Burger's marriage lasted as long as it did. "Pete and I had a lot of good years, but obviously grew apart," she says. "I didn't think my marriage was over, but it was. He told me it was. And then my life as I knew it was over."
Covid-19 restrictions in Auckland last year and her own intuition led her back to Dunedin, a city which is both familiar and new. She imagined she could live here, and so she made it happen. "I thought: why not look at this as an opportunity, take no half measures and break loose."
She can't wait to rediscover Dunedin, and Hall says her hometown has a refreshing lack of people compared to Auckland. "I'm not exactly haunted by Auckland, but I knew gossip about Pete and me would make the rounds," she says. "I'm untethered from all that in Dunedin. And, new rule: no more industry romances," she says, laughing. The move fits with the advice she has for writers: you need a big life. "Be vulnerable," she says. "Get out there and live."
Hall thinks about what she'd like to do — surfing, learn guitar, maybe start a band. Unlike most of us, Hall has a track record of actually following through on plans like these. In 2009, she and her friend Judy Dale wanted to do something "fun and joyous", so they decided to get into synchronised swimming. But when they rang around trying to find a group to join, they learned that, at 35, they were already considered "too old" for the sport. So, they launched their own water ballet troupe, the Wet Hot Beauties, staging 1940s-style aqua-choreographies with a "cheeky modern twist". It was a hit. By 2017, the troupe had 88 women (and some men) in the pool, and 30 backstage. "We all were just finding our feet, and sometimes we were out of synch," Hall says. But the experience was profound. While the project's currently on hold, Hall has had her eye on the hot saltwater pool at St Clair beach. "I think it could use some Wet Hot Beauties," she says.
As Hall opens her front door to escort me out, an elderly gentleman wearing black boots, a red skirt, ermined shoulders and a bicycle helmet painted gold strolls past. I wonder if Hall is recording this figure in her mind's eye for future use. Parked nearby is a vintage 1970s Nissan van, caramel and white with bold orange and lemon stripes. "It's a prop from season three," Hall says. "It belonged to a character who plays a spiritual tumbleweed. She's drawn to the bridge for reasons she can't explain. I bought it fully furnished, dream catcher and everything. I just drove it off the set."
Then she points to something else. Directly across from her home is one of the many churches occupying the street. This one appears derelict, but has a name that sounds like a summons, a challenge: Dunedin City New Life.
"Dunedin City New Life," she says. "Exactly."
Eric Trump writes and translates in Dunedin, where he also teaches English literature at the University of Otago.
This story appeared in the November 2022 issue of North & South.