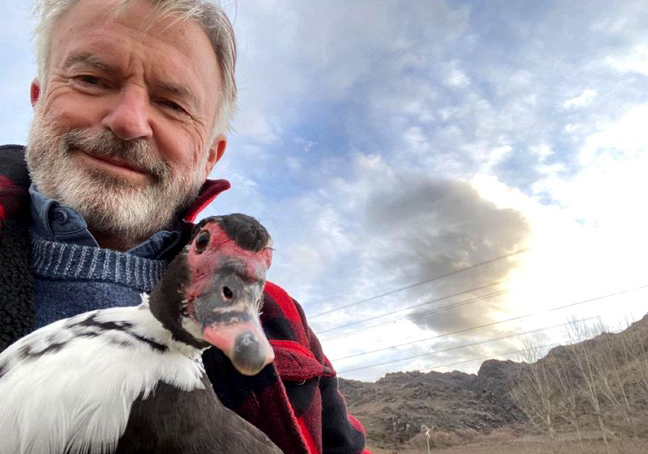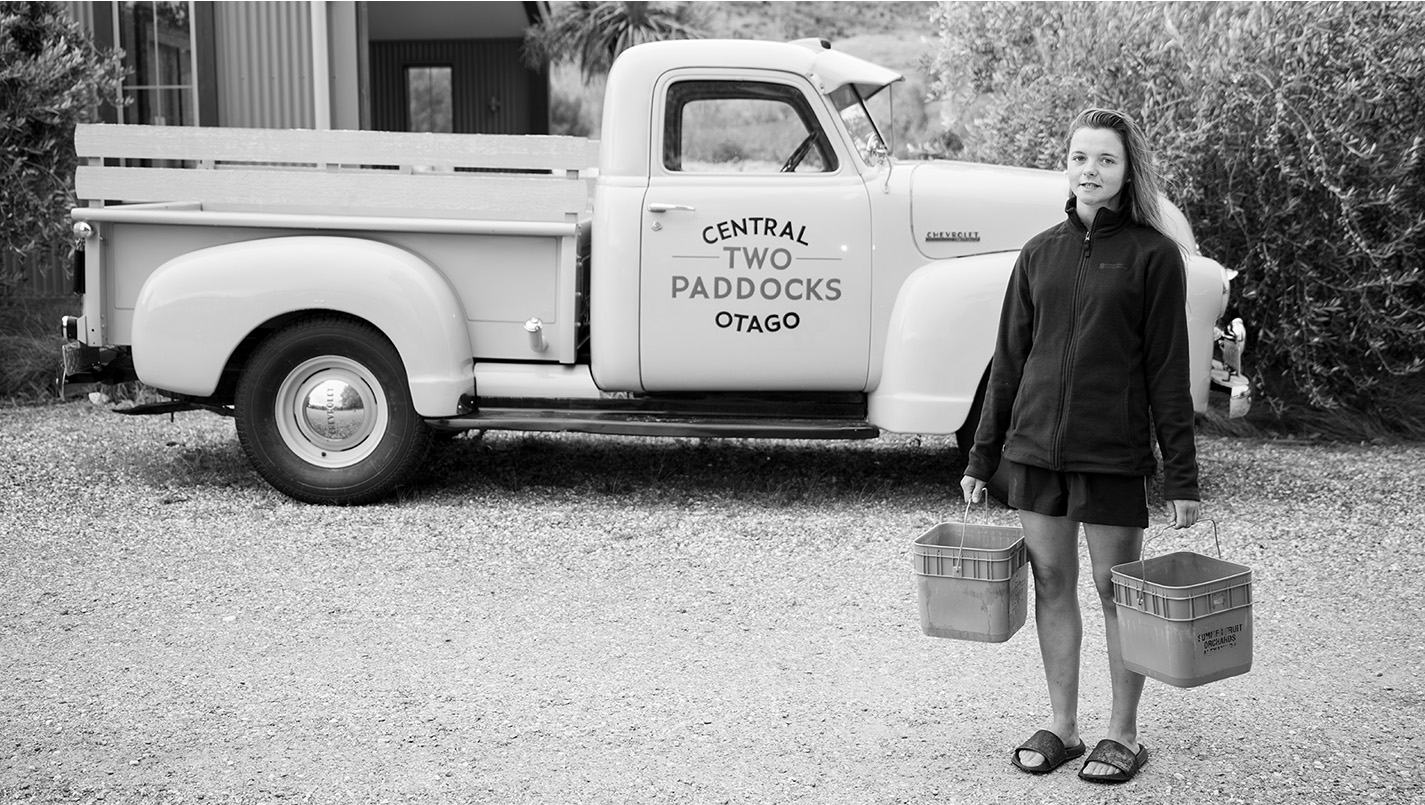 Above: Harvest worker Audrey Le Scour at Two Paddocks HQ.
Film star Sam Neill is quietly proud of his Central Otago winery, nestled in the part of the world he still loves best.
Sam Neill is a bit heartbroken. Ten days ago, a flurry of snow swept through Central Otago and the late frost means there'll be no apricots from his trees this season. "My famous apricot jam is off the menu," he says. "Bugger."
This time of year is "terrifying" at Neill's winery, Two Paddocks, because it's when most of the vines are in delicate bloom and highly susceptible to changes in the weather. "We've had some brutal shocks," he says. Two Paddocks has been running for nearly 30 years, and during that time most of its focus has been on pinot noir, a particularly fussy variety Neill knows is "the most tricky grape of all". Very few pockets in the world can grow it well, he says. "It's very choosy. It doesn't like it too hot and it can be very tough when things go wrong."
Neill is speaking to me via Zoom from Sydney, where he's been shooting for the fantasy adventure film The Portable Door, though the 75-year-old has taken a bit of time off lately to finish his memoir, Did I Ever Tell You This?, due to be published by Australia's Text Publishing in May next year. It's been busy this year for Neill: he was knighted in October for his outstanding contribution to film, and has starred in the Australian courtroom drama The Twelve, which is streaming here on TVNZ. I've caught him during a moment of reflection — he has handed in the first draft of his memoir ahead of schedule. The writing happened both unexpectedly and quickly in a burst of creativity over just a few months this year. "It's been interesting to reflect on my life," Neill says. He admits to wondering at three in the morning: "Should I have told that story? Where does privacy begin? And have I been indiscreet here?" When pressed, Neill stays mum on specifics, saying only that the book will include tales about girlfriends, co-workers and "people you might see in the newspaper".
Working on films is "ephemeral" and "an enormous amount of fun", Neill says, and his acting career has taken him all over the world. "But my wine life is something else. I'll leave behind a legacy, and that's an achievement. I'm quietly proud of that. Not in a big way of course," he chuckles, "because I am a New Zealander. But I'm modestly proud of what we've done. It's epic, but in a modest way."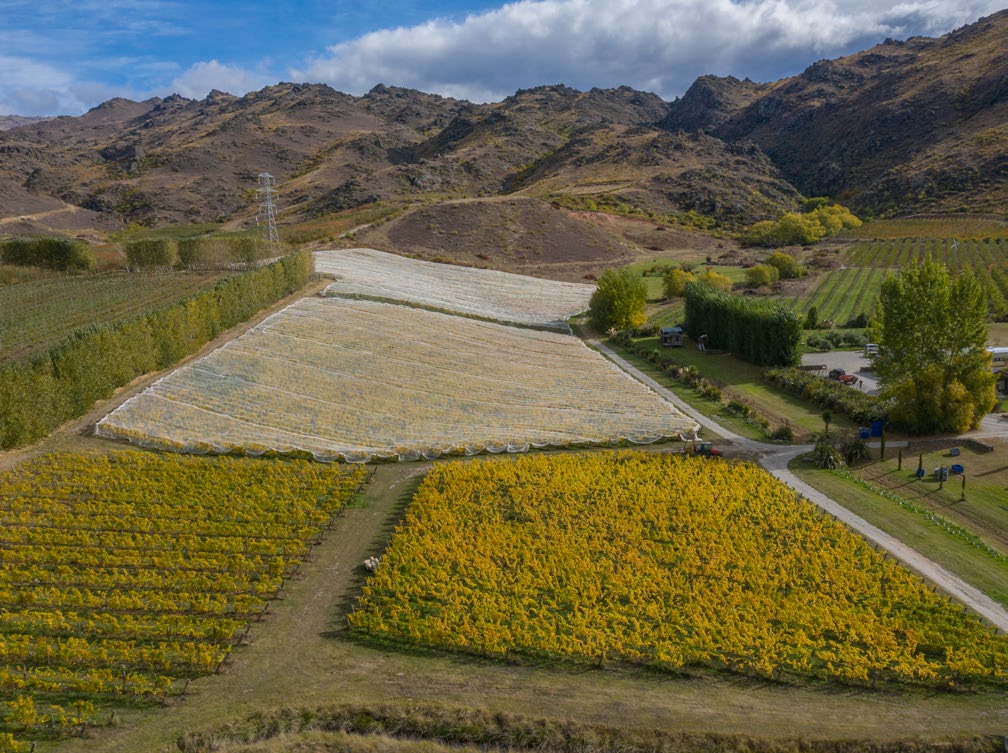 The home block near the label's cellar door. The winery has sites in Central Otago's three major wine valleys: Bannockburn, Gibbston and Alexandra.
It was the cusp of a new decade, three or four years after the release of 1977's Sleeping Dogs, the film that launched Neill's career, that he found himself in Europe with his friend, the English film star James Mason (the two starred together in the 1982 telemovie, Ivanhoe). While visiting Switzerland, Mason took Neill to what had apparently been Charlie Chaplin's favourite restaurant, near Montreux on Lake Geneva. "We had a bottle of wine there that I found like nothing I'd experienced," Neill recalls. Before they opened it, Mason told him: "This is Burgundy boy, and don't forget it." He never did.
"I became sort of obsessed with pinot noir and white and red Burgundy," Neill says. On a visit home to New Zealand during a stretch living in London, he visited Rolf and Lois Mills of Rippon winery in Wanaka. The pair produced a couple of vintages of pinot noir in the early 1990s which Neill says opened his mind to all kinds of possibilities. In 1992, Greg Hay of Chard Farm winery decided to develop land further down Gibbston Valley. He told Neill they planned to plant six vineyards, and that if he wanted to be involved, he could have his pick. "I thought, 'this is too good to be true'. I took 10 seconds to shake his hand," says Neill. "The idea I could grow my favourite wine in my favourite part of the world was an irresistible idea."
Roger Donaldson, who directed Sleeping Dogs, was initially a co-owner with Neill. Neill had one paddock, Donaldson the other. A year later, Two Paddocks was born.
"I hadn't really meant to get into it," Neill says of his wine endeavour at Two Paddocks, which has become widely celebrated for its pinot noirs. It was like how he got into acting — a "divine muddle". "I never thought I'd have a career and just one thing led into another. It wasn't until I was 30 I thought I was an actor." Similarly, there was no long term plan for Two Paddocks. It wasn't until the first couple of successful vintages that Neill decided to expand from that first site in Gibbston, acquiring three more vineyards in nearby Alexandra and Bannockburn in 1998, 2000 and 2013 ."I can't imagine being anywhere else. Not for a moment. To be able to produce something beautiful there, as well as live there, is honestly very satisfying." The Gibbston vineyard was sold after being put on the market in 2021, but Two Paddocks still holds a long-term lease to manage and use the fruit from the land, with the intention of buying another vineyard closer to the winery's headquarters.
There's two blends produced — the Two Paddocks PICNIC you can enjoy "one or twice a day", and its big sibling, Two Paddocks Pinot Noir. Both are barrel selections sourced from all four vineyards.
There's also small volumes of single vineyard wines, depending on what happens in the season. "Because we're spread over four vineyards there'll always be one or two that shine," says Neill. "First Paddock in Gibbston has more altitude for example, and the Fusilier Vineyard that is next to Felton Road pops every year."
Neill seems very au fait with it all. "The Last Chance in Alexandra, that's also consistently reliable. Those are the three much rarer single vineyard offerings."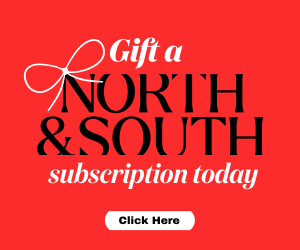 Though Neill has been spending a lot of time this year in Sydney for work, he's been coming and going from Two Paddocks in Central Otago regularly. It's a place he's become "infinitely more involved" with over time. Neill spent many summers in Otago as a kid, holidaying, trout-fishing, and camping in wild places. In the winter the family would go skiing. "Central Otago was my dream landscape, the place I loved most in the world." "It's still true," Neill says. "Soon as I get off the plane and see that wonderful blue sky, and feel it inhaled into my lungs, I'm at home there like nowhere else on earth."
He's excited about the winery's development of an HQ at Red Bank Farm, in the Alexandra Basin. And the garden project around his nearby house, a New Zealand-style garden with Tuscan overtones ("Terraced. Cypresses, olive trees and so on").
It's a new chapter in the story, an "ongoing project, a lot of fun, and due to come to some sort of maturity this spring". The vineyards, too, are interspersed with lavender, saffron, goats that keep down the gorse, pigs and free-range chickens. "It's a bucolic life," he says. "I don't believe in monocultures. I can see vines stretching to the horizon and feel nothing."
I ask Neill about his social-media presence, which is one of the most entertaining in the wine world and regularly features his pet pigs.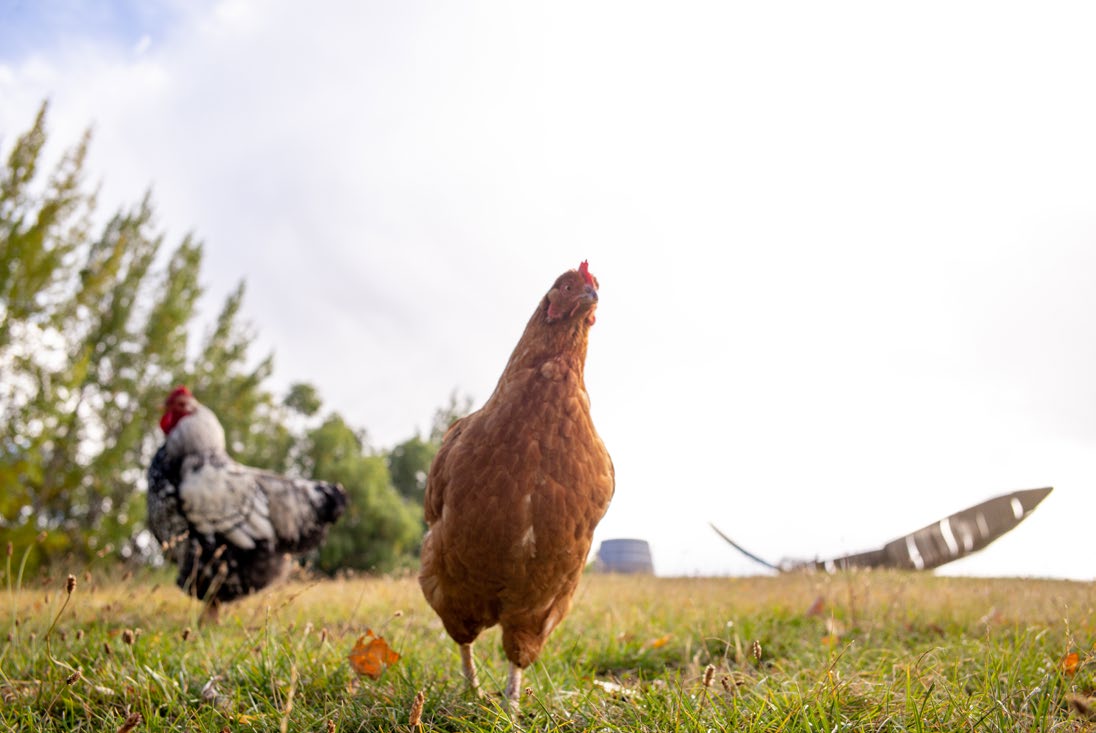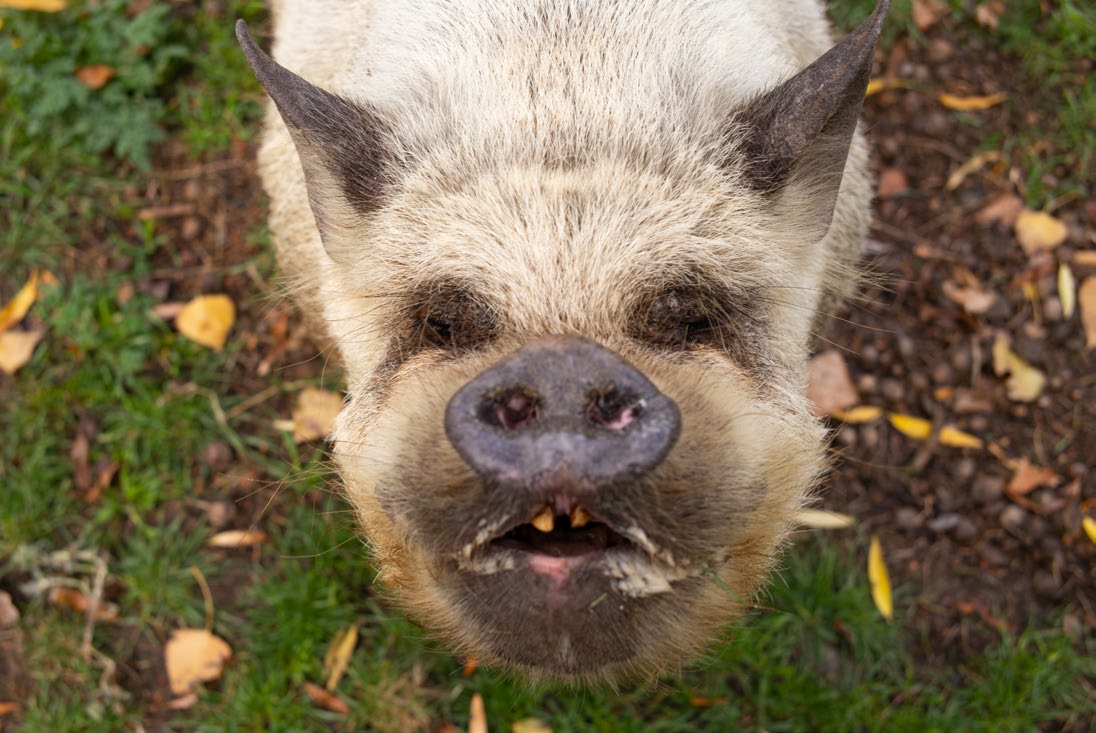 Fans of Neill's Instagram (@samneilltheprop) will be familiar with the Two Paddocks menagerie and its stars, like Angelica the kunekune pig. A Neil Dawson feather sculpture is seen behind the Sussex chickens.
"I entertain myself as much as anything else," he laughs. "You can turn into a wine bore real fast. One of the secrets to life is not taking yourself seriously. We're serious about producing serious wine, but it's not just chemistry. Wine's about a life fully lived. A great dinner is incomplete without a great wine. And a great life is incomplete without a great dinner with a great wine."
The Neill family already had wine history. In 1862, Neill's great-grandfather founded the general merchants Neill and Company in Dunedin. Neill's father became manager there after he left the army. and "I grew up in a house that knew about wines and spirits," Neill says. "That was back in the days when New Zealand table wine didn't really exist. The people who were growing grapes around Auckland were producing port and sherry — the sort of thing alcoholics live on. There was a small market for imported wines then, but New Zealand wine has revolutionised in my lifetime."
Wine, for Neill, is about companionship, conversation, and engaging with the people you love. "I'm very cognisant of the history of wine and how much pleasure it has brought mankind over the years," he says. "It's a universal language as ancient as civilisation itself. Making New World wines we can get into thinking we're doing something new, but we're really producing something with a provenance of thousands of years, part of a story of people producing wine in the most wonderful places."
For this reason he never wanted to make something that was just okay, or "half-arsed". When he drinks a glass of his own wine, it's "a memory redolent of the place; the wild herbs growing around, the extraordinary summer days, the people that put their time and labour into it.
"So I think it's sort of a love story really. Being in love with the place and with the grape, it just comes together. The connection to that little corner of the planet and the people there, and their feet being in the soil. There's something about little vineyards, and the human connection to them. It's a rare thing. There's a book in every bottle."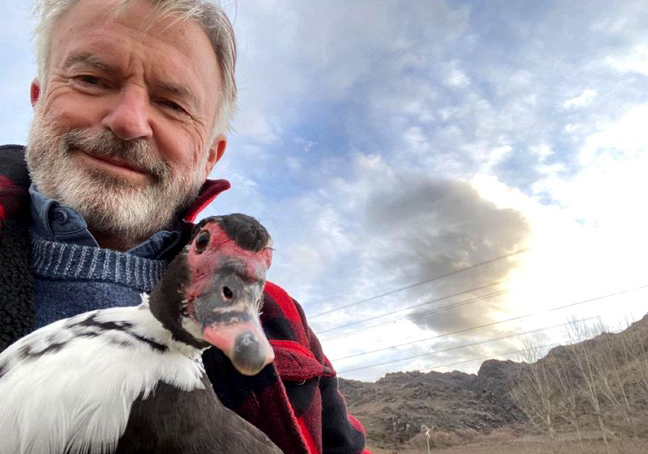 The vintner and his pet duck, Jane Kennedy.
Tobias Buck is North & South's wine columnist and a contributing writer.
This story appeared in the December 2022 issue of North & South.