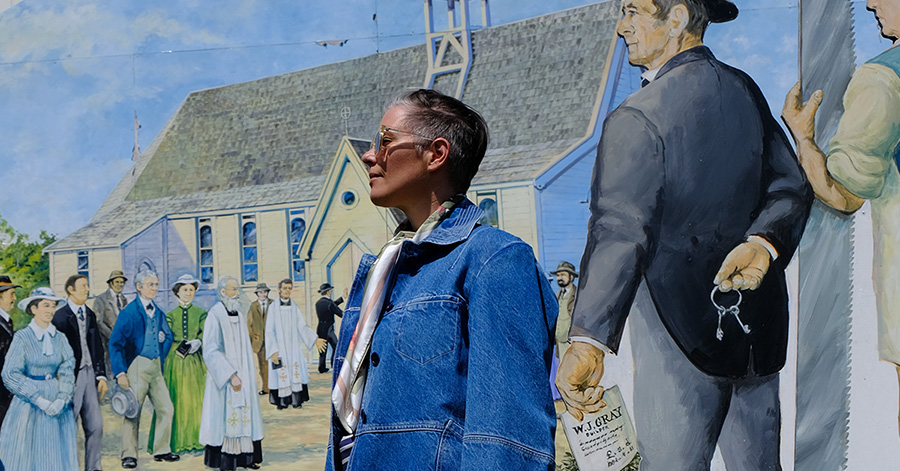 Lessons from a Church Wall
Fashion designer Karen Walker CNZM finds threads of family history in a Katikati mural.
There's a town in the Bay of Plenty called Katikati. You will have driven through it on the way to Waihi Beach or Tauranga. They grow avocados there, damn good ones. And kiwifruit. They have murals. Murals are their thing. That and avocados. The murals illustrate the town's story, many of them moments in its colonial past. They feature a lot of horses and women in long skirts. One of them stars my great-great-grandfather, William Gray. He looks handsome although it's not actually his face in the painting. The face is that of a contemporary Katikatian who paid a few hundred dollars to have his countenance painted on my great-great-grandfather's body. I assume all the faces on the mural are paid face-placements. I don't know about the golden retriever at great-great-granddad's feet. Maybe my ancestor had a golden retriever or maybe the canine paid to be on the mural too.Either way, it's a handsome dog.
The mural GGG appears in is on St Peter's Anglican Church. GGG built the church. Or, more accurately, co-owned, with a Mr Simms, the contracting company that built the church. I'm not sure how hands-on the GGG was himself. Certainly, in the mural he's wearing a bowler hat and a suit while the unnamed man next to him is the one with the saw and nails, so perhaps William Gray didn't know one end of a hammer from another. Either way, it's his name that went down in history as the builder.
It's a pretty enough church. Simple and solid and stolid in that way that small-town colonial New Zealand required, with just enough flourishes to impress and keep them filing back in each Sunday. It's built of kauri. It's got a few wee stained-glass windows and I can see it would be a perfectly nice place to sit and contemplate for an hour or so once a week. I was certainly happy enough to sit there for a spell on my recent visit, to ponder, breathe, meditate, which is as close as a lifelong atheist gets to a religious experience, I suppose.
Just building a pretty church isn't enough to earn you a mural though. William built many of the buildings in the town but we don't see him memorialised up and down the main street. No, the reason he's two metres high outside St Peter's is due to his business sense. Some might call him hard-arsed. I call him awesome.
What transpired was that after completing the church in 1883, the church building committee didn't have the money for their final payment of £30. When the East Coast diocese bishop, Edward Stuart, arrived to consecrate the church it was found to be locked and William Gray found to be unwilling to hand over the keys. The consecration was performed from across the street.
This scene is what's captured in the mural. GGG's shown holding the keys behind his back with one hand and clutching the unpaid invoice with the other. He looks steadfast. Bishop Stuart looks cross.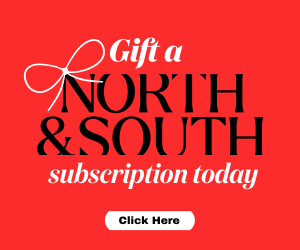 I always thought this story was merely family folklore, and so it was with significant familial pride that, when visiting the church for the first time last year, I discovered it to be completely true and the church very pretty indeed. Most importantly though, I realised that GGG had impacted on the aesthetic and theistic landscape of his town in a real way, as well as setting a standard in terms of his business integrity.
I recently came across Cyclopedia of New Zealand's Auckland edition from 1898. It had an entry about GGG that included this line: "As an energetic businessman it would be hard to find his equal." I love that William has reached out to me, across more than a century, with his gift of such!a beautiful, simple and elegant thing that's benefited his community for a dozen decades as well as his message of not taking shit from anyone. What a gift to pass on to your great-great-granddaughter.
And, in case you're wondering, the bill was paid, and the keys handed over seven months later.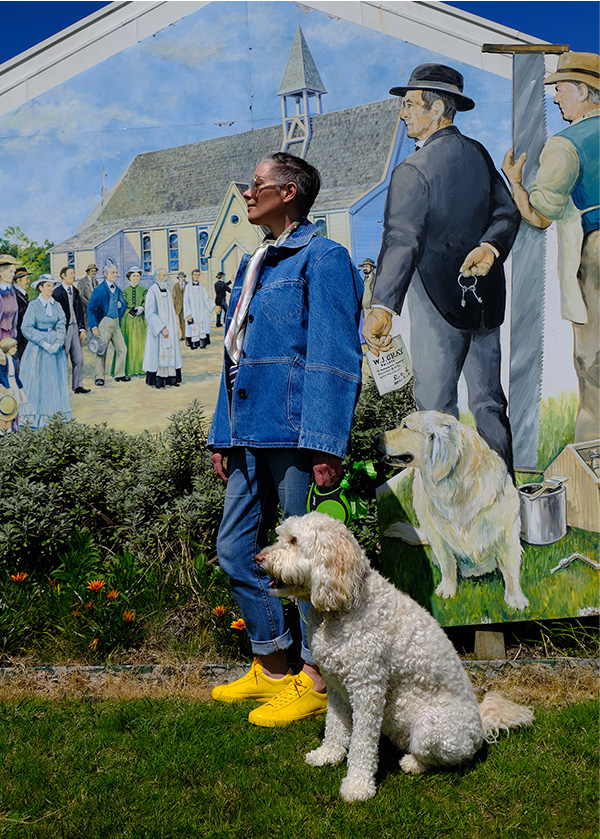 Karen Walker and her dog Laika in front of the image of her great-great-grandfather.
This story appeared in the February 2023 issue of North & South.