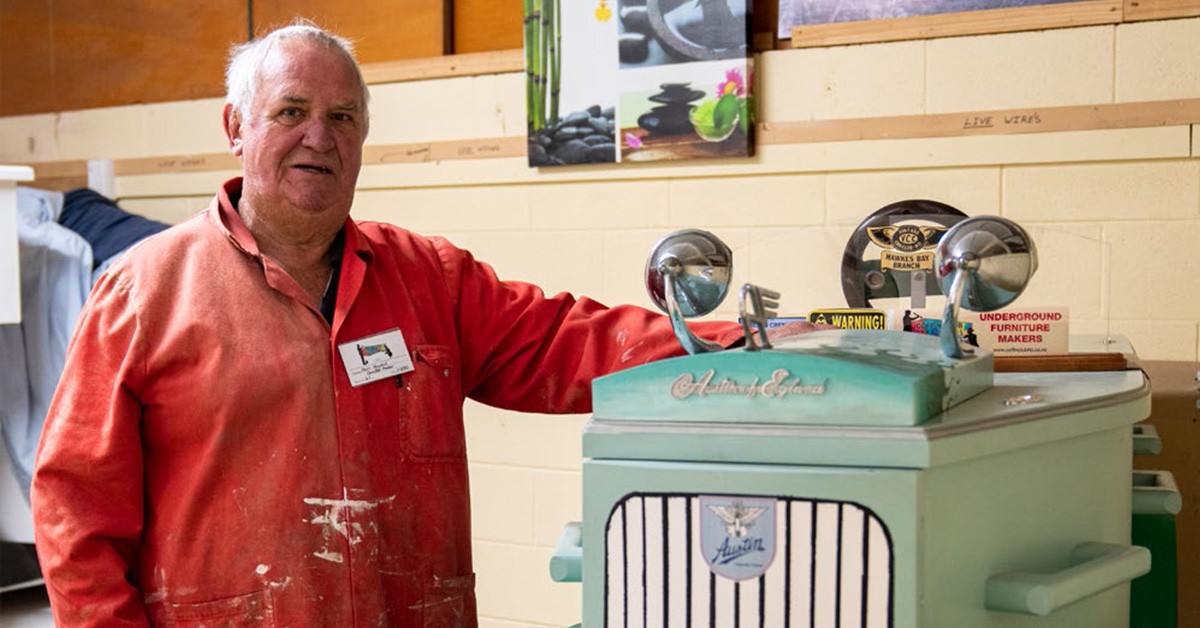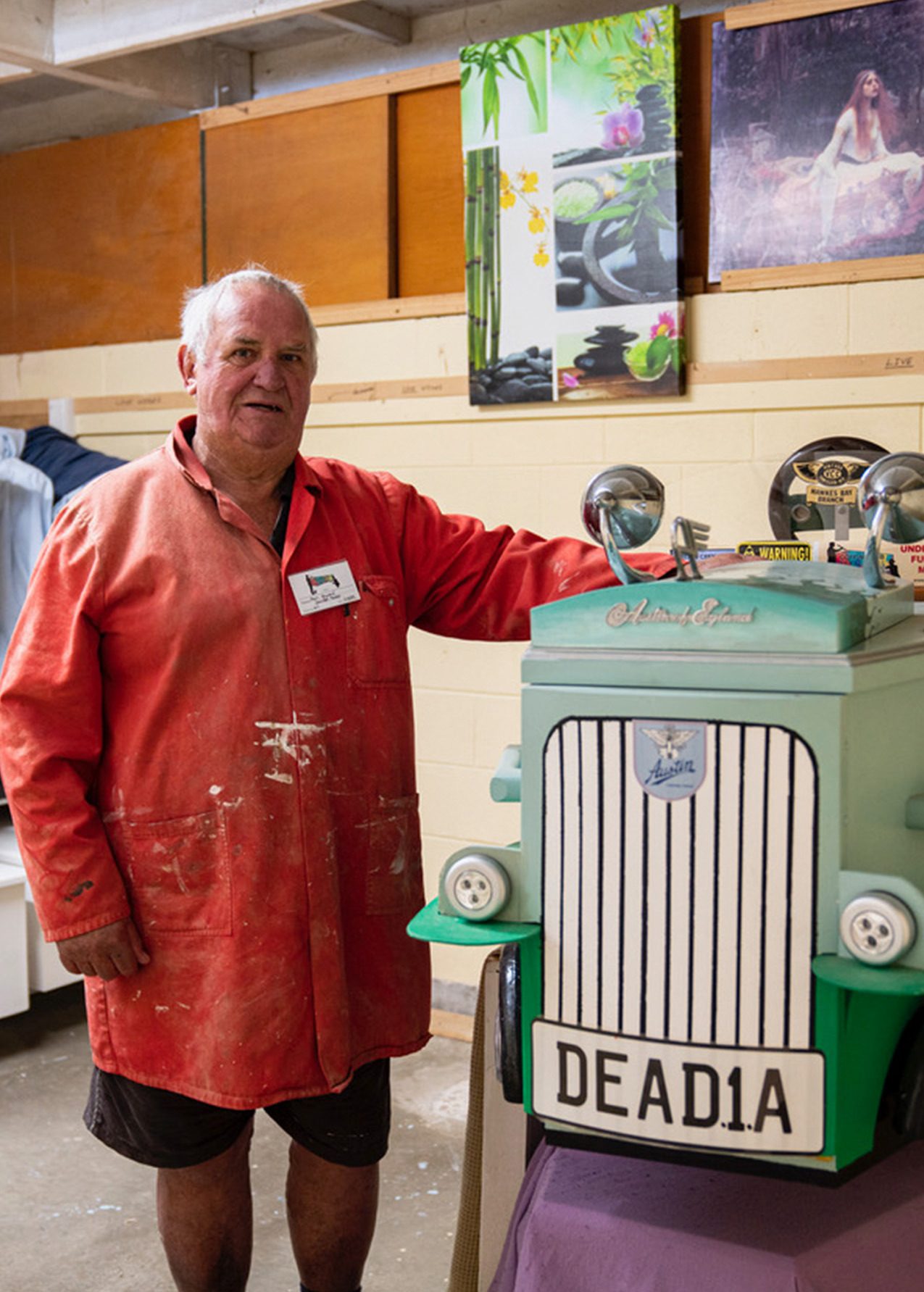 The "happiest club in Hawke's Bay" helps people get used to the idea of death — and exit the mortal world in style.
By Tobias Buck
Photographs by Richard Brimer
Kevin Heyward with his coffin.
The summer sun in Hawke's Bay always feels nuclear. Hot on the skin, it obliterates shadow. In the centre of Hastings, on any given late January afternoon, the asphalt car park outside Kmart feels it's liable to melt underfoot.
That's what the region's known for — all that brightness and light. The beach is nearby if you want to cool off, and there's always the beloved waterpark Splash Planet for the kids, with hotdogs, candyfloss and mega-size ice-cold drinks you can sip after floating down the lazy river. In Fantasyland, the park's oldest play area, there once stood a full-size playground pirate ship that looked like something out of Peter Pan. That is, until it was destroyed in an arson attack in 2015.
Near the waterpark in Hastings, down a drive on the street opposite the local sports field — where the old netball courts used to be — you'll find a pale-coloured two-storey pavilion with a sprinkling of white plastic chairs arranged outside. There's a pool, and an indoor gym, and a race track used regularly by the Hawke's Bay Radio Controlled Car Club. Pickleball Hawke's Bay sets up at the outdoor courts here most weekdays, but on Tuesdays — and every second Saturday or so — this is the domain of a group with a markedly different agenda.
They arrive industrious and cheery, these makers of "underground furniture" — some for themselves, some for others. They've come here to make coffins.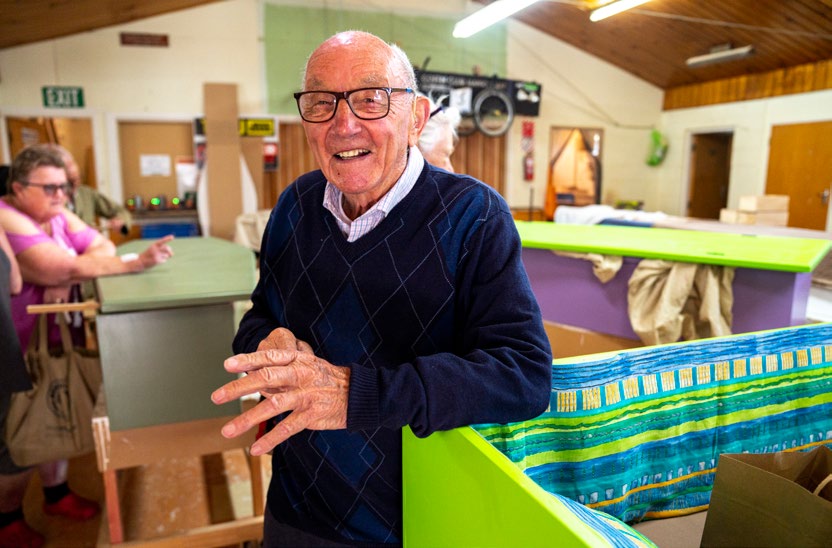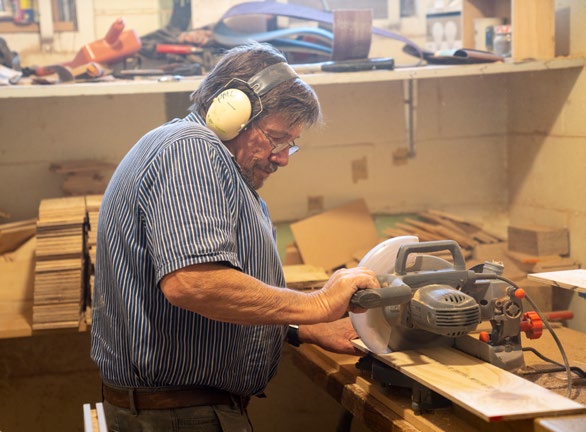 It's with some  glee that 76-year-old Kevin Heyward, grey-haired in overalls, hammer in hand, shows me the coffin he plans to be buried in.
Shaped like a downhill-derby racer, it's a big piece of construction. Heyward, who used to be a member of the Austin Car Club, has painted it to look like a classic Austin Healey. At the front he's added a personalised licence plate that reads "DEAD1A". "My grandkids gotta start weight-training to lift it up," he says.
Heyward is a long-time member of the Hawke's Bay Coffin Club, which began in 2014 to give members the chance to personalise their own coffins. It also provides a service for those who can't afford a funeral or even a casket, making it easier to exit earth with a little extra dignity. It's one of several such volunteer-run clubs in New Zealand, supplying coffins to beneficiaries and anyone else who either can't afford (or simply doesn't want) to spend much on their funeral arrangements.
The club also facilitates discussions about death and dying through its sociable meet-ups. Membership is $30 a year, which gets you access to resources including nails, glue, lining, paint brushes and a generous amount of tea and fruitcake. Plus, you get a discount at Paint Spot on Maraekakaho Road when buying your coffin's top-coat paint colour.
"We're the happiest club in Hawke's Bay," says club secretary Helen Bromley. It is quickly apparent at one of the club's regular get-togethers that this could well be the case. Members are chatty and energetic. Prized for their carpentry, painting and sewing skills, they're happy to share stories. Some say they have joined to take pressure and responsibility off their families, but most see the club as a practical service for others; sharing their skills to give back to their community.
Right now the club is on a recruitment drive. Members upload videos to YouTube, regularly post photos and updates on Facebook and put bumper stickers on their cars. At this year's Hawke's Bay Blossom Parade they turned a coffin into a buggy with wheels, dressed themselves as funeral directors, and rolled it down the street. "It was a great day," Bromley says cheerfully. "The whole thing went so well. We think we haven't had new members for a while then we suddenly do." A lady from Eskdale has just started coming in. And one from Taradale, she adds. "That's two!"
Meet-ups are busy. Coffins can't be stored on site indefinitely, so volunteers are given up to four months to finish them. (Before each coffin reaches its final destination six feet under, it will typically be stored at home, or in the garage, making a striking conversation starter). The basic coffins are MDF and come with two layers of undercoat, a baseboard and a plastic liner (mandatory by law), handles and lid-screws. The club completes them with two top coats in your colour of choice, and pads the baseboard and sides with duvet inner and whatever lining you'd prefer.
The coffins arrive in three shapes: tapered (wide at the top), the classic hexagonal casket shape, and oblong. The club will measure people against the wall and, if you're too short or tall for the coffins on hand, they're happy to make you one custom-sized. Members with basic carpentry and joinery skills share their knowledge with others, and artists and painters offer their expertise with decoration — though some people want a plain coffin, or an urgent one, which can also be arranged.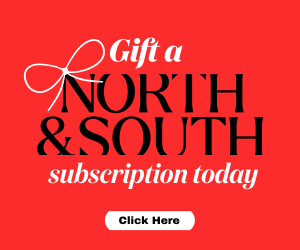 "We've had coffins painted with all the colours of the rainbow and, in fact, a rainbow coffin done," Bromley says. Glitter is not unheard of either. One club member recently had a blue and white coffin made, with Snoopy painted on the lid. A woman who has travelled extensively has covered her coffin with photos of countries she has visited, along with personal photos. The lining material is black, with the names of countries and cities of the world written in gold — she has even attached baggage labels to the handles. She has left blank spaces for places she still plans to visit. "I'm not planning to jump into mine just yet," she assures me.
This is a common refrain from the club's members who are, for the most part, not-quite-seniors. In fact there's more of a mix of ages than you might expect, as I discover at a morning tea featuring shared home-made fruitcake and scones.
There's a mix of cultural backgrounds, and an equal mix of women and men. Some joined the club after seeing the sign and becoming intrigued, others through friends who had their coffins made at the club. After one woman signed up, she says her mother-in-law told her there were "no surprises there — you've always been off the wall".
Peter McCormick, a new member, says he joined for social reasons at the behest of his wife, who was worried by how much time he was spending chatting to their dog. "She said I should give it a go or before long she'd wonder what was going on with me and that bearded collie." Another member joined at the start of the pandemic, and ended up staying on. "You come in fearing death but it becomes part of life. It's just wonderful."
Bromley herself became involved in 2016, after finding herself with a spare length of white satin. "I'd done a lot of dressmaking and had this big chunk of satin left over from my granddaughter's flower girl dress," she says. "I thought, what am I gonna do with this? It was just sitting in my sewing box." There was a lady she saw interviewed on television talking about baby coffins, and she rang to get in touch. "When I got hold of her she asked 'Are you any good with computers?'" As it happened, Bromley had just finished work as the administration manager at the Hastings Chamber of Commerce. Within a year, she was the Coffin Club's secretary — and her piece of white satin was lining the coffin of a local stranger in need.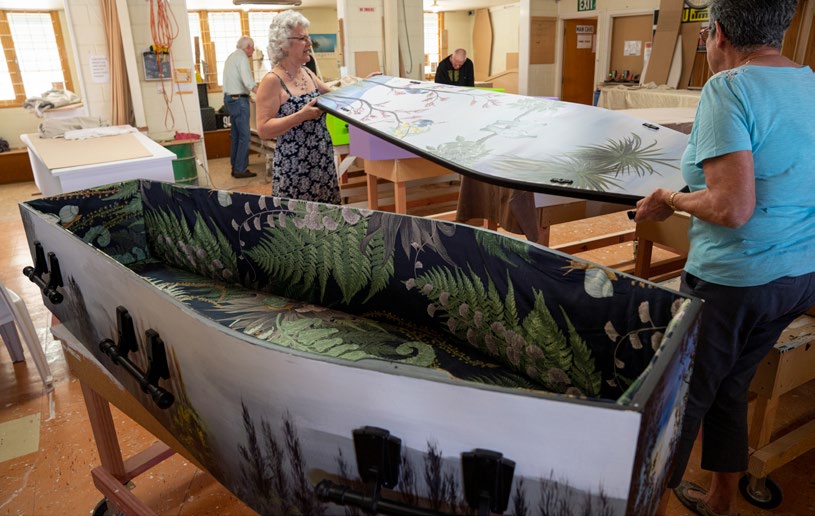 Judith Aitken (left) and Helen Bromley.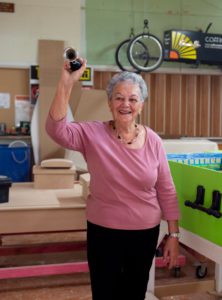 In New Zealand, the average funeral costs about $10,000, and the average coffin north of $1,000. (Work and Income will provide a funeral grant of up to $2,280 for low-income families, but this has been criticised as nowhere near enough to cover costs.) Earlier this year, funeral directors in Northland said more people were opting to be cremated with no service after the price of caskets rose, thanks in part to an increase in wood and fabric prices. By comparison, the Hastings Coffin Club can supply you with a coffin for just $600 — and, since it's yours, you can decorate it however you wish. The rate has attracted people from well beyond Hastings. "We've done coffins for people in Dannevirke, Napier, and Gisborne," says Heyward. "A guy came down from Thames requesting three coffins for his mates. He took them all back on his trailer."
All the club's coffins are accepted by Hawke's Bay funeral directors and at the Hastings District Council Crematorium. The latter has also started commissioning ashes boxes from the club, after deciding it wanted to source the boxes locally. It orders about 200 at a time: 100 small, 50 medium and 50 large, Heyward says. Each order provides extra money needed to cover the club's overheads.
Out the back of the community centre's workshop there's a separate room, where baby coffins are kept stacked on three shelves. They tend to be white, with stickers and motifs of flowers, butterflies, teddies and toys on the lids.
"We donate to Ata Rangi, the maternity unit at Hawke's Bay Hospital," Bromley explains. They also supply baby coffins to Gisborne Hospital, midwives in Wairoa and Whanganui, and any community member who needs one. Bromley doesn't like lining the small coffins with white satin anymore, preferring instead printed fabric from Spotlight; flannelette or soft cotton — something warm and suitable for kids. Club members knit what are known as "angel pockets", a kind of blanket babies are wrapped in so their bereaved parents can hold them after they die. The women also knit crochet tiny hats and little pillows. When they're finished, they're sent to a place in the hospital called the Butterfly Room, which is full of coffins, nightgowns, blankets, quilts and beanies. "A mother can choose what they want," says Bromley. "It's important that they can choose."
As a society, we aren't great at talking about death — and especially not the practicalities of what happens when people die. It can be hard to face, and it can be sudden. "There's an element of forethought the Coffin Club represents that is as important as the actual coffin-making," Bromley says. "I used to work in a bank. I know about Powers of Attorney and planning ahead. That's what takes away the stress from bereaved families." She's helped plan funerals for family members and has practical support to offer, as well as empathy. "Most people have just never dealt with a dead person and don't know what to expect." She hasn't got round to making her own coffin yet, though. "I don't know if there's room. It'll have to go in the shed with the wood when I do."
One club member tells me that her family finds her membership "quite morbid". "They're not really open about death." When she visits, her mum won't get out of the car. But the club takes that fear away. "It's fun," she says. "It changes your attitude." Painting a coffin is a bit like decorating your final bedroom, adds Cherie Hames, the club's treasurer. "It's just more of the same. You decorate your car and your home. Every aspect of your life. Why wouldn't you do the same for your coffin too?"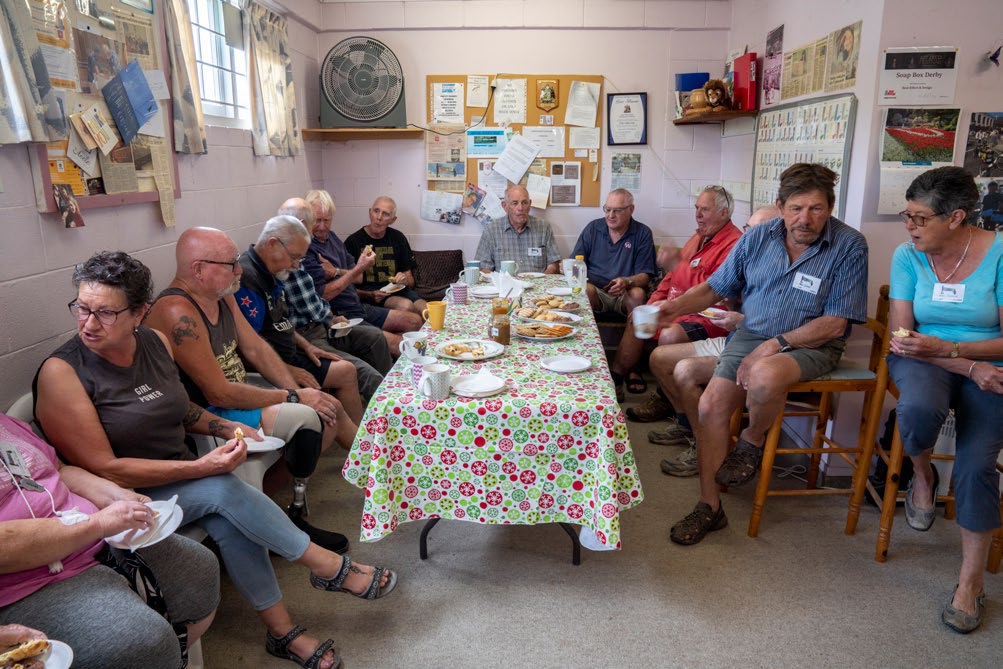 Morning tea break during a meet-up. Please take turns bringing home baking.
Tobias Buck is a North & South contributing writer.
This story appeared in the February 2023 issue of North & South.