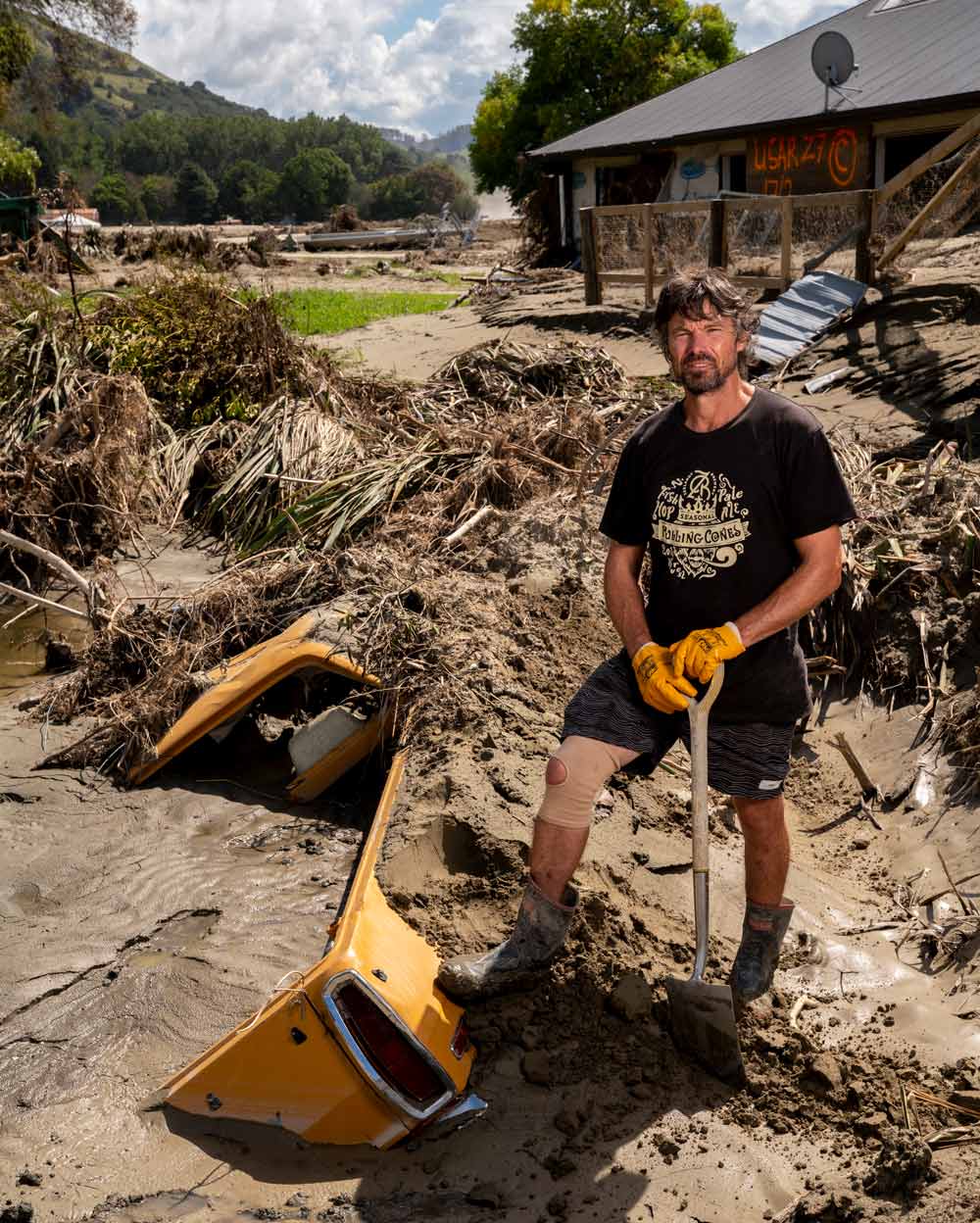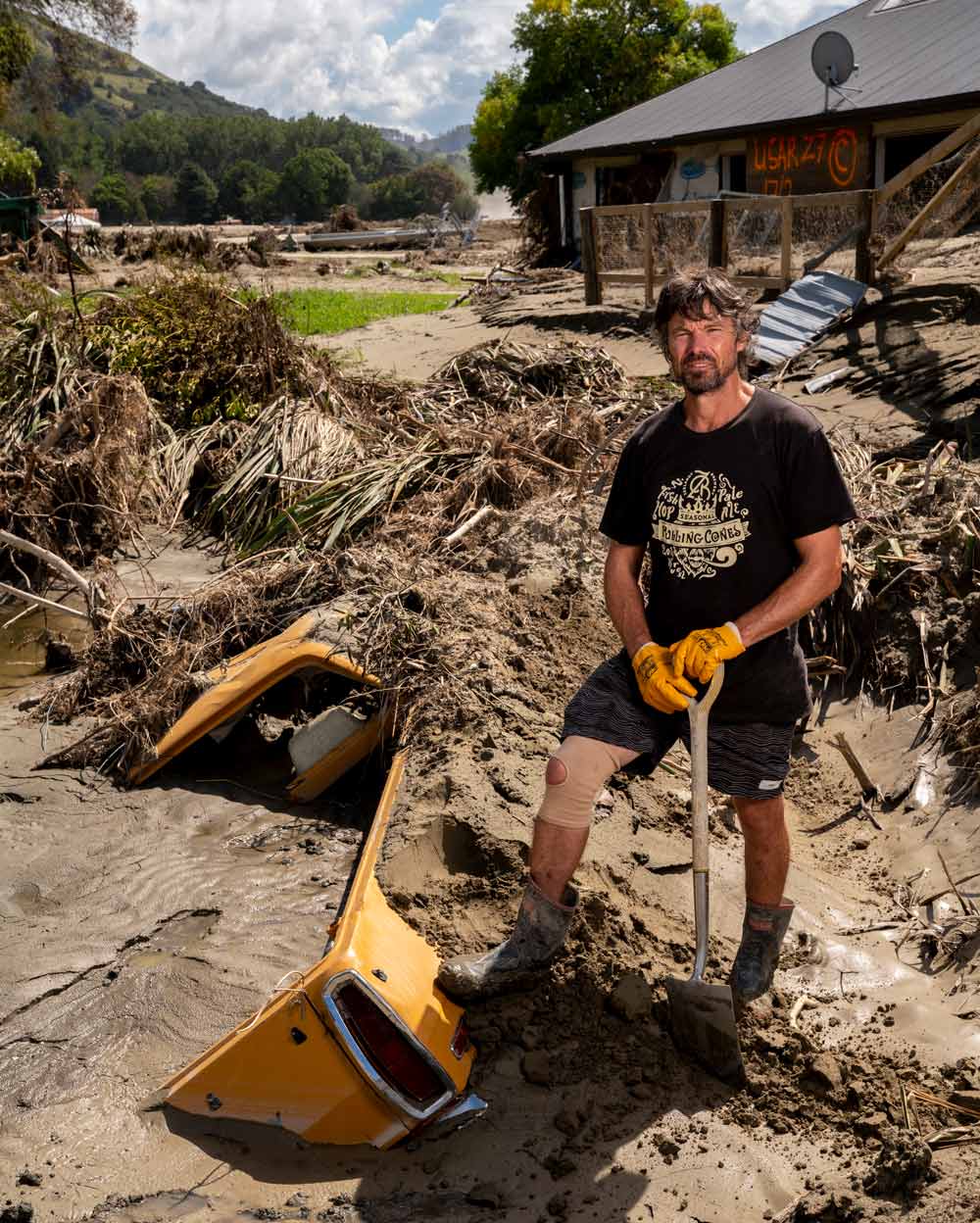 Philip Barber and his family went through the horror of the Hawke's Bay floods, but are now in recovery mode and may return to Esk Valley. Photo: Richard Brimer
The Grapevine – Hawke's Bay Cyclone Update
New life springs in the battered bay
The impact of Cyclone Gabrielle in February was shocking — it was a dramatic and sudden event. But over the long summer since then the region's wineries and horticulture have begun the slow rebuild. 
Esk Valley is usually a sunny and scenic spot, just north of Napier, where the Taupō motorway bends to follow the coastline. In February, it was one of the worst-hit areas in the country. 
Philip Barber, from Petane Wines, used to make wine at his brewery there. He had a restaurant called Conan Flower and a cellar door he ran with his brother Chris. Barber and his wife Sarah were living among the vines in Esk when Cyclone Gabrielle arrived. 
In the middle of the night, as the Esk River overflowed and flood waters rose, Barber had to move his kids up to the second storey. Logs crashed into the outside walls of their house as they climbed onto the roof through a smashed skylight. "You could hear the surf in Whirinaki," he says. Barber could see the swirling torrent of water running through the vineyard from the river, the bright whitewater reflecting the moonlight. A steel shed ripped apart with a horrible sound. Tractors floated away. 
"We had a barbecue cover and a kids' rain umbrella. My phone started beeping at 4.30am: 'Evacuate Eskdale now!' It was too late. I didn't need the message." The sun came up slowly, before strangers turned up in a jet boat. Within 30 minutes the water had retreated, leaving silt "up to your knees like quicksand". 
Two days later, with the help of friends, diggers, grinders and a chainsaw, Barber made a rescue mission to save bottles of his wine stock. The mission was a success and he's been selling the wine since. "The pinot gris has gone. The pinot blanc is gone. But there's plenty of lovely chardonnay, viognier, syrah and merlot franc." 
He found a piece of his porch four kilometres away; also half a skate ramp. Some of his furniture he's seen in the treeline of a neighbour's peach orchard. He's been surfing over the new sand bar formed by the cyclone at the Esk River mouth. "I think my lawnmowers and a few of my grey picking bins are in there!" he laughs. 
Barber's cleaned up the brewery and house. Diggers and trucks are at work at his friend Alex's place down the road. He hasn't begun silt removal yet. "It's a mess of posts and wires." Like many, he's waiting on consents for where the silt is still to go. Nearby, his friend's house — that was built for flooding — was pushed 900 metres towards the sea. "We were just there. My Kombi van was on his front lawn." 
"We want people to understand what we've been through and support Hawke's Bay produce in general. If Kiwis can just support Hawke's Bay — buying everything they can."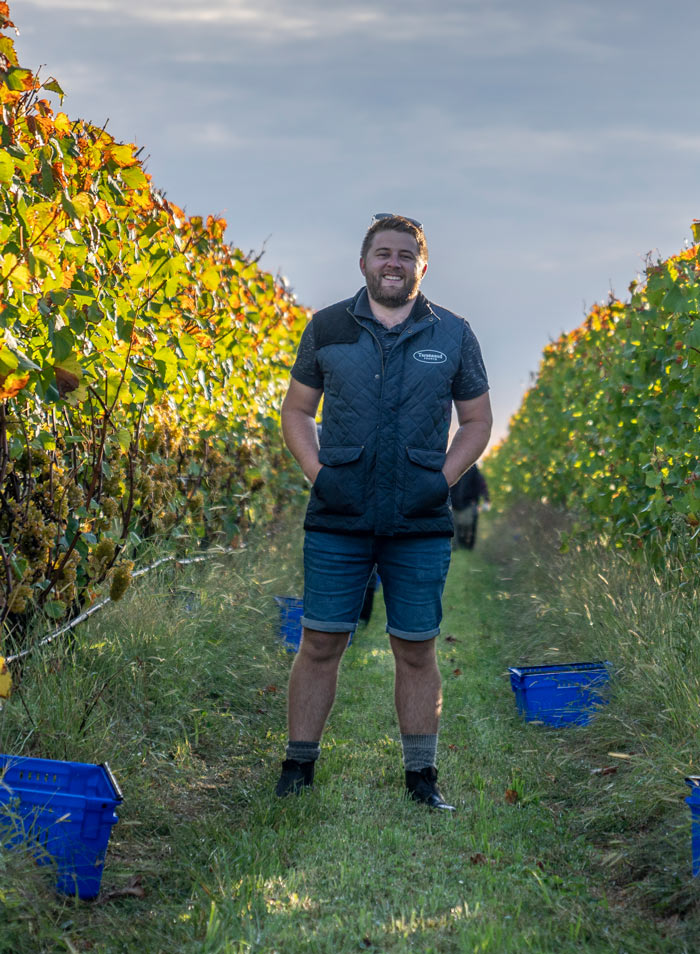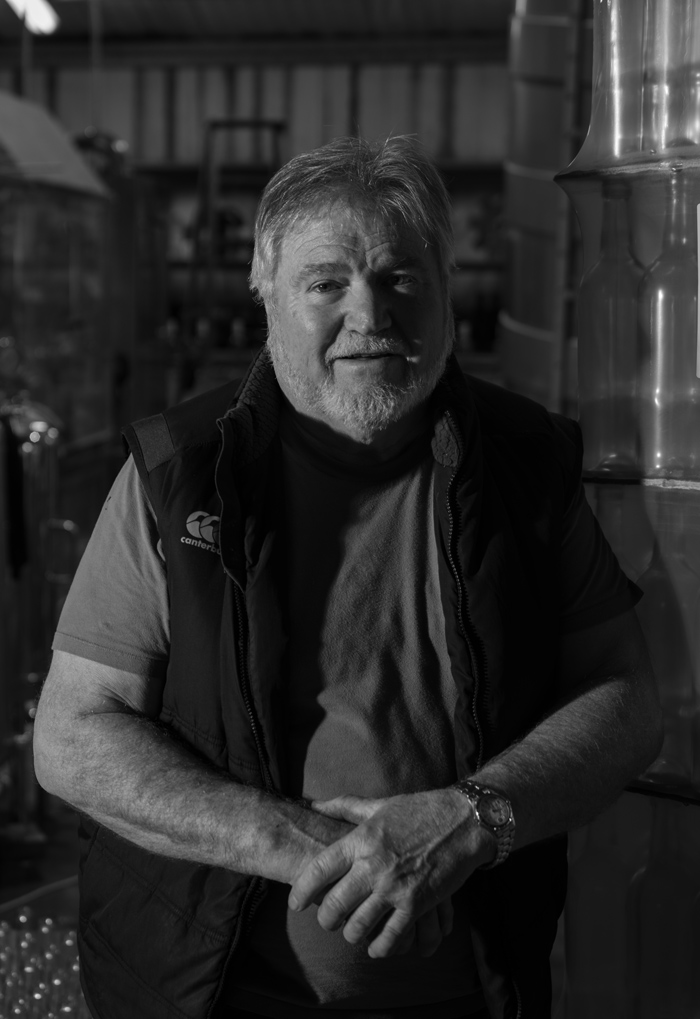 From left to right: Oscar Bish of Tony Bish Wines picking at Two Terraces Vineyard; John Hancock of Hancock and Sons; Tony Bish during the chardonnay harvest.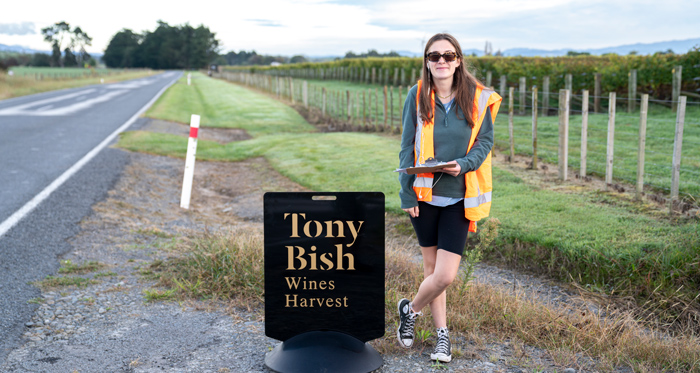 Evie Bish, Tony's daughter.
John Hancock, of Hancock and Sons, who we caught up with last July in the Grapevine column, is now semi-retired. A small vineyard he knows well in Puketapu, another area hard hit, was washed away. 
"The Tutaekuri [River] ran right through there. There's only nine strainer posts left. A hundred empty barrels are gone somewhere, scattered in paddocks all the way to the Pacific I guess." 
I Shed 530, the restaurant venue there, is open again and Hancock is typically pragmatic. "I was there yesterday. It is still a big mess even though they have removed a lot of silt. They have recovered a lot of barrels, although they won't be usable for wine." 
Tony Bish, whose chardonnay focus was profiled in the first Grapevine column, ended up "not harvesting 75 percent of our scheduled intake". One of his sites behind Fernhill, another low-lying area, was affected by the rush of water. He's pivoted to Marlborough for his Fat & Sassy 2023.
"The Marlborough industry was super-helpful and understanding of our plight, and really came to the party to assist us," he says. "We are confident our loyal consumers will support our Marlborough foray, as needs must after a cyclone of ​​Gabrielle's intensity!" 
Not all grapes were lost in Hawke's Bay this year. Far from it. And there have been some unexpected silver linings. "On the bright side," says Bish, "the later pick of our Two Terraces Mangatahi Mendoza Chardonnay was exceptionally good. It was wine of the vintage for us and may well be elevated to a single vineyard label and status." 
Jenny Dobson, (profiled in August last year) faced "several weeks without electricity, communications and compromised access to vineyards," though "thankfully all the vineyards I work with escaped flood waters". 
"My mantra for particularly challenging vintages is 'grieve for the wine you were planning to make, then pick yourself up and make the best wine possible'. I must admit with 2023 the 'picking myself up' was more complicated and took longer than in other vintages."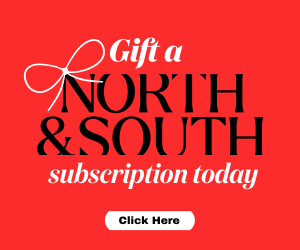 "This was not a year for recipe winemaking, lots of drawing on experience and careful, attentive handling combined with realistic expectations." 
Since the cyclone, weeks of Hawke's Bay sunshine has also meant longer-than-usual ripening times for the grapes that did survive, especially full-bodied reds. Hillside sites have weathered the storm well too, as they're known to in the world's most traditional wine-growing regions. The iconic Esk Terraces above Esk Valley seem almost untouched. 
In the region's viticulture industry, and in horticulture more generally, plans are being made about what will come next. The obvious speculation is — will it happen again? And if so, when? Many farmers are, typically, politically conservative, but the question isn't about climate change as an issue of political brinkmanship. It's about what gets built in a multifaceted growing region defined by droughts and earthquakes, and by its fertile plains and the floods that made them. It's about investment and risk. 
As the New Zealand Herald has reported, the government has decided against any new tax to help pay for the growing price of the cyclone rebuild, "while farmers and growers in Hawke's Bay say they are receiving 'radio silence' with regard to any updates". There's talk of new structures, new stopbanks to protect growing areas. There have been charity events, like Wine Dogs at Elephant Hill in May, to raise funds for the winegrowers' relief fund. The upcoming Food and Wine Classic is still going ahead with plenty of producers involved.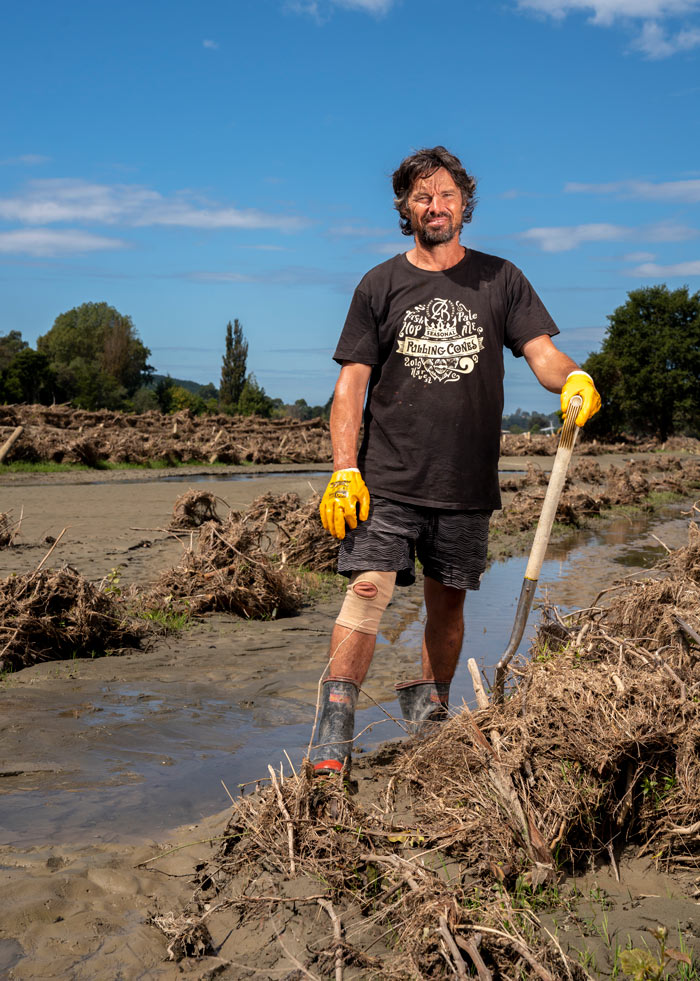 Philip Barber attacks the mess.
Barber and his family are still planning to stay in Hawke's Bay, even perhaps returning to Esk Valley. "We know people here. It's a small community." He's got an insurance payout on the house but is waiting on "the big ticket items, the brewery and restaurant". Not the Kombi van though. He had no insurance on that. 
Barber grew up on his dad's vineyard in Kumeu. There were many Dalmatian winemakers there, a tough and innovative lot that included ex-gumdiggers who influenced wine throughout the country — even down in Hawke's Bay. I ask him how he feels about wine right now. 
He's just as excited as always, though disappointed he won't be using his fruit. "I had 10-year-old chard and pinot gris. Understanding a vineyard takes 10 years at least. But I'm buying in organic vineyards. I got some cab franc from Western Australia." A family winery there has sent him a thousand litres of cabernet sauvignon from their big harvest.
"Hawke's Bay was doing pretty well and now it's been a smackdown. We're not down and out, we're rebuilding, we just want people back.
Overseas tourists. Drive through and have a look around. We want people to understand what we've been through and support Hawke's Bay produce in general. If Kiwis can just support Hawke's Bay — buying everything they can and come to visit." 
Recalling when he was on his roof, he adds that the worst thing was not knowing if his brother, and neighbour, Christopher was alive. "He had water up to the guttering. I thought he was stuck in the alcove. Then his boat emerged from a mist, with his dog in there too."
That morning, the ever-changing nature of Te Matau a Māui Hawke's Bay was at its most obvious. "There's silt everywhere and somewhere there's grass — like it's never been touched." 
"It was apocalyptic," his wife adds. "We thought, 'This is not right. We could die here.' Our plan B was to let go and cling to the grapefruit tree in the garden."
"For us, everything stopped that day. This is a bonus round. We've had another chance at living. This is a new life. Every day is part of it." 
Toby Buck is a North & South contributing writer.

This story appeared in the June 2023 issue of North & South.