Shirley Hazlewood at home. Photos by Lindsay Wright
Dropping in on a remarkable woman and her lifetime collection of equine memorabilia.
Story & photos by Lindsay Wright
"Horse Paradise" says the sign on the white picket fence, but there are no paddocks nearby in the small South Taranaki township of Kaponga. The only quadruped in sight is the coffee-coloured cat which leaps out of its bed to purr around our ankles.
An even warmer welcome awaits at the front door of the house, where Shirley Hazlewood QSM, 76, reaches up from her wheelchair to shake hands then pirouettes away noiselessly to usher us indoors.
It's like walking into a stable of horses; Clydesdales, thoroughbreds, palomino and others adorn the walls, clutter cabinets and festoon the ceilings, galloping, jumping, hauling wagons and racing around tracks.
"I was given my first horse tea towel when I was six," she says. "Now I have over 1500 exhibits and growing."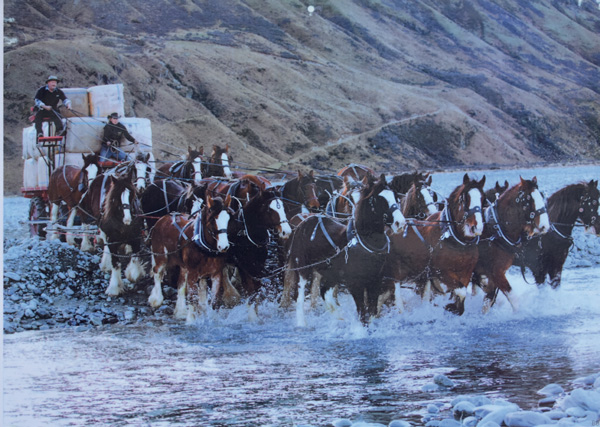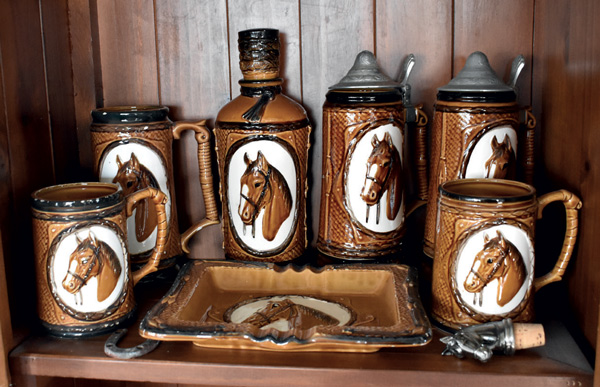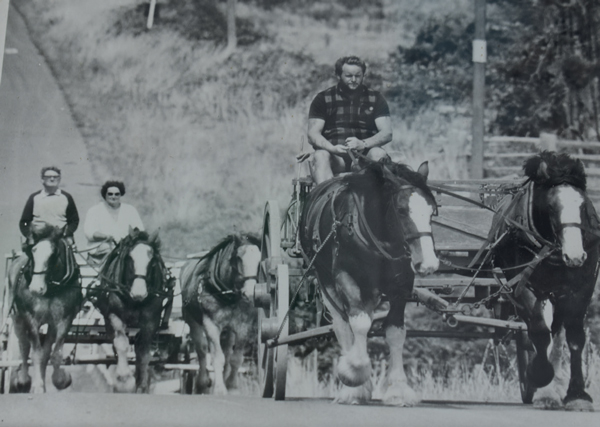 From left: Clydesdale cocky – Lou Muggeridge with his team in harness. Hard drinkers – horse-themed beer steins from Scotland. Town bound – the Muggeridge family on the road.
And her life hasn't been all sunshine and saddle sores. Shirley was diagnosed with polio at 14 months and much of her childhood and adolescence were spent in hospitals.
Her father, Lou Muggeridge, farmed 70 hectares at Te Kiri, about 14 kilometres west of Kaponga, with a team of Clydesdales. "He never owned a tractor, but worked Clydesdales all his life, breeding them and taking teams to shows and parades. He'd come to pick me up from the hospital and say, 'Here. You drive,' and pass me the reins. Then suddenly, I wasn't disabled any more. I would work the reins with my left arm because that's the side of my body that needed strengthening up."
Lou, Shirley and her brother Stephen once drove their horse teams from Patea to Alton and back (about 30 kilometres) – Stephen with a gig, Lou on a wagon and Shirley on a dray.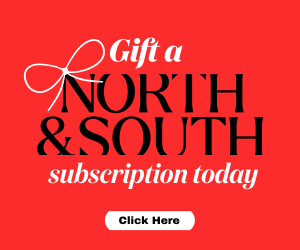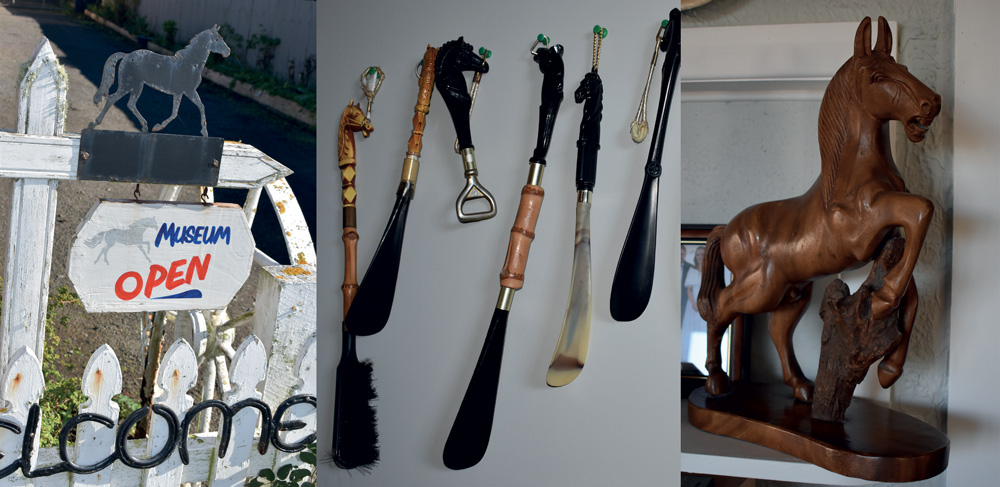 From left: A suitably horse-adorned sign points the way. From brushes to bottle openers, and more. A wooden horse from the UK.
"That was a special day," she recalls, swirling her wheelchair through collections of horse- motif fireguards, an antique wagon wheel coffee table and pictures of horses jumping and prancing. A particularly fetching black-and- white print is of Stephen urging a team of 20 Clydesdales through a fast-flowing South Island high-country river, hauling a wagon stacked high with hay.
After 15 years of hospitalisation, Shirley was effectively cured, but re-caught polio and went back to square one with the disease. "I could still help Dad milk. I used to love that…"
Twenty-one years ago, her left leg had to be amputated. "It was dead, just swinging," she grimaces, rubbing the stump.
Another blow was delivered via a rescue horse called Abby. "She was pretty screwed up when I got her," Shirley recalls. "She was just coming right, but hated wheelbarrows. I was in my wheelchair unloading her from a horse float. I had some community workers from the court here and had told them not to touch the wheelbarrows, but of course one of them walked past pushing a wheelbarrow. Abby panicked and jumped over me to get out of the horse float. It knocked me for a six and broke my back.
"Poor Abby was really confused– she knew she'd done something wrong, but didn't know what, the little darling."