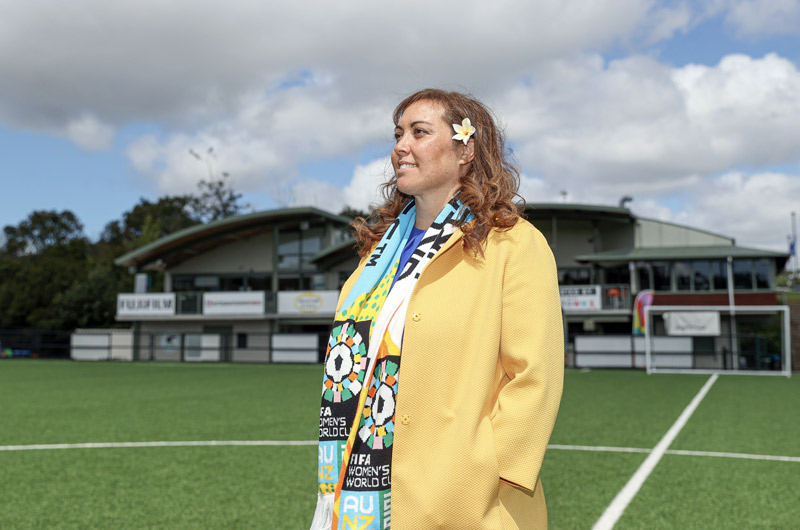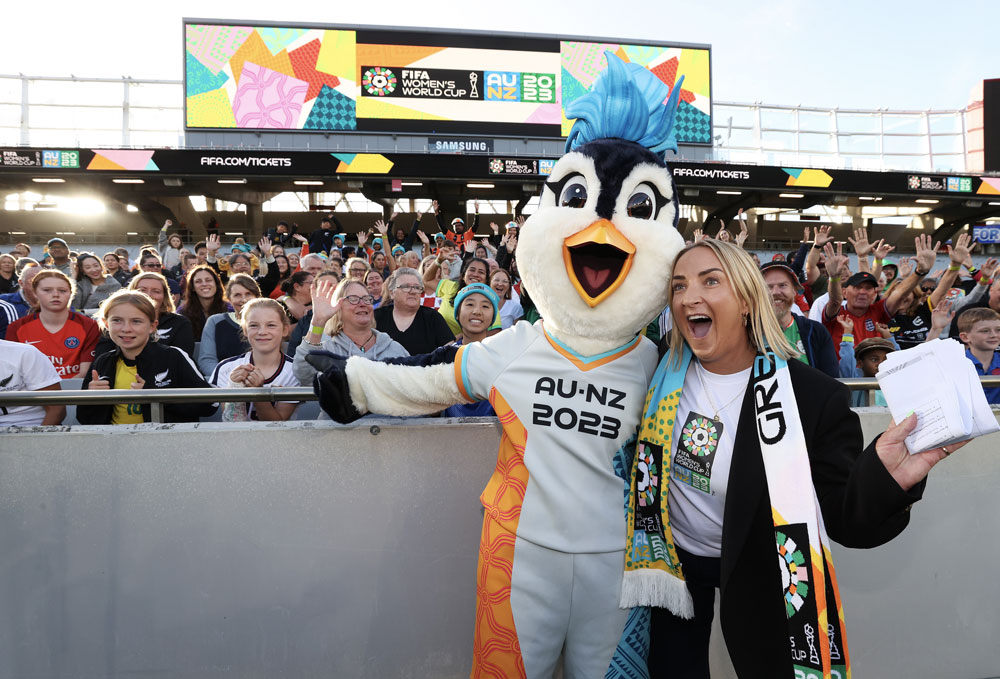 Tazuni, the 2023 Women's World Cup penguin mascot. Photos: Courtesy of FIFA.
Top women's football official Sarai Bareman has big hopes for the forthcoming Women's World Cup.
Born and growing up in West Auckland, to a Samoan mother and Dutch father, Sarai Bareman quickly recognised that women's football came second to the men's game. Playing for Waitākere City, Sarai and her teammates wore uniforms passed down from the men's team, and got changed in men's changing rooms equipped with urinals.
After a stint in the Samoa women's national football team, Bareman became a football administrator, and has risen to become the most prominent female official in the world.
She is committed to improving the standing of the women's game. "Having been a player is what helped me understand how underserved the women's game has been," she says. Though growing up in New Zealand meant access to fields, facilities and coaches, there was no escaping women's football's second-tier status.
Moving to Apia, Bareman was finance manager, then chief executive of the Football Federation of Samoa. Stepping into administration cemented her understanding of the institutional neglect of the women's game. When appointed to the FIFA Reforms Committee in 2016, for example, she was the sole woman appointee. Such experiences just fed her determination to contribute to change.
Ascending through the ranks of administration in Samoa, Oceania and ultimately the world body, Bareman was in 2016 named FIFA's first Chief Women's Football Officer.
She's far from alone as a player-turned administrator. "Many of my colleagues are former football players, she says. "My head of competitions in Zurich is a former captain of the Northern Ireland national team." Tenacity on the field begets the determination necessary to advocate for a sport historically overlooked. "I'm very lucky to be surrounded by passionate people."
Seven years on from her appointment, women's football has leapt forward in prominence. United States star Megan Rapinoe is the sport's first truly A-list celebrity.
"What I love about football is that it almost accelerates the topic of gender equality," Bareman says. "We saw that [at the Women's World Cup] in France in 2019. Important topics for women, like equal pay, were suddenly at the forefront of CNN, BBC, and the front and back pages of the major print journals around the world. We live and breathe these topics every day, but the World Cup amplifies these discussions. Our women's-football athletes love to use their platform to raise awareness and make positive social impact. Megan Rapinoe is a perfect example of that."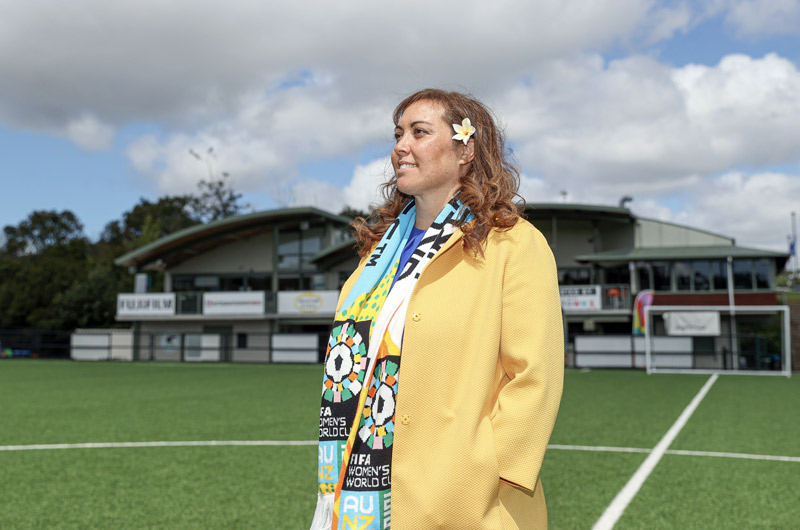 Bareman believes the 2023 Women's World Cup, opening in New Zealand and Australia this month, will bring another push forward for the women's game. "It's so much more than just what's happening on the pitch and in the stadium. The flow-on effects of this World Cup are huge for women's football. And we only get this chance once every four years to accelerate all the efforts that we're making on a day-to-day basis." 
Recent progress is confirmed by the data. Domestic leagues around the world are breaking attendance records, and last year's European Women's Championship final sold out. That 2019 World Cup was watched by 1.2 billion fans worldwide and more than a million in the stadiums.
And that has a flow-on effect. "The number of contracts are increasing, but also the value of those contracts are increasing. We want more women around the world to be able to make a living playing our sport, which is still predominantly, from a global perspective, an amateur sport."
The Women's World Cup is already the biggest women's sporting event on the planet, so some might find it surprising New Zealand – where sports fans have never embraced football as enthusiastically as rugby, netball or cricket – was chosen as a co-host.
"Some New Zealanders, those that live and breathe and know and understand football, are ready," Bareman says. "Many are still in disbelief that we have a World Cup coming to our shores. But I would say the vast majority are not yet prepared for how big a World Cup is. And also for how popular the sport of women's football is."
"So much of our focus in New Zealand is on sports like netball and rugby, and to be able to swing that spotlight onto football for one month, through the celebration of the World Cup, will be incredible for New Zealand. We're actually doing quite a bit with New Zealand Football to ensure they're ready to leverage that, because the interest is going to explode. We need to make sure that when that does happen, we can capture it and retain it."
As much as Bareman is enthusiastic about the domestic impact of the coming tournament, there's also a strong dose of national pride. "I'm excited for the fans from around the world to actually get a taste of New Zealand and how incredible our country is, our culture, and our people. I really think we have a paradise here in New Zealand, and I'm excited to show that off a bit."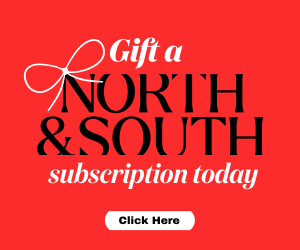 I have to ask about the 2023 World Cup's mascot Tazuni, a little blue penguin with a bright turquoise undercut. "We wanted to steer away from what everyone would have expected, which would have been a kiwi or a kangaroo or a koala. What I love about Tazuni is that she is native to the two countries," Bareman says.
As a New Zealander, she is well aware that relations between the two host countries can have their sensitivities, often expressed as part of our deep- seated sporting rivalry, and a history including such low points as the 1981 underarm-bowling incident.
"I grew up with the trans-Tasman rivalry, and early on I had to really be aware of the unconscious bias that existed from growing up with that sporting rivalry," she says.
"Having experienced the build-up, and working across the two countries, I think there's something so unique about New Zealanders and Australians that is really special, that ability to roll your sleeves up and do the mahi. And it's a quality shared across both sides of the Tasman."
Beyond this specific competition, Bareman predicts co-hosting as the future of football, including the men's World Cup. "That's the biggest sporting event in the world, but there are very few countries that, stand-alone, can deliver the infrastructure needed.
Politics and football have a lot in common. In his book What We Think About When We Think About Football, philosopher Simon Critchley suggests that football's persistent, discursive, intergenerational fan culture models a naturally occurring socialism.
It's true that Bareman is an "officer", rather than an executive. And the move to professionalise and globalise the women's game is very much like a campaign trail, with sharp, confident Bareman as the key strategist, her eyes fixed on the goal.
Asked whether any particular Cup matches will attract her attention, she responds with canny diplomacy. "Obviously, I'm looking forward to all the football, but I always love to follow the debutants. This is the first World Cup where we've expanded from 24 teams to 32, and it just so happens that there are eight teams this year that have never played before. Imagine the moment for those women walking onto the field for the first time, singing their national anthem at a World Cup. I love watching that unfold and being able to watch these players live out their dreams."
And that's the end of our interview. Another perfect stop on the campaign trail, with a stump speech to fit. Critchley writes that to be a football fan is to be a student of failure. Football is a zero-sum game. One team wins and another loses. But what Critchley celebrates is the determination that enables fans to keep turning up season after season with the hope this time it'll be different.
Sarai Bareman has been turning up for a long time now, on and off the field, and brings big expectations to this year's Women's World Cup.
Two years ago, she called 2023 "the year that women's football goes truly global". If she's right, New Zealanders have front-row seats at something more than just a football tournament.  
Theo Macdonald is North & South's junior staff writer, a role supported by NZ on Air's Public Interest Journalism Fund.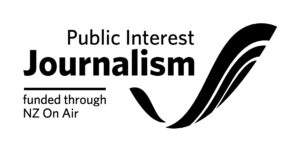 This story appeared in the July 2023 issue of North & South.