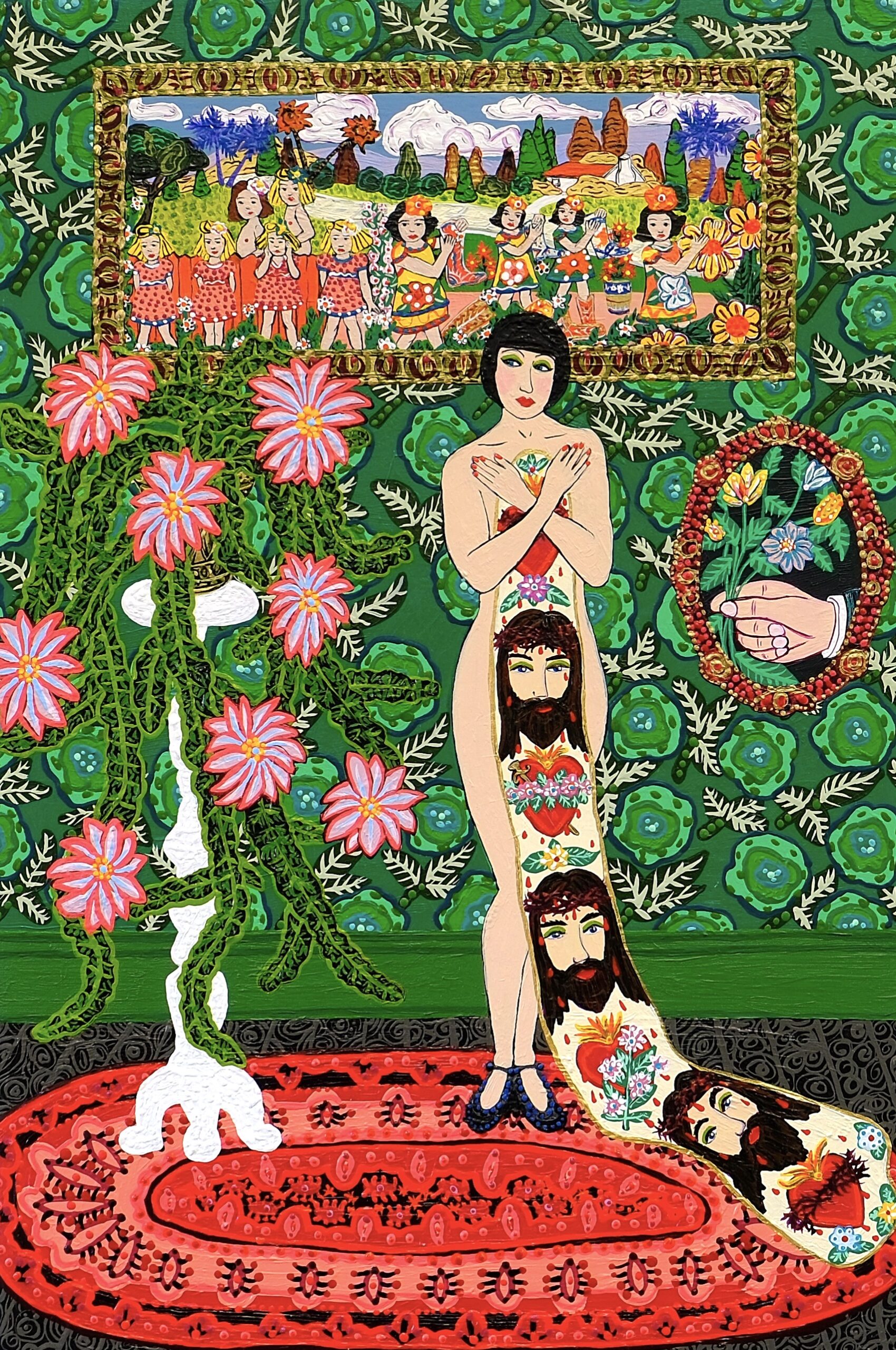 Smiling snakes, biblical personalities and pilfered icons inhabit the Arcadian scenes depicted by Laura Williams. The Auckland-based painter (and union organiser) soon heads to the Wassaic Project, New York, for a prestigious arts residency, and is looking forward to the energy that comes from living and creating with other artists.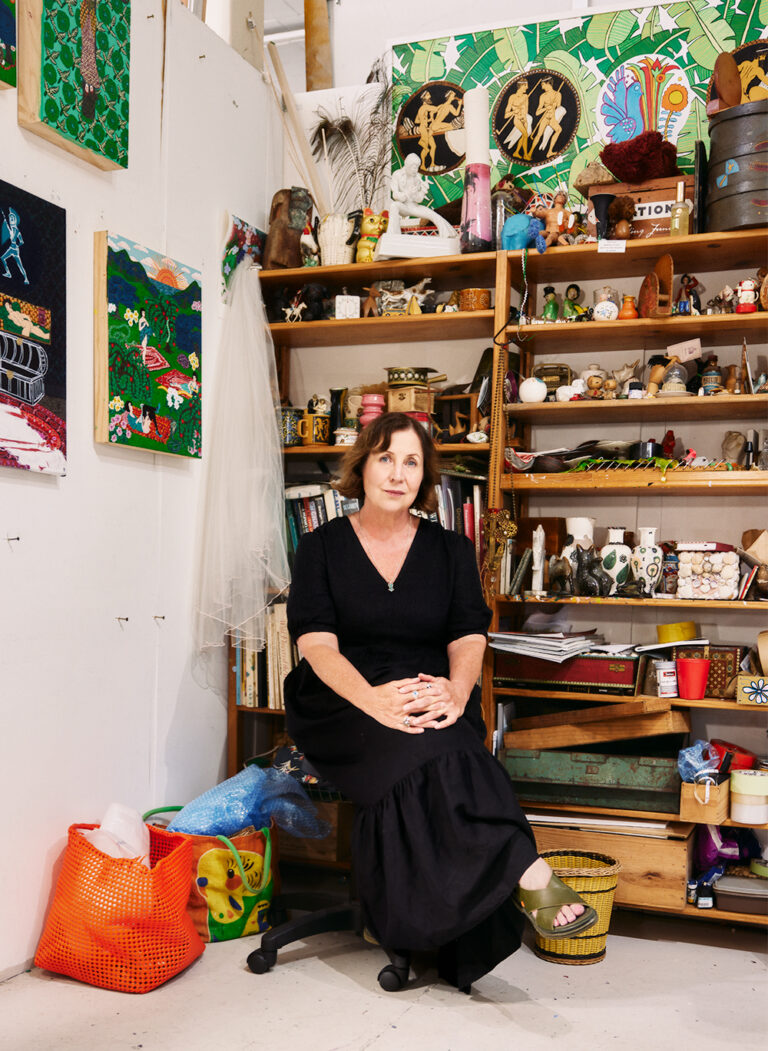 Why did you start painting these collage-like fantasies?
I started to paint after a long break about 12 years ago, and have been exhibiting since 2013. My aim was to paint an autobiographical visual stream of consciousness, a cultural-capital collage depicting coercion, realisation, estrangement, grief, liberation, reconciliation with self and more. When viewing my works, you will see my record of recent events, influences, places, people, art, artists, paintings and memories I have wanted to explore. But I realise I may muddy this intent as I also have a pathological sense of irreverence which seeps through all of my work and the names I choose for my works and exhibitions. I have many artistic influences, but currently the American artists Henry Darger and Robert Brown are my favourites. I am fascinated by their aberrant subjects and personalised lexicon of images and symbols.
Thinking of Henry Darger and returning to painting after time away, do you identify with outsider art [work that has a naive quality, often by self-taught artists]? 
No, I don't. I've got my masters in sociology, a familiarity with art history, and gallery representation. I paint knowing my art will be seen. I love that Henry Darger created his world purely for himself, with no intention anyone would ever see his work. He successfully amalgamates a sense of loneliness, creepiness, cuteness and tweeness. People can try to decide what it means, but they're never going to be absolutely sure, as he lived so much of his life alone. While how a work is understood is personal to the viewer, I am disappointed when I see or hear my work described or summarised as kitsch, fun or brightly coloured, as it both condescends and misses the intent and narrative, which is often quite melancholic and deeply personal.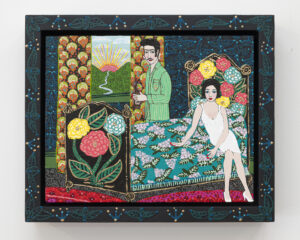 Photos: St Veronica Geo Ridder, courtesy of Laree Payne Gallery; Thinly Veiled1 Michael Mahne Lamb, courtesy of Page Galleries
There's this tone of classical, literary eroticism in your painting, suggestive of D.H. Lawrence and Anaïs Nin.
It's not aiming to be erotic, but I love that they are seen this way. My paintings are a commentary about the church and women being put into a particular emotional subservience. You know, "the more you suffer, the more you love". The stories of the saints are about torture and rape. Some of the saint paintings are horrific, like Saint Agatha with her breasts cut off, or Saint Lucy with her eyes gouged out — punishments they suffered in order to not give up their virginity in their declaration of being brides to Christ. The other theme is moments when people have monumental realisations. The naked women I'm painting in the Garden of Eden are liberated by their new-found knowledge after eating the fruit from the Tree of Knowledge. I could never understand as a kid why Adam and Eve eating from the Tree of Knowledge was a bad thing. Knowledge and truth liberate you, especially if what you previously believed was false.
Yes, we are, and there are some amazing figurative artists such as Ayesha Green and Claudia Kogachi, but I find there still exists a dismissiveness of figurative, domestic or autobiographical painting. I think there remains a perception in New Zealand that figurative is still a stage you go through before moving to abstract and becoming a serious/mature artist. I thought by now we would be past gendering figurative, domestic works as being feminine, decorative, lightweight and less worthy.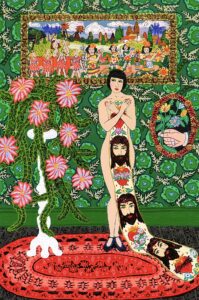 St Veronica, 2023. Below: Thinly Veiled 1, 2022. Left: Laura Williams in her Mt Eden studio.
You've won some exciting American artist residencies the last few years, with another coming up. How does working in a new environment change your process?
I always soak up the environment that I'm in and infuse that into my works. The last series I undertook was heavily influenced by my time at the Golden Foundation Residency in New Berlin in upstate New York. My paintings have gotten a lot darker, and my colours reflect the landscape and the feel of the New Berlin landscape. I had free access to the whole Golden paint range, and liberally used all the high value colours. The residencies I have attended have been hugely beneficial to my practice, most especially as I gained some much-needed confidence; they have some impressive judging panels and I applied as an unknown New Zealand artist and was selected purely on the merit of my work. I always come back from a residency energised from the month of creating and living alongside other artists, visiting all the museums and galleries in New York, and catching up with artists I met at my previous residencies.
Laura Williams has two upcoming solo exhibitions: How Green Are My Valleys at Page Galleries in Wellington (from 21 September) and Settle Petal at Te Uru Waitakere Contemporary Gallery in Auckland (9 December–17 March). She is also represented by Laree Payne Gallery in Hamilton and is on Instagram as @takingthepastiche.
Theo Macdonald is North & South's junior staff writer, a role supported by NZ on Air's Public Interest Journalism Fund.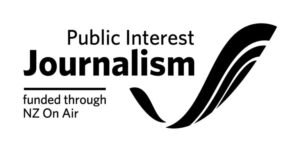 This story appeared in the September 2023 issue of North & South.