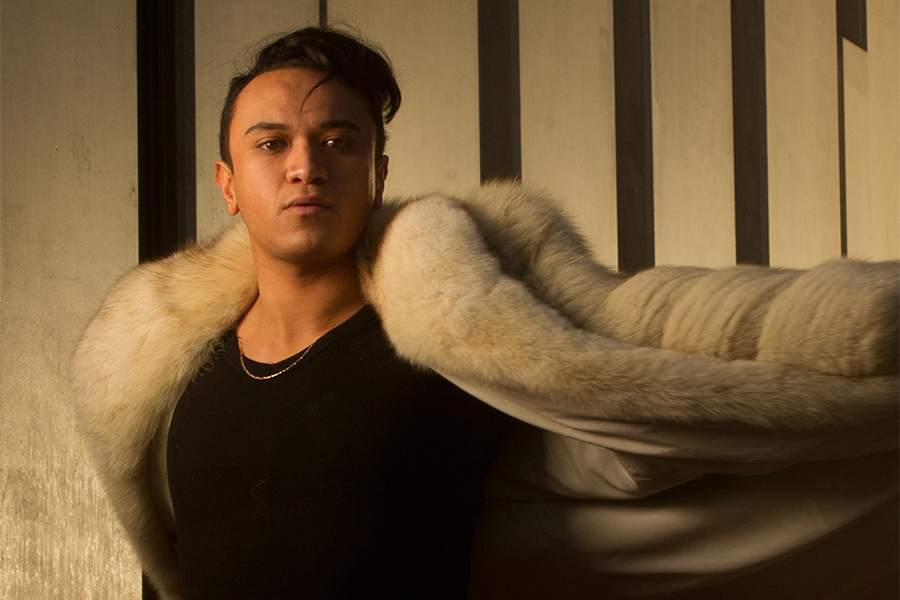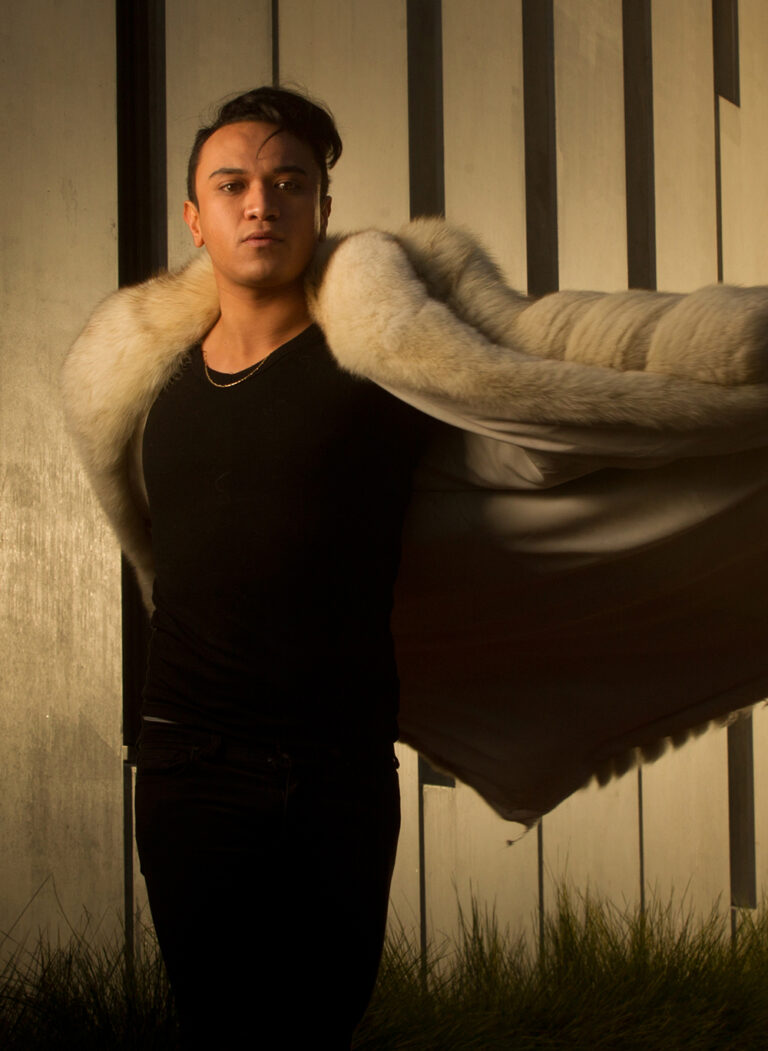 Photo: NZME/Stephen Parker
Rotorua
The world according to Kharl
Rotorua fashionista Kharl WiRepa has two shows at New Zealand Fashion Week this year, the first showcasing haute couture, the second featuring kapa haka. He's also got a whole wardrobe full of opinions.
Kharl WiRepa doesn't mince words.
He speaks with conviction, offering frank pronouncements on topics such as ancestral responsibility and classical design. On offshore manufacturing, WiRepa decrees, "If you are a designer ordering garments offshore, you're no longer a fashion designer. You just sell clothing. You're an importer." On religion, he comments, "You can't find a truly great creative that doesn't have a connection to the spiritual realm."
This confidence may come from his religious upbringing. WiRepa's mother raised him in Mormonism, a faith he adheres to, but he attended Catholic school, and shades of that church's vestments are discernible in the lavish gowns he designs today.
But wherever it came from, his self-belief has helped power him to prominence in the fashion world. He is the first Māori designer to have work featured in Vogue, and he has found a unique niche as host of Gowns & Geysers, a docuseries on TVNZ+ and Māori Television following the Miss Rotorua pageant.
The self-appointed "King of Glamour'' has also weathered his share of troubles, getting his life back on track in recent years after convictions for benefit fraud, time as a methamphetamine user and having been the victim of a stabbing.
He's come out the other side with his confidence intact and pompadour coiffed. Asked about the "King of Glamour" tag, WiRepa replies, "Glamour is how I live, from my interior design to the cars I drive." He grew up in the age of Paris Hilton and Mean Girls, but WiRepa says his glamour is more conservative. "I like sophisticated design… New Zealand is not known for that culturally. We're a streetwear culture, with a relaxed fashion that can be, dare I say, boring?"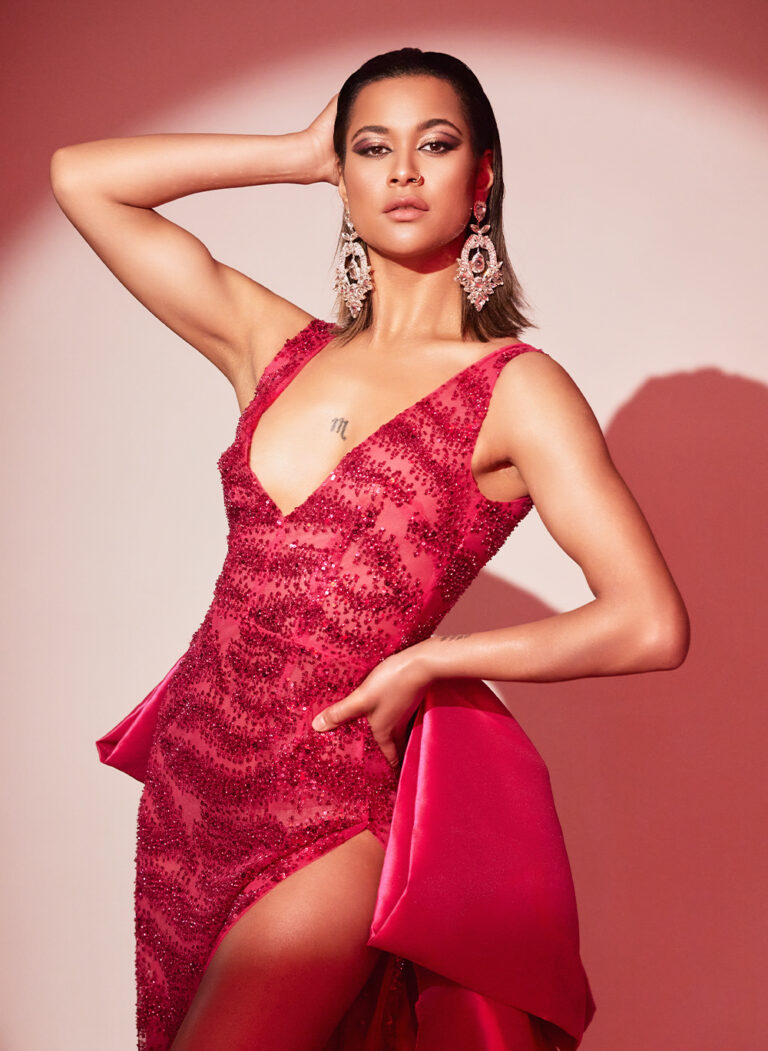 One of the designs for Kharl WiRepa's showcase in Fashion Week. Below: Performers from Te Kapa Haka o Te Whanau-a-Apanui in uniforms made for Tangaroa Te Ihi Moana.
WiRepa's focus is haute couture — special, one-of-a-kind, made-to-measure. He wants to keep his brand within that luxury market, saying, "Myself and my seamstresses use very old-school tailoring techniques. We do import the fabrics, but we import the best in the world. So we keep everything the best in the world, whether it's fabrics, tailoring, manufacturing, all for a very limited group of women." 
For some gowns, they'll spend thousands of dollars on the fabric alone. "It's not a $20 import that we'll slap a big price tag on. The price tag is there because of the story behind it."
WiRepa's designs show a clear classical influence. "When designing a collection or any garment, one of my first intentions is to keep all the lines clean, with great tailoring," he says. "We don't want to be fast fashion — we're in slow fashion. I would never want anyone to wear one of my garments now and in 20 years think it was vulgar that they had made that fashion choice." If somebody buys their wedding dress from Kharl WiRepa Fashion, he wants their great-grandchildren to look at the photos and see how beautiful their grandmother was, not see a zeitgeisty design "based on a TikTok".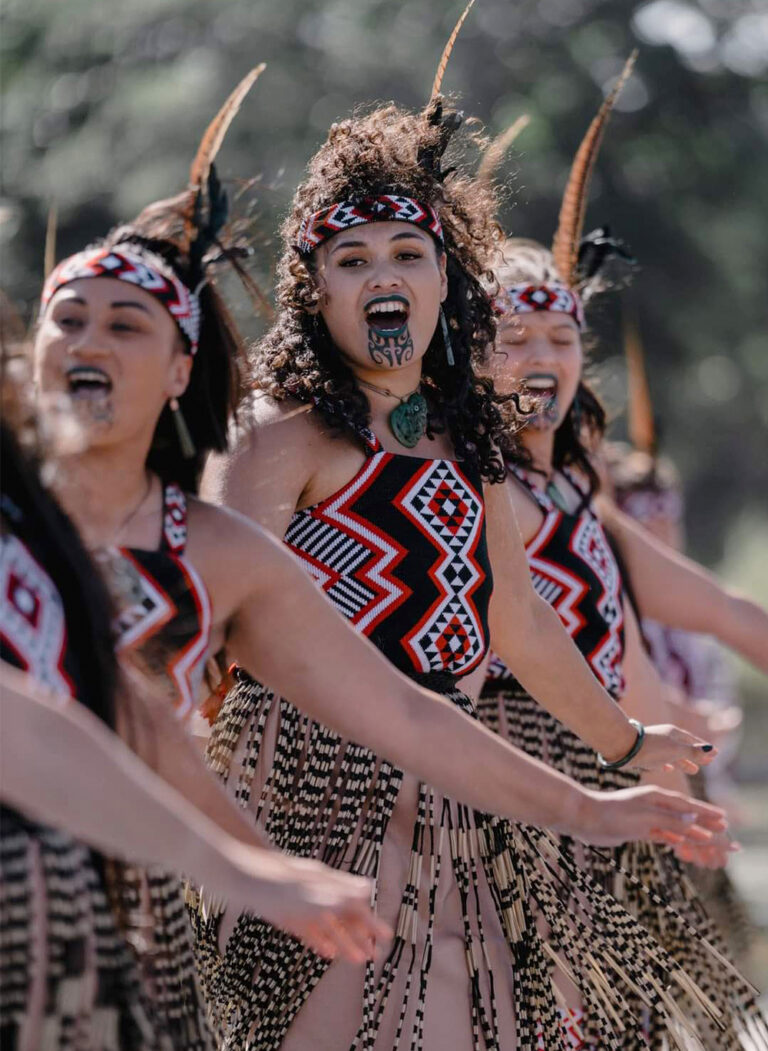 One of the designs for Kharl WiRepa's showcase in Fashion Week. Below: Performers from Te Kapa Haka o Te Whanau-a-Apanui in uniforms made for Tangaroa Te Ihi Moana.
Despite exhibiting on runways across Europe, WiRepa brims with hometown pride. Sort of. When North & South asks if he thinks about moving operations to Auckland, Paris or London, he replies cheekily, "The town needs me to keep the show on the road. If I wasn't here I don't know what they would be wearing, or what they would be doing!"
He speaks passionately about local manufacturing. "I am proud of being a New Zealander, but my French whakapapa also informs what I understand fashion to be, meaning it's always made in the country of the designer's origin."
WiRepa advocates Māori design excellence, but is wary of exploiting his ancestors' ideas. "As a Māori, my design is Māori fashion — it comes with that title — but in my designs on the catwalk, using embellishments, textured fabric, or embroidery, a lot of the influence comes from my European ancestry. As Māori, we're very ancestrally focused; we believe we are the link in a chain of ancestors and descendants. And so everything we do in this lifetime impacts what happens in the next lifetime. I look at the past, and have respect for that, but I also look to the future and constantly consider what I'm leaving behind."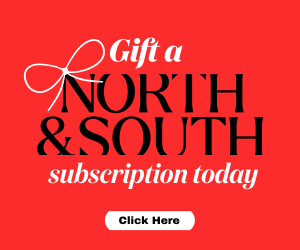 He has been asked why he doesn't put Māori motifs in his runway designs. It reflects the views of his great-grandmother, the artist Mary Gundry. "She was Māori and English; in fact, her uncles owned a shop in Soho in London, Gundry & Sons, which were the shoemakers for Queen Victoria. But Mary Gundry always said we should never desecrate the work of our ancestors. We should never use traditional motifs to try to bring them into a contemporary context, especially when it comes to indigenous identity. It should be just saved and kept. So I never put Māori motifs into my designs because those ideas and motifs have their own place, space, and time."
One of WiRepa's two New Zealand Fashion Week shows expresses his passion for haute couture, the other is imbued with Māoritanga. At the first show, on 30 August 30, the fashion elite will see a couture collection. The collection uses alpaca fleece, embellished fabrics, silks, satins, velvets, ostrich feathers and French brocades. The audience will include Vogue Australia, Harper's Bazaar, Grazia, representatives from the Chinese and Indian embassies, and a full assembly of Miss New Zealands. "I call that my Pākehā show," WiRepa laughs, "that's where all the budget is!"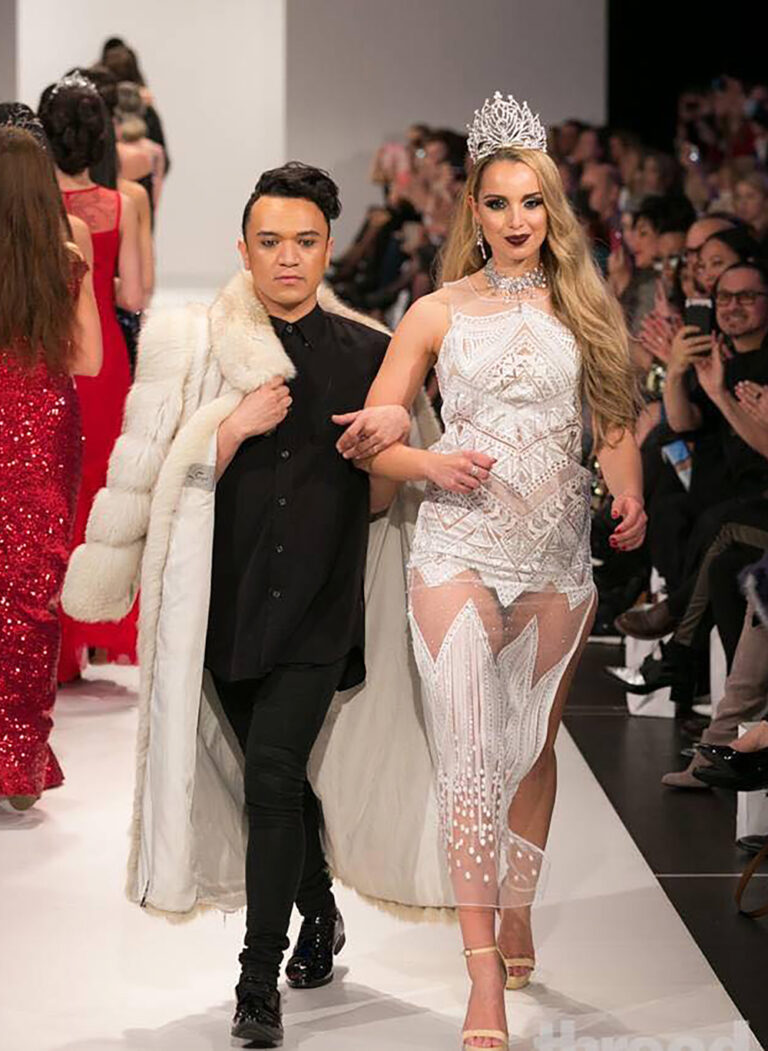 Kharl WiRepa at New Zealand Fashion Week in 2016.
"I never put Māori motifs into my designs because those ideas and motifs have their own place, space and time."
And then, on the Saturday night, he has his Māori show with his iwi, Te Whānau-ā-Apanui. Titled Tangaroa Te Ihi Moana — The Sea is Rising, it includes his cousins – Rob Ruha, Maisey Rika, Rawiri Waititi and Ria Hall – and the iwi's Te Matatini-winning kapa haka team, whose kākahu he designed earlier this year, and a collective of East Coast designers. "That's fashion and kapa haka coming into one place together," he says. "The storyline around that is very different to what I'm doing for the couture show. The second show has to be better than the first one because you're only allowed to go up at Fashion Week."
The theme of Tangaroa Te Ihi Moana is the pollution of the sea. "We're from the East Coast," WiRepa comments, "So we have a long and ancient relationship with the ocean, particularly the Pacific Ocean. The music, the lighting, and the fashion collection will all resonate with that storytelling about global warming and taking care of the ocean."
The show is in collaboration with a rubbish-bag company. His team is working with biodegradable plastic created out of recycled plastic from the Pacific and Southeast Asia, cutting out thousands of "embroideries". There's been a lot to prepare. "It's pushing me creatively, which I enjoy because you can only grow and strengthen your craftsmanship when you challenge yourself creatively."
And after that? "In 2024 we're going on a world tour. So I'm going to spend January in Dubai, and then I'll go back to Europe for London Fashion Week and spend some time there in September. And then we're going to tour three cities in China." Truly a plan fit for a king.
New Zealand Fashion Week 2023 runs from 29 August–2 September.
Theo Macdonald is North & South's junior staff writer, a role supported by NZ on Air's Public Interest Journalism Fund.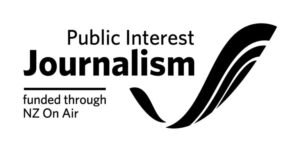 This story appeared in the September 2023 issue of North & South.