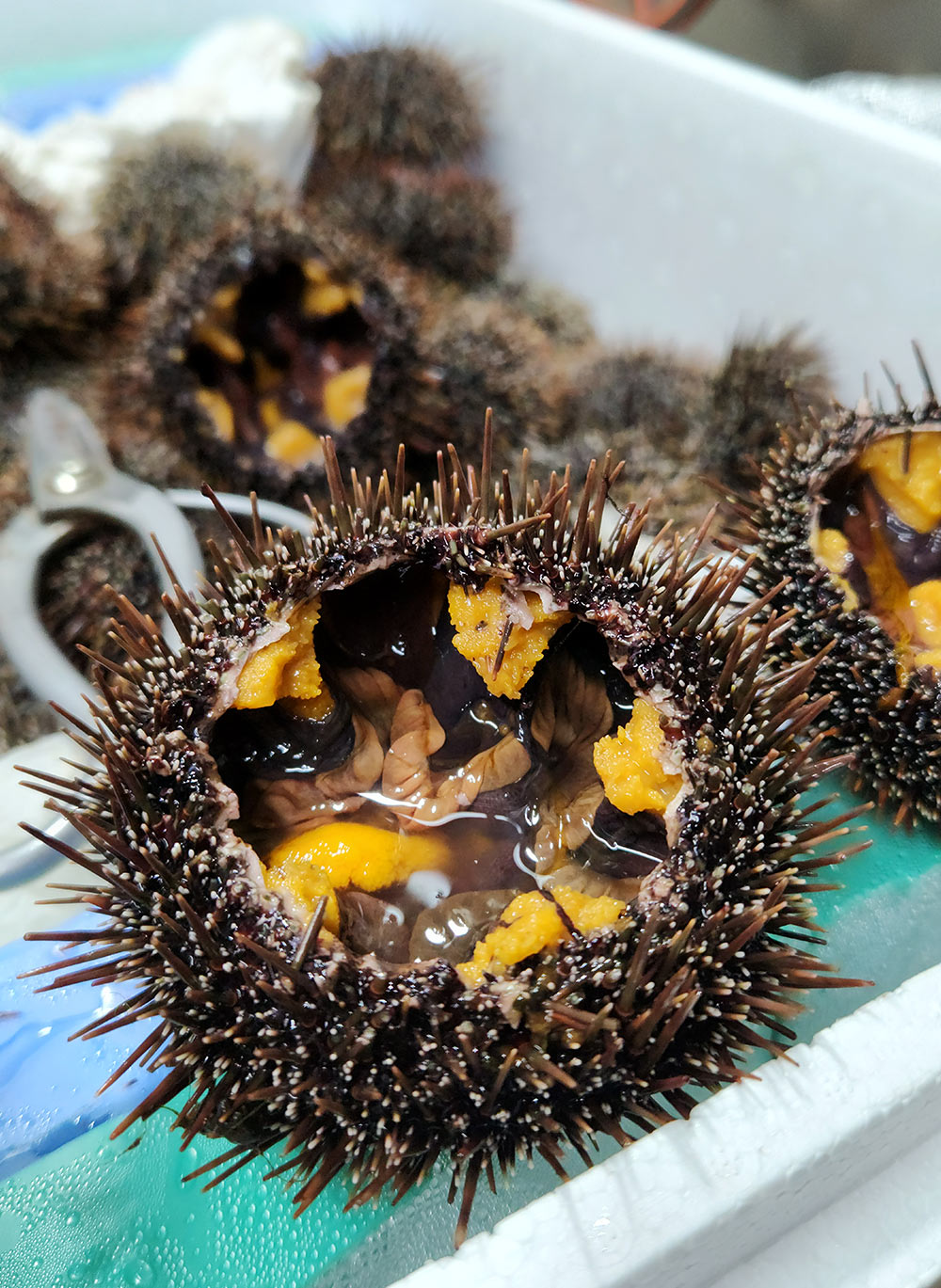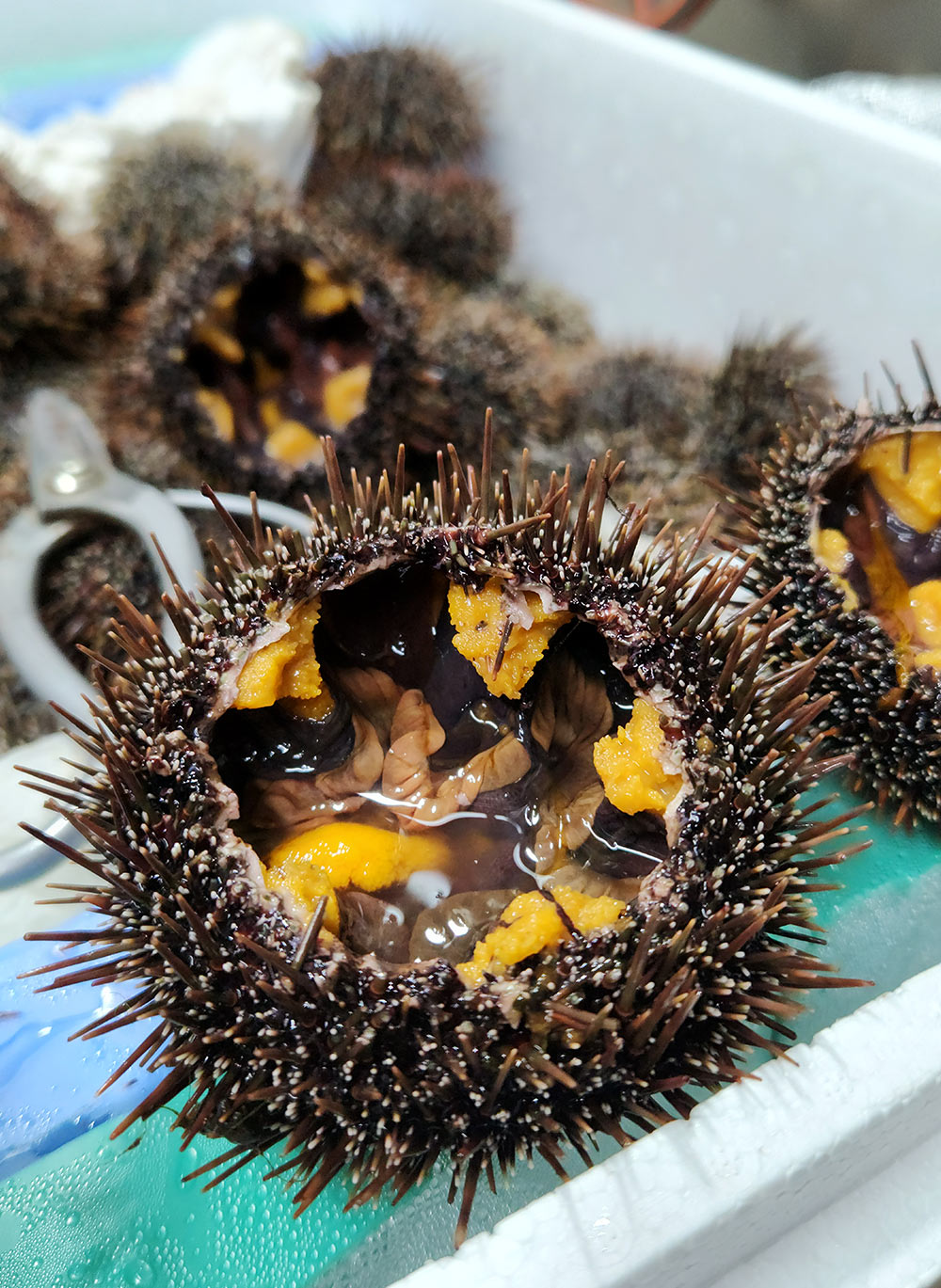 A collaborative research project between iwi, environmental scientists and business interests seeks to restore kelp forests while serving the needs of international fine dining.
By Theo Macdonald
A kina opener looks like a trowel crossed with a speculum. To open the urchin, as EnviroStrat senior environmental consultant Johnny Wright demonstrated to North & South, insert the tip of the "spade" into the hole at the base of the shell and give the opener a firm whack. Squeeze the spring loaded handle to crack open the shell, then, using a spoon, scoop out the five golden-brown "roe" (actually the urchin's gonads). You swallow the roe raw and it tastes as fatty and sweet as a fresh, seared scallop.
Sea urchin roe is a delicacy with an existing international market, particularly in East Asia. Due to the slightly bitter taste of our local urchin, and the investment required to establish dependable farming processes, the export market for New Zealand's endemic kina (Evechinus chloroticus) has yet to command competitive prices internationally (although it can fetch as much as $70 per kilogram domestically).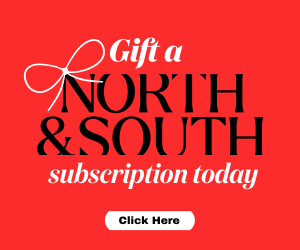 However, kina populations are exploding throughout New Zealand waters, including around the Coromandel and Marlborough Sounds, as overfishing has removed natural predators (North & South covered this problem in our June 2023 issue). Kina feed on kelp, and with this population growth, kelp forests (which provide habitats for fish and perform significant carbon sequestration) are dwindling. Furthermore, kina can survive for years on minimal sustenance, and these "zombie kina" are covering growing swathes of kelp-less seafloor, termed "barrens". Skinny zombie kina are unfit for fishing because, without nutrition, their roe becomes depleted and inedible.
Facing this crisis, natural-resource sector advisor and project developer EnviroStrat saw an opportunity for investment. In partnership with Ngati Porou Seafoods and international restorative aquaculture company Urchinomics, EnviroStrat is conducting an 18-month research pilot, extracting these zombie kinas from their habitats and fattening them for 12 weeks on an "aquafeed" (composed of kelp and other ingredients).
EnviroStrat is testing the resulting roe for flavour and quality, with the ultimate aim to deliver a commercially viable product to sell into coveted East Asian markets, particularly Taiwan, China and Hong Kong. EnviroStrat don't monitor kelp regrowth at the harvest sites, but research delivered in New Zealand and internationally has shown that removing urchins (in areas that have natural protection from urchins moving back into the harvesting area) can promote recovery of kelp.
Hypothetically, it's a dream scenario — a public-private partnership with benefits for commercial, customary and private fishermen, as well as the environment and domestic employment. In recognition of this potential, the $2.2 million project (titled Kinanomics) has been supported with almost $1m from the government's Sustainable Food and Fibre Futures Fund. But there are a few problems to iron out.