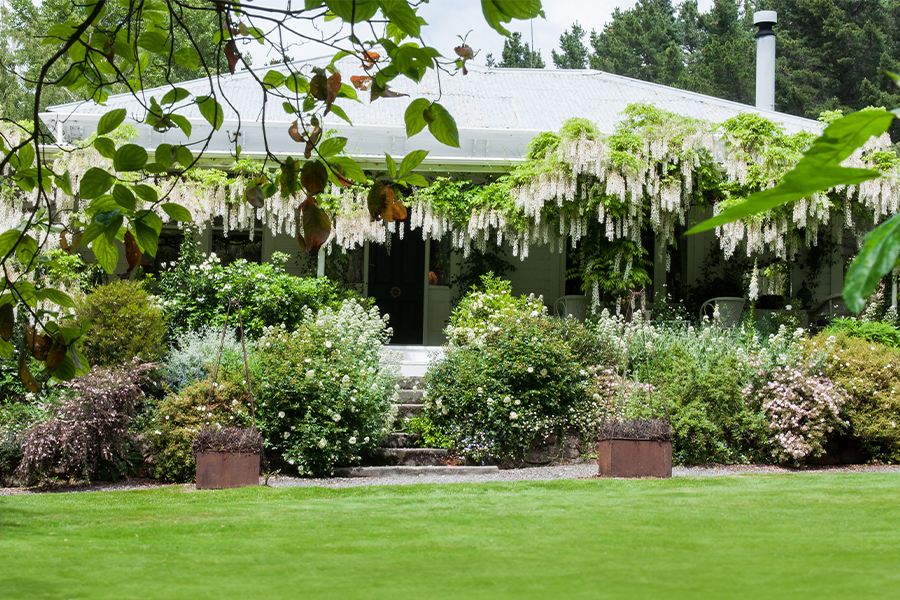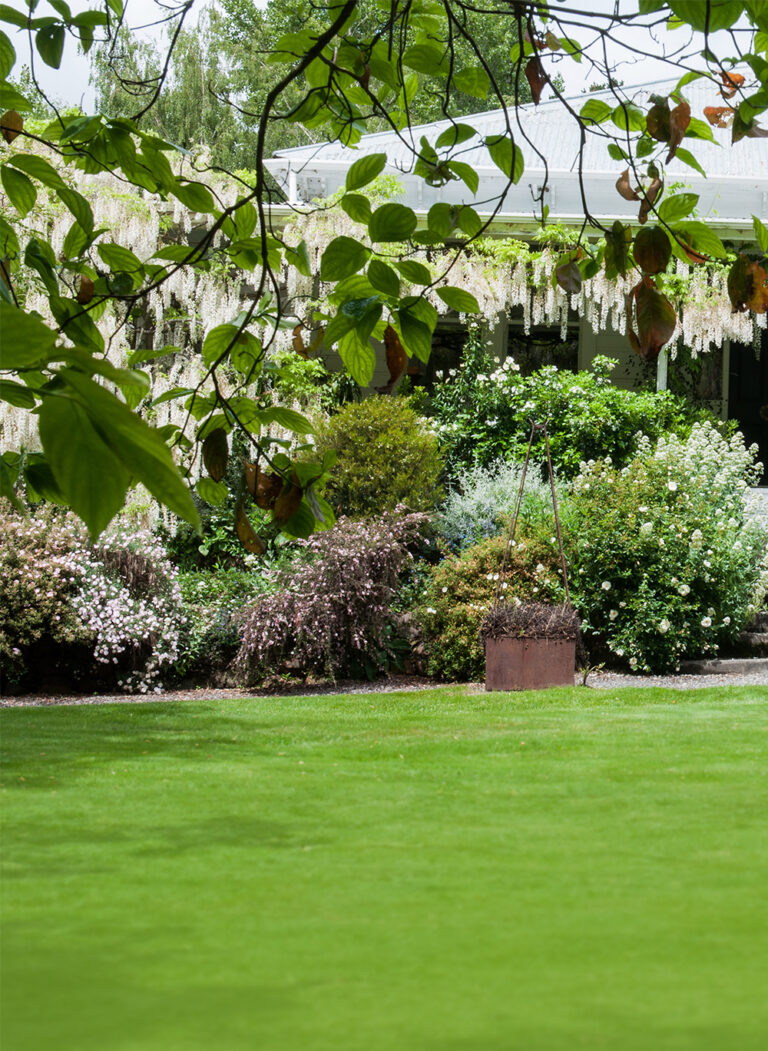 Photos by Juliet Nicholas
Carolyn Ferraby is bidding a fond farewell to the country garden to which she's dedicated herself for more than 40 years. What's next? Another garden, of course.
"I've done my grieving and I'm moving on," says Carolyn Ferraby, as she faces leaving the Marlborough garden she and husband Joe have created over more than four decades. Their romantic, flower-filled country garden in the Awatere Valley has been awarded a coveted sixstar rating by the New Zealand Gardens Trust and has been a drawcard for Garden Marlborough for 30 years. But this year will be its last in the festival under the Ferrabys' stewardship.
A visit to Barewood is a journey through a garden of many parts. Visitors walk the mown path under a cloud of white hawthorn blossom that's out just in time for Garden Marlborough, soak up the perennial borders with their painterly balance of colour, form and foliage, and enjoy what must be New Zealand's most beautiful potager, where a glorious mix of fruit, berries, vegetables and flowers is enclosed by a hornbeam hedge.
Waiting for the Ferrabys is a new garden Carolyn will create around a home the couple plan to build in Blenheim. It will be a very different garden from Barewood, she says, with a wilder feel, and she can't wait to get started. She talked to North & South about looking back on the garden she created, and looking forward to what comes next.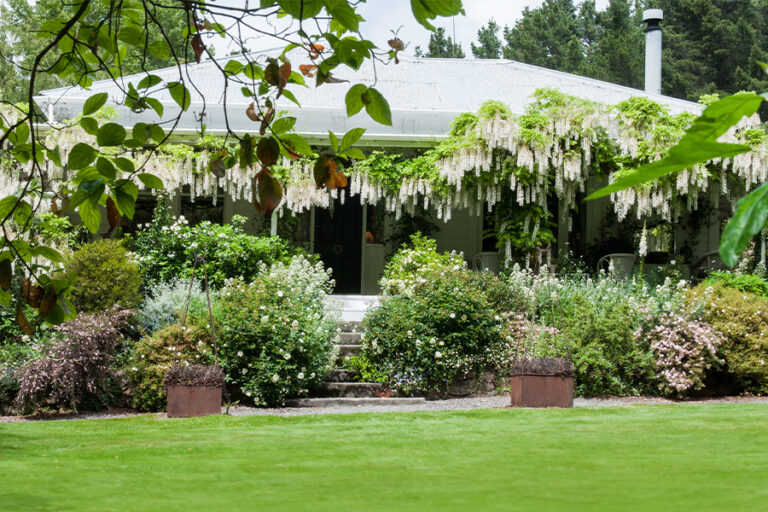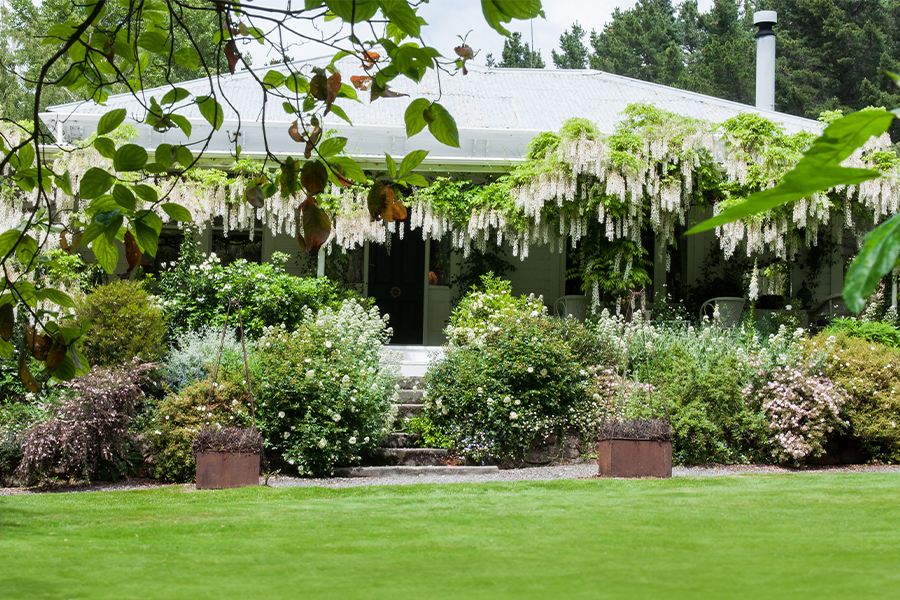 Photos by Juliet Nicholas
Tell me about coming to Barewood 50 years ago:
 It was Joe's family farm. When he married he thought he was getting a farmer's wife and he got a gardener. He doesn't love gardening like I do, but he's built everything in this garden and I don't think this garden would look half as good if it didn't have the structures in it. How lucky am I? It's been a good partnership. When I came here, my mother-in-law had a very small garden, a vegetable garden and fruit trees. That was all that was possible because of the lack of water.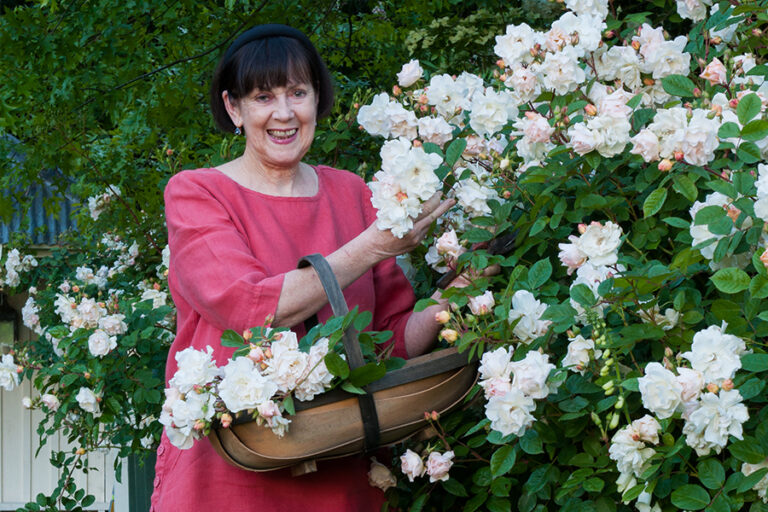 The wisteria-draped verandah. Above: Carolyn Ferraby.
That all changed when an irrigation scheme made extending the garden possible. Where did you start?
I didn't have a plan. I adored the old house and I wanted the garden to be in keeping… to be romantic and soft. Then the garden grew, as I could persuade Joe to give me more land. I'm a plantsperson first and foremost, but then I got keen on design. I was lucky in that I could stand in a rough paddock and visualise how it would look. When something I'd imagined came to fruition it was very exciting.
How did you learn about gardening?
Reading, reading, reading. I love Russell Page for his design ideas, and Penelope Hobhouse for her plant knowledge, and then later we went to some of the great gardens of the world at the time, like Sissinghurst and Hidcote in England, and I saw design features — such as avenues and allées — and what they could bring to a garden, with the eye leading you on. I feel really lucky I saw Sissinghurst in my 30s, when the two gardeners who had worked with Vita Sackville-West were still there and still had her vision in mind. I've been back five times… there are lots of other gardens I probably love more now, but your first garden like that holds a place in your heart.
Barewood is included in Rapaura Springs Garden Marlborough, 8–12 November.
This story appeared in the September 2023 issue of North & South.