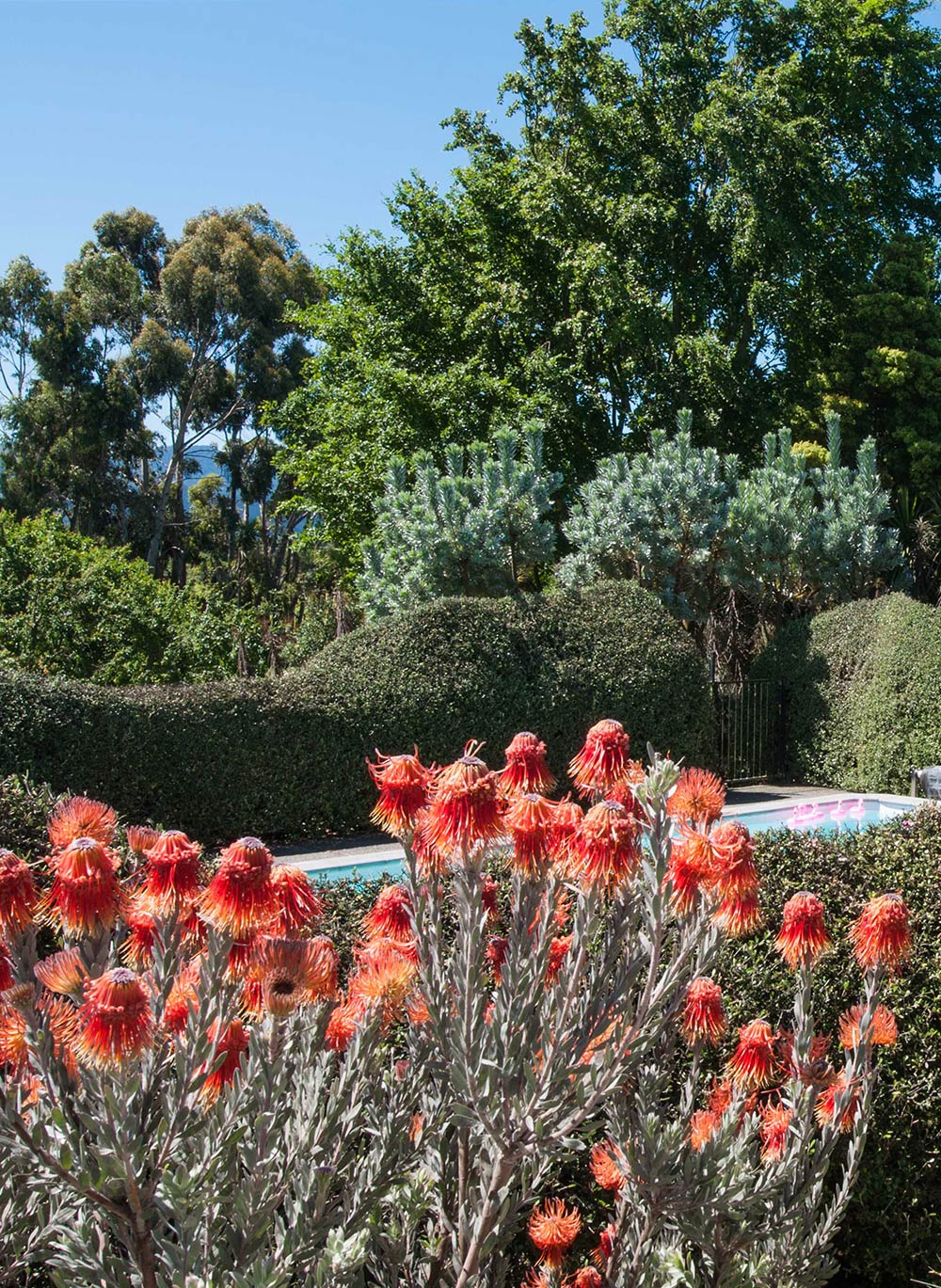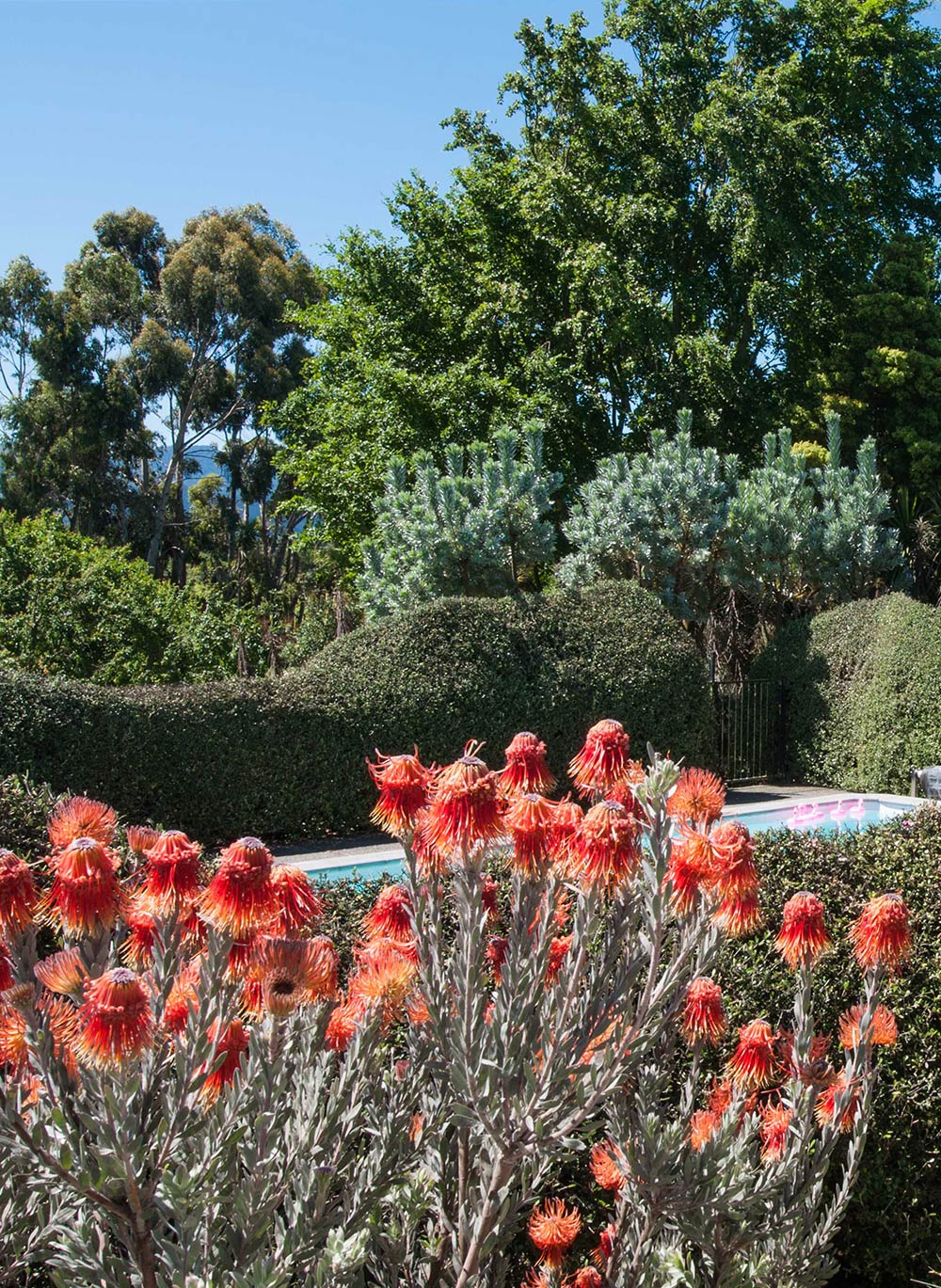 Along with getting a lot of joy from her own much-visited garden in Marlborough, Wendy Palmer delights in other people's garden creations – and wants to share the love.
By Rosemary Barraclough
Left: Sculpted corokia are a signature plant at Welton House, here contrasted with vivid Leucospermum reflexum.
Photos: Juliet Nicholas and Wendy Palmer
Visitors are welcome at Welton House, Wendy Palmer's playful garden on the outskirts of Blenheim. In fact, a couple of thousand people a year come to admire the artful waves of sculpted corokia hedges that mimic the Richmond Ranges beyond, poke around among the cornucopia of horticultural gems that thrive here, and inspect the abundant asparagus or tomatoes in the kitchen garden.
It's all pure pleasure for Palmer. "Visiting gardens is my happy place, being in my own garden is my exceptionally happy place," she says. In fact, she's so enthusiastic about garden visiting that she's now chair of the New Zealand Gardens Trust, which represents about 120 gardens around the country, both private and public, that are open to the public. "It's about spreading the love of gardening and horticulture as far as I can," she says.
Palmer once lived in London and worked as a chief executive in the fast-paced movie world, coming home to New Zealand to raise her daughter. She bought and renovated a 1901 farmhouse with a view of grapevines, and designed its garden in tandem with her Wellington-based garden-designer brother Ross Palmer, who visits often so they can continue to collaborate. The pair have uncannily similar taste, she says, and when they do disagree they both usually end up saying: "No, your idea was best."
What's special about your garden?
Wendy Palmer: The house is built on an ancient sand dune, but there's also very fertile valley loam, and everything in between. So we can grow a huge variety of plants – for example things that hate wet feet, like plants from Africa and other exotic places – South African bulbs, leucadendrons, aloes, agaves. And also, one of our highlights, which happens to coincide with the visitors who come for Garden Marlborough, is a very dark purple/black iris – we are very open to mixing things that people wouldn't necessarily think of. And of course we've got these topiaried corokia that look fantastic, no matter what time of the year. There's a strong sense of wanting to use things that are from this place, not because they're natives for native's sake, but because they're already happy to be growing in this environment. And the big border is one of my great joys; it gets to four metres high by January. It's like a fantastic tapestry – everything from hellebores in winter to orange cannas to Japanese blood grass and Calamagrostis 'Karl Foerster', a tall feathery grass, in the height of summer.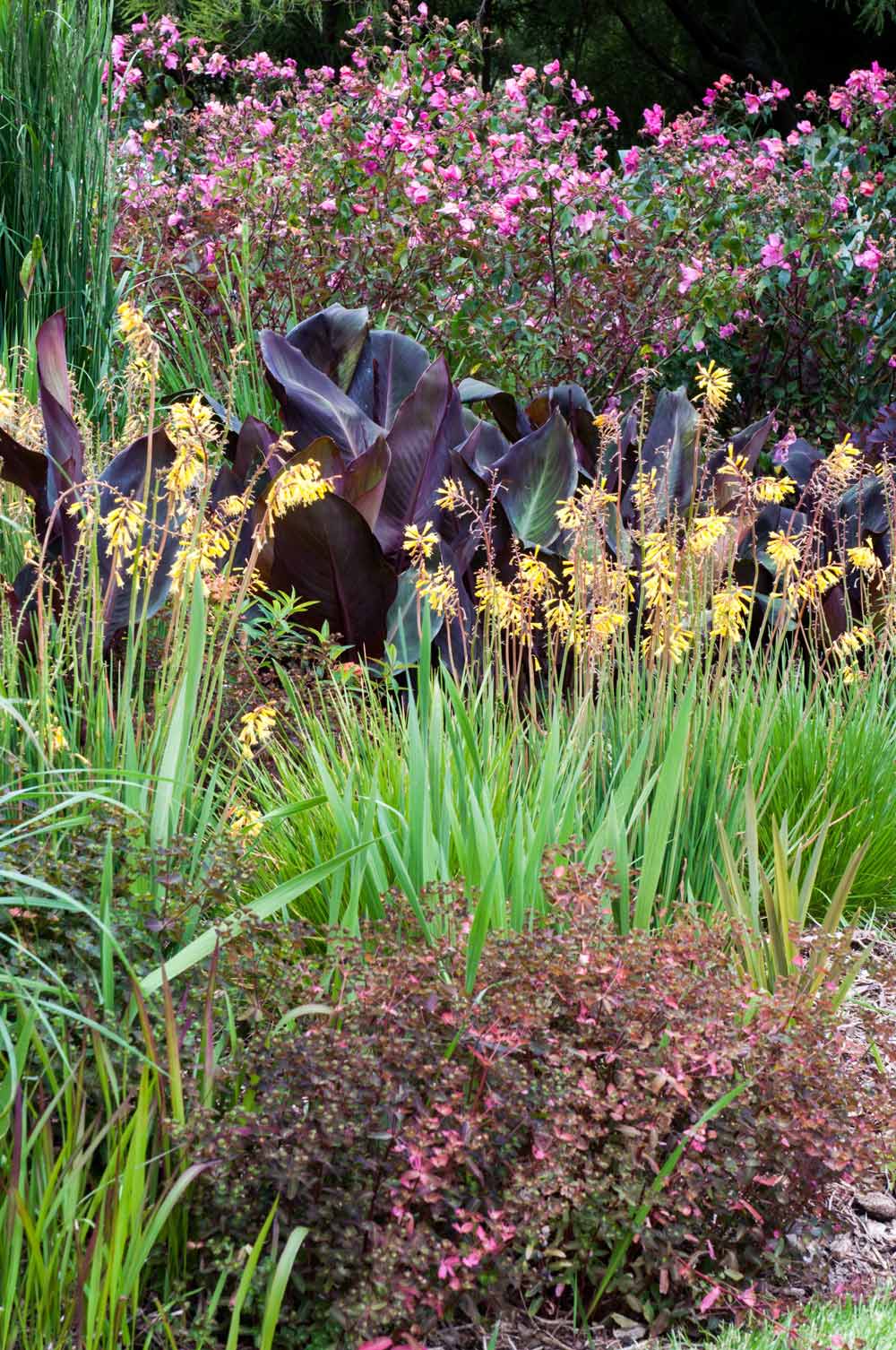 Left: An eclectic tapestry of 'Mutabilis' roses, cannas, grasses and yellow Kniphofia pauciflora. Right: Wendy Palmer in the native area of her garden.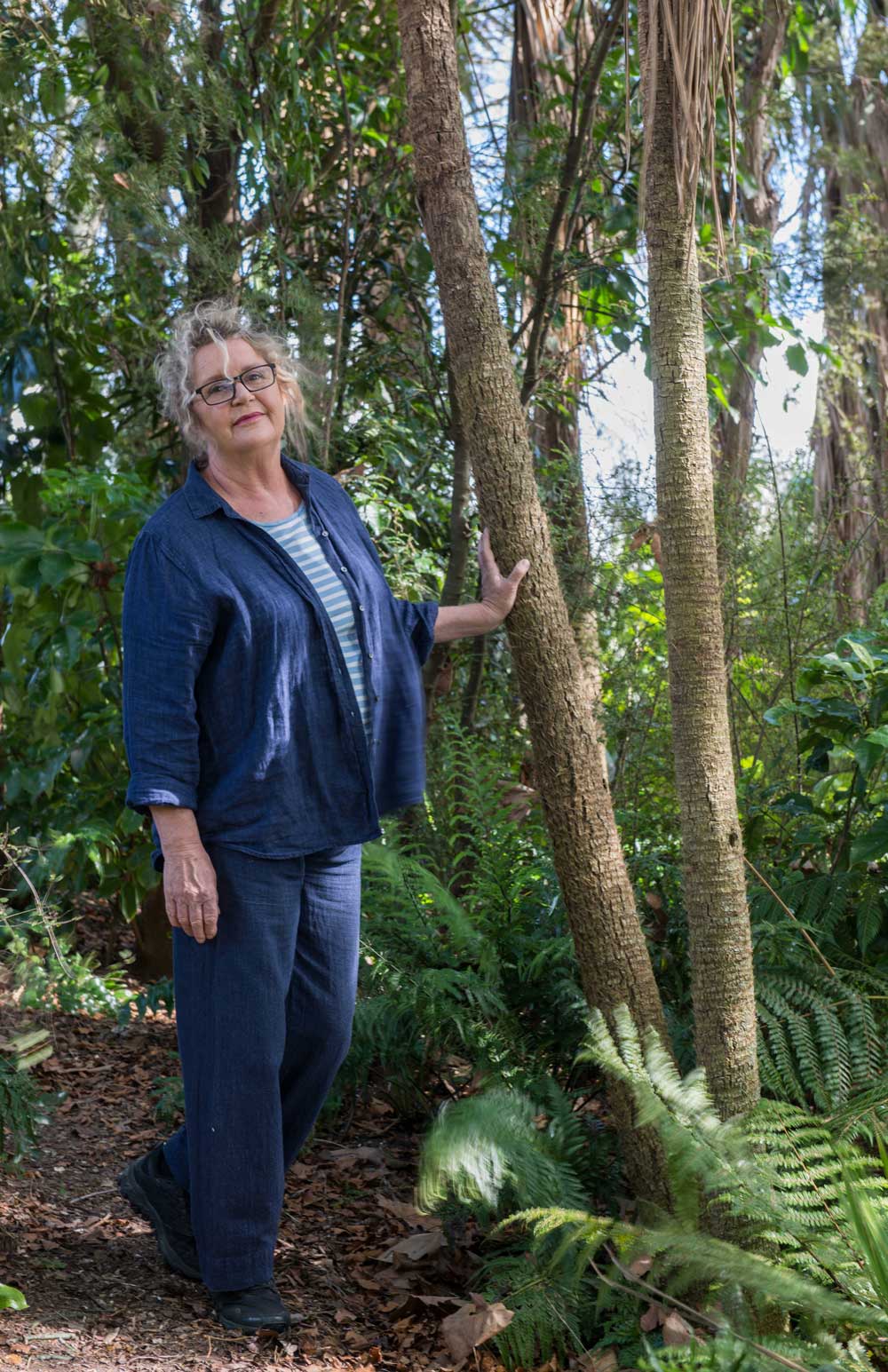 Tell me about the new naturalistic, meadow-style part of the garden?
WP: The main part of the garden is 1.5 hectares. There's another hectare, which we call The Paddock, which we're developing now. We decided not to use the term meadow garden – the customary way to create a meadow garden is to herbicide out everything that's there and even remove inches of topsoil and return soil that's screened without seeds and start from there. But we can't do that – we're working on a strong philosophy of sustainability here. I hate using herbicides unless I really have to; and I hate, hate, hate using any form of pesticide, even organic ones, because most of them will kill all insects on contact. We're reducing our use of diesel or petrol. So for instance, in The Paddock, instead of cutting everything down at the end of the season, I get a mob of sheep in every autumn, and they chew it out for me. And then we're ready to go again.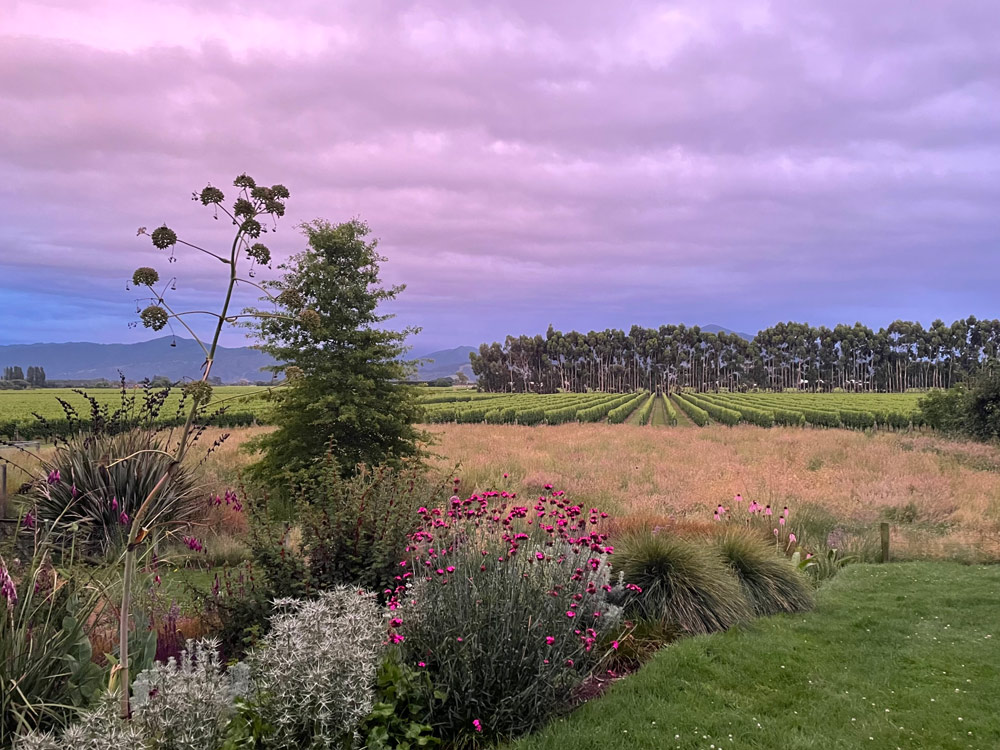 The view across the garden to vines and The Paddock, which is being developed into a new naturalistic garden.
What plants are you using in The Paddock?
WP: I don't want to have to water, so we're looking very carefully at what we're putting in. It's very experimental, but it's exciting. We've had success with elephant garlic [which has purple spherical flowers on a long spike]. We're also spreading wild carrot. We find a particularly pretty red one, and we gather that seed, so that we've got a pink tinge happening in there now. We're growing a whole lot of different perennials to plant out next winter, and it's really interesting seeing which of the original pasture grasses do well, how they work and what's taking over.
What do you grow in your vegetable garden?
WP: After all those years living in London, I was desperate to be able to go and choose what I was going to have for dinner from my garden. I focus on things that I eat lots of that are easy to grow and good in these conditions. I am big on my early season potatoes – that's a moment of joy to me when I get that first Jersey benne. Tomatoes do well here. I've just had the most magnificent cauliflowers. They did that convenient thing of not all happening at the same time, so that we've had perfect cauliflowers for a couple of months. We get a good six to eight weeks of asparagus for dinner every night. At the beginning of the season I just pick the first spears and eat them raw. They taste like peas.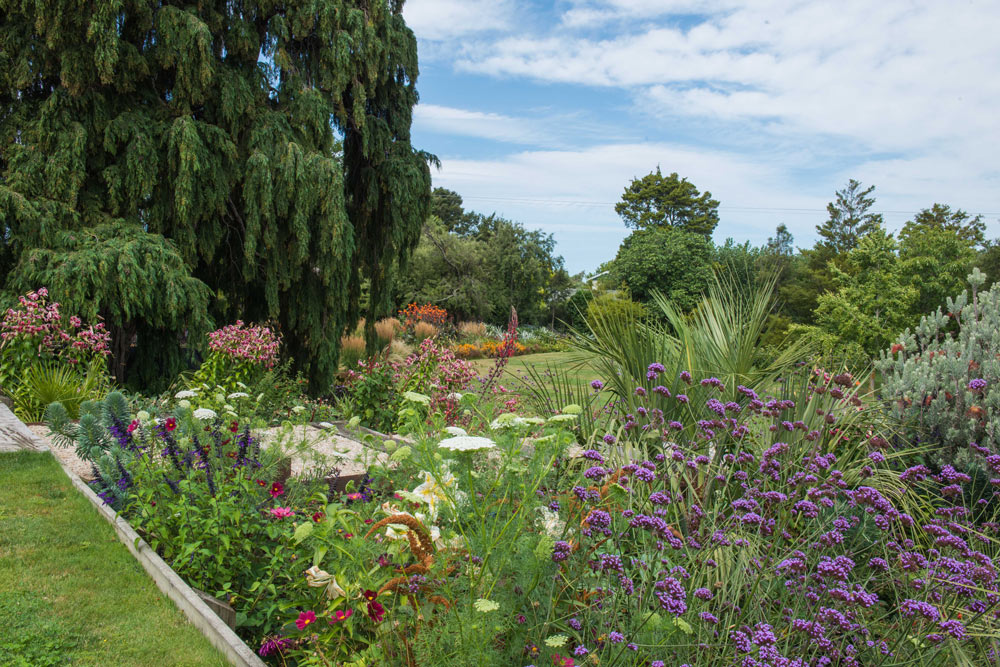 Welton House is packed with interesting and varied plants, making it a fascinating destination for plant lovers.
What do visitors get out of visiting your garden?
Some people are looking for ideas for their own gardens; even if they've got a tiny garden there is inspiration here. For example you can garden upwards. Ross loves epiphytes, so we've got bromeliads, ferns and orchids growing in trees. We've got an extraordinary number of varied plants, so for people who are mad on plants, seeing all that in an hour or so is quite mind-opening. I get some people who are really into vegetables and they'll spend hours in my kitchen garden. And I think it's nice, just taking your own time, enjoying that kind of meditative space that is a garden. I've got seats everywhere because I want to encourage people to pause and soak it up.
Do you get many overseas visitors?
WP: The international market has gone up considerably. It reminds me of when I first got involved in film and how once we started telling our own stories, we enabled all that wonderful creativity that's in these motu to explode – it's happening in gardening. We've got this unique endemic flora, and New Zealand gardeners have tremendous creativity. Australians have always been interested in New Zealand gardening, but that's exploded and I'm getting a lot of Americans now and they're beginning to come from France and the UK, which is a long way to come to see a garden.
It seems a big commitment to open your private garden to the public, why do people do it?
WP: The prime reason for most of us is that we love sharing with interested people, and gardening, for the owners of most of the private gardens in the trust is an obsession — they've often created these gardens over decades. So, they want to walk around and show their garden to people and talk about what makes this particular garden unique. Some people see it as a way of getting a bit of income to offset their plant costs. But most people are just really interested in sharing their vision, their creativity and having in-depth conversations about gardening, and that's fantastic.
This story appeared in the December 2023 issue of North & South.